I recently reorganized my kitchen. Our home's hub, it's where meals are shared, crafts and homework's done, and friends gather.  We don't eat out often; it's costly, usually non-organic and often disappointing.  Anything we order, I can make.  I'm tickled when asked cooking advice. Cooking's part skill, part creativity, and lots of practice! Now, I'm not one to brag, but in the kitchen I feel like a black-belt Ninja!  It wasn't always so . …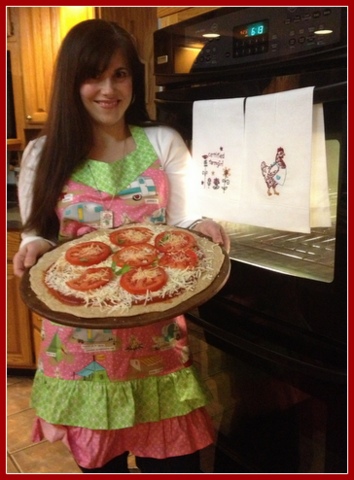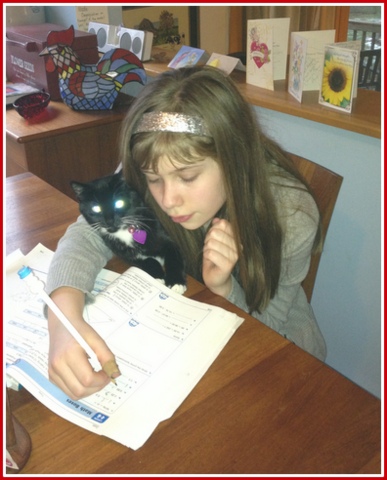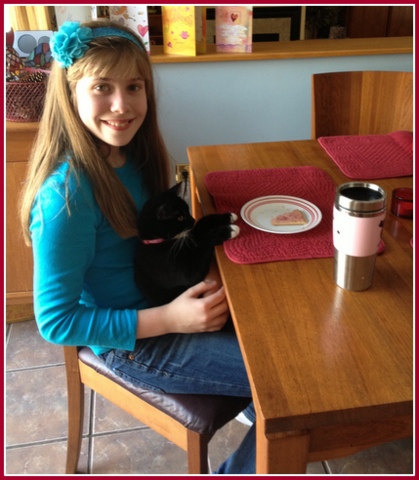 Homework and after-school snacks at the kitchen table are better with a buddy.
Nothing beats an organized kitchen. Jars are my weakness. I use one to keep my dishwasher detergent dry and clump-free, with a re-purposed coffee scoop. Everything's visually less cluttered in a jar as opposed to a commercially-labeled box.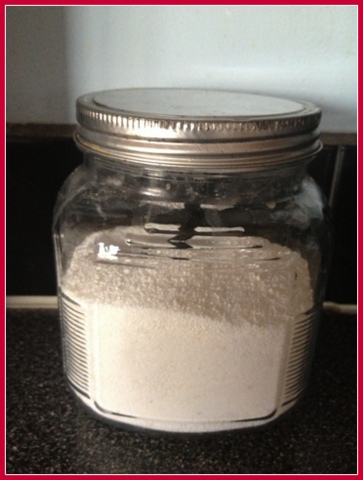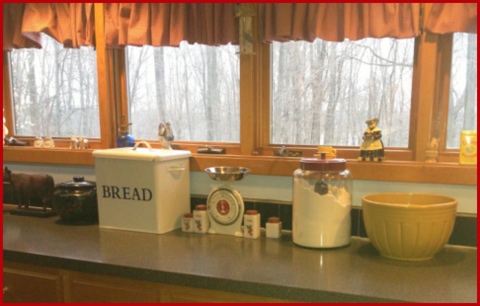 My breadbox is useful and charming.  I love my new big jar with the red top, a recent find to hold my MaryJane's Budget mix  purchased in bulk. "Bakeovers" are a family-dinner favorite.
We're also a home that's never been without a pet. I learned long ago if food isn't out of reach of a tall-as-me-on-its-hind-legs-pooch or kitty able-to leap-tall-counters-in-a-single-bound, said edibles will disappear. With our Dobermans, nothing was safe, no shelf tall enough.  Everything had to be contained or risk being eaten. Our current fur-baby's more polite and "asks" first…unless she smells fresh bread.  Then she morphs into something akin to the Looney-Toons' Tasmanian Devil, thinking nothing of being a thief, once scaling the counter and scarfing two loaves of fresh bread I'd taken an entire afternoon baking! My lifesaver: a vintage-inspired bread box.  Jars and tins and canisters!  Oh my!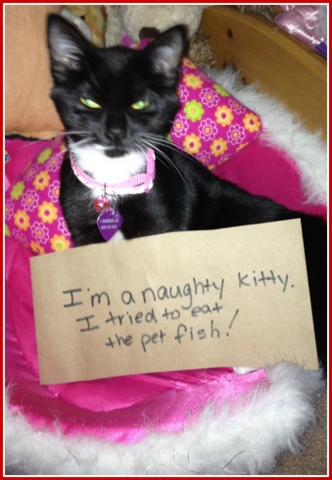 What's a fur-parent to do? Nothing 's safe on a counter top.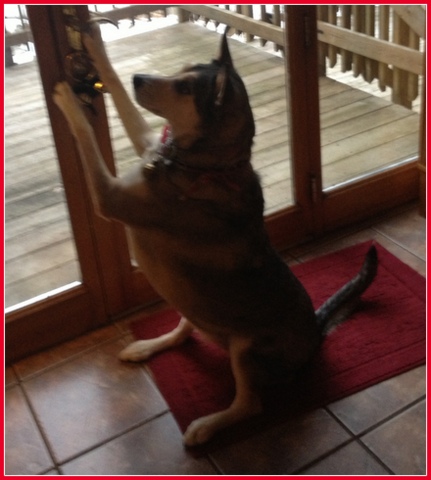 "Fresh bread!! I'll do anything!!"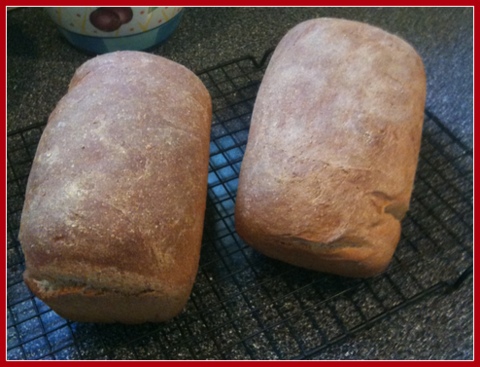 Going through my cabinets, there were some unnecessary gadgets. Our grandmothers made three square meals from scratch, with way less tools! Aside from my food processor, I purged myself of anything meant to slice, dice, or chop: break-easy gadgets offering a good chance for bodily harm. It took me ten minutes to remember what one gadget even was.  A grid of metal teeth with a plastic handle on top, it was meant to cut perfectly-shaped fries.  The only end result I ever got was an almost severed finger. Nothin' beats a set of good kitchen knives.
We once fell for an infomercial, ordering a toaster-oven-look-alike, meant to be a rotisserie-chicken oven.  "Save money not buying ready-made rotisserie!"  Not like we everbought pre-cooked chickens, but we just had to have that oven.  When it arrived, it had more pieces than a jigsaw puzzle, and took more counter space than a small building.  Our first "stab"  at roasting chicken was a disaster.  Getting the raw bird onto the rotisserie took two people and a prayer, the whole process resembling a medieval torture ritual.  As the chicken cooked, one was supposed to turn the crank on the outside of the oven, easy-peasy.  Not so.  The bird's legs began to sag while cooking, making it possible to only half-turn the handle.  Sticky, greasy juices escaped through the door and frame, adhering to everything in an oozing, hot, mess.  When the chicken finally appeared done, it took two people to free the steaming  bird from the searing sword.  One of us held the stick, while the other pulled and pried, trying not to get branded in the process.  After one really hard tug, the bird gave up, slid off, and sailed through the air.  That chicken flew better that day than it ever did  with wings and feathers! We ended up throwing the oven – grease and all, back in the box and back to whence it came! All we needed was a tasty dry rub and a roasting pan.
One culinary accomplishment I almost gave up on: homemade pizza crust.  I bake desserts and bread like nobody's business, and mastered pie crust. There's millions of people every day in pizza shops all over the world able to whip up and toss dough, no problem. Not me. I was dough-challenged. Always believing in avoiding processed foods, before I really understood what eating organic meant or how shortcuts in our groceries provide lab-worthy concoctions resembling real food, I wasn't always making everything from scratch. Takeout's costly and frozen pizzas have preservatives impossible to pronounce no matter what language you speak (and taste like it).  I had to make dough.  The Little Engine that Could came to mind while purchasing yeast. "I think I can…"  Mind you, it's with good reason I feared this task.  My first attempt was disastrous, after purchasing a bag of dough from a grocery-store pizza shop with instructions on how to knead, toss, and bake…voila!  I ended up with the same ball of dough I started with, no flatter than my Mommy-belly after Thanksgiving dinner. The next attempt, I purchased one of those refrigerated tubes of dough. "Pierce tube, unroll dough, and press into corners of pan".  The tube exploded on impact. Years later, I'm still finding dough remnants on the ceiling.  Finally I found a good recipe.  Once mixed, it called for four minutes of kneading with floured hands, and rolling out right on the pan. Kneading, I became hopeful. It was soft, like a baby's chubby tummy. Would it roll out into a flat orb of crust…an empty canvas, to be made into a work of edible art?  Yes! I finished it with homemade sauce, fresh-grated cheese, garden tomatoes still warm from the sun, and basil grown from seed.  It was almost too beautiful to eat!  I've made countless pizzas ever since.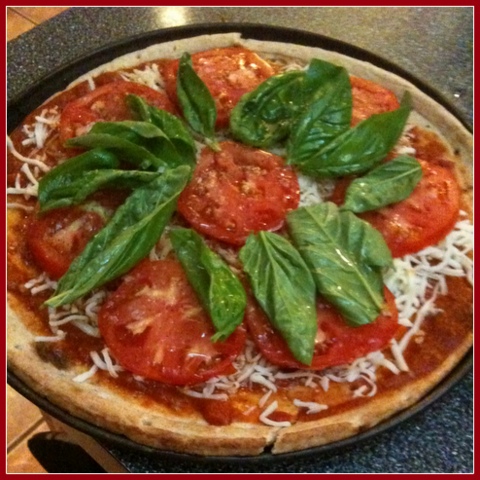 So what was different about that attempt than previous ones?  I had to make pizza-dough if we wanted pizza. Take-out and non-organic weren't options.  Sometimes, it's when facing something head-on that we find out we can do the impossible…that day, it was pizza crust.   
So what makes a good cook, well-seasoned like a cast-iron skillet?  Simple tools, organic ingredients, great recipes, practice…and a heaping helping of love!
***Share with me your kitchen mishaps or weird gadgets you thought you couldn't live without (but could)…Let me know you stopped by and leave a comment!***
Until next time…Farmgirl Hugs, Nicole