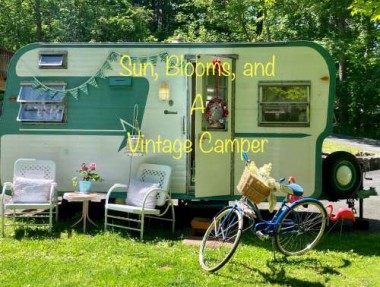 We are having a true spring this year in New England!  Not too hot, not too cold, mostly sunny days with cool mornings followed by warm afternoons. We are seeing more birds and wildlife, the days are longer, and there are buds on the trees. Best of all, it is time to open up Gidget, our vintage camper/glamper! C'mon in and let me show ya around!
I love when winter finally says goodbye for the season, when we feel over it – that's IT, we've just had enough, and all signs of spring start popping up. 
The week before Easter was my birthday, and I admit, I was quite spoiled! It was the first time I got to wear a spring-y dress and shoes, the weather was great the whole weekend! 
The next week was Easter. It was just the three of us, but we had such a great day. I cooked, baked, and made deviled eggs (my secret – spicy brown mustard, dill, and smoked paprika)!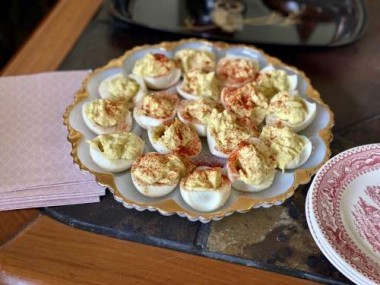 Signs of spring are popping up all over, from buds on the trees, birds building nests, and more wildlife passing through the property.
I started seeds inside for this year's garden; peas have been planted outside as my first early crop. 
Blooms are starting to abound.
Still, my favorite sign that spring is here to stay is when we open up the camper. In winter, we keep her set up right through Christmas. I then take out most everything before winter gets too cold, as vintage glass can not handle the extreme temperatures. 
It's been awhile since I posted upated pictures of Gidget, all "dolled up". We have work we need to do on her, but are enjoying her still. I don't know if we will be going camping this year or not. The rallies we always went to are not happening again this year due to the pandemic, and I am not ready yet, as well. Oh! We miss our camping buddies!
I first blogged about finding "Gidget", our 1966 Nomad, Here, when we first bought our dream camper. We were so happy and a bit scared, as we didn't really know what we got ourselves into. Our first rally was a success; we then went two more times to vintage camper rallies before the pandemic cancelled the rally last summer in 2020. I miss my vintage camper friends, and hope we will someday all be able to camp like we did before. Still, we use Gidget a lot just in the driveway – our "happy place". 
I decided early on that most everything we would use/decorate within the camper would be vintage, from the 1960's or before. We still have work to do on her, and I am sure that like having a classic car, there will always be something that needs to be done. It's a true labor of love! 
I wanted the feeling that it isn't 2021, but  is 1960-something as soon as you walk in. We love that the original stove and sink are our favorite color of turquoise blue.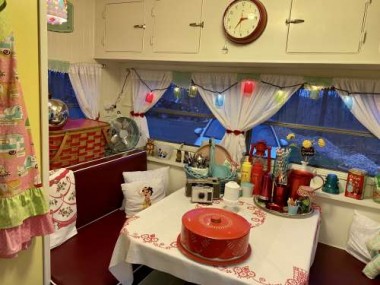 The seating area, which folds down to a bed, is a comfy spot to eat, read, or work at. The cross breeze when all the windows are open is so relaxing.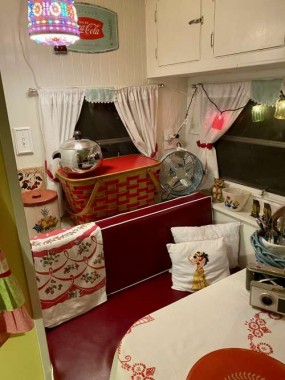 The table is set with vintage linens, tableware ready. Melamine from the 50's and 60's is pretty but also great for dining outside. The large, 1940's red picnic basket holds picnicware and table linens. The penguin ice bucket holds ice on hot days, or can hold hot foods on cold ones, all with vintage pizazz.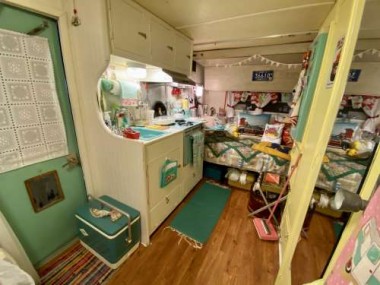 While having the camper set up at home is fun, what I love the most is how many wonderful friends and family are represented inside the tiny, 15-foot caravan. 
In the evening, nothing is cozier than sitting and talking, a cup of tea in hand, while listening to the sounds of nature like the buzzing of crickets and the hooting of owls (with a little Billie Holliday playing in the background).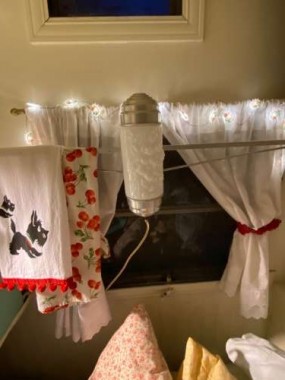 I'm loving the milk glass art deco reading lamp my best friend gave me for my birthday.
The little felted "Gidget" birdhouse came from friends as a hostess gift (pre-Covid), and was too pretty to put outside. I love that wherever we look, we are reminded of friends. I look around and see little sentimental momentos, "camper housewarmers" from friends and family. I "see" so many loved ones and friends inside the camper; it makes the space all the more special. Gidget has become so much more than a camper. Gidget has truly become "part" of the family!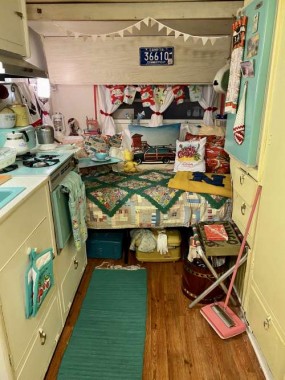 If walls could talk, I wonder what they would say about the last 55 years…what travels the caravan has been on, who camped in her before us. It truly is our time capsule on wheels. Soon we can sit outside and eat alfresco, grilling, toasting marshmallows and hot dogs, and watching the sun go down. I can't wait!
Hope you enjoyed the tour! Wishing you all a very happy spring! Remember to drop me a line below in comments so I know you came by!
Until Next Time, Farmgirl Hugs, Nicole