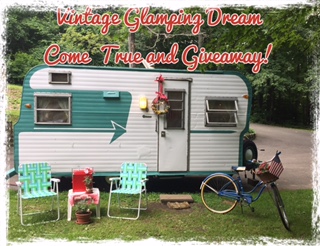 In September, my husband Kim and I celebrate our 25th anniversary! One dream we've always shared is someday having a camper or RV.
I'd be hard-pressed to count all the ways MaryJane's influenced me! When I first saw MaryJane's writing on "Glamping" (she originally coined that word!) – that was it! Our dream morphed to wanting a vintage camper. Recently, that wish came true!
Kim grew up camping with his parents in Denmark. A few years ago, my in-laws purchased another camper and are having a blast!
When it was time for me to get another car, we made certain the little SUV I got was powerful enough to tow a camper (my previous one couldn't). Finding a camper, however, wasn't so easy!
The last few years, we've attended RV shows, watched for-sale ads, and looked at many campers for sale. It was either the wrong time, trailers were out of our price range, too far gone, or just weren't for us. I joined the Facebook group, "Glampers on the Loose", pored over the pages of MaryJane's book, Glamping with MaryJane, and dreamed. Somewhere, someday – we'd find the "just right" camper.
We figured we'd have a camper when we were older. Realizing our daughter is now fifteen with only three years of high school left, the time to find one was now!
We actively started looking this spring. Campers were too big, too small, or not-quite-right. We're handy, but didn't want major repairs. We also checked out new campers all over the tri-state area. One salesman was so pushy, it was uncomfortable! We put money down on a new "vintage -style" camper. We realized we were being given a ridiculously high-interest rate, and the camper had been "stripped' before closing. I guess they thought as "newbies" we wouldn't notice and were so excited we'd sign anything. My husband's in car sales, so he knew what to watch for. We walked away. It wasn't what we really wanted- a true vintage trailer, and we'd promised ourselves we wouldn't get carried away and overspend. We felt defeated.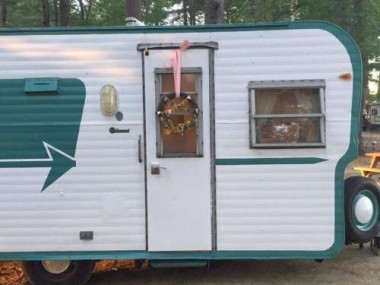 Soon after, up popped a dreamy vintage camper for sale on a Facebook tag sale! It was priced right, and the pictures looked amazing. I immediately messaged the seller. We made plans to see it July Fourth.
The night before, we couldn't sleep! We got up before the chickens, as we had over an hour drive and the seller had to work mid-morning. They also had someone else interested in seeing it, but assured me we had "first dibs". We couldn't wait to get there!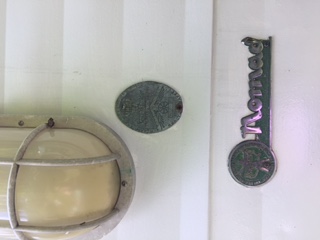 It was LOVE. AT. FIRST. SIGHT! The little 1966 "Nomad" was just perfect for our family of three.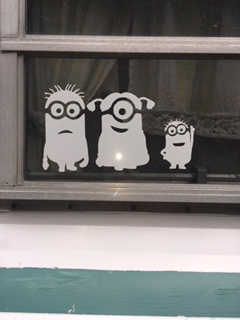 She had "good bones" – most of the hard work was already done. The family had used her for camping for five years. (They were selling everything, including their home, converting a vintage school bus into a "little house", traveling around the USA while homeschooling their son- how cool is that?!) We bought her. YIPPEE!! Let adventure begin!
Pulling away, towing the little camper, we were elated! At home, we immediately started working on her (and haven't stopped). Kim and I are like giddy teens! We're in the camper at dawn for coffee, and end the day there talking, having coffee or a glass of wine (instead of falling asleep in front of the tv), while finding things we want to spruce up so she's "just so". Having a vintage camper means there'll always be something needing care, but it's a labor of love. We're both happiest when busy "tinkering".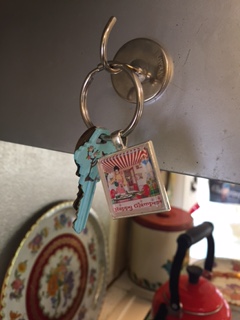 On my daughter's birthday, kids swam, played truth-or-dare, and made s'mores- like old-fashioned camp! Parents relaxed in the camper. We all had a blast! We don't ever need to leave the house- sitting in 'er is like relaxing in a time capsule! Of course, it'll be fun once we go camping. With my hubby's schedule, our Nomad's perfect for day trips, long weekends, and just plain fun to relax in at home. She's so stinkin' cute!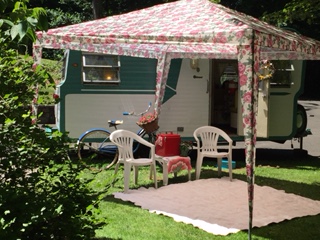 Inside, I left the cute but worn out dish towel curtains up until the new ones I found (white eyelet with a double ruffle) arrive.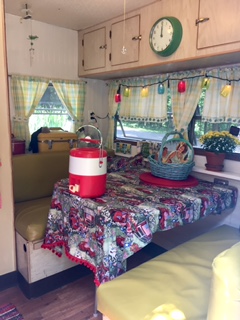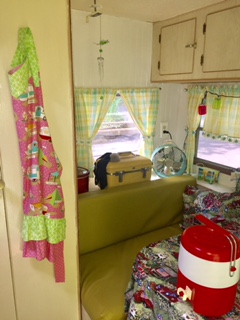 The first thing that went in was my vintage-camper-print apron, a gift from Meg and MaryJane when I was "Farmgirl Of the Month", January 2013. In the dining area (which folds down to a full bed and has storage), I sewed pillows and a tablecloth. We're replacing the cushions with new red ones with white piping. Most of the other decor I already had- including a vintage-style fan, and a vintage train case to hold this-n-that.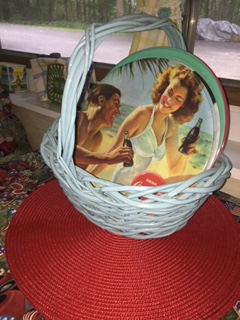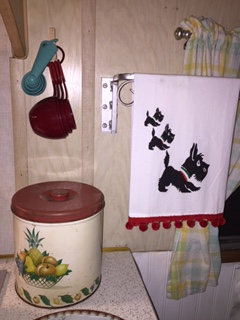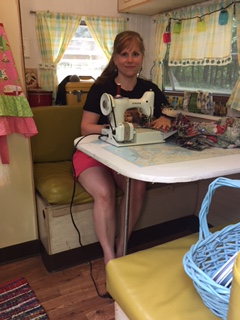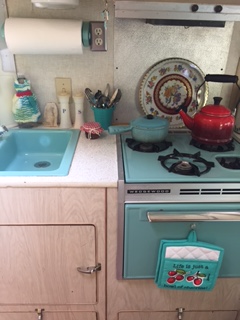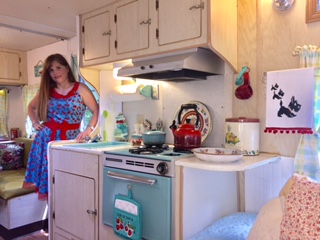 The sink and stove are original, with a new matching fridge. Despite it's small size, the camper has tons of storage!
We replaced the old mattress and box spring sitting on the floor with a slatted bed frame and memory foam mattress which serves as a daybed and creates underbed storage. A vintage suitcase bought for $1.00 at a church bazaar holds extra towels. A tag sale vintage tool box holds tools, while non-slip matting from Ikea (around $3.00) keeps everything from sliding around.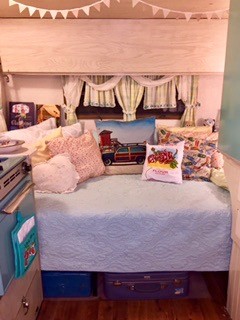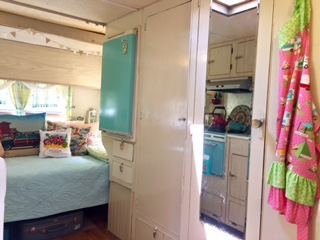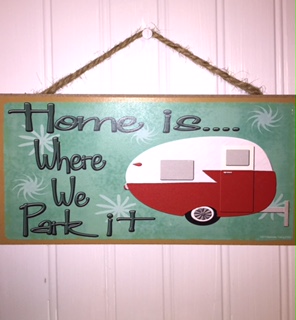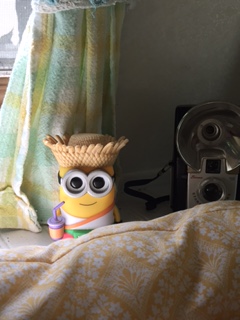 We've cleaned, oiled, painted, and decorated, and think our little camper is cozy! She needs a name, however! Can you suggest one? Leave a comment to be entered in the drawing to win a copy of Glamping with MaryJane! If you have a glamper, dream of glamping, or just adore all things MaryJanesFarm, you'll love this dreamy book – it's been our go-to handbook! (I'll announce the randomly-drawn winner next month)!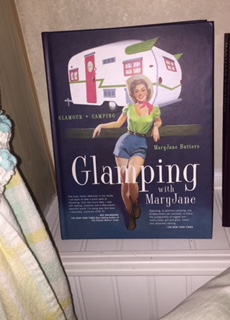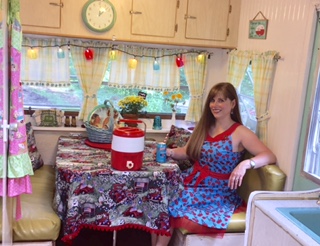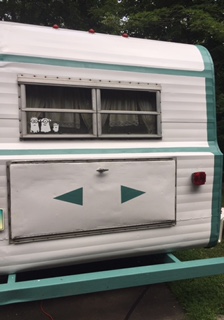 There's still a few things we need to do to our little camper. She's our anniversary gift to each other. Our family is having a blast painting and fixing her up. One of my friends called it a 'she shed' – but our 1966 camper is a 'we shed'! We love her, bumps and all. Dreams do come true!
Until Next Time…Farmgirl Hugs, Nicole