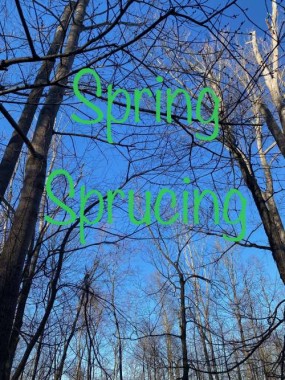 Ahhh…March. We've had some warm weather, finally, though there are still spots (like my front yard), that are still snow-covered. Today I have actually had the windows open a bit, and the sun is shining! It won't last too long, since Mother Nature can be cranky this time of year. A cold front with possible snow is headed our way, but even if we get snow now, we know that soon we will be outside and warm – planting, gardening, and grilling!  Before the weather gets toasty, it's a good time for some spring sprucin'!
Every February and March, it seems the cold here drags on, but this year it has seemed especially long. I can't wait to get in the garden and give everything a good cleanout. I'm always amazed, though, at how tough nature can be, and how plants that survive after winter injury can come back the following season as pretty as ever! 
We've seen the signs of spring coming, with pink skies at sunset and melting snow, but it isn't quite "stay outside all day" weather just yet. 
Before the season changes, we've been crossing off from our "need to do" list: things like getting old lamps rewired, replacing broken appliances, organizing storage and closets, and repairing things that just need attention from normal wear and tear. We didn't design our house, but like that it's not a "typical" layout. I especially love being in my kitchen. While I'm a "place for everything, and everything in its place" kind of girl, I am NOT a minimalist. Long before Pinterest existed, with it's wonderful pictures of kitchens decked out in 40's and 50's goodies, my kitchen style was "vintage/retro".  My kitchen was "modern" in 1995, with the cooktop on the island and the half wall looking over the family room. We aren't going to do a major remodel, but one thing that's bugged us is the overhead lighting in the soffit above the island. For over twenty years, it has housed now-outdated flourescent lighting. The lights aren't bright, the bulbs are expensive and hard to replace, and they (frequently) burn out. The soffit housed four fluorescent, long bulbs in two sizes. One end eventually burned out completely, and even with a new bulb it didn't work. We removed them completely and added an outlet in the soffit. We then added a strand of remote-controlled LED strip lights. They come in various sizes; ours cost less than $20. Bright and cheerful, they remind me of lights in old fifties diners. Imagine green lights for St. Patrick's Day, or red for Christmas! For everyday, I like the turquoise to compliment my retro aqua walls.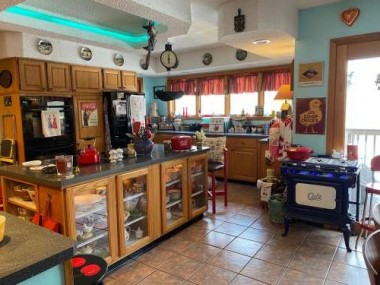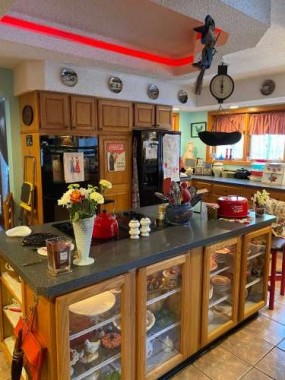 So easy to use, we've also put LED strip lights around the perimeter of our vintage camper awning at camper rallies in the past. I can't wait to again open and spruce up Gidget – a few more weeks!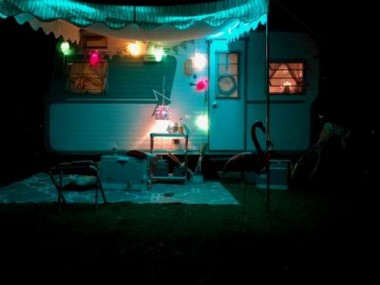 While we like that the layout of our home is not cookie cutter, sometimes I wonder what they were thinking when they designed the closets. There are two closets in the master bedroom. My husband can barely fit his clothes and shoes in the smaller, square closet. I got the larger of the two – a strange, smaller than normal "walk-in". In 1998, on a trip to Denmark, we visited Kronborg castle. The castle's roots start as far back as the 1420's, complete with a creepy, dark dungeon. Since then, my closet has always reminded me of that space! 
I'm a "collector", but I like my surroundings neat and tidy with things in their places. However,  when it came to our closets, I was starting to dread putting laundry away. When I get new clothes, I don't get rid of the old ones. Just because something can still fit, doesn't mean we should wear it! We do tend to have larger wardrobes in New England because we have four distinct seasons, but I'd save old clothes too long, thinking, "I can wear this to workout/clean house/garden in", for example. I had also saved outdated clothes because they were still wearable, but after 25 years, I had clothes older than my daughter, or dating back to my twenties (and I am turning 49 at the end of the month).  I got rid of old shoes or anything faded, pilling, stained or that could not be repaired. Uncomfortable? Out it went. If it no longer fit, or just wasn't "me" –  goodbye. Now I can see what I have, and made a list of what I needed. I threw out what couldn't be used, repaired, or repurposed, and donated the rest. The amount of time I save when putting up laundry or getting dressed is worth the time spent organizing everything. Cleaning out closets is good for the soul!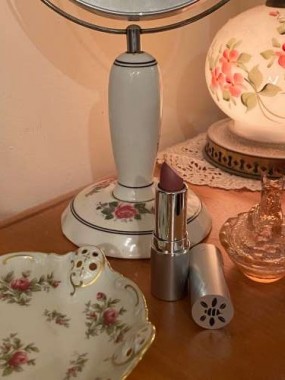 Spring cleaning is a good time to replace things for lighter formulas and colors. Cosmetics can be a breeding ground for bacteria. Washing brushes with a little mild shampoo and letting them air dry can ward against breakouts, especially important with mask wearing. Replace mascara every four to six weeks, and any cosmetics that smell "off" or are past the expiration (many creams and cosmetics last eighteen months). My favorite lipstick is Honeybee Gardens Truly Natural Lipstick in "San Francisco", a perfect go-with-everything peachy pink with a hint of shimmer. 
Now's the time to start feeding houseplants and shaping those that need a little pruning before putting outside for summer. A little vermicompost on top of the soil of potted plants gives them an added health boost. Bags of worm castings are now easily found online or in garden stores, or make your own indoor worm bin. Your plants will thank you!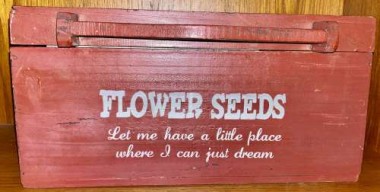 I also cleaned out my seed box for the coming season. Seeds can be used after the date stamped. Some seeds are viable up to five years, but only if stored properly.  To test if your seeds are still usable, put some seeds between damp paper towels, then inside a plastic bag. Ten is a good number, so a percentage of good seeds can easily be calculated.  Viable seeds will sprout within a maximum of a few weeks. Drop larger seeds like peas in water; if they float they are good. Store seeds in paper envelopes between seasons; plastic can make seeds sweat and mildew. 
Outside, it's mud season here now. My yard is like a soggy sponge when we walk on it, with sticks and twigs from winter storms. However, it's a smart idea to check for burn bans in your area before you start any fires!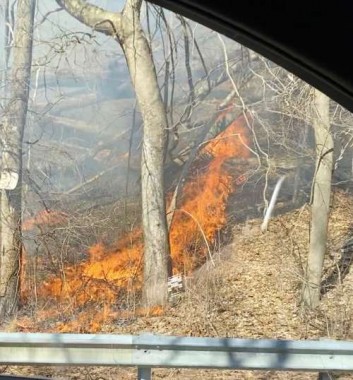 We recently drove through a brush fire on a back road to a neighboring town. It was a warm and windy day, and the smoke was terrible! Firefighters and police were on the scene, but seeing how fast it was spreading was frightening! The ground was still wet from snow melting, but it didn't stop the dried brush, dead trees and leaves from flaming up. Outdoor brush clean up will need to wait a bit longer; our days have been pretty windy here!
My daughter and I recently spruced up her pet albino corn snake's enclosure. Noodle got a bigger aquarium (snakes prefer length over height in enclosures). Chipped aspen is a comfortable substrate, and he loves the silk plants! Pet stores charge up to $15 for faux greenery, but we added more color for just $1.00 from our local dollar store. We repurposed a treadle sewing machine as a stand. I never thought I would like a snake, but after having Noodle, I can say I do not dislike snakes.
I've spruced up and cleaned out several cabinets and our storage closet. Kids get older, our tastes change, and sometimes we just need to neaten our space. Decor is what makes a house a home, but clutter can be stifling. Have you heard of the Buy-Nothing Project? When decluttering, you can give usable items away to others in your community. In our town, there are two "Buy Nothing" groups on Facebook. "Gifts" are posted, as are "wishes".  Most participants use a plastic bin with a lid for their gift recipients to pick up items from. Nothing is better than hearing back from someone who is so excited to get an item that you no longer could use or wanted to pass on for someone else to enjoy. It was really fun to hear that something I passed on to someone else made her so happy, and coincidentally, on her birthday, to boot!
I've got a lot on my plate this season. Taking a breather and sprucing up here and there gives me an energy boost, without feeling overwhelmed. There's an old Danish saying, that can be applied to any situation that might be overwhelming:  "How do you eat an elephant? One bite at a time." 
Hope everyone has a good rest of the month of March! Remember to leave a comment so I know you dropped by!
Until Next Time… Farmgirl Hugs, Nicole