.
Hello Farmgirl Friends!
The weather here in Tennessee is so beautiful with Spring having finally arrived!  All I could think of this winter was that when Spring arrived I wanted to celebrate with a tea party!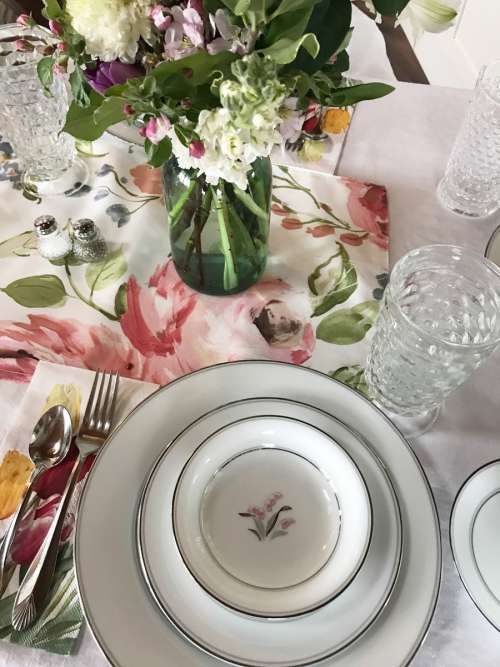 .
I love this vintage Noritake China that was gifted to me years ago and it's not very often that I have occasion to use it.  I have a 12 piece setting of everything so it is so nice when you have a tea party with 9 people – I actually had enough of it!  (I wish I knew what year this china was manufactured; I guess I need to do some research on it.  So if  any of you know, please let me know in the comments!!)
.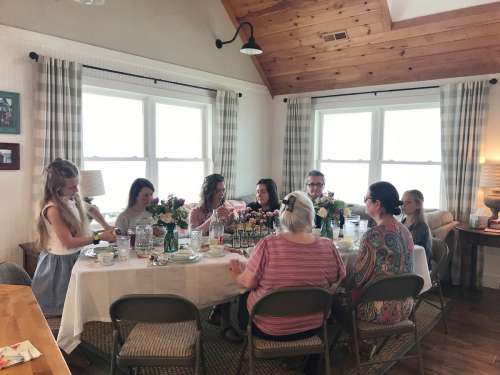 .
.
I invited friends (and family) of all ages… starting with my grand-girls, my daughter and two friends her age, two of us in our 50's, and two others in their late 60's.  It was such a perfect range of ages and we talked, laughed and cried a little too.  We told amazing stories and shared from our hearts.
.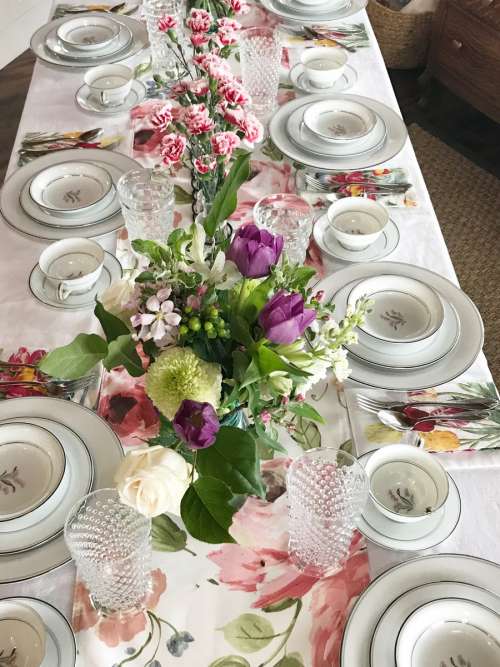 .
I bought flowers at Costco, added some of my apple blossoms that are blooming right now, and put them in vintage mason jars for the centerpieces.  I don't like flower centerpieces that are so tall that you can't see over them to visit, so I cut the stems to keep them a bit shorter!
.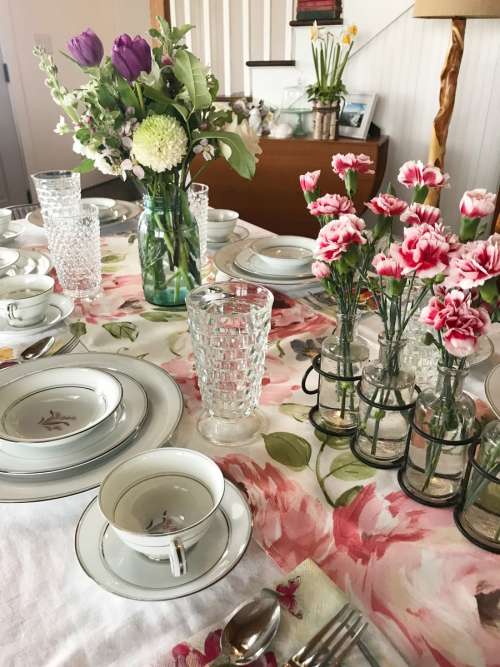 .
And then came the food!  I didn't want to clutter the table with food so I decided to have my two grand-girls serve us!  Oh my goodness did they ever love that and they did such an amazing job.  (And WHY do I not have a picture of them serving us??)  They still got to sit and eat in between serving and it was so fun for them to be a part of it.
.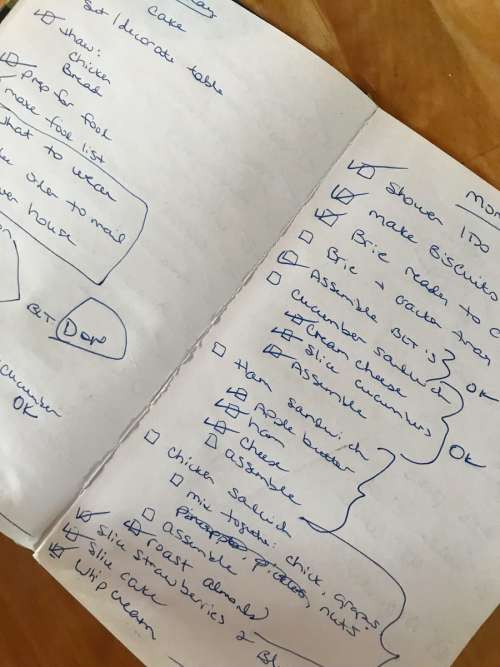 .
.
So the best thing about this meal is that I was able to do a lot of it the day before.  That way on Tea Party day all I had to do was assemble everything.  I'm a list maker so I had my detailed list and just checked it all off as I went and it took the stress and hurry out of it completely!
.
So I know you're wondering what I fixed for the meal!  I made a four course meal consisting of the following:
.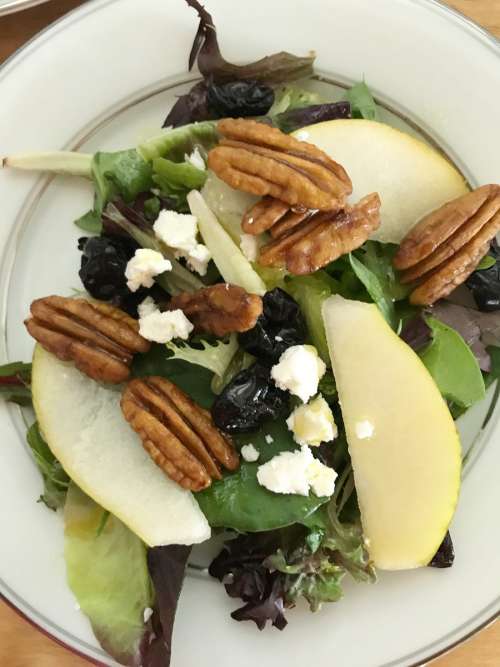 .
This salad may not look like anything special but oh my goodness, it was good.  I changed it up a bit by using pecans instead of walnuts and added the feta cheese.  Perfect combination.
.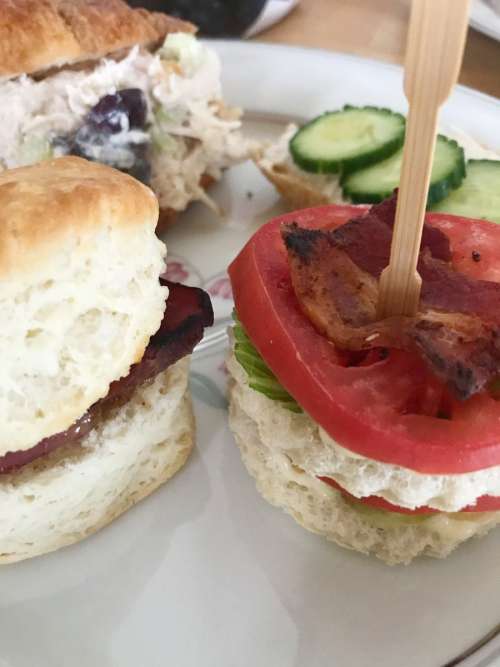 .
Homemade biscuits made the little ham sandwiches so good.  (I've blogged about my biscuit recipe here.  It is the BEST!!)  And those little BLT sandwiches???  I could've eaten three!  (I might've, actually!)
.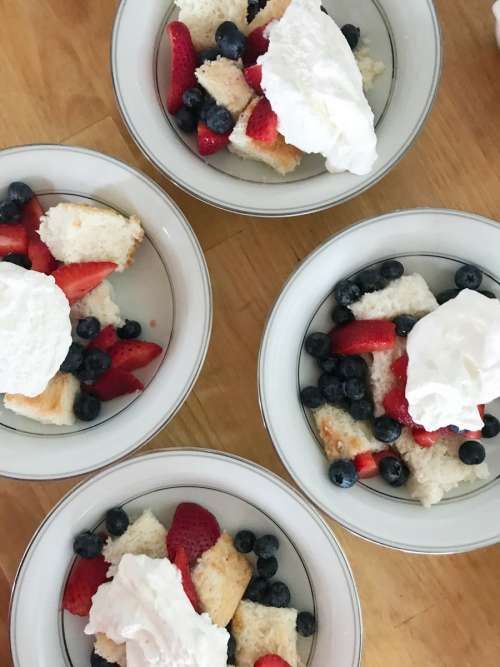 .
Our chickens have been laying SO many eggs with Spring arrival and an Angel Food Cake is the best thing to make when you have a counter full of eggs!  (It uses a dozen egg whites!) I love to cut Angel Food Cake into large bite pieces instead of serving a slice.
.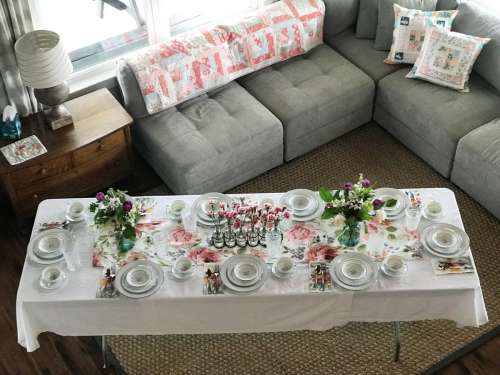 .
It was the absolute perfect spring party!  I enjoyed setting the table, making the food, arranging the flowers, and enjoying the sweet company!
.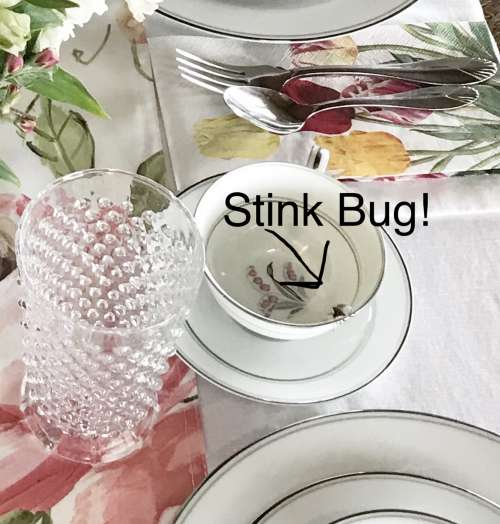 .
So I'm going to end this blog post on a really hilarious note.  We've been having a stink bug infestation here in Tennessee and I guess one decided to join the party.  BUT I never saw this crazy thing; even in taking the pictures of my table, editing them and posting them to my Instagram.  But this week we had company for Sunday lunch and the husband to Jenna, one of the girls's that came to the party, commented to me about the stink bug that was in a cup at my tea party. In my confusion he went on to tell me that he had seen the pictures and noticed a black spot on the cup and zoomed in to see what it was!!!!  We were all laughing SO HARD at him!!  What man zooms in to see what the black spot is on the inside of a china cup??!!!  Well…. in hindsight I realized he IS an engineer and their brains do work a little differently!!!  But I had to share the zoomed in photo of the stink bug that joined the tea party!  Smile!
.
Thank you to all of you amazing readers that left such perfect comments on my post last month.  I loved reading them all and thinking about all the sweet letters you will be writing this year, and why.  It really encouraged me to keep with my goal of letter writing.
And the randomly selected WINNER to the giveaway of a set of my note cards is:
Maxine Jelinek 
.
Enjoy your beautiful Spring, friends.  Its time for a tea party!
Until our gravel roads cross again… so long.
Dori