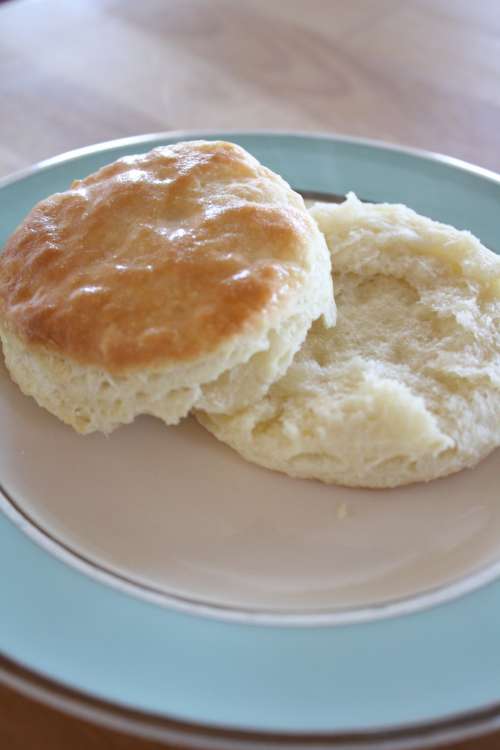 .
Do you have a food that speaks to you?  That tells you all is well and life is good?  I've got several different foods that do that for me, but one of my very favorite is home-made, fluffy, right out of the oven biscuits!
 .
My Momma always made biscuits so some of my very best childhood memories are tied in with the flaky goodness.
.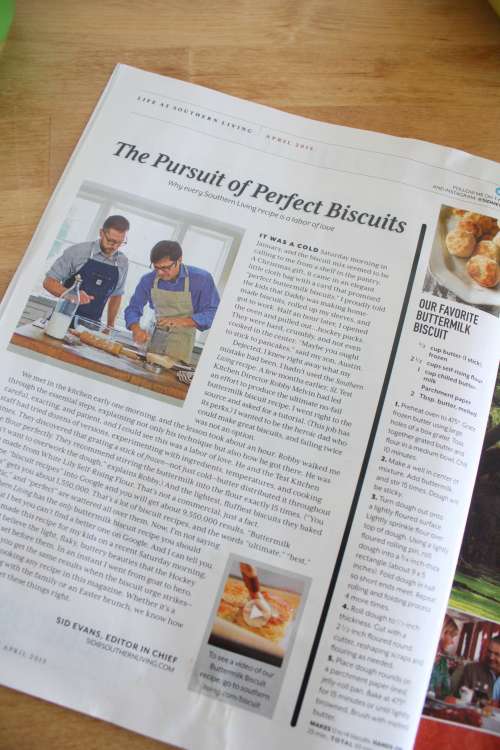 .
I never, ever make biscuits any other way than what I learned from my Momma.  But recently I looked at a biscuit recipe in Southern Living Magazine and saw that the ingredients and amounts were exactly what my Momma's recipe is, but the way they put it all together was a little bit different.  I decided to give it try.  I will admit that the biscuits were flakier than mine usually come out.
.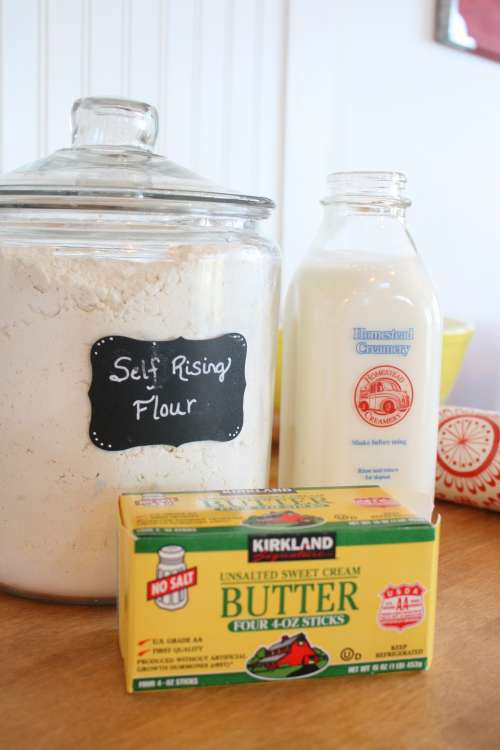 .
Because they are the easiest and yummiest biscuits you'll ever make, I decided to write a little Biscuit Tutorial for you! You need three simple ingredients:
1 stick (1/2 cup) of frozen butter
2 1/2 cups self rising flour
1 cup whole buttermilk
.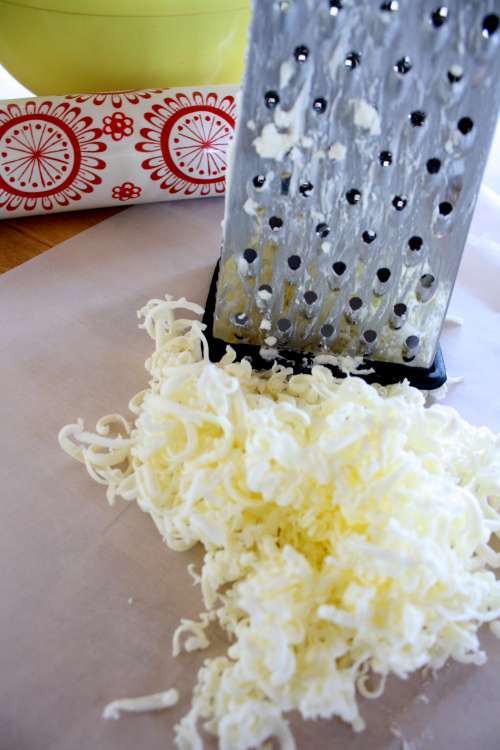 .
To start, take one stick of FROZEN butter and grate it with a hand grater.
 .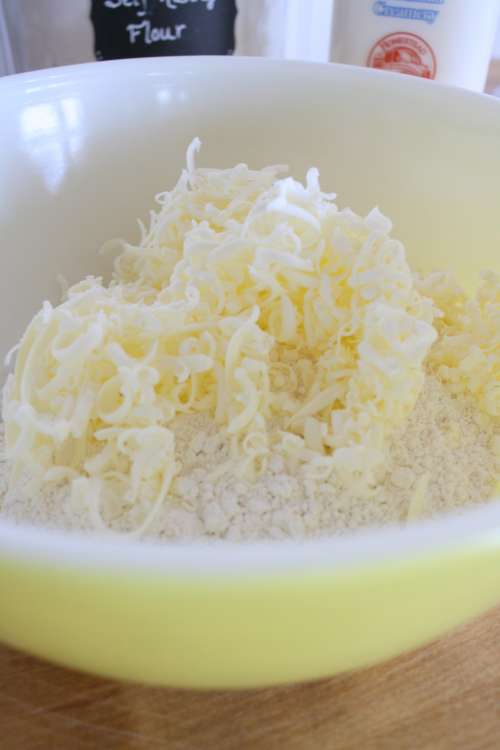 .
Place 2 1/2 cups of self rising flour in a large mixing bowl (vintage pyrex is the best!) and add the butter.  Mix together gently and place in the freezer to chill for ten minutes.
.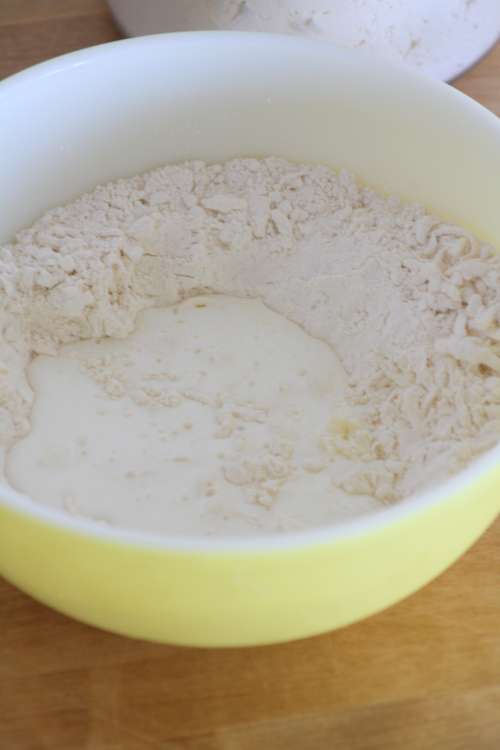 .
Remove flour/butter mixture from freezer and make a well in center of the mixture.  Pour one cup of chilled whole buttermilk into the well.
 .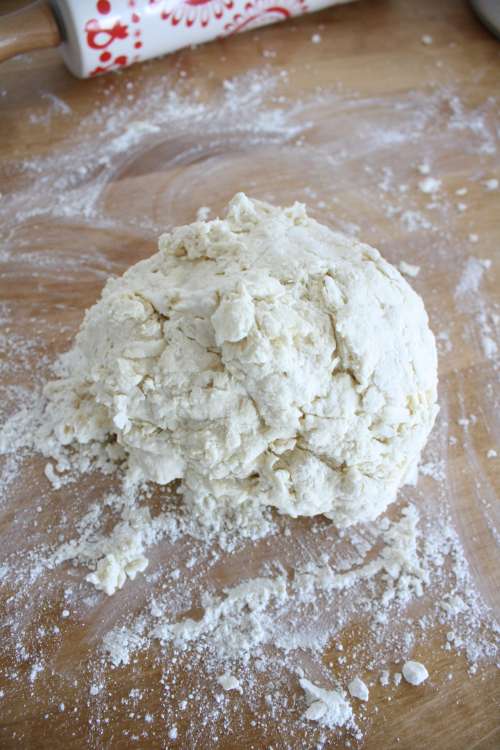 .
Stir mixture 15 times and then pour biscuit dough out onto floured surface.  Your dough should be quite sticky.  Gently form into a ball.
.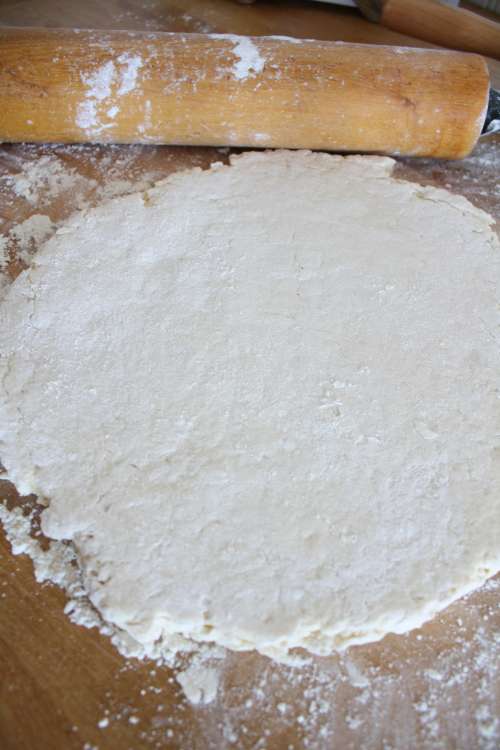 .
Using a lightly floured rolling pin, roll dough into a 3/4 inch thick rectangle.  (Obviously, I rolled mine into a circle instead!)
 .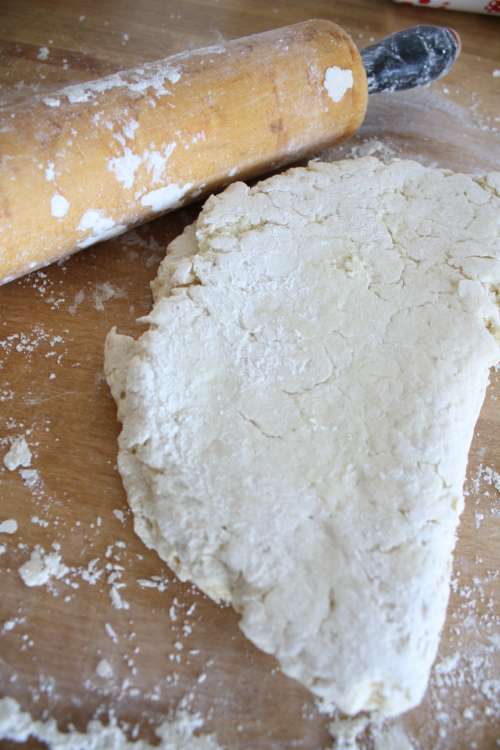 .
Fold dough in half so short ends meet.  Repeat rolling and folding process four more times.  This is important, as this is what creates the flaky layers in your biscuits.
.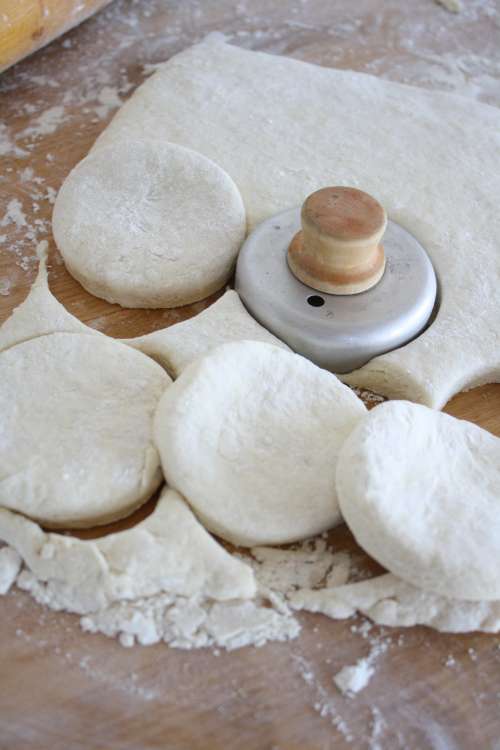 .
On the final roll of your dough, roll it to a 1/2 inch thickness.  Cut with a round biscuit cutter, re-shaping scraps and flouring your surface as needed.
.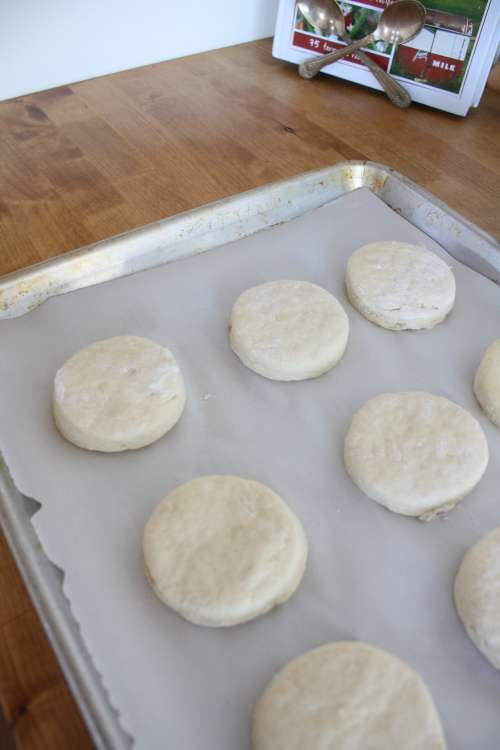 .
Place dough rounds on a parchment paper lined jelly roll pan.
.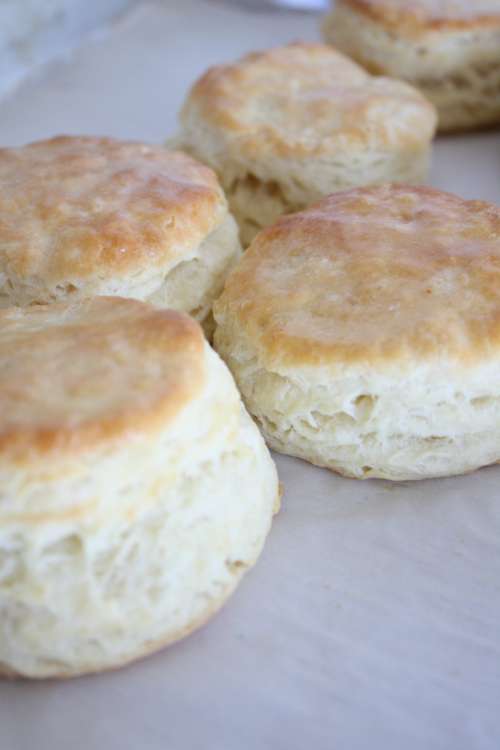 .
Bake at 475 degrees for 15 minutes or until lightly browned.
.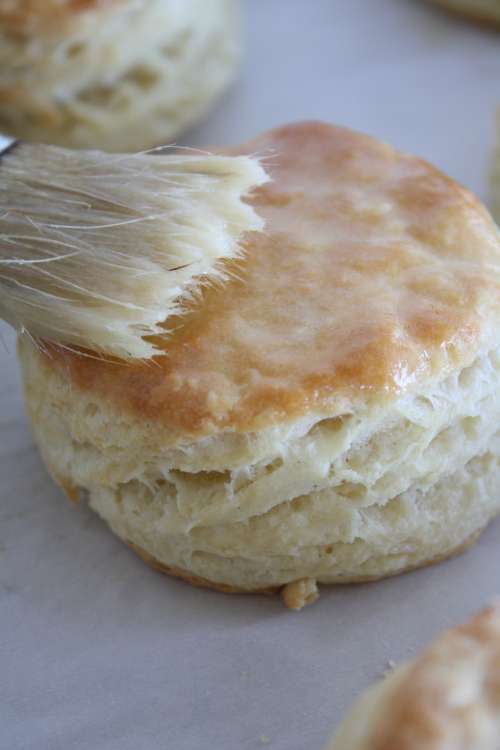 .
Brush each biscuit top with melted butter.  Is your mouth watering yet?
 .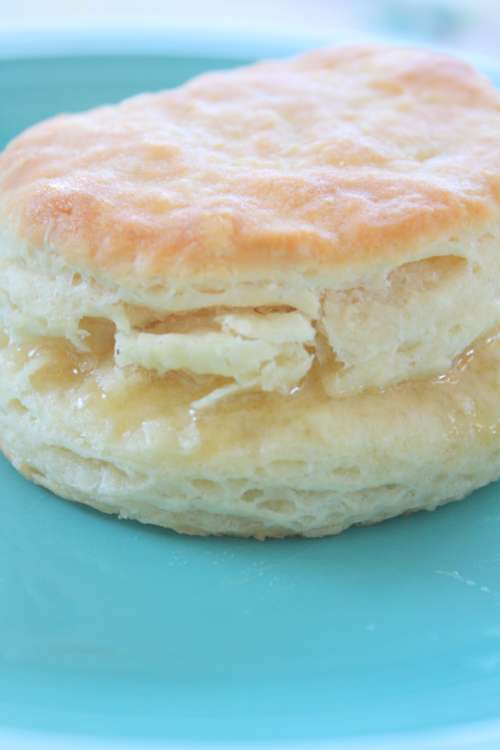 .
Eat immediately!  Enjoy with butter and honey…
.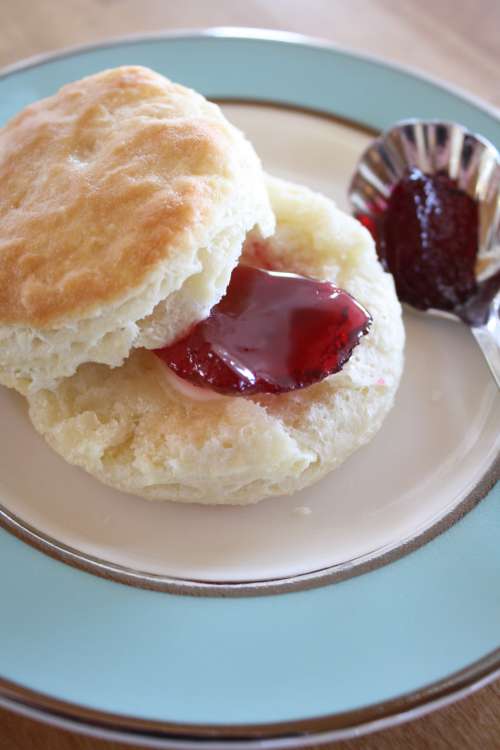 .
Or home made jelly!
.
Of course we can't forget biscuits and sausage gravy, or a ham biscuit sandwich, or along with fried chicken and gravy. My grand-dad always ate his biscuits with rich and thick molasses!   The list of biscuit comfort food could go on forever!
.
Personally I wish I could invite all of Y'all for a Southern lunch on my porch with Country Ham and Biscuits, Cole Slaw, and Sweet Tea.   We could sit and talk all things Farmgirl.
.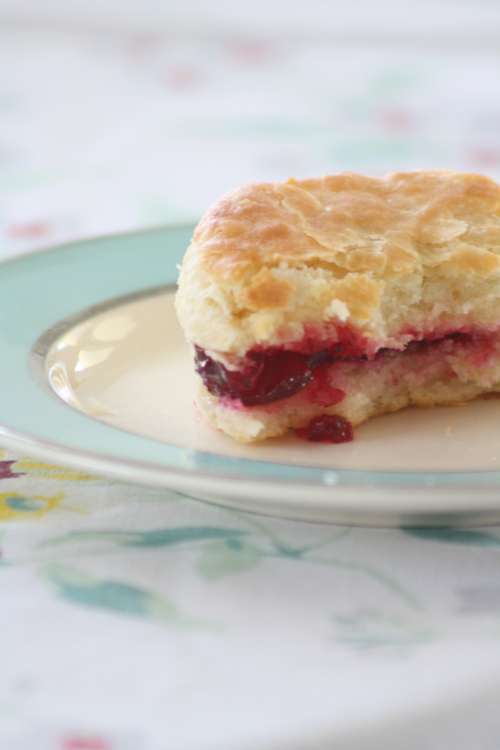 …
Instead, conversation here will have to suffice for now.
.
So tell me – what is the comfort food that speaks to you?
.
Until our gravel roads cross again… so long.
.
Dori