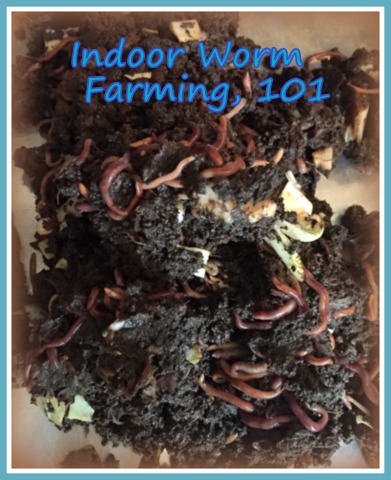 Because we compost and recycle, our household generates little trash. My compost bin is great; my plants love the "garden gold" produced! However, living in New England, we weren't composting year round. What to do? Compost inside…with vermicomposting! It's really worthwhile, and simple to do.
My neighbor, Karlyn Sturmer, is a  Master Gardener and a Master Composter. She gardens in both containers and raised beds, and also focuses on native plantings and habitats for wildlife. Karlyn uses vermicomposting to fertilize both her indoor and outdoor plants. When her worm bin recently became too full with working worms, she offered to help me get a worm bin started, sharing worms from her bin. I've long wanted to create a "worm ranch", after reading the book Worms Eat My Garbage by Mary Appelhof, while earning the "Gaining Ground" Farmgirl Sisterhood Badge.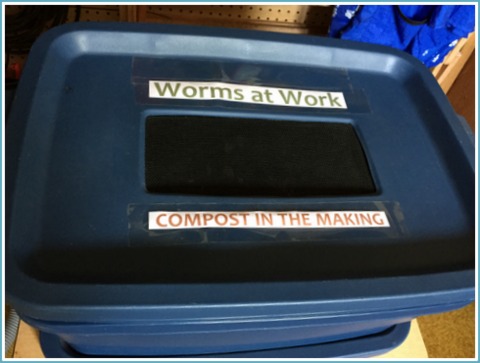 To start a vermicomposter, you'll need a 22" x 15.5", solid (not translucent or transparent), lidded plastic storage bin (like those made by Rubbermaid). It should be clean and dry to start (remember, living creatures will call it home)!
My bin's deeper than what I really needed, but it's always good to use what's on hand. Karlyn showed me her completed bin. The compost inside was very wet, indicating there were now too many worms.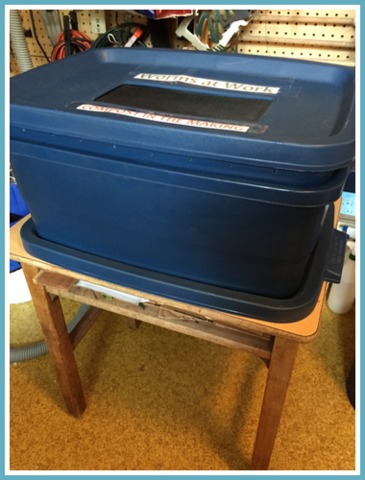 Karlyn originally started with a ¼  – ½ pound of Red Wigglers. Red Wigglers are a surface crawler type of worm, as opposed to the earthworms outside that are "European crawlers". There's actually no true native earthworm –  they were re-introduced (after disappearing during the Ice Age) to America by the colonists.
To start, air holes are drilled in the bottom of the bin, and along the rim of the box. Use a small drill bit – you don't want your little residents to climb out of the box through the ventilation holes. We used a 3/16" drill bit size. The holes help prevent the inside from becoming too moist and thus moldy. Make sure to get all the plastic bits from the drilled holes out of the inside of the bin.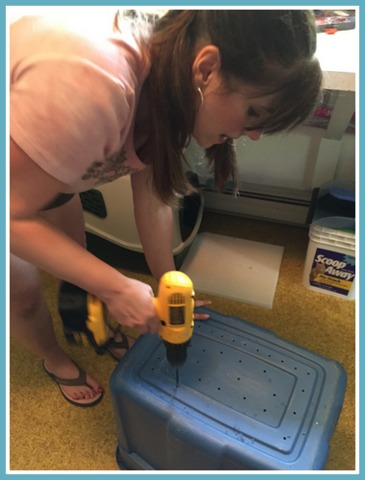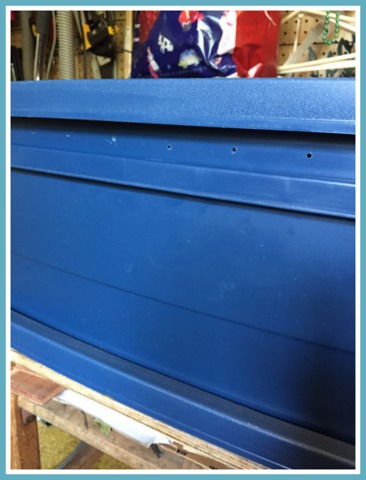 Next, we cut the recessed square of plastic from the top middle portion of the lid, closing it back up with screening using strong tape. Karlyn shared some pet screening, which she prefers because it's dark. Worms dislike light, and will move downward if light enters the box. Wire screening can be used too, if you have it on hand.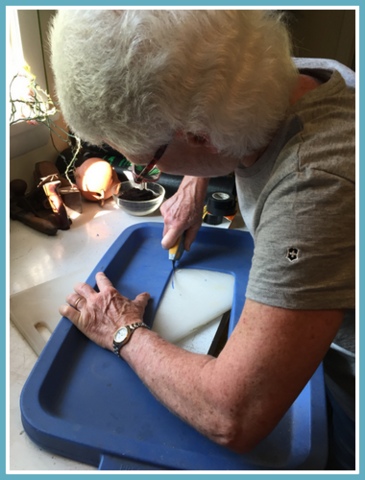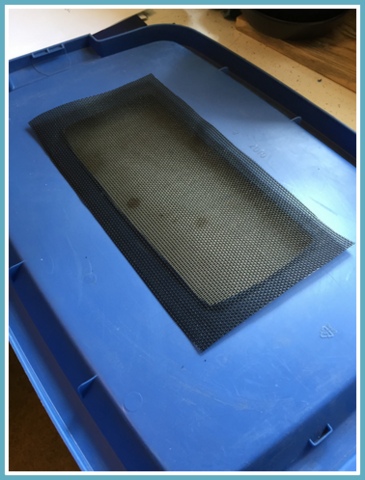 With that done, it was time to set up the inside. Worms need food, bedding, water, and oxygen. For bedding we lined the box with shredded newspaper, using only black and white, soy-based-ink newsprint. We dampened it with water, making it moist like a wrung-out sponge. If you have city water, Karlyn recommends letting it sit overnight before using it in the bin. The worms need plenty of bedding, so Karlyn keeps a bag of shredded newspaper on hand nearby her bin.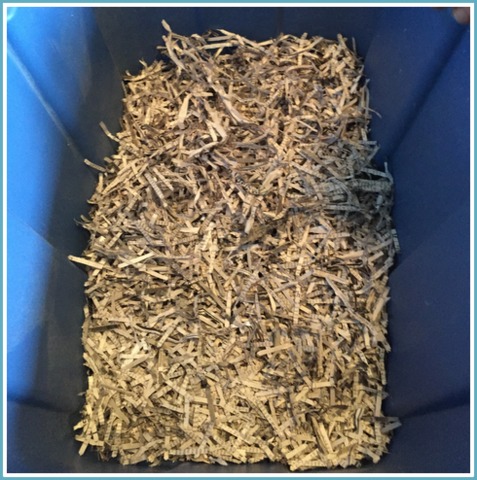 A handful of "clean" dirt was added next. Karlyn screened her topsoil pile to remove any unwanted debris. Soil helps keep the worms' guts clean, and introduces necessary microorganisms.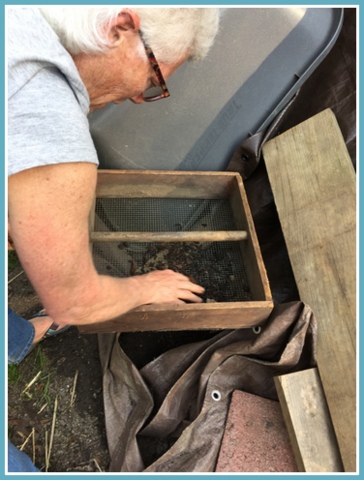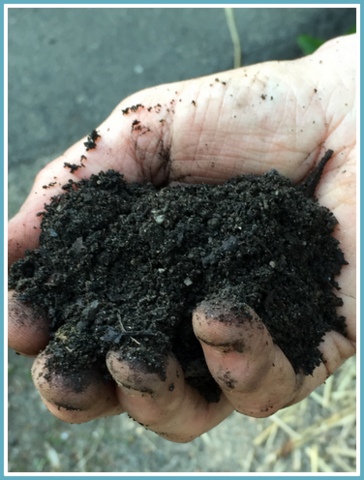 Next we added food: a bit of shredded lettuce, some turnip pieces, a little fruit, and coffee grounds, a worm "favorite". I add a bit of coffee grounds to my new bin about once a week, when I feed them. The rules for "feeding" your worms are the same as for any compost bin: no meat, dairy, cooked foods, oils or fats. Also, no onions, garlic or citrus – they're too acidic for worms.
With my new bin ready for residents, the next step was sorting through the rich, moist compost generated by Karlyn's worms. We created a pile of undigested food, one of compost, and one of worms and eggs. The worms will double in about 3 – 4 months, depending on factors like how much food and moisture there is. Picking out those little red wigglers was enjoyable…very calming. Until she's ready to use it in her plants and garden, Karlyn keeps the finished compost that's created in a clean recyclable-plastic, lidded jar (like the ones pretzels come in) with a few air holes drilled in it, in case she misses any worms in sorting.
Karlyn advises that when starting a new vermicomposting bin, use a reliable source for red wiggler (Eisenia foetida) worms. Be wary; you could unwittingly end up with the invasive form of earthworm (Amynthas agrestis) that's becoming a real issue. A good online source for desirable red wigglers is  http://www.wormladies.com/.
It's fascinating how disposable items like food scraps and newspaper create such a valuable resource. Karlyn says if you open your bin and notice worms climbing up the sides in numbers, it's an indication something isn't in balance (too wet, too dry, more food is needed).
I keep my "worm ranch" in my basement, where it's cool and dark. Several weeks later, my worms are happy and thriving. Vermicomposting takes little effort, cuts down on household garbage, and creates rich, usable compost! Thanks, Karlyn, for getting me started!
Until Next Time… Farmgirl Hugs, Nicole