Winter 2014 has proven to be a hard one!  With over three feet of snow covering the yard, ice everywhere, and everyone, including the chickens stuck indoors, how do we keep from going stir crazy?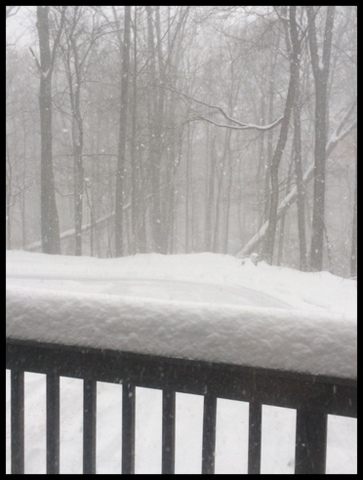 My friends in warmer states always are in disbelief that we can handle temperatures so cold. It's amazing what you get used to, and spring, summer and fall here can be divine. I always feel sheepish complaining of cold when talking to my friends in colder areas, like Minnesota. Of course, I worry about my loved ones when they're on the road in bad weather, and I especially worried about my mom in Georgia this year. Almost every state in the US has been affected by a long, cold winter season.
At our house, the chickens that we were given from a neighbor in November are now "teenagers". While I got a chicken coop this Christmas, it was too cold to put the chicks outside, even with their heater, so we built the big, wooden coop inside, in the garage. My husband's very handy, and the coop is built with sections. It will be easy to transfer the coop and hens outside when we have a thaw. For now, we've put painter's plastic underneath the "run" portion of the coop. In the run, henhouse and nesting box sections, I'm using the same flaked wood from the feed store we used to line their box when they were babies. I use a litter box scoop to remove the old bedding into a bucket each day, so mess and smell is kept at bay. Each evening, we close the henhouse at night, just as we would if they were outside. Every morning, they're so cute, lined up at the door, waiting to greet me and be fed their food and fresh water. Chickens need variety and greens. In addition to their feed, I've discovered my chickens love green peas, torn lettuce and kale, and sweet potato peelings. They are so sweet and docile, and I delight in their clucks and purrs. We recently saw a fisher cat strolling right through our front yard, about four feet from the house, so I do worry about when they move outside, but I also can't wait until they can be in the grass, taking dust baths and doing the things chickens do.
I don't like to complain about the weather. The weather is something I can't control, but I can control my attitude about it.
We've had many "snow days", which throws my schedule off, but I really am treasuring the time. While it can be trying to keep my daughter entertained when I can't tell her to go ride her bike or go outside to play, I know that the years are flying by, and one day I will miss these "bonus" days.  She loves all the snow, and even if it's too heavy to sled, she still enjoys "suiting up" to dig in the fluffy white. A long winter's hard on businesses, and hard on families on tight budgets, but I also look at snow days as a chance for cozy family time. As I shovel yet another round of snow, slush, and ice, I try to look at the bright side, keeping in mind that I'm also burning extra calories!
To stave off  "winter blues" I pour through seed catalogs that have filled my mailbox like old friends…
cooked hearty, warm dinners…
baked special treats…
A taste of summer on a wintry day! Hard to believe the North Pole we are living in now will be lush and green again in a few months! (Recipe below).
and created. Keeping busy hands keeps my mind off of bad weather. Craft, sew, knit, journal… creating something is so therapeutic.
Hang in there, farmgirls! Winter won't last forever.
***So tell me…what gets you and your family through a long winter?***

Scrumptious Raspberry Muffins
1 ¼ cup organic flour

¾ cup organic oatmeal (rolled oats type)

½ cup organic sugar

2 ½ teaspoons baking powder

¼ tsp cinnamon

¼ tsp nutmeg

¼ tsp salt

½ cup organic milk

4 TBSP organic coconut oil, melted. Let cool before adding.

1 egg, beaten


1 ½ tsp vanilla

1 cup berries (fresh or frozen raspberries or blackberries. Can also use fresh blueberries, or dried cranberries or raisins)
Preheat oven to 4000. In a large bowl, stir together flour, oats, baking powder, spices, and salt.  In a smaller bowl, whisk together the milk, oil, egg, and vanilla.  Make a well in the center of the dry ingredients and add the wet; mix together just to moisten.  Gently fold in the berries.  Spoon batter into greased muffin tin, filling each cup ½ full.  Bake 20 minutes and cool for five minutes before removing muffins from tin and cooling on a baking rack.  Makes about 12 muffins.
Until Next Time, Farmgirl Hugs, Nicole