As a kid in Houston, I really didn't have "winter" clothes.  We'd wear flip-flops almost year round, and my "coat" was more of a jacket.  The first time I saw snow up North, I was so excited I phoned my family in Texas at the crack of dawn! Now, snow's part of life in Connecticut, and most of us don't give it much thought other than checking to see if school's called off. So when warnings came through about a history-making blizzard, we got prepared (not  panicked).   "Nemo" was bringing a snowfall our area hadn't seen at once in several decades.  What's a farmgirl to do with a ton of snow?  Have a ton of fun!
Look!  A "Snowy Owl"!

My relatives in warmer climates like to playfully tease me in winter when they're sitting out soakin' up the sun, and tending their roses.  But those that haven't lived in a snowy climate only see what the media puts on television, (always the extreme), and you're missin' out!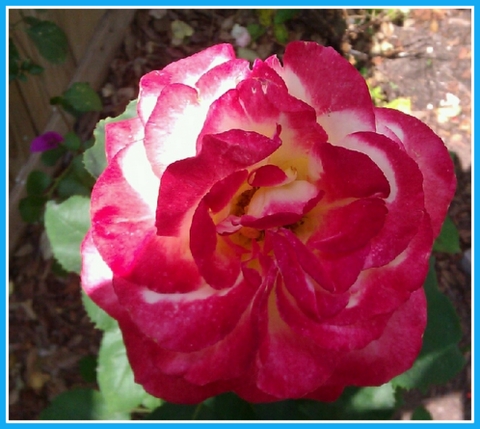 This rose bloomed at my brother's home on Valentine's Day.
Of course we make sure we have groceries – we do that every week, despite the weather!  If there's anything the recent "superstorms" (Irene, Alfred and Sandy) have taught us, it's to be ready for loss of electricity. I make sure we have food that can be heated up and gas for the generator.  It's the wind that causes the power outages, not the snow. Friends who ski pray for gobs of white, though I tried skiing once.  It didn't go well…I couldn't get past the bunny slope and ended face down with my skis stuck straight up, like two telephone poles.  Thank goodness YouTube didn't exist back then.  Still, nothing's more peaceful or beautiful than gently falling snow.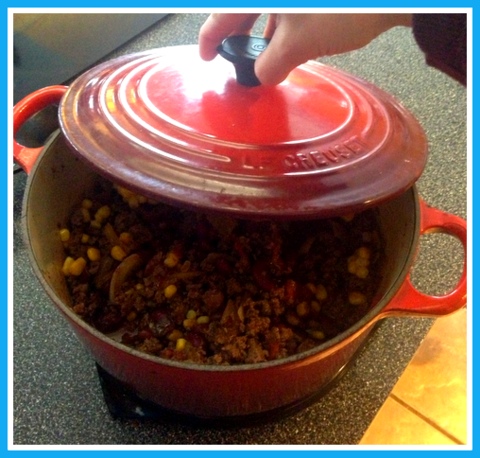 A cold Connecticut day and hot Texas chili equals bliss!
School was cancelled the day before, but my husband went to work.   Kim's a hard-worker; in two decades, I can count the number of times he's left early or had a sick day on one hand.  A Scandinavian, he's an expert in Winter driving.  But when our governor announced all the roads would close at noon, I hoped he'd hightail it home quick!  
Once my hubby was home, I felt relieved, and we could enjoy the storm. Enjoy?  
The wind was angry, but  watching the storm was exciting.  The hardest part of snow is clearing our massive driveway, so my "Suburban Farmboy" husband went out a couple of times to use the snow thrower on our garden tractor.  I held my breath, nervous  the wind would drop a big tree on him a-la Dorothy's house in the Wizard of Oz,  but again, my imagination is my Achilles heel!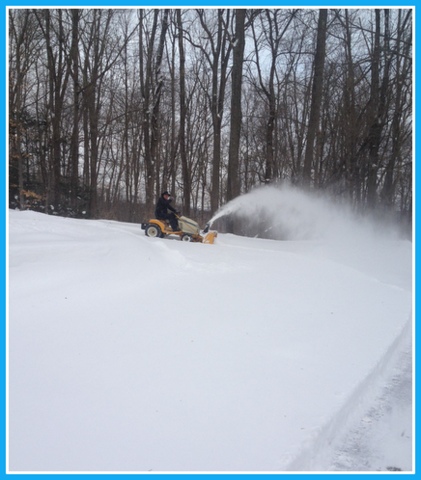 Kim gives the "thumbs up" that he got the snow thrower working after some "technical difficulties"
The next morning (Saturday), New England was buried and still.  We got more than thirty inches!  It was more of a big "comforter" than a "blanket" of snow. The earth sparkled – Mother Nature's "bling"!   Everyone and everything needed digging out, and roads were closed 'til that evening.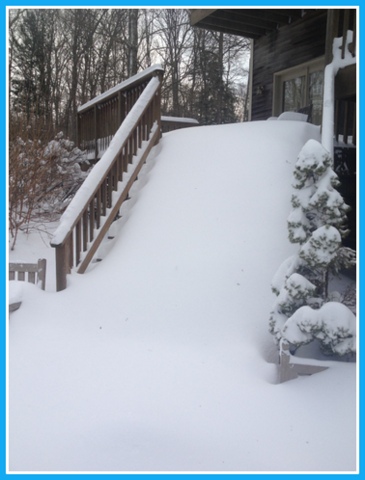 My deck stairs disappeared.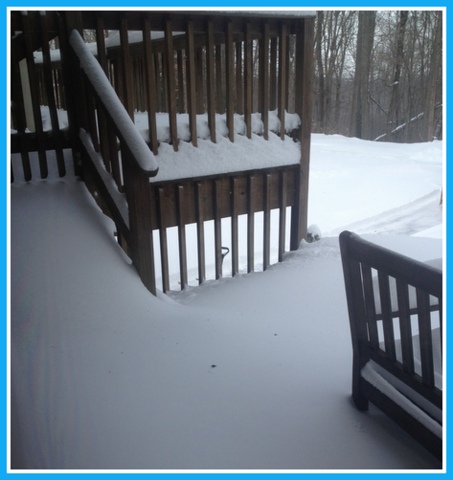 The back porch and view of the driveway – after it had been cleared of snow the night before – twice!
We did have to find our mailbox.  We think of it as a hunt for buried treasure (unless it's full of  bills).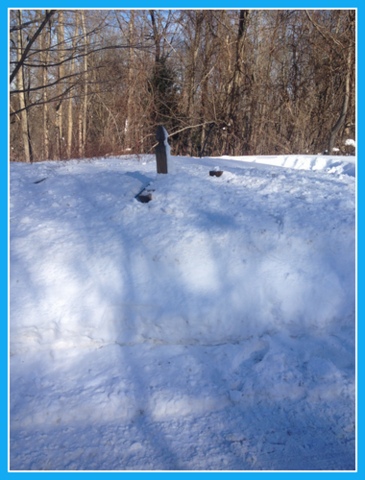 The mailbox had been there the night before…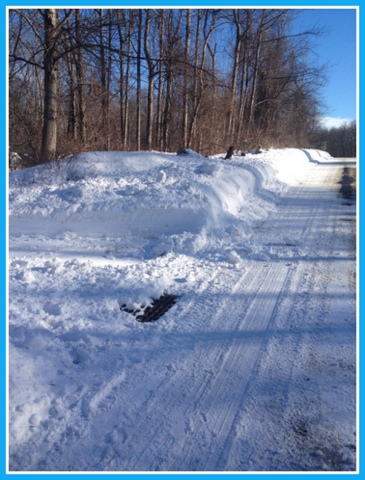 The Road…after the town plowed it. Needs a few more passes!
Powdery and soft, it made for some laughs when the dog went out, or we tried to run through it.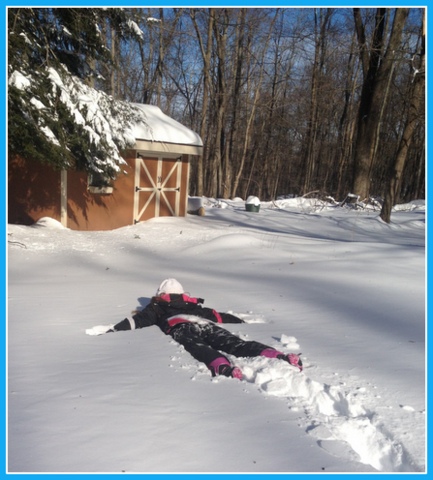 SPLAT!  My daughter learned that not just boots but snowshoes are really needed to move through deep snow.
By Sunday, the roads were clear.  We were invited to our friends' the MacKenzie's for some sledding and cocoa with their son and grand-kids.  Now, I've said I love to sled, but despite a steep, winding driveway, the rest of our property's pretty flat.  Our version of sledding's more like sliding down a lump than a hill, the whole process over in seconds.  Watching the kids sledding lickity-split down the MacKenzie's long track, I realized I've never had the full experience. Imagine a Merry-Go-Round compared to a roller coaster.  Everyone convinced me I just had to try it. It looked like "snow much fun"!  Up I went, with an inflatable do-nut sled.  Looking down, I suddenly felt very old…and very small.
No time to think or back out, I was gently nudged, but immediately picked up speed.  I was flying!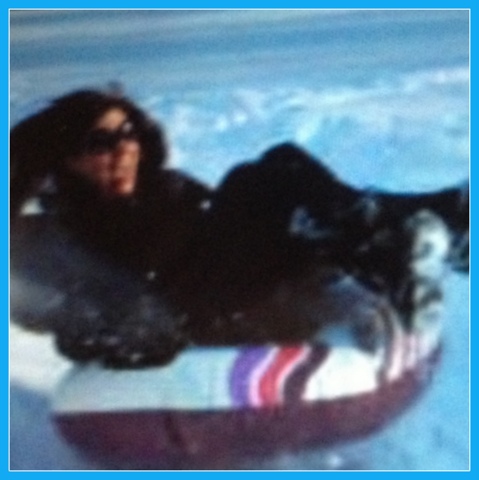 I wasn't prepped how to stop.  Yes, I screamed. The. Whole. Way. Down. At one point I was airborne.  A birdhouse on a pole loomed ahead, but suddenly the track veered a sharp right and I kept going.   A kid (mine, I think) at the bottom screamed and jumped out of the way as I flew past.  I thought I might go into the woods, when finally I stopped.  Weeeeeee! I felt just like the little happy animated piglet in the Geico commercials. I LOVED IT!  Winter isn't so bad!  We get a reprieve from mowing, weeding and watering! Warm-climate friends, you may get to wear shorts all year round, but we get to SLED!!!!  (Hmmm…maybe I should give skiing another try). Punxsutawney Phil predicted an early Spring, but in case he's wrong, winter's welcome a few more weeks.
*(Remember to leave me a comment so I know you stopped by!)
Until next time…Farmgirl Hugs, Nicole