My  Farmgirl Sisterhood Chapter and I recently spent an afternoon learning a new skill and making some very beautiful Christmas gifts for friends and family! Grab a cup of tea, your sewing machine, and some girlfriends for an afternoon of creativity and fun!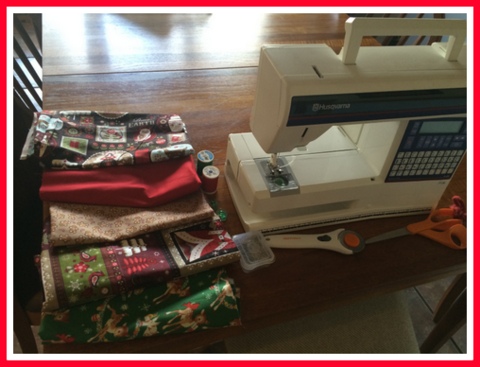 I started the Farmgirl Sisterhood chapter, "Connecticut Simpler Life Sisters", several years ago; I love to get together with wonderful friends that have now become my "sisters".  Every year at Christmas, we get together for our annual Holiday Potluck and Homemade Gift Exchange.  It's become a tradition we all look forward to, wondering what each of us will create for a present.  Every year, there's that one creation we all "ooh and ahh" over most.  Last year, it was the gift Ali received, a stunning quilted table runner designed by my friend Barb. Almost a year later, we were still chatting about it, and how we'd love to learn to quilt.  Barb agreed to lead us in an "Ol' Fashioned Quilting Bee 101".  We'd make a rectangular, pieced and quilted table runner – a good way to "get our feet wet" with quilting, as Barb's the only experienced quilter in our group.
We picked a Saturday afternoon and everyone was sent a list of materials beforehand.  Basic quilting items are needed: a rotary cutter and mat, sewing machine, sewing scissors, thread, seam ripper and pins.  (If someone didn't have something, we'd share what we had).  As for the individual runners, each project needs21 five-inch squares of fabric (to line up in 3 rows by seven squares).  It's a good way to use up your "stash" and "scraps" from other sewing projects.  If starting "from scratch", where fabric is sold by the yard, purchase ½" yard of fabric for the backing, as you need a piece 32" x 15" and ¼" – ½" yard of several fabrics for the 5" squares.  Pre-cut packs of coordinating squares, called "charm packs" can be purchased, but I like the creativity of putting my own fabric picks together.  I also like the look of mixing solids with prints best. Lastly, purchase ½" yard of quilting batting, as a batting piece 32"x15" is needed.  I prefer low-loft batting best.  As a group, it was fun to see what combinations of fabrics we each picked, and to share squares.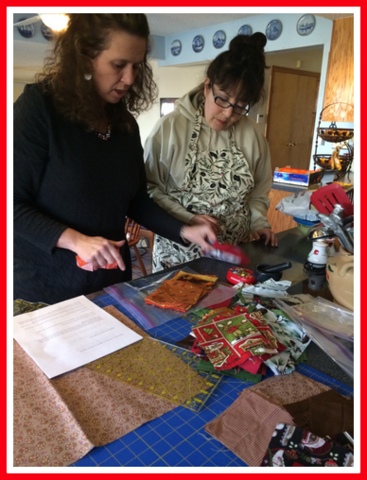 Barb instructs Ali on the best way to cut her squares, using a rotary cutter, cutting ruler, and self-healing board.
Sewing machines were set up 'round the kitchen table, with the iron and ironing board and cutting mats on the kitchen counters.  Coffee and munchies were set out. (Ali made her "famous" dip of guacamole mixed with hummus…delicious)!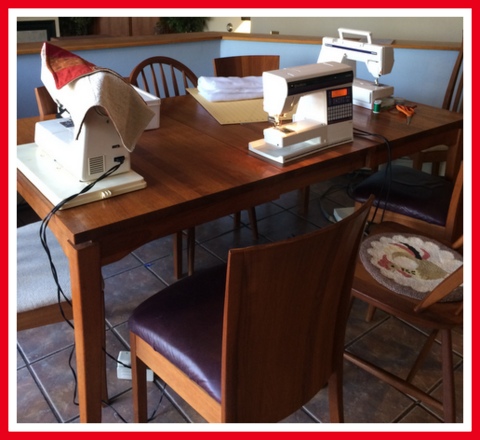 After cutting the squares, arrange them like a puzzle how the finished runner will look.  Starting with the first two squares, sew them together using a ¼" seam. Follow with the rest of the blocks in the row until you have one long strip sewn together.  Do the same with the second and third rows.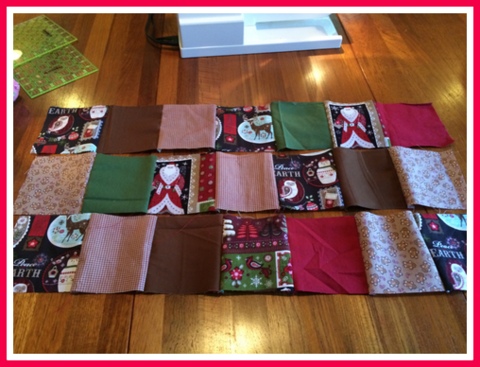 Afterward, press the seams of the first and third rows to the right, and the seams of the second row to the left (this will help match up seams when the rows are sewn together). Finally, sew the three rows together to make the top.
To finish the runner, Barb instructed us to use the "Pillowcase Method".  Lay the batting on your cutting surface, with the longer edges at the sides and the shorter ones at the top and bottom.  Lay the runner top  on top of the batting with the right side up, then lay the backing fabric on top, right side down.  Match the edges and pin the three layers together around the outside.  Sew the layers together using a ¼" seam allowance, leaving one seven-inch opening on the the short side.  Trim thee three sewn edges to a ¼" of the seam.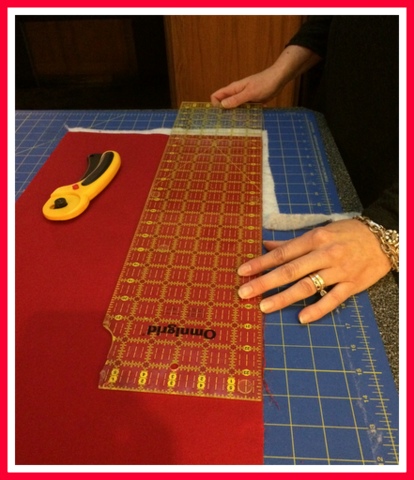 Always re-check your alignment before cutting. Barb says, "Check twice, cut once."
Turn the runner right-side out (like a pillow case). Voila! Your batting will now be sandwiched between the top and backing layers.  Fold the top edges of the opening and sew closed with a needle and thread.  Top-stitch around the outside edges to quilt, and if desired, between the squares.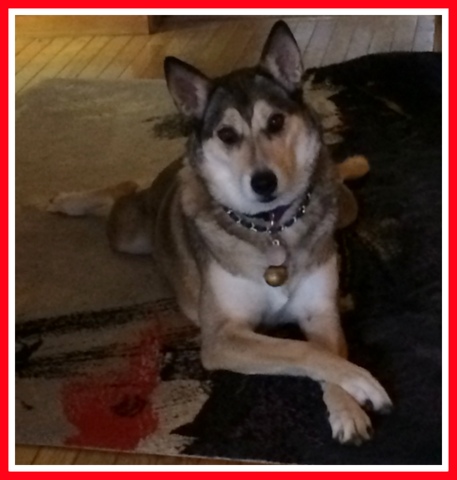 Our "mascot" patiently watched "Santa's workshop" from the hallway.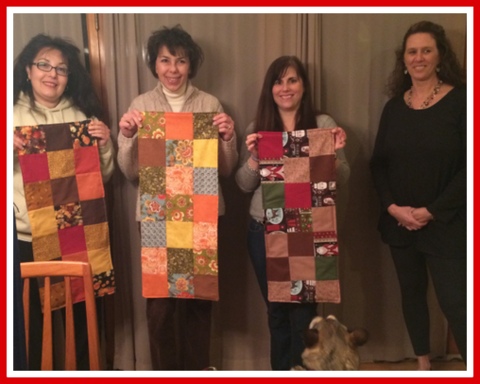 Ali, Jackie, Nicole and  Barb with our finished projects. A big "thank you" to Barb for her wonderful guidance!

The afternoon flew by, and we were all so proud of our runners. Barb has really inspired me; I'm looking forward to diving further into quilting…and perhaps more group projects. For now, I am planning on making more table runners for my table to change with the seasons.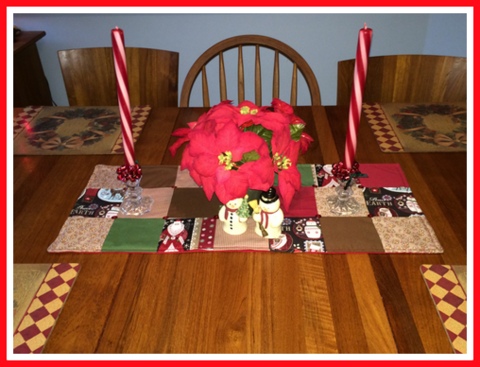 My first table runner in my kitchen.  Each one improves with practice.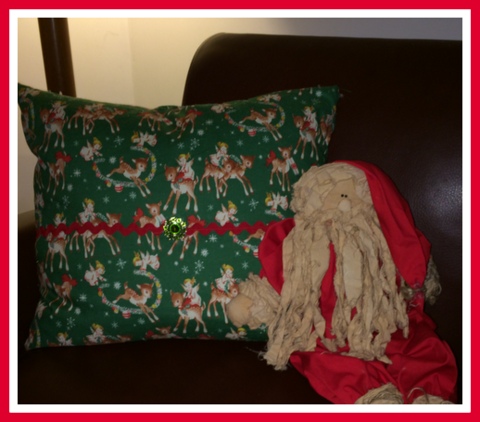 I fell in love with this vintage-like reindeer print. I ended up not using it for any quilts, so I made a throw pillow with ric-rac and a vintage inspired button.  A big vintage rhinestone pin would look lovely, too.
My "points" aren't perfectly even yet, so I've  hidden the imperfections on my corners with embellished buttons,  yielding a country, homespun look.   Each one gets better, and I'm researching quilting to learn more tricks on how to make the points more even. Still, they aren't bad for a beginner. Each runner takes just a few hours to make, and I'm making several for Christmas gifts this year.  Homemade gifts are my favorite; made with love from the heart.
Hope you enjoyed this craft; maybe you will spend a day quilting with your chapter of friends.  Tell me, what homemade gifts are you working on?  Or maybe you are you an experienced quilter with some tips to share? Remember to stop by and say "hello" in the comments below!
Until Next Time…Farmgirl Hugs, Nicole