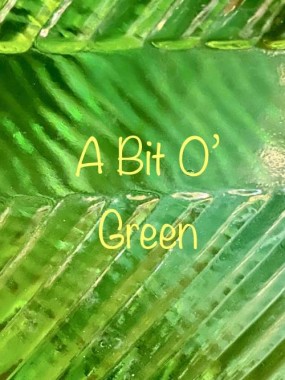 Happy Saint Patrick's Day! I hope you are finding some "happy" amid all of the worry that's weighing on everyone's minds recently. Spring is coming, with greener days ahead. Take a break from the heavy, and visit with me a spell!
I'm part Irish, and have "celebrated" St. Patrick's Day through the years – sometimes going to a festival, or out for a meal; other years just by wearing green. When my daughter was a little girl, before "elves on shelves" existed, we worried about leprechauns invading the house. The little sneaky beings always found a way in, and each morning on St. Patrick's day, we'd find green milk in the refrigerator, shamrock stickers on mirrors, and green shamrocks drawn on entire rolls of toilet paper in the bathroom. 
Nowadays, at "Chez Christensen", St. Patrick's Day is more low key, with a few festive decorations that sit on the Hoosier cabinet in the kitchen.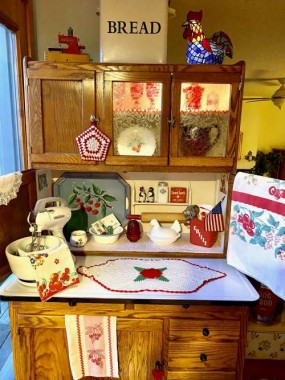 Last month, my husband said those "other" three little words I love to hear: "Let's go junk-tiquing." Married twenty-eight years this year, we still love spending time together.
On a  "date" on a damp and cool Sunday, we found a quaint little place with a cozy fireplace for lunch, near a tucked-away little antique shop we found accidentally on the internet.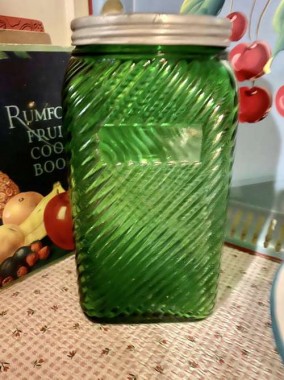 There, we found this little 1930's green glass canister jar made by the Owens Illinois Glass company.
Jars like these are often called "Hoosier glass". This one probably held tea or sugar. I love the way the sun shines through its rich, deep emerald color. Items like this always amaze me how something so delicate can last so many decades. It's like a tangible piece of history. Imagine how cheerful this green must have been in such a dreary time as the Great Depression.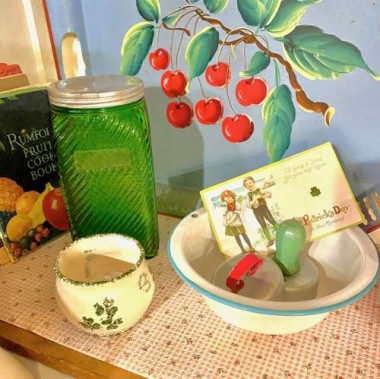 Also on the Hoosier is a green and white St. Patty's postcard from 1910.
Vintage ephemera (antique postcards, photos and other paper) is an inexpensive thing to collect, decorate with and repurpose. 
My best friend gifted me a beautiful, 1950's, handmade sage green dress she picked up while Junktiquing, thinking I might be able to fit in it. It fits like a glove, and will be my Easter dress this year. Dresses are just not made like this anymore! It has a modesty panel in the kick pleat, fitted bodice and a metal (not plastic) zipper. Too pretty to just sit in a closet, it hangs as decor in my downstairs powder room. I repurposed vintage ephemera to dress up a wooden hanger for display.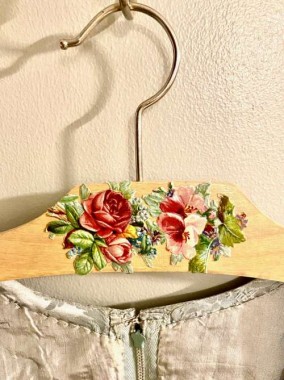 Using old paper "stickers" from the 1940's and a wooden dress hanger (probably from the late 90's), I made a pretty decorative hanger by covering the logo on the hanger with the sticker, using three coats of Modge Podge and letting each coat dry before adding another.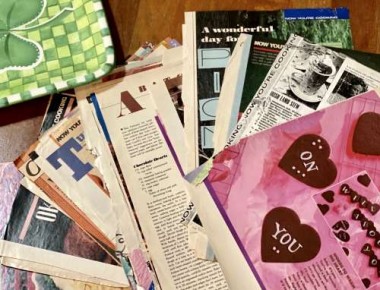 On St. Patty's we always have a good meal, usually with a festive twist. As you know, I love to cook, and have been trying new recipes forever! I still have a stack of pages pulled from magazines, with recipes for meals from back in the 1980's when I was a teenager! Most of the pages are from a monthly cooking section from Seventeen Magazine. I think I was about twelve when I made the "St. Patrick's feast" of Irish Stew, "Lucky Clover Biscuits" and other treats from that tattered page pulled so long ago.
While it has been a lovely "warm" winter, we're still enjoying hearty soups and stews. For St. Patty's this year, I'm serving up my version of a New England favorite: Green Pea Soup, which can be made vegan if need be. It's fast and easy on a busy, cool weeknight.
Nicole's Green Pea Soup with Croutons
2 ½ cups of dried split green peas, quickly washed and picked of stones, etc.
1 carton of organic vegetable broth (to equal three cups)
1 large carrot, peeled and sliced
1 ham steak, cubed*
3 cups of water
1 tsp. Organic "Better Than Boullion" chicken bouillon base*
1 tsp. Pink Himalayan salt
¼ tsp. Pepper
2 bay leaves 
*Omit for vegan version
Quickly rinse dried split peas in cold water in a colander, discarding any possible debris. (Rinsing too long releases the starch). In a Dutch oven over high heat, bring peas, broth, and water to a boil. Reduce heat. Add carrot, ham cubes, bouillon, bay leaves and salt and pepper. Allow to simmer on medium-low heat, stirring occasionally, until peas soften and soup thickens to desired consistency, 30 minutes to one hour. 
For croutons, use fresh bread, such as a crusty French or Italian loaf, cubed. Line a baking sheet with parchment paper, and bake cubes at 350 degrees until crisp. Serve soup with fresh, crusty bread and croutons on top.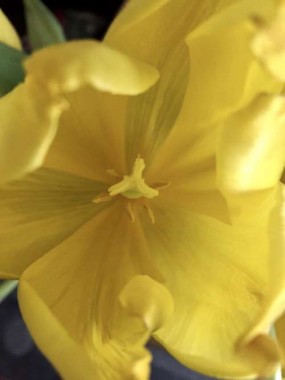 Spring will be in full force before we know it. The green tops of daffodils and the green garlic scapes are peeking through the soil. The trees have blooms, and soon we'll all be gardening! Better days are ahead…we just need to have patience and faith.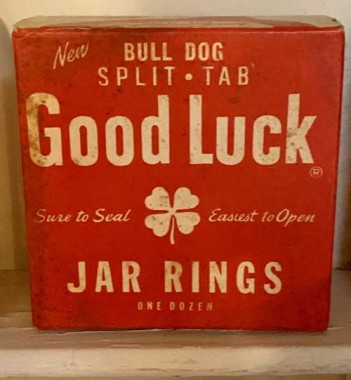 Wishing you a Happy St. Patrick's Day, the Luck of the Irish, and a beautiful, healthy spring. Please leave me a comment so I know you dropped by! Come back by for the next Suburban Farmgirl Blog on April 21st!
Until NextTime…Farmgirl ("virtual, at least six feet away", wink, wink) Hugs, Nicole