.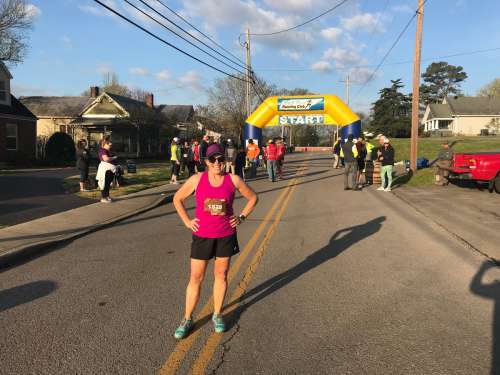 .
Hello Farmgirl Friends!  The first Saturday in April… I've written about this day before here.  And made mention of it  here and here.   And honestly, I wasn't going to write about it this year.  But you know… tradition!  And a few deep thoughts.
.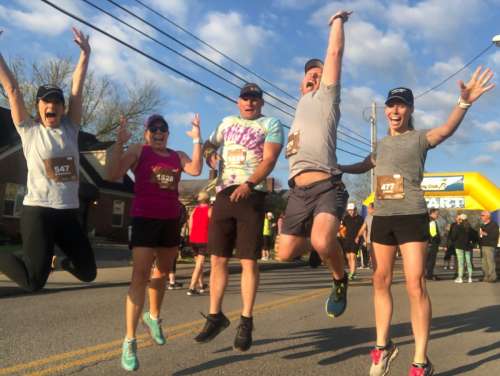 .
What I'm talking about is the Oak Barrel Half Marathon in Lynchburg Tennessee.  This is one of the highlights of my year and I really look forward to it for months.  Part of the reason is that it's become a family tradition that my adult kids run too.  I love that even my son in Arizona makes it a priority to fly for a long weekend and run it.  My daughter and her husband and my daughter's best friend run also.  My husband brings the grand-kids and they all cheer us into the finish!
.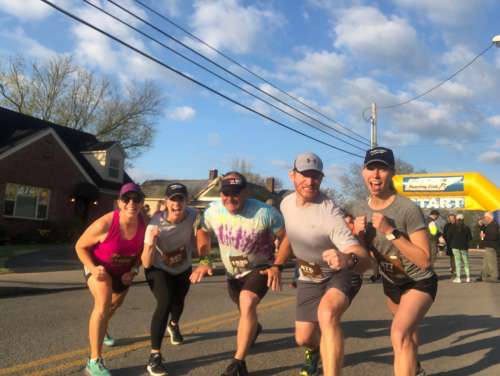 .
My son and son-in-law mostly run together, my daughter and her friend run together and I run on my own.  I actually really enjoy running alone.  I kind of get in a pace and just work really hard to hold it.
.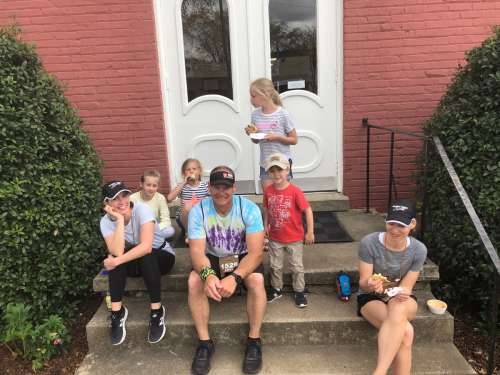 Post Race food and rest!
.
So what I'd like to share about the run this year are just  a few thoughts I had before and during the race.  For the last 18 months of cardio and strength classes and working very hard on my overall fitness I've found myself many times telling people, in reference to the races I sign up for, "Oh I'm not a runner.  I'm very slow and I run a mile or two and break to a quick speed walk when I feel fatigued.  I'm really not a runner."  And I've honestly believed that… I am not a runner.  But this year right before the Half Marathon my fitness coach shared an article with some of us in her classes that were signed up for the run.  (The other girls are what I definitely consider "runners".)
.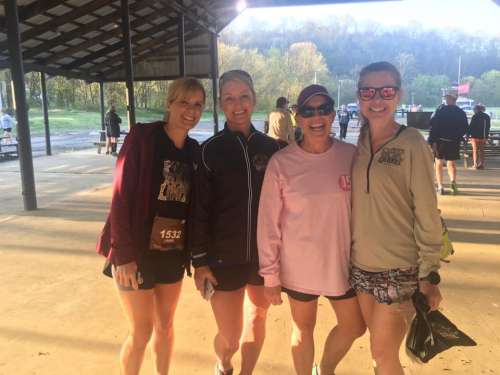 Me with my fitness coach, fitness class friends and runners!
.
The title of the article was "An Open Letter To Runners Who Think They're Too Slow".  If any of you readers are wanting to start running, this is such a great article.  I love that in just a few simple paragraphs it finally, finally made me see that I AM A RUNNER!
.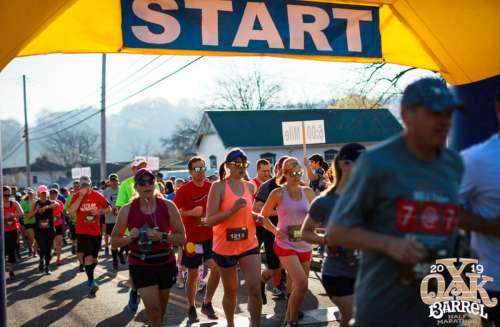 .
.
For me, running is hard.  I feel like sometimes I have to fight for every mile.  But I also saw so clearly on these 13 miles that it really wasn't until about mile 11 that I started to doubt my ability to keep my steady pace.  And that's crazy for me to think about when only a year and a half ago running one mile was a huge milestone.
I had so many accomplishments and felt so much confidence.  For the first time in many years I feel very comfortable in my skin and in my abilities as a RUNNER. 
I have discovered that Runners are some of the most kind hearted people.  They genuinely encourage, build up, and help each other.  This run has about 1500 runners and so you're never alone – there are always people in front and behind you to keep you encouraged.  I've really enjoyed that part of it.  And in holding to the same pace you kind of end up running with the same people the whole time.
.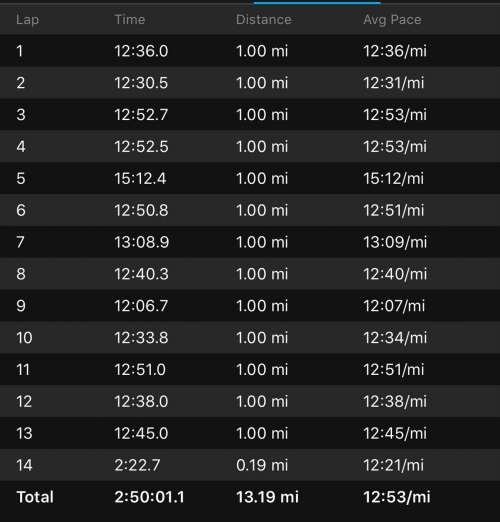 .
I may not have beat my time from last year (about a minute longer this year!) but I actually finished stronger and that is more important to me anyway.  Also my pace was consistent the whole 13 miles and that was actually what I was really working towards.  (You can see my pace for each mile in the above picture.)  Steady and consistent was my goal and I felt like I accomplished that.
.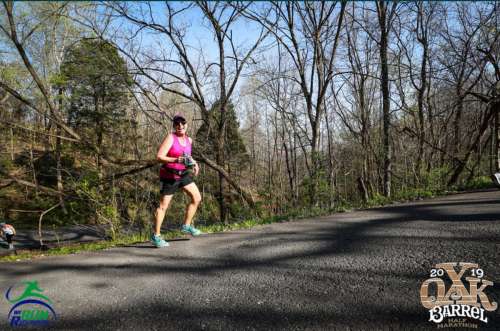 .
You might wonder about mile 5 and why my time was 15.2/mile… it is a mile of a very steep incline that ends in a straight up hill!  This is me smiling as I tried to speed walk up the final incline!  Which I know doesn't look steep… hills never photograph as steep as they are.  This hill is actually named "Whiskey Hill" and has a great (bad?) reputation!
My sister said to me on the phone the evening after the Oak Barrel Half Marathon "How did you feel after your run… like you ran on a half barrel or a full barrel"?  We laughed but I kind of loved it because I could honestly say, "I think this half marathon was a definite full barrel kind of run for me"!
.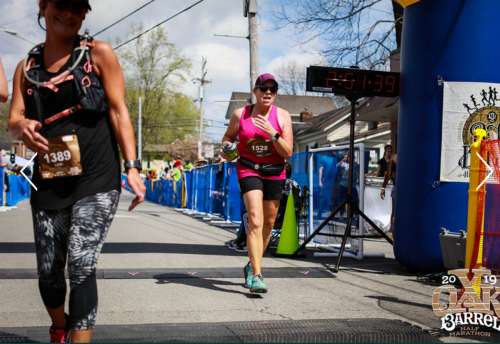 .
To close this post I'm going to quote a paragraph in the article I mentioned above:
"Here's the thing: There are no pace requirements for toeing a start line—or crossing a finish line. You are not too slow to chug water from a tiny paper cup and press on. Or to stop your RunKeeper or Strava or Garmin or whatever tracking toy you prefer and look at your effort and say, "I'm proud of what I did today."
You are not too slow to run your first ultra. Your first marathon. Your first half. Your first 5K. Your first mile.
You, my friend, are not too slow to be a runner. You already are one."
That's how I felt on Saturday.  I was really proud of how I did and proud to be able to say, "I'm a runner"!
.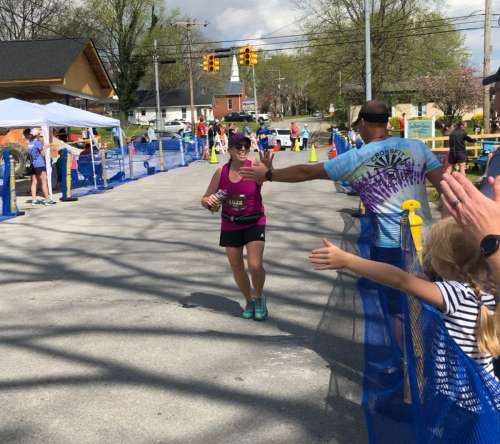 ..
And the great advantage to being the last one in the family to come across the finish line?  All my family is there to high five me as I run in!
.
..
.
If you've always wanted to be a runner… now is the time to start!
.
Until our gravel roads cross again… so long.
.
Dori