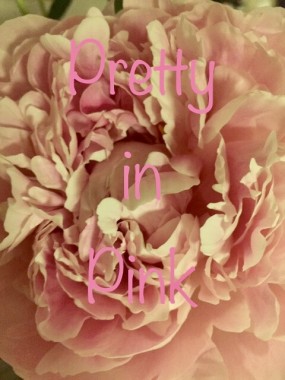 Spring has sprung in New England, finally! It's still been chilly, especially in the mornings, but there's definitely a change in the air. The days are longer, the air has been warmer, and the skies sunnier. The massive ice that encased everything for so long has finally disappeared. As for color, pastels are popping up everywhere, from food to nature, in decor and everything in between. Welcome Spring!
After such a long, harsh winter, pastel colors are such a welcome breath of fresh air. Y'all know how much I adore red, but my other favorite color is actually red's softer cousin – pastel pink! I'm not talking about syrupy, bubblegum pink, but the pale, sophisticated pink found on almost everything in the 1950s. Pink is one of those colors that people are passionate about – they either love it or not. I love it – and lately it seems I've been noticing it more often.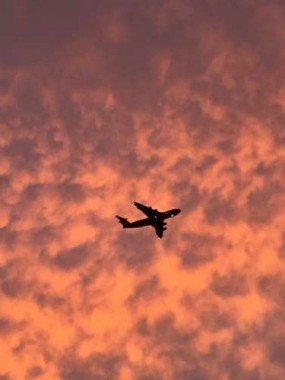 I see pink in nature. Recently, we've been treated to some stunning pastel pink skies!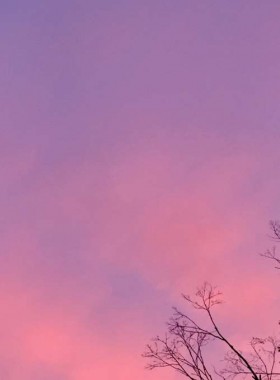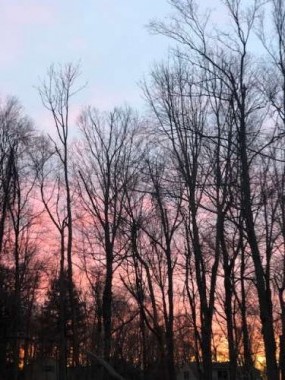 Nothing's really blooming yet, but soon we'll have leaves and flowers again.
I'm looking forward to my favorite flower showing back up – big fluffy pink peonies!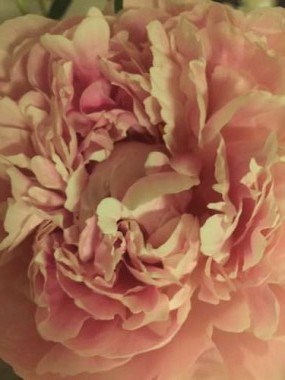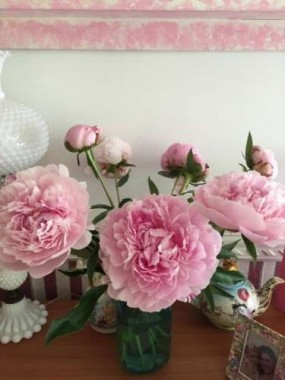 There's also nothing cuter than pink ears and noses, especially on spring babies!
Easter is in April this year. I like to cook for Easter; it's the last "big" holiday meal until the fall, when Thanksgiving comes 'round again. Much of Easter decor is pink. It was such a popular color in the past, especially in the 1920's through the 1960's- though pink's heyday was during the 1950's.
Pink depression glass is a favorite flea market and thrift shop find, and I've been lucky to find some neat pieces. I've scattered it in my sunroom (aka the "tea room"), as well as in my kitchen and dining room.
For Easter, I love to make a classic 60's cookie that Mama always made. Delicious and beautiful, they are light and crispy and low in fat.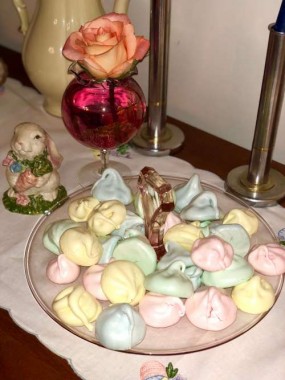 "Forgotten Cookies" aka Meringues are made with egg whites, (which I have plenty of since my chickie girls are so busy laying, now that it's spring). I'll serve them again this year as they really are easy to mix up. There are many variations with add ins, from chopped dates, nuts or mini chocolate chips, but I prefer mine plain and simple. Tinting can be done with naturally sourced vegetable-based food tints, beet juice or traditional food dyes (not my favorite choice). There are many versions of the cookies at various temps (even turning the oven off and leaving them overnight, but this variation is my favorite).
Forgotten Cookies
4 egg whites
¼ tsp salt
½ tsp cream of tartar
1 cup sugar
½ tsp vanilla extract
Preheat the oven to slow (200 F). With a mixer, blend on medium speed the egg whites, cream of tartar and salt until frothy. Increase speed on mixer and add sugar gradually 3 tablespoons at a time. Remember to scrape the bowl frequently or cookies will become lumpy. Beat until mixture becomes fluffy and has a glossy sheen, about 3 minutes. Beat in vanilla. Meringue can be tinted with food coloring of your choice; a little goes a long way to tint. Using a pastry bag or cookie press with a star tip, press cookies onto parchment-lined cookie sheets, or drop small spoonfuls. Bake for 2 hours.
Speaking of mixing, the next batch will get mixed up with the adorable vintage mixer that my husband got me for my birthday last month!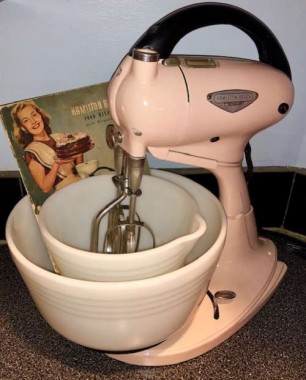 It's from the 1940s, made by Hamilton Beach and restored to the most beautiful shade of retro pale pink! Though it's on a stand, it converts to a hand mixer. I am over the moon for it! Justin, of Vintage55Restorations shipped it all the way from California to Connecticut. He does all sorts of restorations, from small kitchen appliances to larger ones like refrigerators, to restoring vintage campers! My little mixer is a focal point in the kitchen, and I love how it pops against all the red, softening it.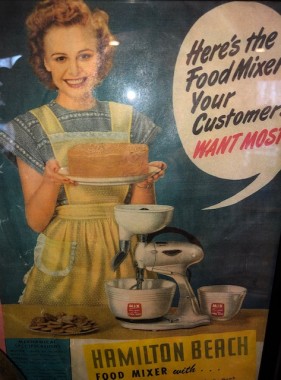 From pink aprons to pink Pyrex, to pink lipstick (my favorite shade is San Fransisco by  Honeybee Gardens), a bit of pale pink, though a soft color, can really have a strong effect. (Think Pink)!
So, dear readers, where do you stand on pink? Love it or leave it? What is your favorite spring color? What is it that says "spring is HERE" to you? I hope you are enjoying the season, and Happy Easter!
Until Next Time…Farmgirl Hugs, Nicole