.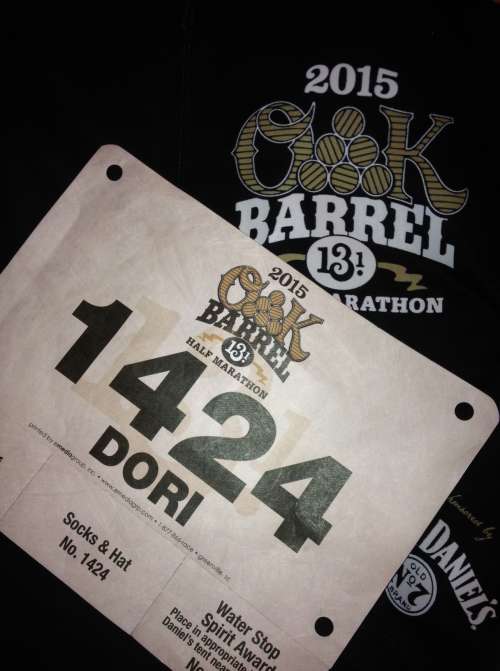 .
I'm not very competitive by nature and when it comes to a competitive sport I'm usually quite happy to be the cheerleader on the side lines.  But back in the Fall before this long, cold winter my daughter in law challenged me to run a half marathon.  She and my son have run numerous marathons together and they recognize the power in the motivation behind it!
..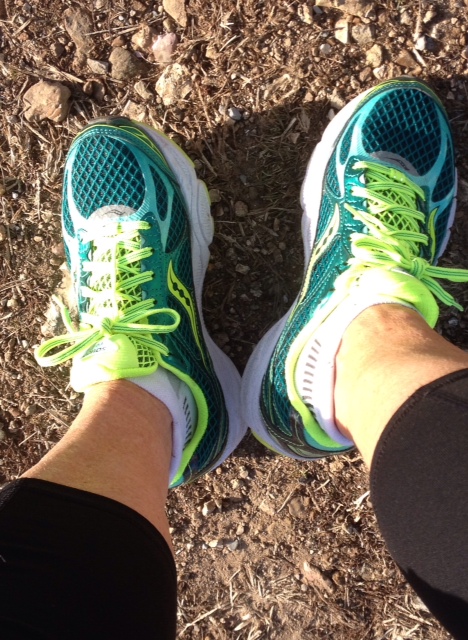 Good running shoes are a must.  We actually had a fitting by Fleet Feet and was I ever happy that we did that.  I love my Saucony running shoes!
.
After the initial, "I could never run a half marathon" (to which she replied, "you could speed walk it") I decided to take her challenge and signed my husband and I up for the Oak Barrel Half Marathon in Lynchburg, TN which is not too far from where we live.  Yes, I roped my husband into the challenge too!
.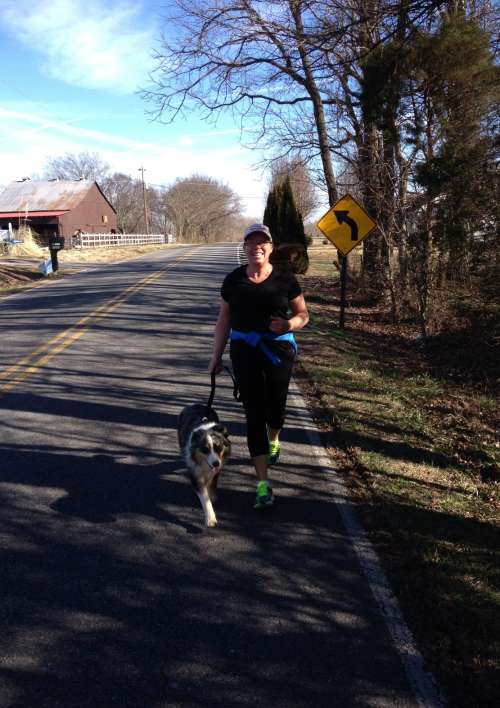 Training run on the actual marathon course. 
.
Then the training began.  We had just enough time to follow the 16 week "From Couch To Half Marathon" training schedule that I found online.   We got a great start before the weather got bitter cold, then we joined the gym and moved our workouts indoors during the cold weather.  My husband and I are both in relatively good physical condition, but I quickly realized there was no way that we were going to be able to keep up with the 16 week training program.  Our son and daughter in law were great to check in via the phone (they live in Colorado) and give us encouragement and also to remind us that we didn't have to actually run the entire 13.1 miles!
.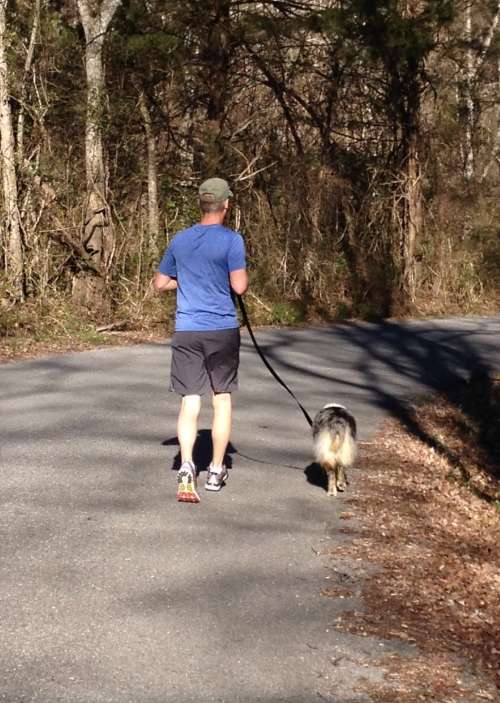 More training on the marathon course.
.
My husband and I have always been speed-walkers and in our 33 years of marriage we have logged a lot of walking miles.  With our babies in strollers, then wagons, then bicycles alongside us, etc… we always made it a nightly ritual regardless of the weather.  So, we felt that if we needed to speed-walk the half marathon, we could!
..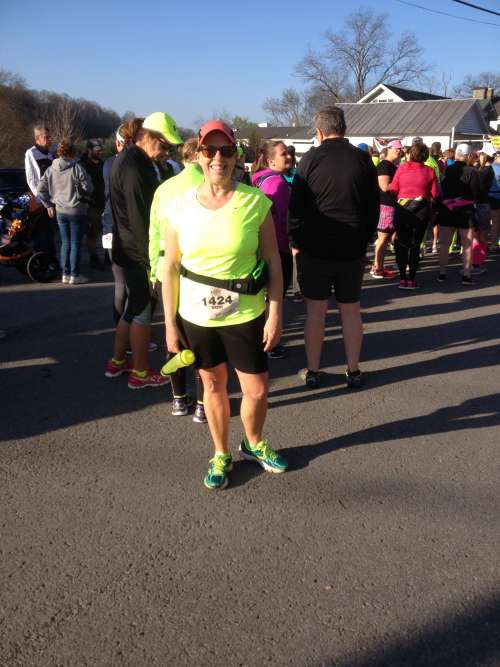 .
.
Well, on Easter weekend the day came and found us pinning on our race numbers with shaking fingers as we watched the hundreds upon hundreds of professional runners around us.  I was feeling kind of sick.  By this time we knew there would be no running the entire 13.1 miles so we were just hoping to be able to cross the finish line in under 4 hours so that we could get our finishing medals.  (The marathon rules say that to be a finisher in a half marathon you must complete it in four hours.)
.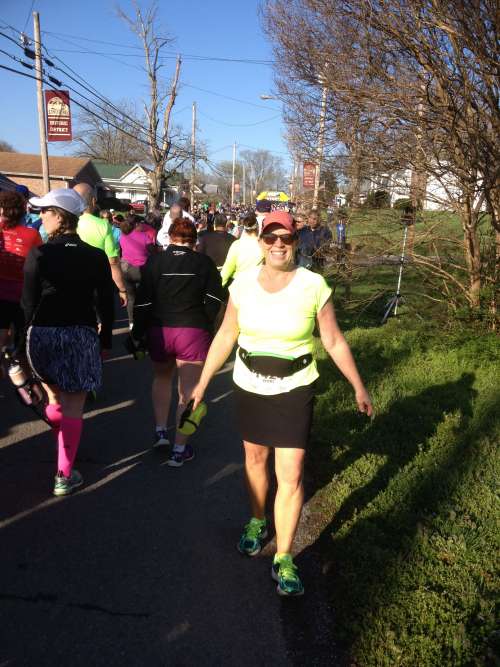 The front runners had started running… the other thousand plus people slowly moving up the line.
.
I had done a lot of reading about running/walking a half marathon and over and over I read this sentence:  If you are going to run/walk the marathon be willing to take up the rear.  I kind of liked that.  I'm happy taking up the rear.  The last thing I ever want is to hold anyone back.
.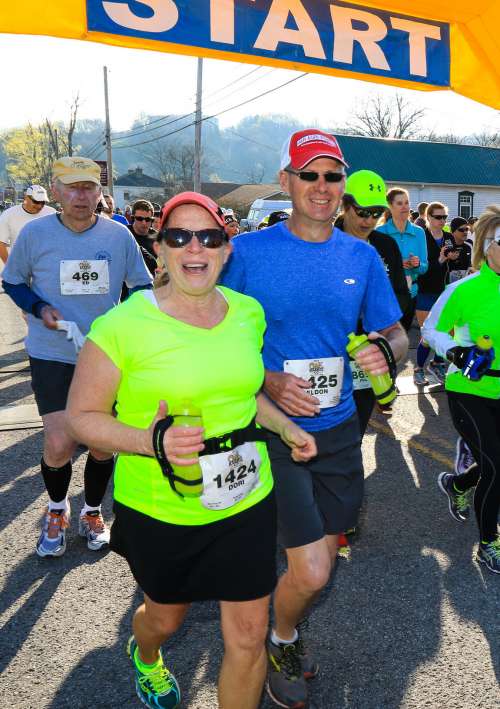 Crossing the start line!  Nervous smiles!
.
So we walked with jitters to the start line where all 1500 people were lined up and we happily got in the back of the line!  Like, IN.THE.BACK!  I think there might've been 20 people behind us by the time the gun went off at 8:00.  The number badge has a timing chip attached to it, so you are not timed until you cross the start line, which really takes the pressure off of taking up the rear!
.
This picture was captured by the race crew – about 2 miles in and still running strong!
 .
The course was great.  If you've ever been to Middle Tennessee near Lynchburg, which is home to Jack Daniel's Distillery, you know how gorgeous that area is.  We ran up and down rolling green hills, through beautiful farm land, and alongside gorgeous old homes on a perfectly, wonderful sunny day.
.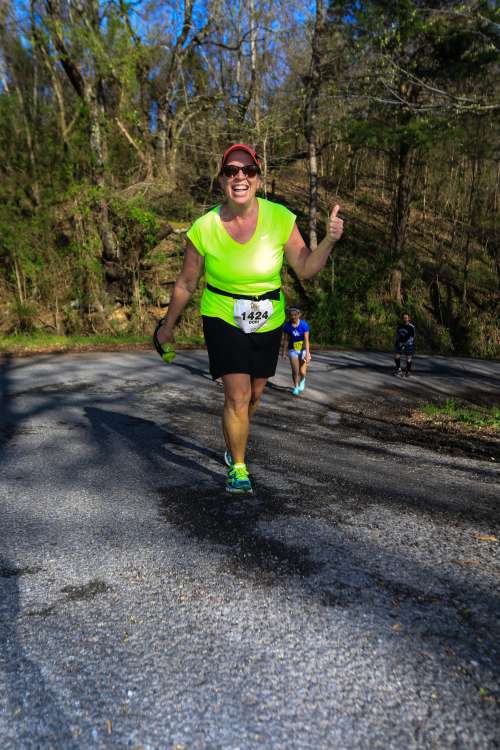 This hill is the steepest and has been named Whiskey Hill!  I was able to speed walk it with no problem and somehow even had a smile for the cameraman! 
.
This course had a few very steep hills.  It really lugged down some of the other runners/walkers that were moving at about our pace.  So when we got to the hills, we were able to move ahead of a lot of people, only because we have a lot of hills on our farm and we walk them continually.  These Tennessee hills don't scare us!  (Smile!)
.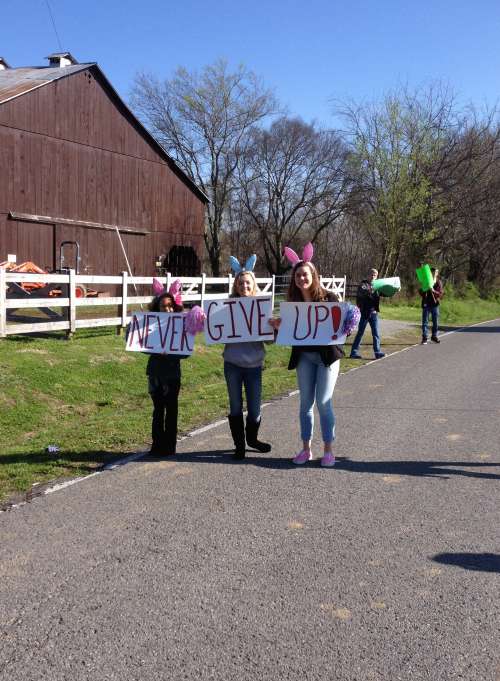 .
There were so many things that were great about the day.  There were many drink stations with cheer leaders, music, water and snacks.  I didn't get many pictures as it was hard to get my phone out of my waist pack to take pictures when you're jogging through a drink station!  I did manage to snap the above picture as I loved these girls!  So cute!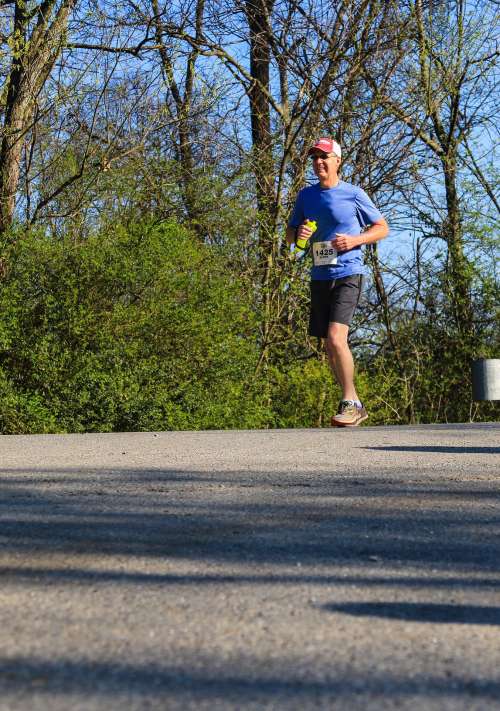 Honestly, we really did smile the whole way!
.
The race volunteers were amazing.  Everyone was cheerful and encouraging.  They had bikers riding the course checking with runners to see if they needed anything.  It was a continual source of encouragement the whole 13.1 miles!
.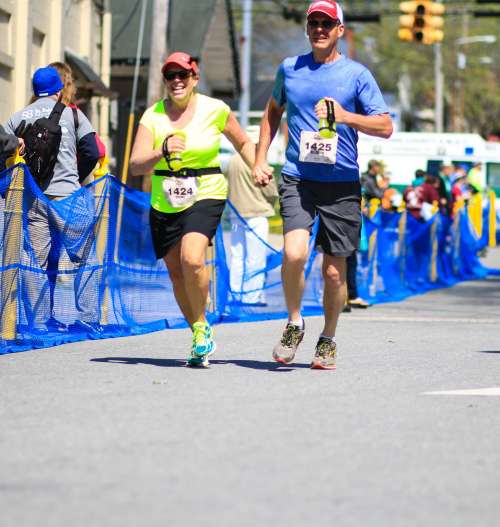 Running in to the finish!
.
The camaraderie between those of us runners/walkers that ended up being grouped together the last 5 or so miles was great.  We were all running/walking about the same pace and we'd pass each other multiple times.  There was absolutely no competitive spirit between us – I'm pretty sure they had the same goal we had and that was to just finish and finish well!
.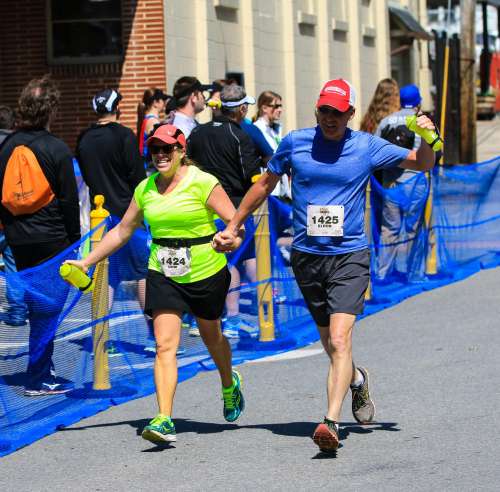 ..
We were determined to just enjoy the day, the scenery, the experience, and each other, so we didn't wear watches or any kind of devices to calculate our time!  I checked the time on my iPhone twice just to make sure we were keeping our goal pace.  So you can imagine my shock when we crossed the finish line at a run and the run time said 3:04:32!!!  We were just hoping to finish under four hours… never dreaming we could actually finish in three!
.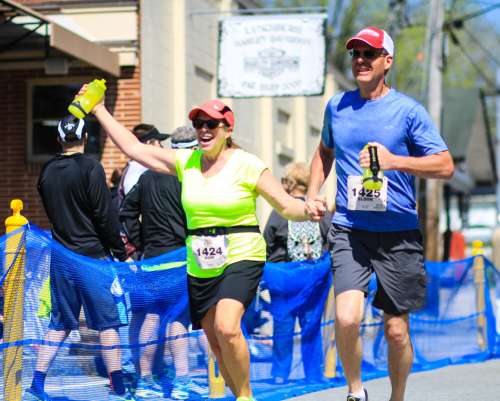 The victory wave!
.
They hung our finish medals on our necks and we walked a bit to work out our quivering muscles and then headed over to the Jack Daniels tent to get a bowl of Brunswick Stew and a Hoe Cake.  Oh my word, it was so good!
.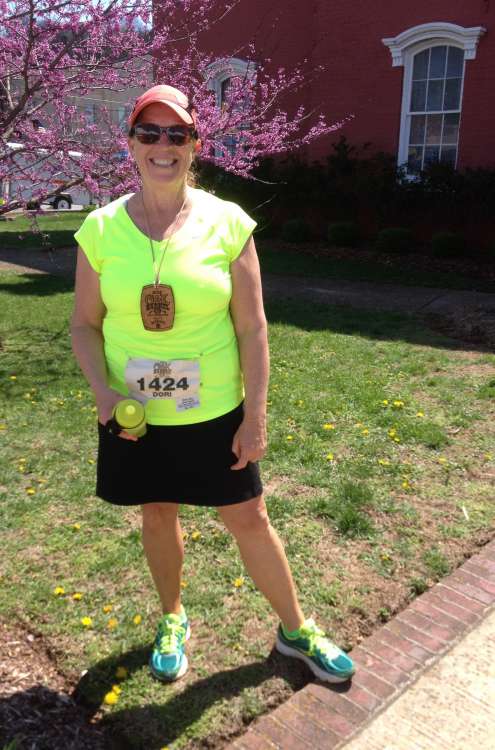 .
I felt like I had accomplished something I never, ever dreamed I could do.  It is a powerful feeling when you've challenged yourself to a large task and not only completed it, but completed it with a smile!
..
The last drink station at mile post 12 had a Wizard Of Oz theme and there was a sign with a quote on it that was exactly what I needed to finish that race in a full out run.  It said….
.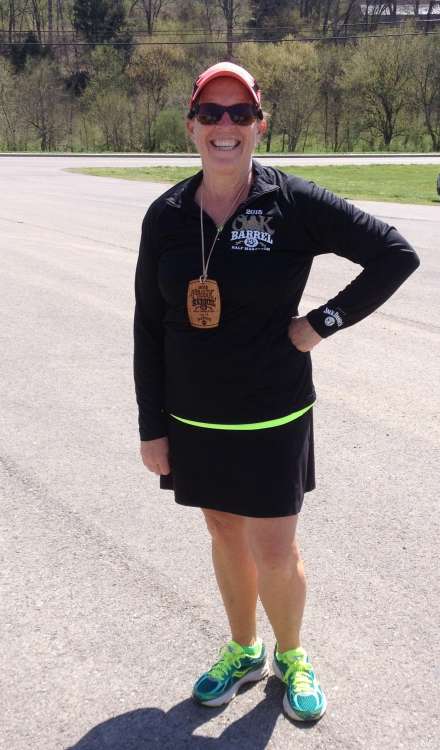 .
 You've always had the power my dear, you just had to learn
it for yourself
– Glinda, Wizard of Oz –
..
What is your biggest challenge accomplished?  I know you have one to share and I'd love to hear it.
 .
Until our gravel roads cross again… so long.
 .
Dori