.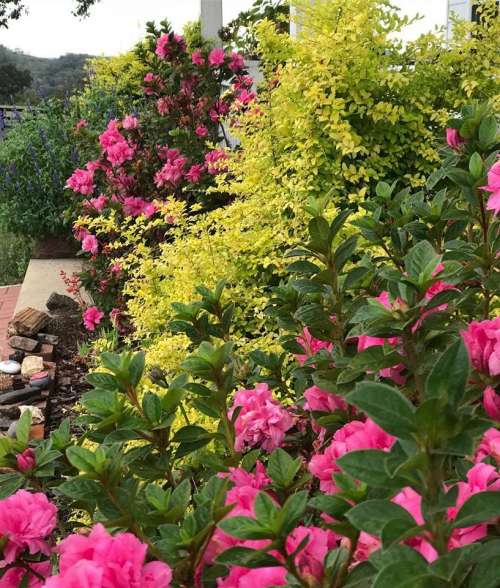 .
October is my birthday month and so I've always kind of loved the thought of October!  Even though it means that my precious summer is over, I still go into October loving the whole sound of the name!  I love October here in the South where the Azaleas really come alive in my flower beds!
.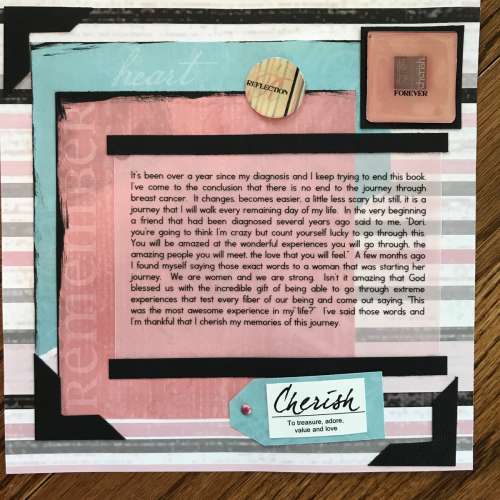 .
October is also Breast Cancer Awareness month, which means a lot to me since I am a breast cancer survivor.  As a matter of fact, when I was thinking of this blog post (I always write them in my head first!  Smile!) I had decided to share my breast cancer journey.  But as I began to put it in writing I just didn't feel like sharing it.  And I'm not exactly sure why. Maybe someday I will.  But this picture above is a picture of the last page in the journal I kept during those months.  The journal that is still really special to me because everything I wrote during that time is positive, and looking back I find that so interesting because most of that year I felt like I was dying! It makes me thankful that even in the hardest of times I tend to think positive.
.
.
October makes me think of pies.  I love Apple Pie and back in October of 2014 some of you might remember I wrote a blog post on my favorite Apple Pie.  (You can read that post here.)  This month I've been craving Hand Pies.  Have you ever made Hand Pies?  I love that they are the perfect size to pick up in your hand and eat on the go!
.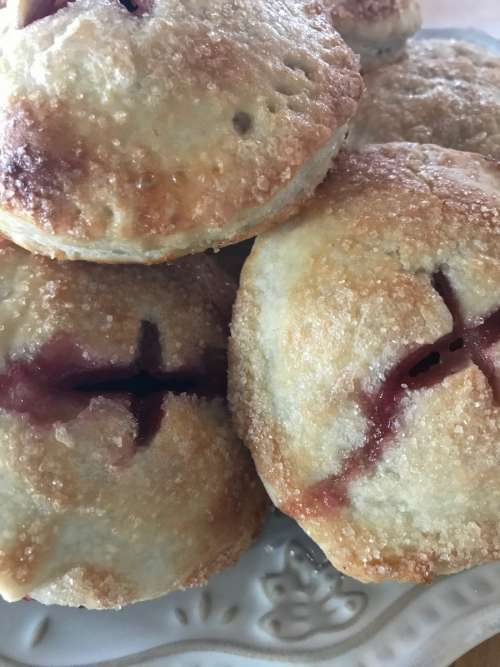 .
They don't seem like you're consuming as many calories because one little Hand Pie is quite small!  They are so fun to just grab and go!  Perfect for when my little grand-girls are here!
.
.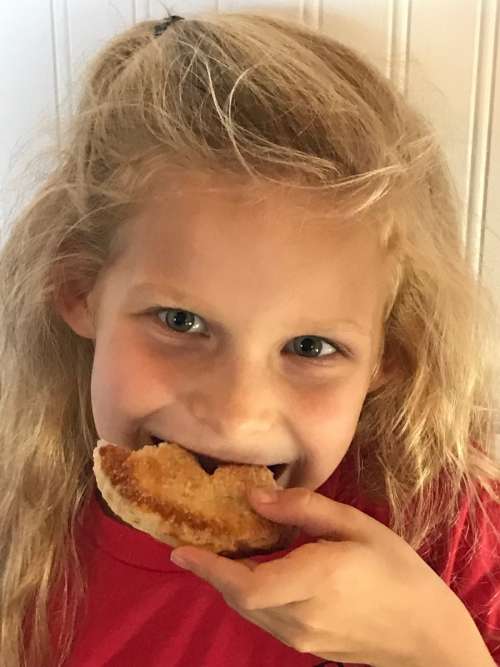 .
I'd love to share my step by step recipe with you today and I hope you'll make some Hand Pies this month and enjoy this gorgeous October.  (And stay to the end as there is a GIVEAWAY!!)
.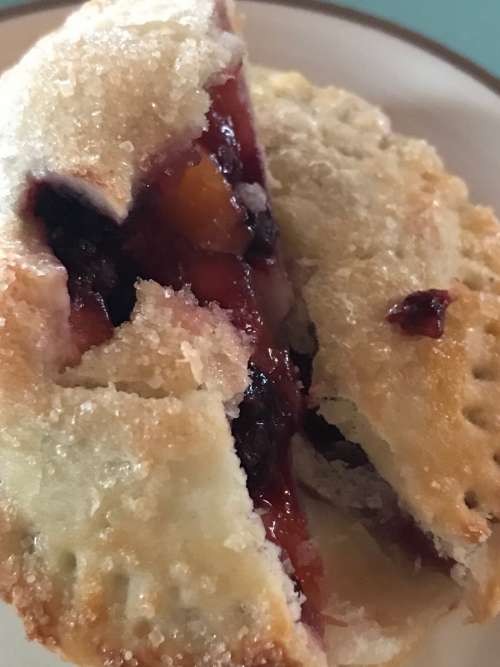 .
I love to use a butter crust for Hand Pies.  Butter crusts can be a little tricky because if they are over-worked they get tough fast.  However, I've learned a few things the hard way and now have the most amazing tender, flaky butter crust down to perfection.  (Just look at the amazing flakes in that crust!)
.
So before we get started, here's a few important tips about butter pie crust:
Work with very cold ingredients.  Cold butter and cold flour.  I put my flour in the freezer for about 15 minutes before making the crust.
Don't leave out the tablespoon of vinegar, even though that seems like a really weird ingredient.  It keeps the gluten in the flour from working and makes for a very tender crust. I promise that you won't taste it in the cooked crust.  
Do not over-work your dough.  Any kneading or rolling out more than the very minimum can make it tough and leathery.
Don't rush and skip the step of refrigerating the dough!
If you have a food processor, use it.  If not, cut the butter into the flour with a pastry cutter working as quickly as possible.   
,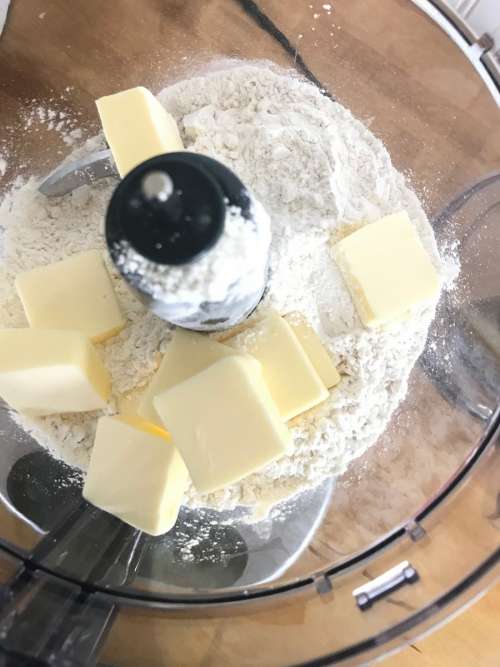 .
Cut 1 cup of cold butter into large pieces and place into food processor along with 2 1/2 cups of cold flour and 1/2 teaspoon of salt.  Pulse for about 5 – 10 seconds until flour and butter resemble large crumbs.
.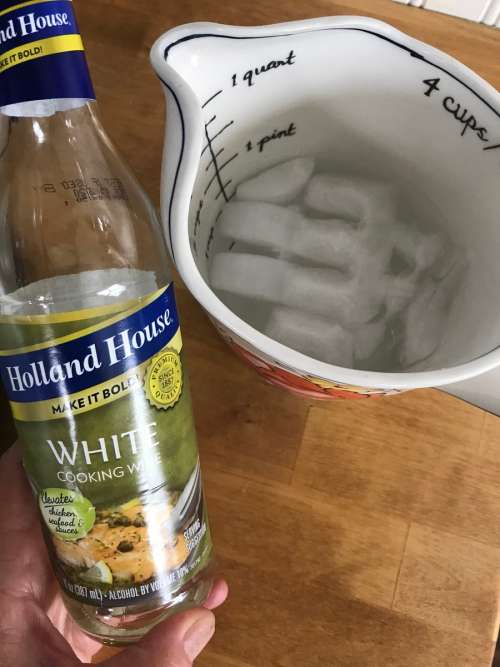 .
Add 1 tablespoon white vinegar (or white cooking wine if that's all you have like me!) to the mixture.  Pulse 1 second.  Then very slowly begin to pour in 7 tablespoons of ice water just a little bit at a time, pulsing for a second between every couple of tablespoons.
.
.
Stop adding water when the dough comes together.  You don't want it to be sticky, so don't add too much water.  If after you've added all 7 tablespoons, your dough isn't coming together then add a little bit more water.
.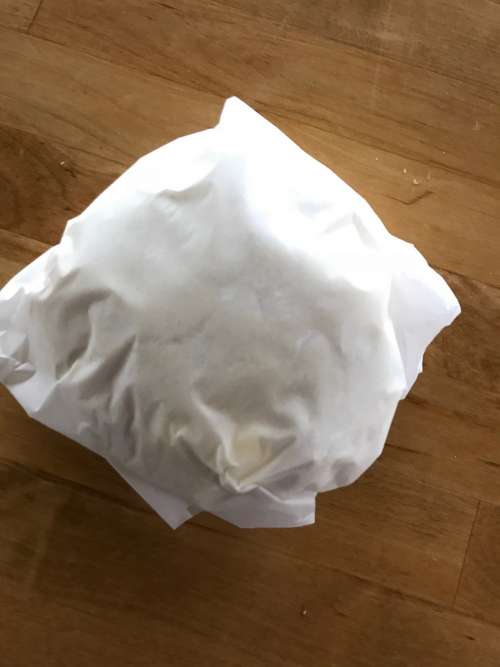 .
Remove the dough to a large piece of parchment paper and wrap it up and refrigerate it for at least an hour.  Do not knead or work the dough.  Literally scoop it onto the parchment paper and wrap it up.
.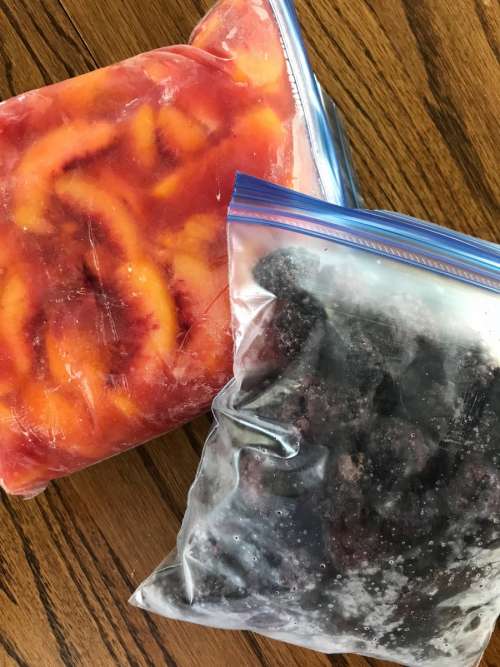 .
While your dough is in cooling in the refrigerator you can prepare your pie filling.  Because my favorite hand pies are peach and blackberry that is what I'm making today.  But you can certainly use whatever fruit filling is your favorite.  I had fresh peaches and blackberries in the freezer from this summer so I thawed out about a cup of each and cut them into small bite size pieces.  You don't use much in each pie so you won't be needing a whole lot of filling – two cups is plenty.
.
.
Stir together 2 tablespoons of cornstarch and 1/3 cup of sugar and add to your fruit.  I don't like mine super sweet so I was careful to not add too much.  But you can always use more sugar if you want it sweeter.  Stir well and place in the refrigerator to keep cool until you are ready to begin assembling your pies.
.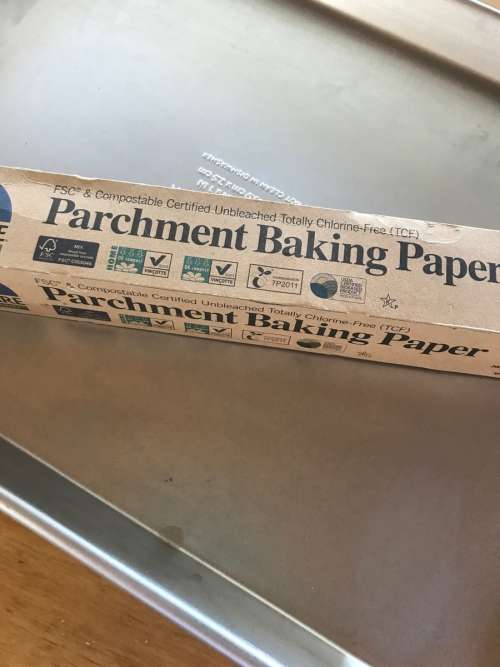 .
Place parchment paper on your cookie sheets and heat the oven to 425 degrees.  (Parchment paper is only necessary because there will be syrupy juices that will bubble out of the pies.  It makes it much easier for cleanup.)
.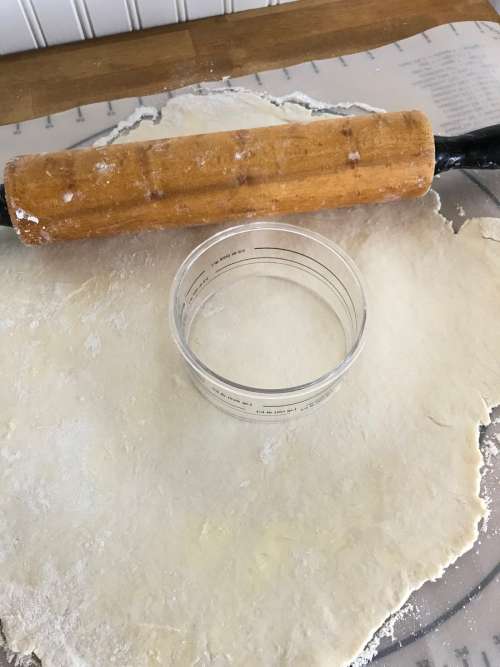 .
Once your pie crust has cooled for at least an hour, remove it from the parchment paper and cut it in half with a knife.  Place one half back in the parchment paper and return to the refrigerator.  Transfer the other half to a floured surface.  Roll it out very thinly, working quickly.  It will be a little hard at first since the dough is cold but it will quickly warm.
.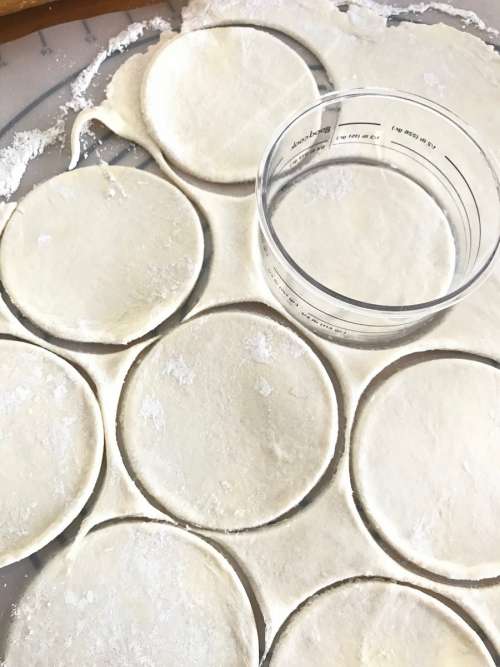 .
Using a large round cutter cut as many circles as you can.  Be sure to cut them close to each other to use as much of the dough as possible.
.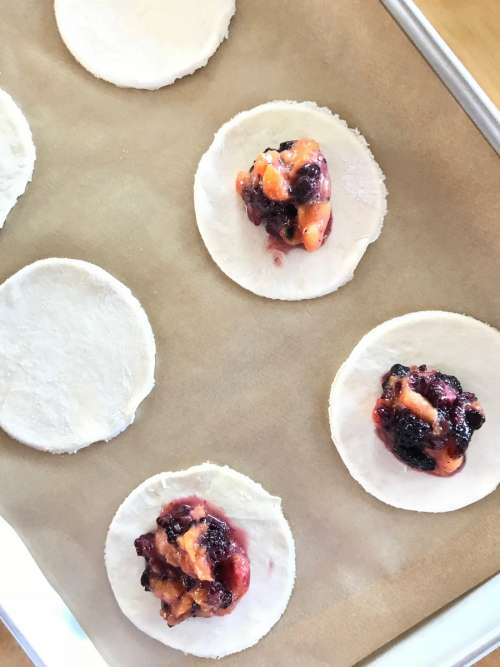 .
Transfer the dough circles to the cookie sheet.  Place a large tablespoon of filling on each dough circle.
.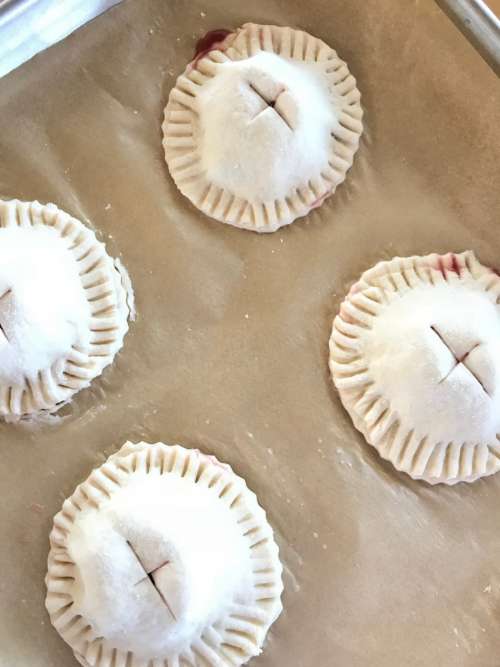 .
Using a pastry brush, brush water around the edge of each dough circle.  Top each one with another circle of dough.  Using a fork, press around the edge of the circle.  Along with the water, this will help adhere them together.  Using a little paring knife cut vent holes in the top of each little pie.
.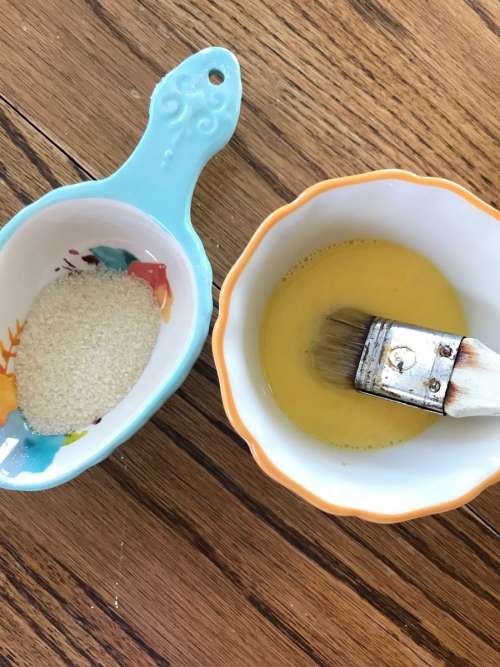 .
Beat one egg with a fork with a splash of water and set aside some raw sugar.
.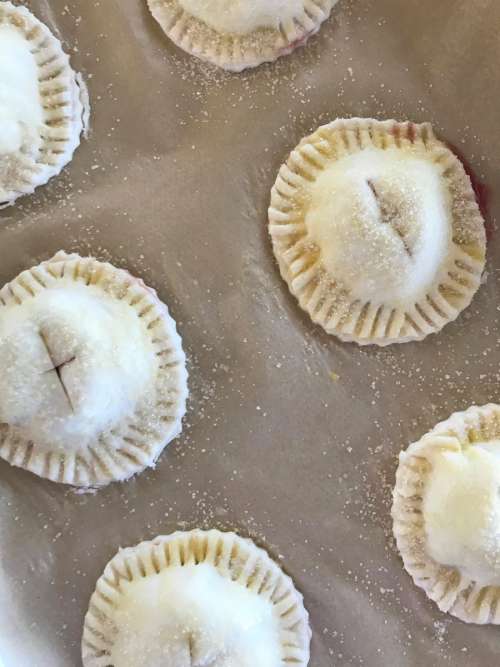 .
Using your pastry brush, brush each pie with the egg.  Sprinkle with sugar and place in the oven.  (Repeat the above steps with the other half of the dough.)
.
.
Cook for approximately 15 – 20 minutes until pies are golden brown.  Remove them from the cookie sheet to a cooling rack for just a few minutes before eating!
.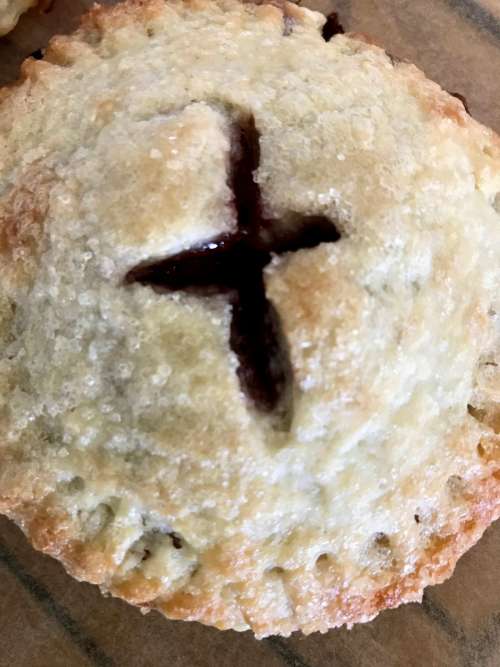 .
The only draw back to Hand Pies is that they taste best fresh out of the oven.  They have a tendency to get a little bit soggy if packed away.  My answer to that is to eat them immediately!  I have been known to leave them out on the counter top and eat them throughout the day.  Really.  And oh my word.  They taste so good!
..
And now for the GIVEAWAY!!!
.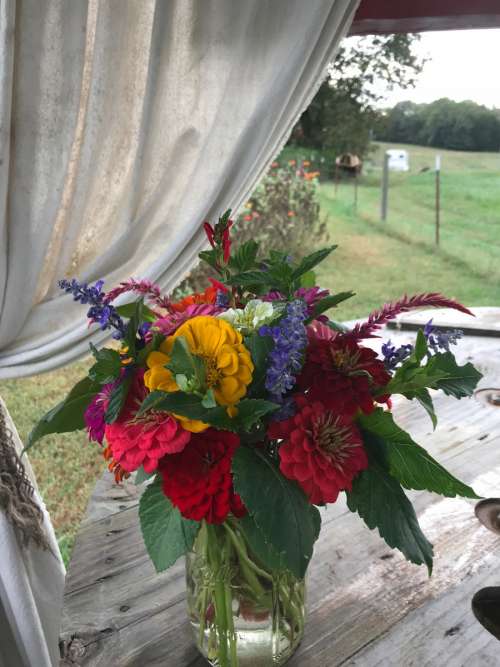 .
Our flowers in our flower garden are still producing and we're still able to put flowers on our flower stand every few days.  We are so thankful for our loyal customers.  I'd love to be able to deliver a beautiful bouquet of fall flowers to you but since I cannot…
.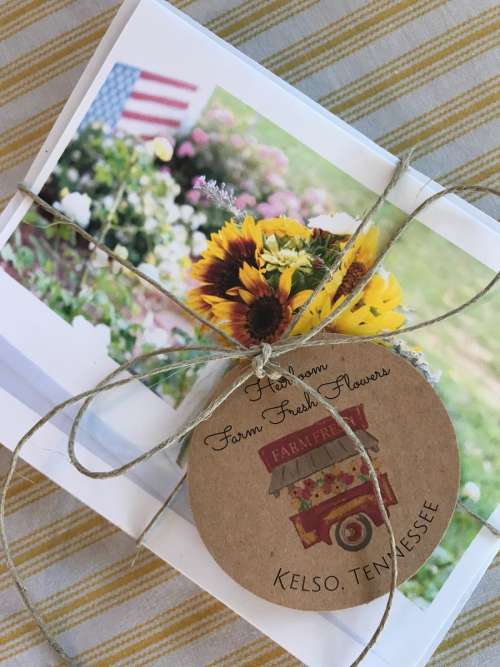 .
…how about a set of notecards with pictures from our flower garden, our work shed, and our roadside stand?  All you have to do is comment below on what you love best about October!  I will pick TWO lucky winners and will announce them here next month.
.
Happy October friends!  (Go get your Mammogram if you haven't already!)
.
Until our gravel roads cross again… so long.
.
Dori