[Previous Suburban Farmgirl, October 2009 – October 2010]
Ever feel stuck about what to say? For somebody who goes through as many words in a week as I do, both written and spoken, you might be surprised to learn that I'm often a big blank. Either I can't think of anything worthwhile to contribute, or I have so many different wisps of things to talk about that I can't latch onto just one to grow, or maybe I'm feeling too private about certain details – good tale, bad timing.
Whatever the cause, I can't get going. (And yes, I'm talking about a way of being as much as a way of blogging. )
So what do I do in tongue-tied times like those?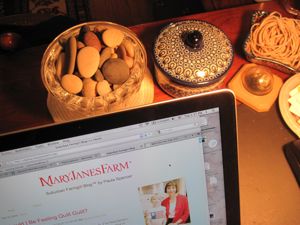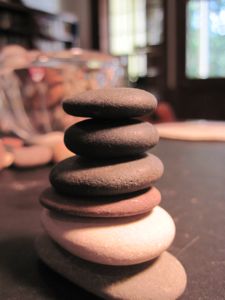 I stack rocks.
Sitting on my desk is a heavy Orrefors crystal bowl — I'm not a crystal girl, but this was a gift — that's filled with smooth stones I've hand-plucked from Lakes Superior and Michigan. I like the contrast of fragile glass with rocks that would break it if thrown at it, rather than resting inside it. (Um, yes, also in the top foto you can see a dice-popper from my original Pop-o-matic Trouble game….)
When I'm stumped, my fingers walk themselves right over to that bowl. They pick up one or two stones – velvety, exactly the textured smoothness of the fabric, but without its nap. I raise one against my cheek. Ice cool, like the water they came from.
Then my fingers start stacking and sorting. The black and white solids look sculptural. The dull pink granite looks nothing like it did when I found it. I still like to run water over them, to make them turn raspberry and razzmatazz (a trick that used to make my kids ooh and ahh!).
Suddenly, I'm calmer. Calm enough to hear myself think.
How can a bunch of rocks hold so much allure? Well, I'm a Great Lakes gal by birth. A Michigander, my dad's from the far northwest corner of the Upper Peninsula, closer to Wisconsin, closer to Canada, than to the Detroit suburb where I was born. Luckily, I spent every summer up there as a girl. So these stones speak to me.
What they say: "Relax. Mess around. Smell the pine. Hear the waves. Take a seat on some driftwood and let your mind wander. Count the whitecaps. Feel the sun. Come back here to this the place you love. This place that loves you."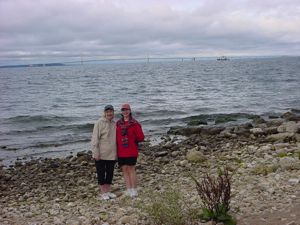 That's why we all bring the outdoors in, don't you think? Outside is where we dream bigger, feel better, feel like our real, dirty, unvarnished self. (Above: My sister Patti and I on Mackinac Island, Michigan.)
One family I know saved a baby-food jar of sand from every beach they visited. A boy brought home a different, emblematic rock from each state on an epic Out West journey (petrified wood from Arizona, gold from California, etc.). Who hasn't pressed a plucked wildflower into a book? On shelves on my back porch, I keep pieces of whelk I plucked on long walks at Cape Hatteras: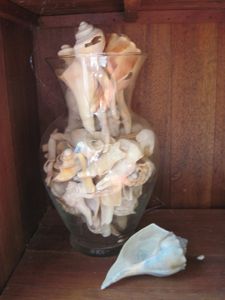 I also bring the outside in more conventionally, with vases of flowers. They help the changing seasons come into my house, which nets the same effect, of being able to lose myself in dirt and sky, even when I have to be inside. Currently, that means I have chrysanthemums, of course (in an old sugar bucket):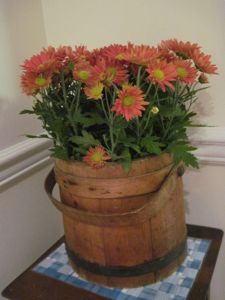 …some dried eucaplytus: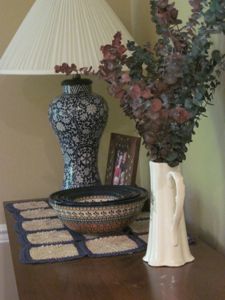 …and, until Thanksgiving, pumpkins and gourds: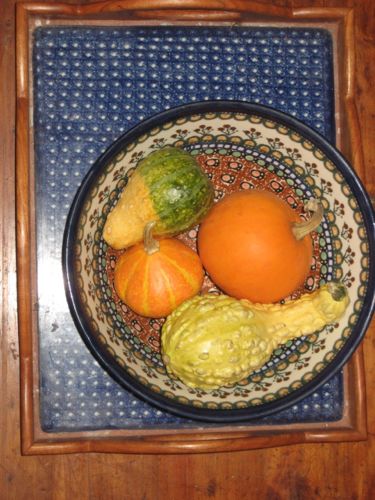 Wow! More than I thought. Wheat and pussywillows, too (more crystal…need some new vases!):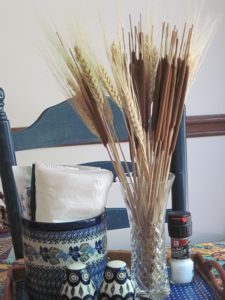 Best for last: Just look at these gorgeous dried "pumpkin lanterns." I don't even know what they are or where they come from, so I have no direct connection with their sense of place. (Anybody know? When I Google the name, which probably isn't real, I get pictures of jack-o-lanterns.) I saw them in a florist shop through the window and, uncharacteristically, had to have them. And now I just about swoon every time I see them. Though this particular natural element whispers of mystery, not familiarity, I can get lost in their orangeness just as blissfully, as evocatively, I can get lost in my black Superior stones.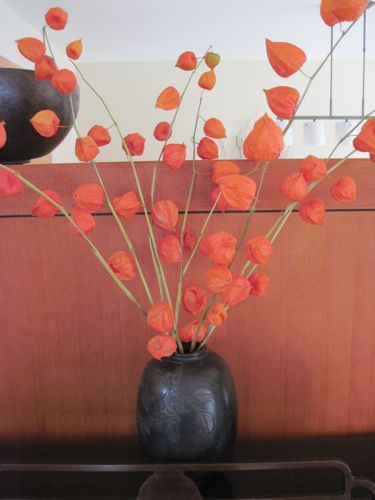 And sure enough, after zoning out in these distant places for awhile, I'm usually able to organize my thoughts into, well, a thought or two. Sometimes, even a few full sentences. Or a whole blog post!
Does bringing the outdoors in help you think, too? (We can't all live as seamlessly indoors-outdoors as MaryJane, sleeping and bathing under the stars, especially here in suburbia. Hmmm, can we?) What brings the outside in best for you? A rock? A bouquet? A bearskin rug??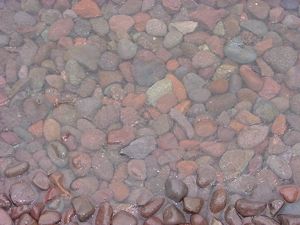 (Above: This is actually my background screen on my computer…my Superior stones in their original habitat! But playing with the real thing is much more inspirational than just looking at these digital representations….)