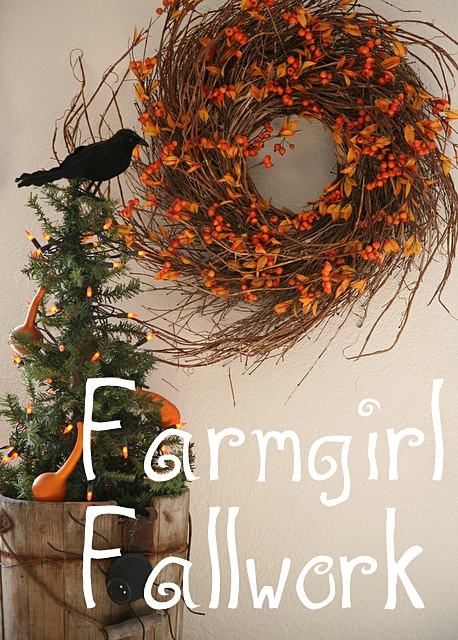 Life is like a patch-work quilt made of bits & pieces of the past, the present and plans for the future. A masterpiece "scrap" quilt only looks as if random chaos miraculously morphed into balance, beauty and order. However, an experienced quilter knows that looks can be deceiving.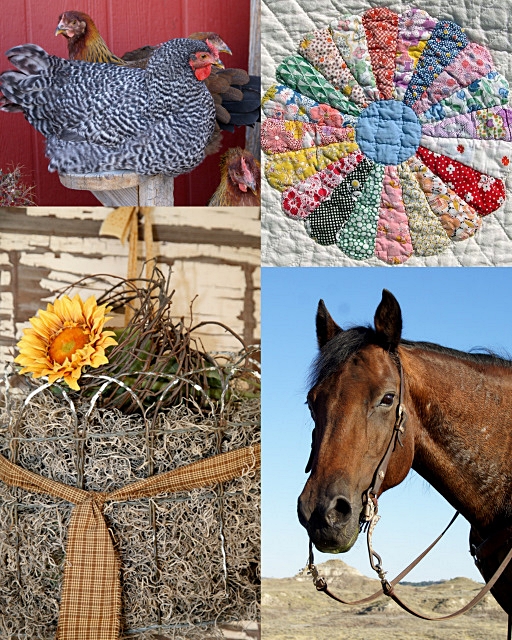 Vintage quilts inspire so many words of endearment. We "Ohh and Ahh" when looking at a masterpiece antique quilt. Names, daily life goings-on etc … there are stories in every stitch. Scrap quilts are my very favorite because they include the whole family. Calico scraps left over from making garments were carefully stashed away. As the years passed, the pile grew into an impressive array of colors, patterns and prints. When there was enough to make a quilt top, the cutting and stitching began. A hand-made scrap quilt was often many months in the making. So much meticulous planning goes into creating order from non-order. The "darks and lights" need to be balanced. The colors and prints need to play harmoniously with their neighbors. Balance overall. That's what it is.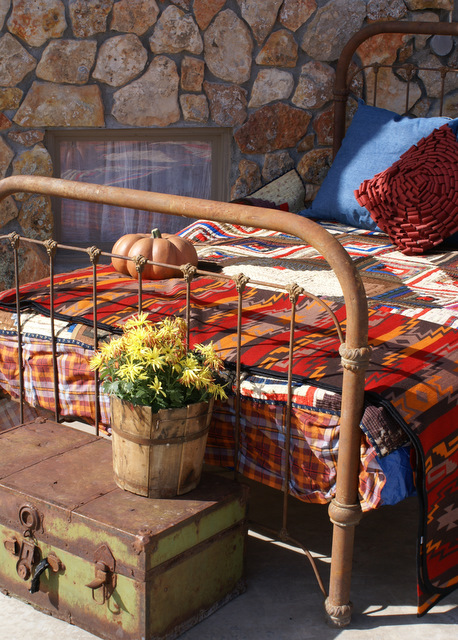 Ideally, we balance work and play with reliable regularity. If a person has the right attitude, you can enjoy making the "quilt", so to speak, and not just having the end result. Making a life is half the fun … or maybe it ought to be more than half. If we're lucky, we get to enjoy the journey as well as "admiration day" . Oh, you know, the day when you get to step back, take a deep breath, and drink deeply from the well of self-satisfaction. There are few things as gratifying as the sense of accomplishment when you've earned every drop of it. I feel fortunate to have a lifestyle that more often than not makes work feel like play. Autumn is the time ranchers do their "Fallwork". We hope the weather stays nice enough to get everything on the "to do" list done before wintry weather arrives. I love to look at our rows of hay bales ready for winter feeding. My husband jokes that he likes to arrange them by the highway to show off his ability to arrange tight & tidy rows. Truly, the life of a rancher revolves around grass.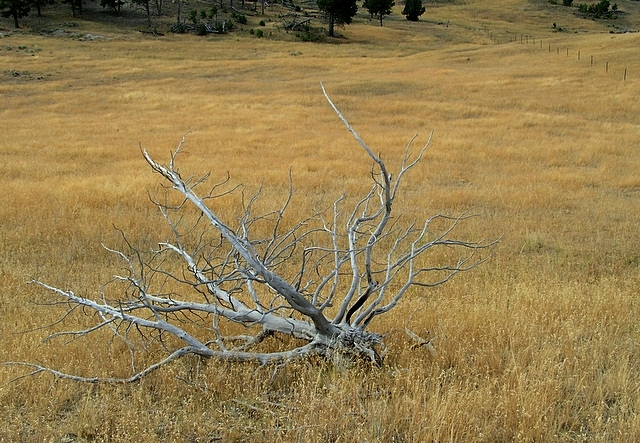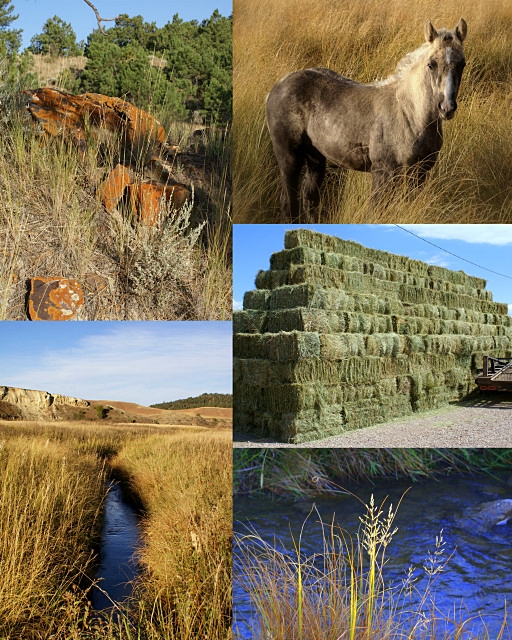 This time of year we move cattle from summer pasture to a pasture that makes gathering them easier for some of the other fallwork. We vaccinate the calves and 'pour the cattle' to rid them of parasites. Like branding calves early in the summer, autumn is also a time when neighbors help each other with seasonal ranch work. Below are some photos taken during fall riding and "roundup season" …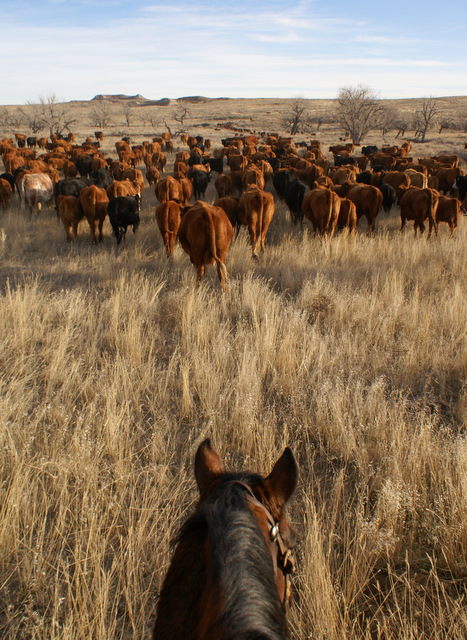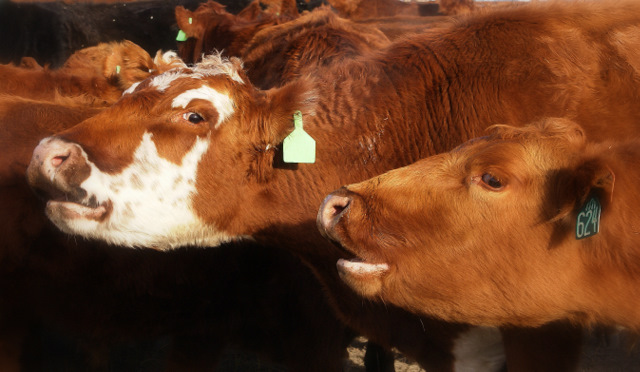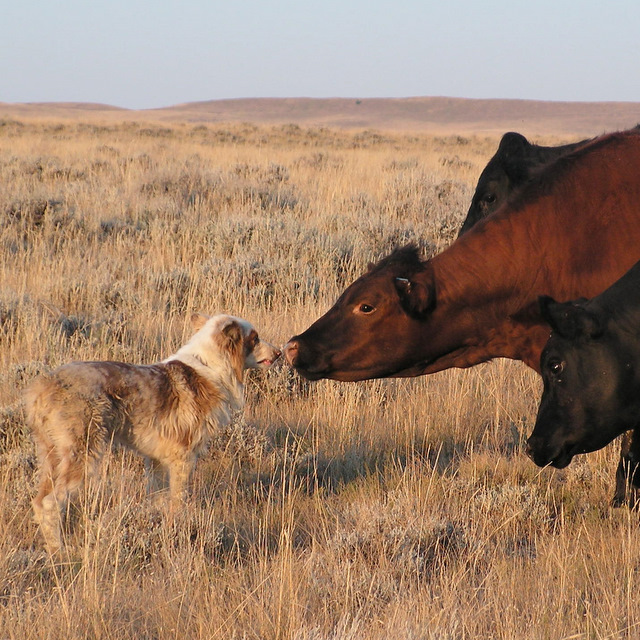 It takes teamwork to make a ranch run smoothly. Everyone has a job …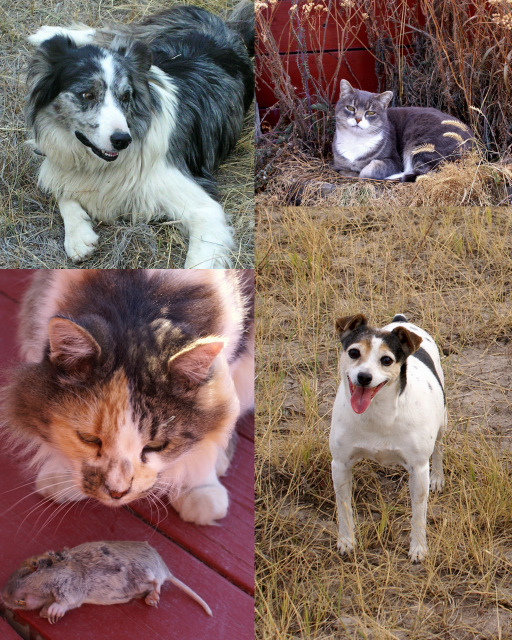 I'd like to introduce you to some of my best friends … my horses (Morgan Horses). They enrich my life beyond measure and they turn work into play. L to R from top: Apple Pi Dolly Rose, Harley Pride, Apple Pi Bluebelle, She Wore A Yellow Ribbon.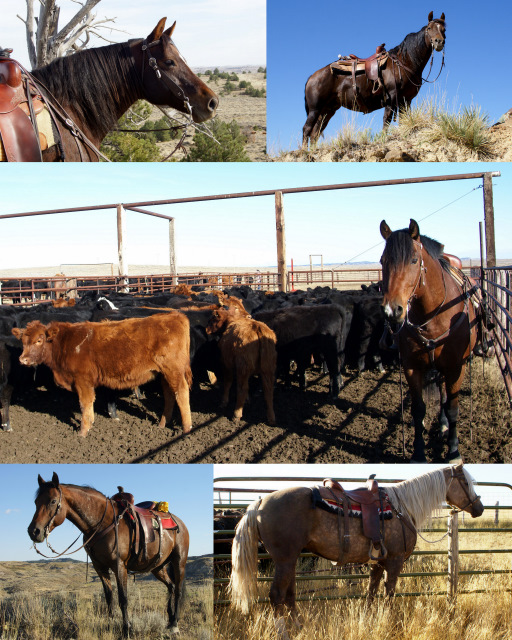 One of our "hired hands" is a rookie (below). My three-year old filly, Ribbon, was recently introduced to Bull Loading 101. She intently watched from a safe distance (we both did) while the experts (my husband and his horse) worked for two hours to load an injured, grumpy bull. It is common for bulls to injure each other during breeding season. This fellow needed to go to the bull pasture, but was unable to make the trip with the rest of the bulls. The loading job was an exercise in patience since the bull was not interested in nor appreciative of humanitarian aid. He didn't get in until he was darn good & ready.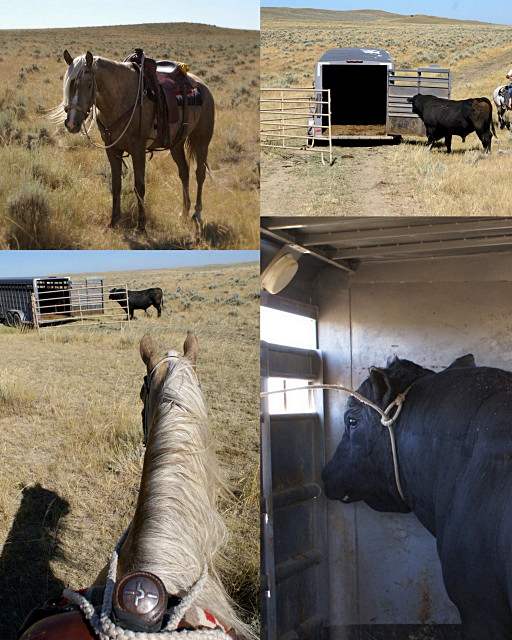 The scenery in our corner of Wyoming varies from rolling hills to rocky canyons. Cottonwood trees give way to Pine and Juniper at higher elevations. This is the "High Plains" and here at home we are a little over 4,400 feet above sea level. There are Whitetail Deer to the north in the hills, but out here, we have Mule Deer and Pronghorn Antelope. In the higher hill-country, there is also a healthy Elk population.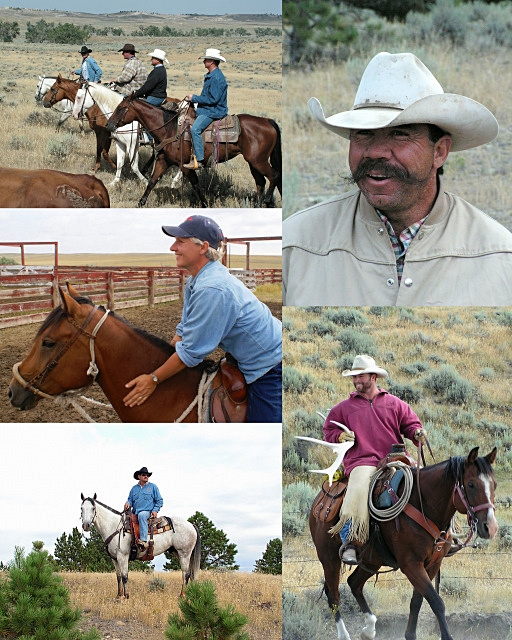 Working outside has it's perks … if you like being outdoors that is. Simple pleasures can be had by the thousands. Riding at dawn and having every mile within sight all to yourself is one of them …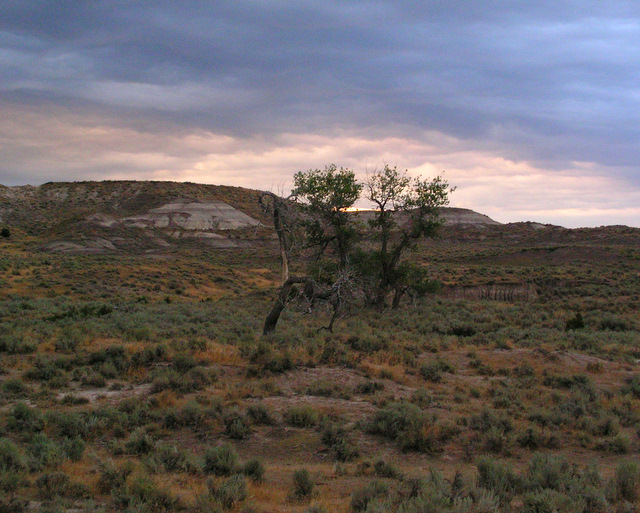 Finding natural treasures is another simple pleasure …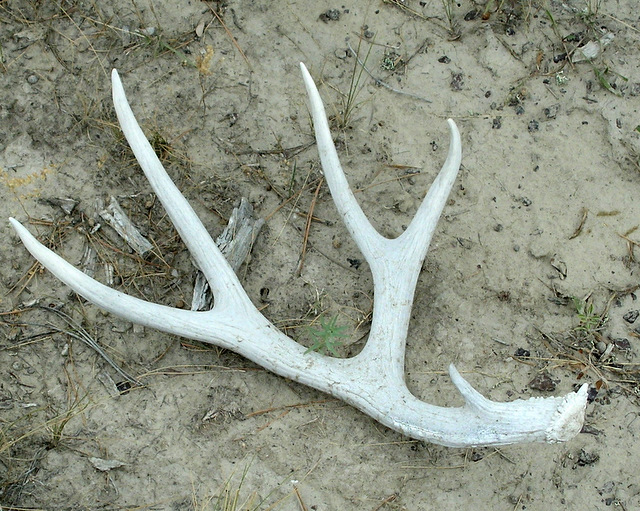 Fall color on the Plains – Sagebrush, native grasses, dark orange lichen on the rocks …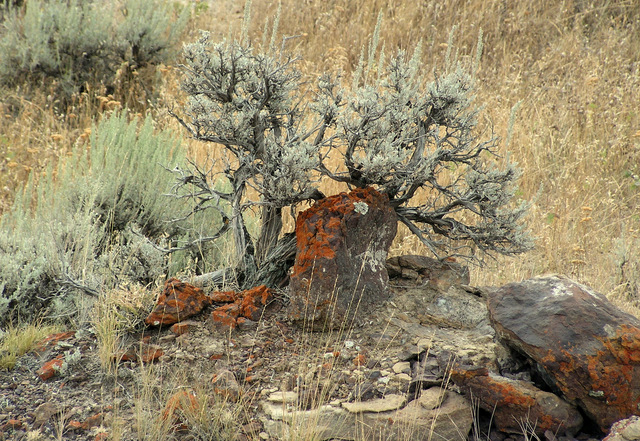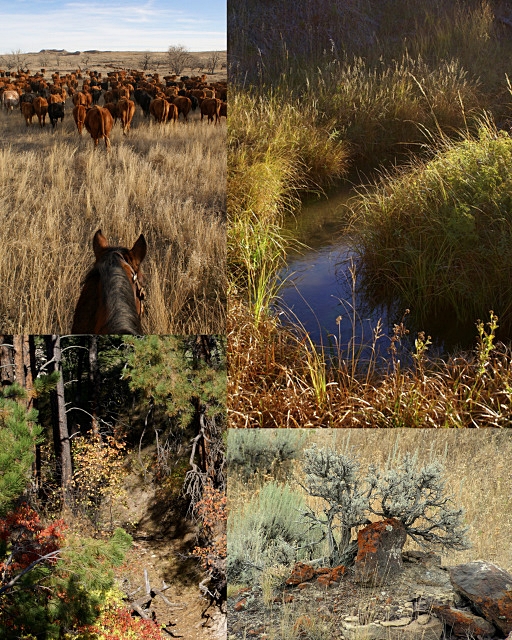 There aren't as many sheep ranchers in this area as there used to be. My friend, Anita, has sheep though and she is an avid knitter. She is also teaching herself to spin. Pretty soon, when the weather cools, she and her husband will butcher a few sheep. I ate mutton for the first time many years ago at a Basque restaurant in Nevada. Oh my, is it good. Mint or Jalapeno pepper jelly on the side is a must!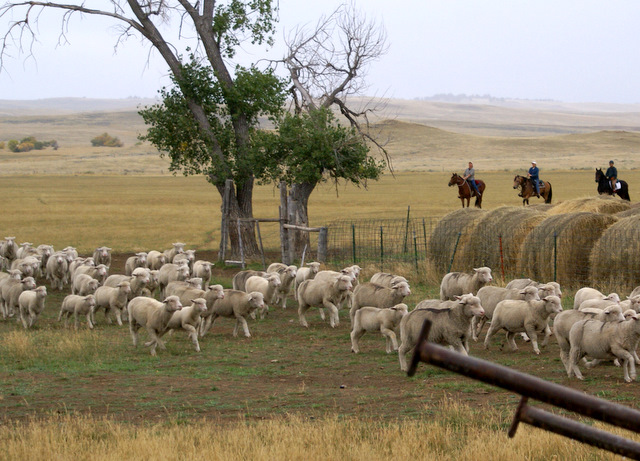 I did say that balancing work and play in life is important. So, here'z some genuine farmgirl fun for ya! Some of you who follow this blog know that I belong to our local MaryJanesFarm chapter. "We" are the "High Plains Sage Hens" and we get together once each month. We did so this past sunday – at Michele's lovely home. As usual, we had a craft project planned. We made stuffed pumpkins from a variety of fabrics. Look for the directions in the next edition of the MaryJanesFarm sisterhood online publication, The Cluck. Michele guided us through the "pumpkin production" project. She also served us a yummy snack … pumpkin pinwheel cookies. We were each gifted with a jar of homemade apple butter too.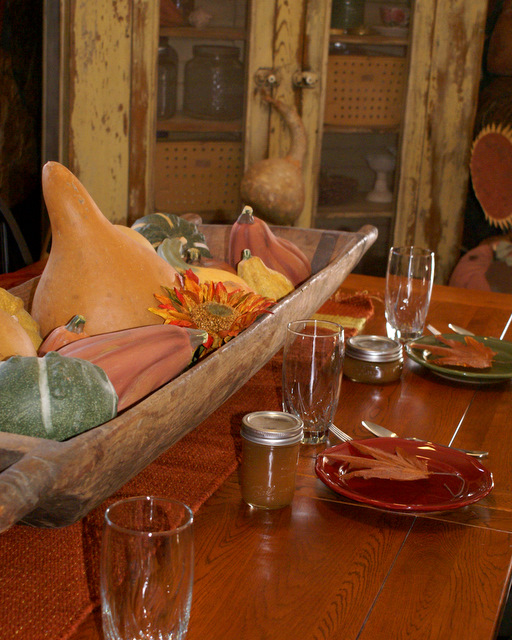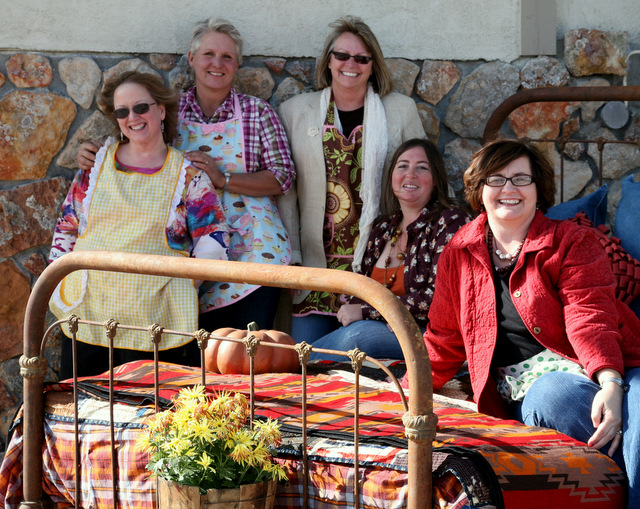 L to R: Ann, Anita, Jennie, Michele, Lisa. Michele made an outdoor napping place out of the old iron bed that we pulled from a ranch dump this past summer. Here are a few details about each of my farmgirl pals … Ann is a homemaker, an expert seamstress and she enjoys making wrapped wire jewelry. Anita, well, she is a 10 on the farmgirl scale – what doesn't she make?! But, she's also a licensed veterinary technician and she was also the very first fully credited female fireman in Wyoming. Oh, and she's an EMT. Jennie is a very busy mom to two teenagers and she works as a dental hygienist. Her wit is as sharp as a Samurai sword and just standing next to her makes you smile from the inside out. Michele has enough creative talent for three people. She is so clever and she has an uncanny talent for decorating with the "unlikely". Her home is a feast for the eyes. She is also an ER nurse. Lisa is the owner and editor of our local paper. She grew up working next to her parents in the same profession. Her grand-babies are the luckiest kids in the world – Lisa is so devoted to creating for them a treasure trove of "family tradition" memories.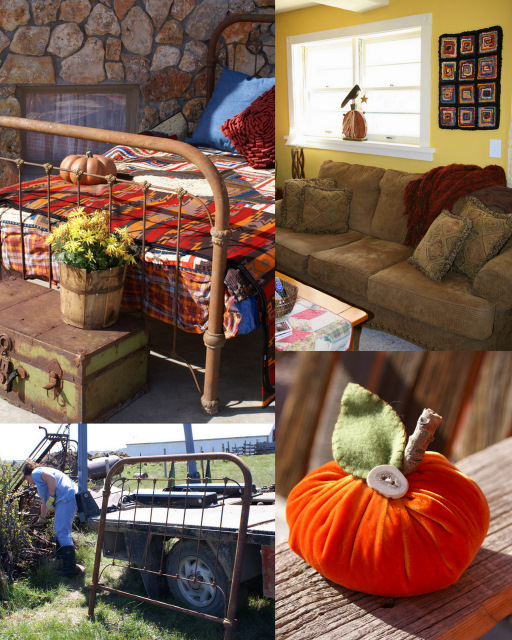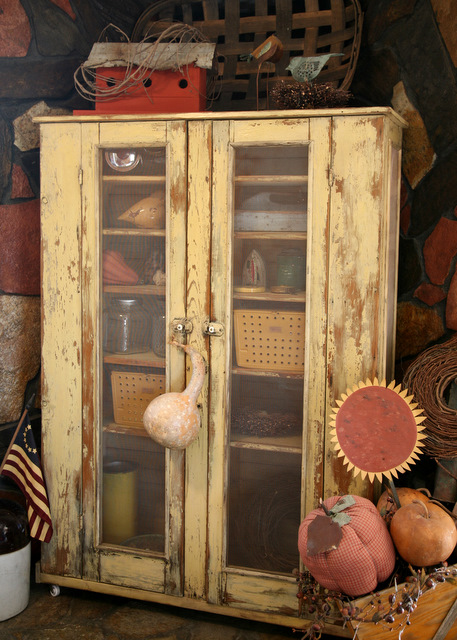 Above: Michele's "new" antique cupboard.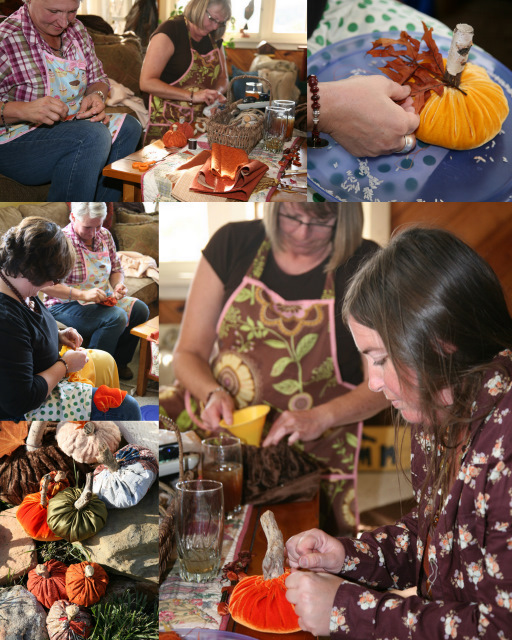 Above: Making "punkins"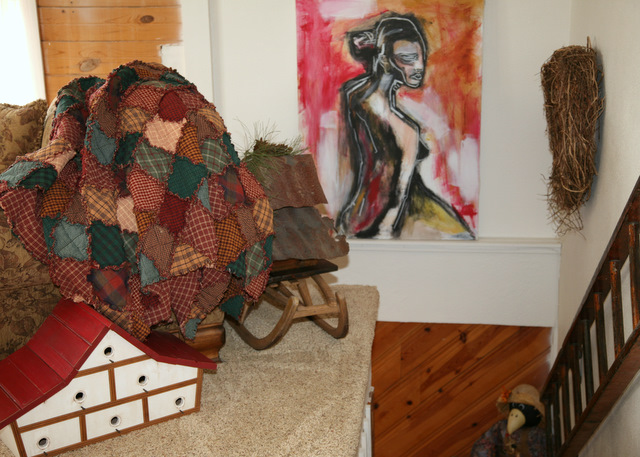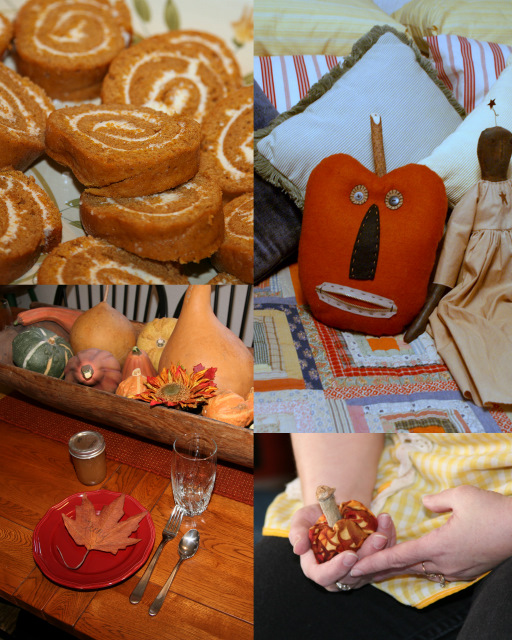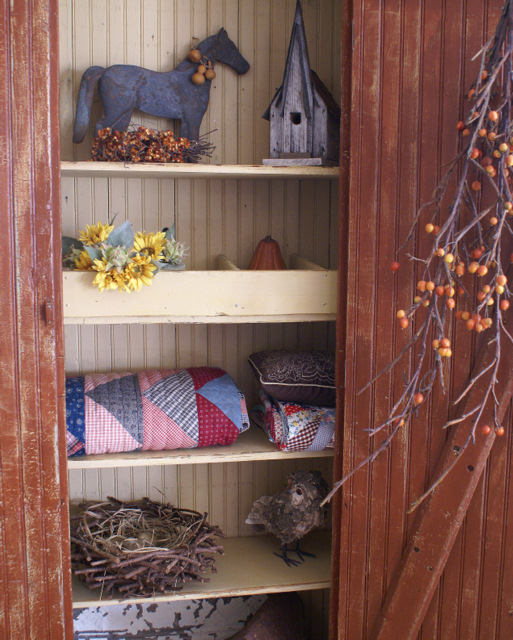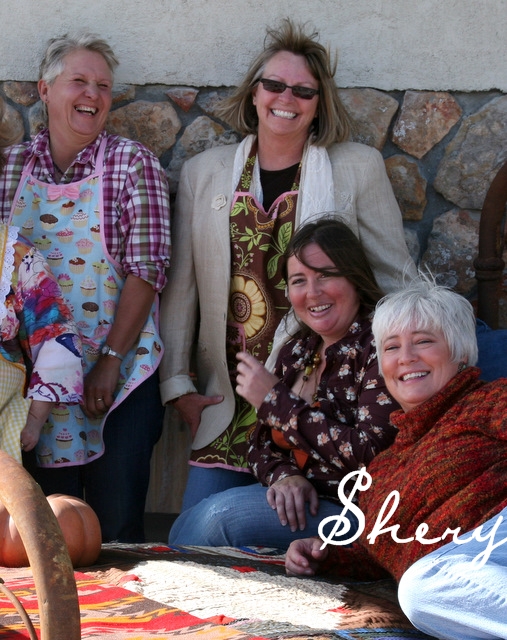 Switching gears now … Do you have chickens? I bought Wellsummer and French Marans chicks in May and they started laying a couple of weeks ago. Anita gave me a Leghorn and a Rhode Island Red also. I haven't had hens for four years and I'm really enjoying them. After I cleaned out my garden tank, I let them in the garden yard to snoop around. They love to dust-bathe in the tank. When Anita and I recently went to a nearby nursery to buy some perennials, I found the cutest little iron hen for garden decor (below). Mr. Punkinhead and his owl live at Michele's house … I love owls!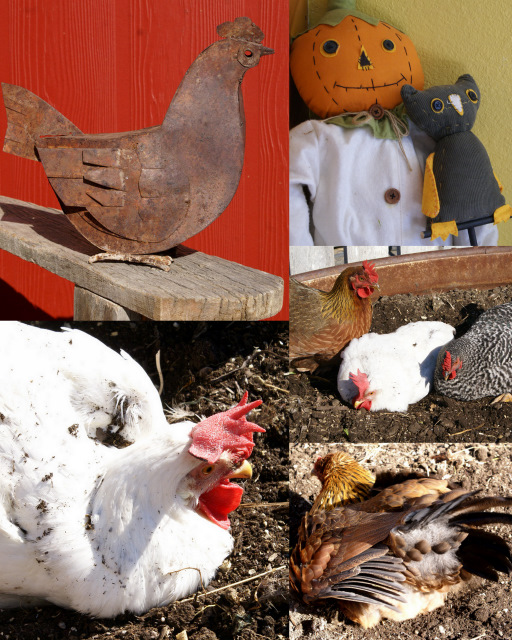 Speaking of birds, the Cranes have been flying south for a couple of weeks. They sound like Fall. The Canada Geese wont be heard overhead for awhile yet. Below … when we were working cows in the corral, I spied a pair of Great Horned Owls – one on the roof of a run-in shed and the other in the rafters. Owls fascinate me. It is so rare to actually see one. Usually, you just hear them off in the distance in the dark. What a beauty and what a treat it was to see this one and I had my camera! I must be really easy to entertain … I was thrilled to watch them. Oh my, they are BIG birds. We also have Burrowing Owls out on the prairie. They live in "burrows" nestled in the brush. You only get a glance at them now & then when they fly off. I've loped over sagebrush (a'horseback) and flushed them out – no doubt they were near their hole. But again, you don't get a good look at them. There is so much wildlife here and we do get to see more than most folks I imagine, but I am 54 years old and I've only seen a badger twice in my life. There are Mountain Lions and a lot of Bobcats here too, but I've never laid eyes on either. I hope I never lose the sense of wonder and awe in getting close to any wild animal. Heck, even the pretty little Song Sparrows with their fancy black & white striped heads stop me in my tracks.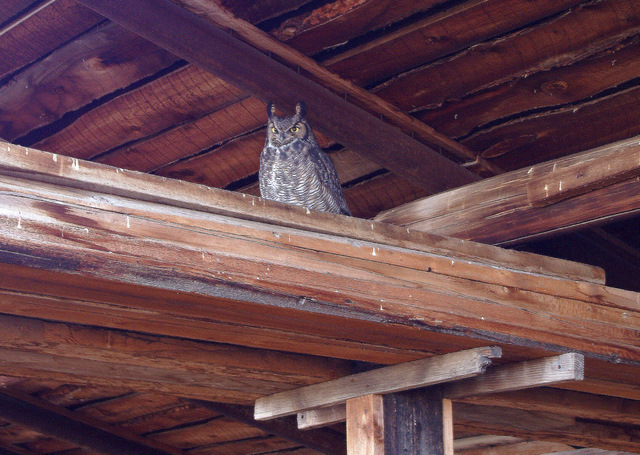 With the passing of each October day, winter is getting closer & closer. We've had such a mild Autumn – a real & true "Indian Summer". Our first hard frost didn't happen until a little over a week ago and that is a full month later than usual. As time allows, we're replacing the siding on our house, adding trim also and a new roof needs to happen. Realistically, it will be Spring before we can say the word "finished". Seems like everything takes at least twice as long as you want it too. All things work in theory and plans are completed right on time too. Then there is reality. Life happens. But ya know, lets not get into that. Autumn is a time to press the pause button. The sagging slant of the sun and rustling leaves tease us … coaxing us to put our work down … maybe go for a stroll, or just sit on the porch for a spell. Work doesn't get lost, it'll be right where you left it.