There's animal people…and then there's animal people. I fall under the second category.  Now, I'm not talking reality-show, animals-piled-to-the-top-of-the-ceiling-animal hoarders, but we're a multiple-pet household. Not only that, but a multiple species household.  And now we've gone and done it again…
Meet our newest family member!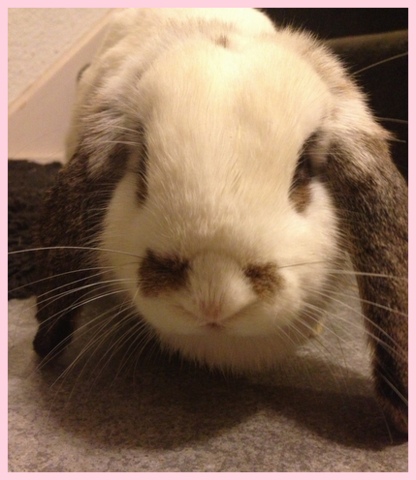 As a newlywed, I had a cat who'd been my kitty and best buddy since I was eleven.  She really loved me. She hated my husband.  Try as he might to win her heart, she'd hiss and scratch whenever he was near.  So we got another cat, one that would be "ours".  Then a dog, Teddy, who we then felt needed a buddy, so we got another dog, Phoebe.  Then we met Apollo, a doberman who'd been so badly abused before being rescued, it wasn't positive he'd make it. He was desperately in need of a home, and so easy to love.  When another doberman rescue needed a home, you guessed it…we took in Dino, too.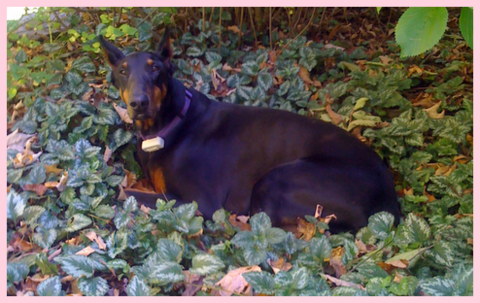 Dino the Doberman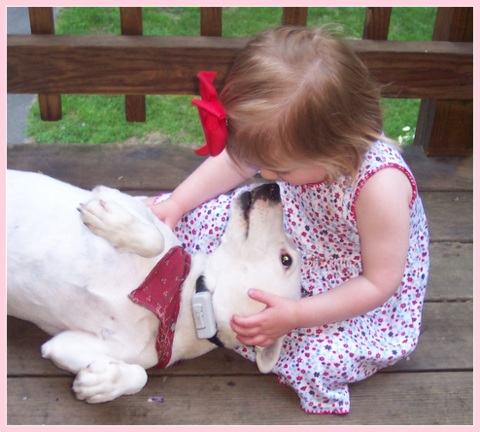 Audrey and Phoebe share a tender moment.


When my old, sweet kitty fell ill, my vet introduced me to a homeless cat, Badger, who needed someone to love him.  These were our 'pseudo-kids', before our daughter was born. Apollo lived seven years with us, passing away at the ripe age of thirteen, a month before our daughter was born. When she arrived into the world, we had three dogs, three cats, and a turtle. We were always compared to that Christmas carol.  All we were missing was a partridge.
As the years wore on, we lost animals to cancer and old age, but haven't found our home or hearts empty from the pitter-patter (and sometimes loud crash) of four-legged, furry, finned, and/or shelled creatures. The proverbial apple doesn't fall far from the tree, and my daughter loves animals. "Animal obsessed" is how one teacher described her.  Audrey's got a big heart, wanting to love and care for any animal in need. We've become "that" home again, the one with multiple pets: a dog, two cats, two fish, four hermit crabs…and now a bunny.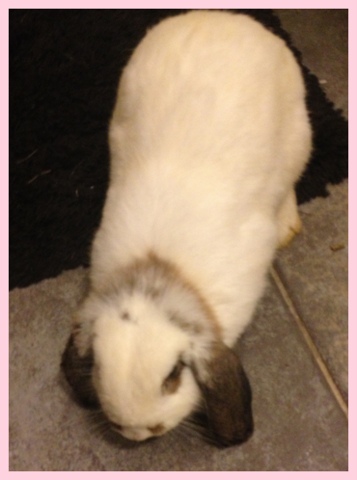 During the heat wave a few weeks ago, our house felt like an oven, even with air-conditioning.  The heat was inescapable, and even our fish's water felt overly warm.  Pumpkin, our betta, started looking ragged around the tail and fin.  On "family day",  we decided to grab a pizza and eat it in the park near where we had errands. Waiting for our lunch, we ducked into a pet supplies store to see what we could do for our fish. (For reference, it's called "Betta Fix" a $3.00 water additive made of Malaluca Oil.  Worked like a charm.  Pumpkin's now on his fourth or fifth life, I think). By the counter, on the floor, sat a little crate with the cutest little bunny.  My daughter suffers from the same affliction I do, lacking the ability to pass by anything covered in fur without turning into a melted puddle of mush.  My husband, realizing what was about to happen, tried to make a dash for the door.  Too late.  Both of us were smitten by the little ball of fluff, and despite his protests, we girls were asking how much said bunny cost.
Turns out, she was free, and she came with all her bunny "belongings". The young man working there found himself with too many bunnies, and wanted her to go to a good home.  Audrey had been asking for a bunny for several months, since attending a birthday party at a farm where the kids pet and cuddled baby bunnies, who were, coincidentally, for sale. I wasn't there, and wasn't about to let Audrey buy a pet without seeing if it was sickly or not. So here was this adorable, furry little soul looking to be adopted.   My husband had gone back to pick up our pizza.  Audrey and I bolted in, excited by the "bargain" bunny.  Shocking us both, he smiled at my daughter, saying, "Go get your bunny."  The big softy.  (He checks on "Patches" first thing every morning, before he makes coffee).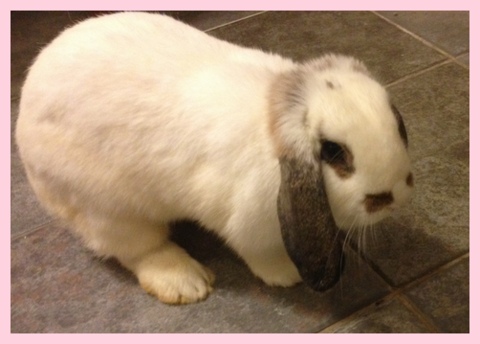 We brought the bunny home, an adorable seven-month old Holland Lop. She's mostly white, with soulful brown eyes and floppy brown ears to match, that ever so slightly drag the floor. The back of her neck and top of her head are extra-fuzzy, softer than cotton candy.  At three pounds, she'll only gain about a half pound more.

Now, Patches isn't a meat rabbit, but a "house bun", a sweet addition to my suburban dream "mini farm".   Her crate's in the basement hallway. She loves her toys and toilet paper tubes.  We feed her Timothy hay and rabbit food, (no veggies until a year old). Her crate's padded with fragrant Aspen wood shavings. (Never use cedar, it can make them deathly sick.  Caution…we saw cedar shavings in stores with bunnies still on the packaging).  We use a litter scooper to remove her waste, which goes into the compost bin.  It's gold for the garden, so Patches earns her keep!  Pets should  be seen, not smelled, but there's no odor in the house since we keep her home really clean.
Pets give us love, companionship, and make us laugh.  They're family.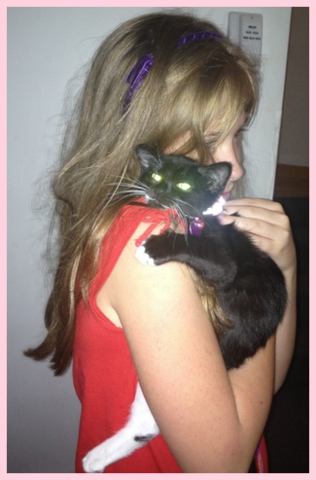 They're also teachers.  They teach responsibility, patience, unconditional love, and how to say goodbye when time comes for them to cross the rainbow bridge. My daughter takes really good care of her pets.  We think with animals, the more the merrier, don't you agree?
Farmgirl Hugs (and twitching noses)!  Until Next Time…Nicole