"May and June.  Soft syllables, gentle names for the two best months in the garden year: cool, misty mornings gently burned away with a warming spring sun, followed by breezy afternoons and chilly nights.  The discussion of philosophy is over; it's time for work to begin." 
–  Peter Loewer  
Dear sisters,
Thanks for joining me for another posting from the farm/coast of New England. The quote above describes our weather here to a tee. As I type it's misting outside and I'm praying for an appearance from the sun later this afternoon.  No doubt you're feeling the pressure to keep up with the month of May, too. She lulls us into summer slowly with her breezy afternoons and chilly nights, but don't let her fool you. " It's time for work to begin" and we have plenty of it here at Dandelion House Flower Farm and at the cottage. Instead of wearing you out with our long to-do list ( I'm sure you have your own ) I'm keeping my promise of sharing the details from the First Annual New England Farm and Floral Meet and Greet which  took place on March 25th. Come on into the barn and meet the gang!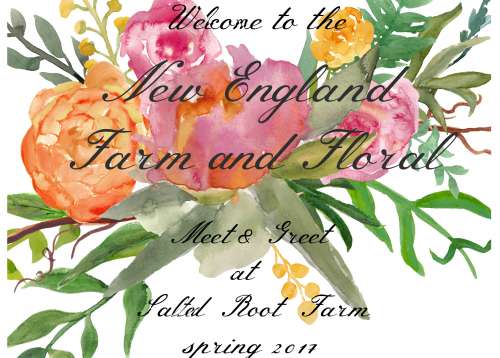 Planning for the New England Farm and Floral Meet and Greet started back in the dark days of February. After a year of watching the New England Farmer/Florist Facebook group that I founded in early March of 2016 grow to 200 plus members I decided it was time to create an opportunity for everyone to meet face to face.  My goal for the gathering was to create a place where flower farmers and florists could begin a conversation about how they could support each other in their business endeavors. I love that social media allows like-minded Farmgirls to gather,mingle and share ideas on the inter-web but nothing quite takes the place of an in-the-flesh meeting of the minds. With the help of some fellow flower girls we were able to put together an event that was educational and inspiring for both budding and experienced flower farmers and florists. The buzz in the barn was electric that day! Over 60 guests attended and every New England state was represented! The feelings of excitement were hard to contain and everyone there ( yours truly included) left humming with a new sense of belonging, commitment and motivation for all things local flowers. Just writing about it has my heart racing all over again!
Let me introduce you to my co-hostesses!
I've known Jill since before we both got so deeply into flowers. She and I have a " beach " connection. Both of our families have summer cottages in the same small community. I've watched her award-winning floral business grow over the last few years and when she moved to her farm she hosted a Thanksgiving Centerpiece Workshop in the barn ( her headquarters for Beach Plum Floral Design) on her property which I attended. I never forgot the warm cozy feeling of that night surrounded by candlelight, beautiful flowers and happy faces and I was hopeful Jill would agree to hosting the meet and greet in her homey barn when I reached out to her.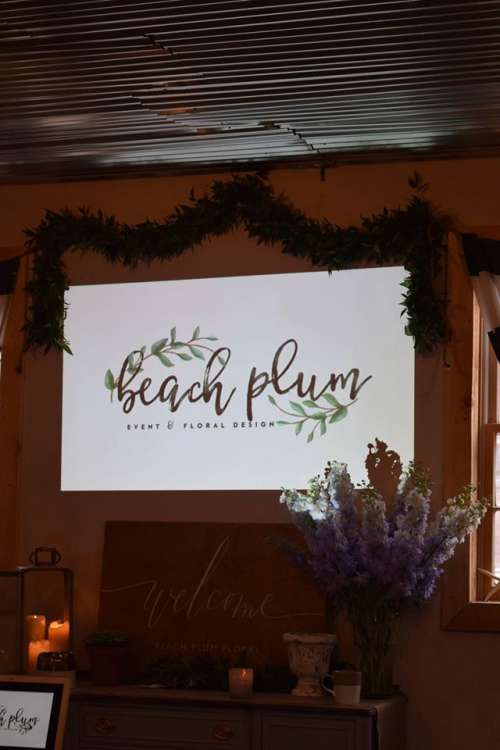 As luck ( and hunches ) would have it, she had been wanting to plan just such an event!  Along with opening up her barn studio to us for the event Jill also planned an amazing presentation and a floral demo for our guests that day. One lucky guest got to take this massive spring bouquet home!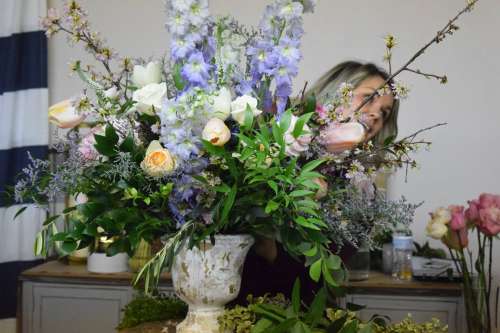 Like many florists, Jill is getting acquainted with the benefits of sourcing local flowers for her wedding and event designs instead of sourcing material from overseas and has embraced it wholeheartedly. It's a challenge in New England to source local blooms all year-long, but that is changing due the increase in flower farmers. You can imagine how exciting it was to hear that at the time of the meet and greet, Jill had already placed her largest dahlia order( 4000 stems worth) with Anna Jane Kocon, head flower farmer of Little State Flower Co. located in Rhode Island. Last year, Jill and her team created over 80 weddings!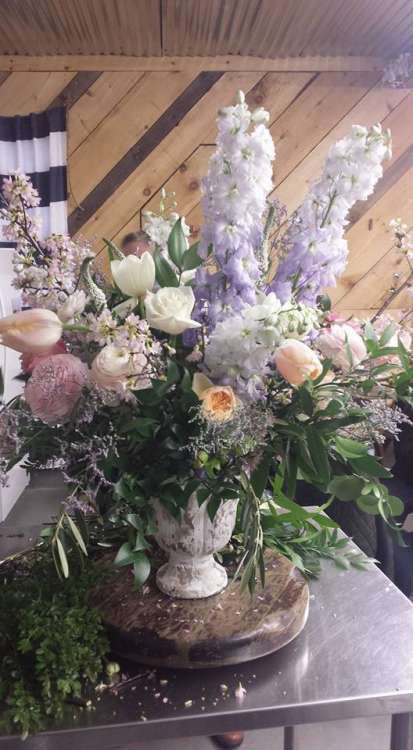 After the meet and greet, Jill added this new logo to her website letting her clients know that her company supports local flower farms.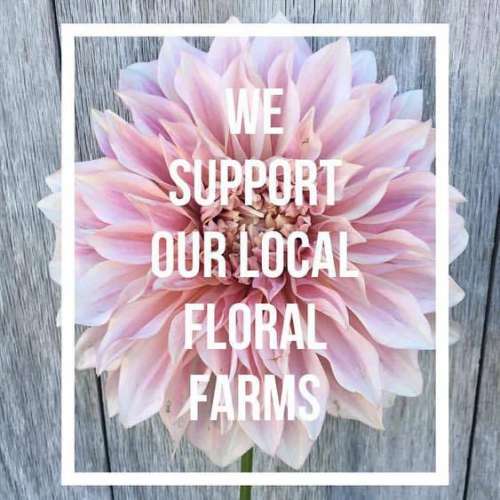 My other flower-crazed co-hostess in crime was Monica O'Malley-Tavares of Prince Snow Farm and the blog, Nantucket Daffodil. Monica and I met on the NE Farmer Florist Facebook group. We are both MA. farmer/florists with a passion for small-scale flower farming. We had spoken via Facebook messages and on the phone one time when she did flowers for a family members wedding and we just clicked. I followed my gut and reached out to her to see if she would like to help me plan the meet and greet. She said YES instantly! Now we were cooking with gas!
Monica is a full-time third grade teacher planning to retire soon and become a full-time flower girl. Her organization skills and sweet smile were just what we needed to put the final touches on our event.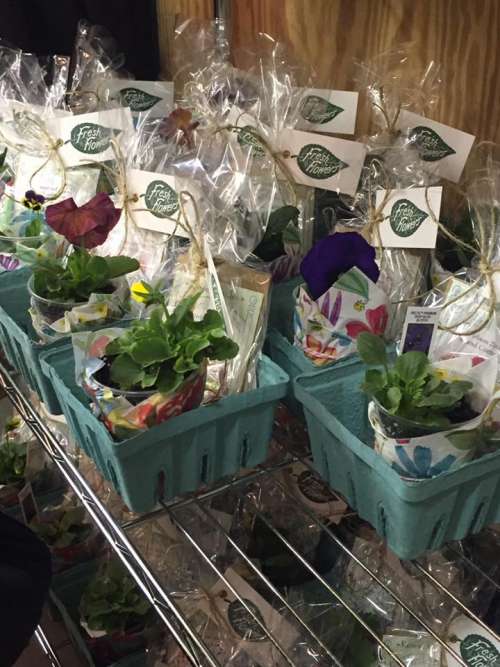 Monica went to work sending out over 40 emails and secured roughly $1000.00 dollars in donations and printed publications from several farm, floral and garden vendors for our raffle as well as creating 60 parting gifts for each guest.
Below is a sampling of some of the donations offered.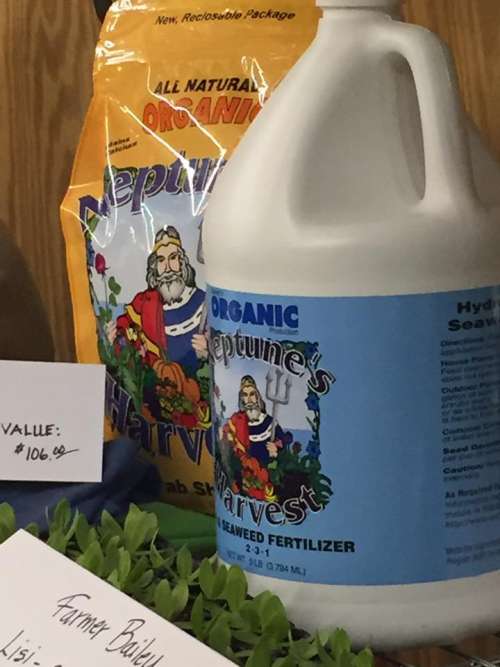 We were also very lucky to have Anna Jane Kocon of Little State Flower Co. as our guest speaker! She gave a fantastic presentation about her multi-acreage flower farm. She shared the hard but rewarding realities of keeping to planting schedules, battling pests and weather, 3: 00 am harvest times and long days in the heat and humidity. She did it all with humor and grace just like you would expect a Farmgirl to do.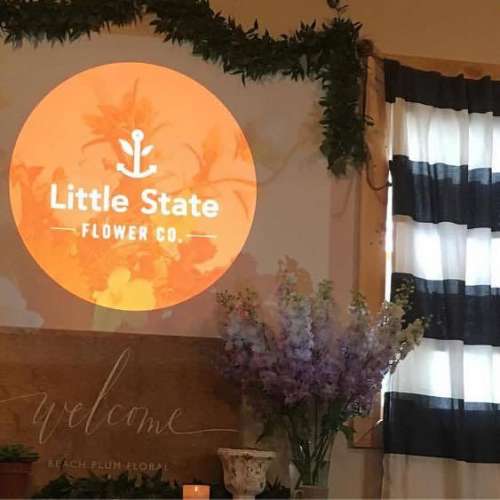 She had the crowd in stitches several times!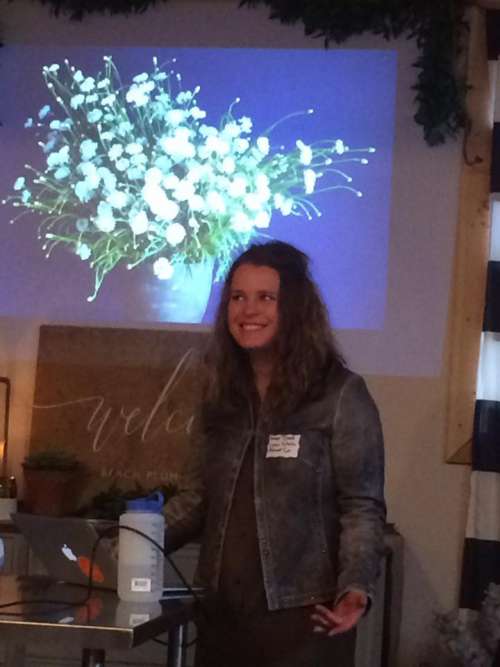 Anna is in her fifth year as a flower farmer. Her operation is very impressive and inspiring.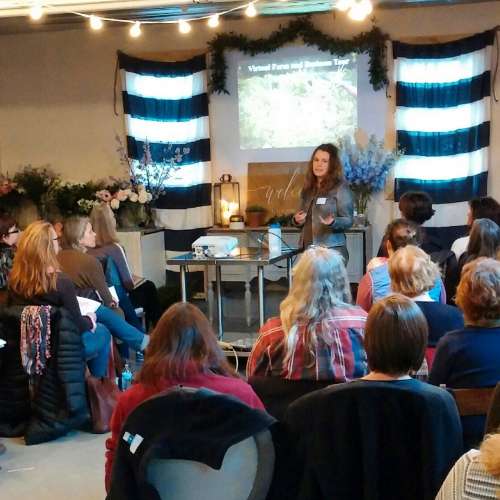 The sweetest flower girl of the day was my daughter, Nicolette. She helped us check people in and hand out raffle tickets among other things. I loved having her there with me. I wanted her to witness what I knew would be a very special day!  At the start of the program we asked each guest to introduce themselves and share something about their farms and floral businesses. When it got to my daughters turn I thought for sure she would pass on speaking, but instead she surprised us all by telling everyone how she had watched my little backyard flower farm blossom and how proud she was of me for bringing people together to share their passion for flowers. There were tears all around the room! Sniff, sniff…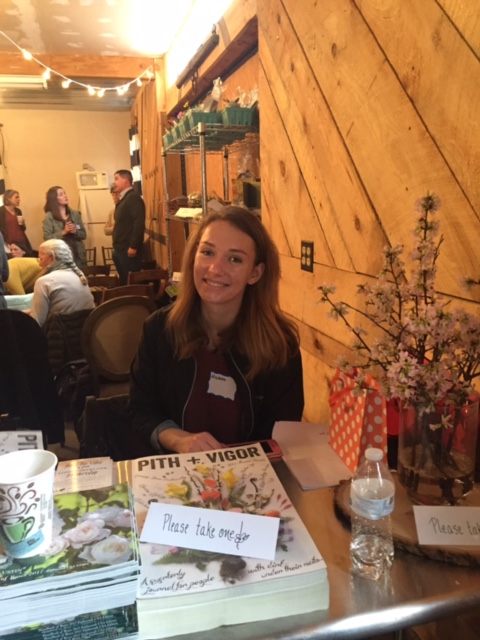 It was an action packed afternoon! After introductions and a break for chatting we settled into the educational part of the day with Anna and then Jill's presentations.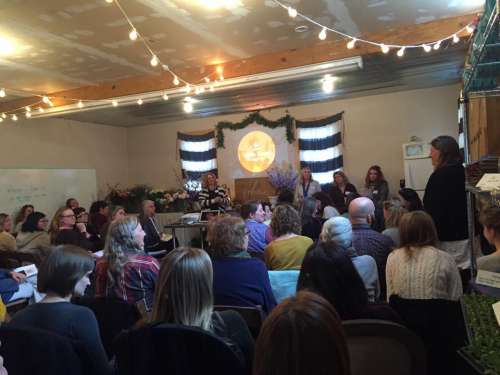 Prior to the event, Jill strung lights overhead and decorated the refreshment table with fresh tulips which set the tone for a wonderful experience. Our guests were a lovely mix of gardeners, new and established flower farmers, and floral designers with a thirst for connecting and sharing information. What surprised us the most? The fact that the event sold out to capacity within the first few weeks. We made room for everyone but next time we'll need a bigger barn!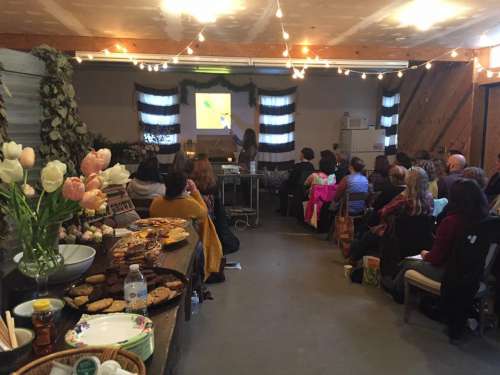 It was a warm and cozy feeling in the barn that day and we all drove away, back to our farms and businesses charged with new motivation and new friends to boot!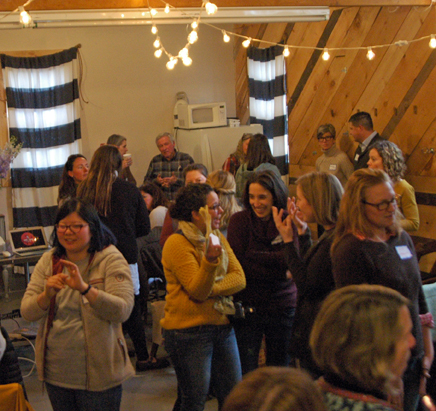 We all gained more than warm and fuzzy feelings and new-found energy for our farm and floral endeavors. BIG DREAMS were born that day! Some of the ideas I heard flying around the room were about co-farming opportunities, starting a virtual wholesale flower market for the New England Region, a brokerage flower plug sales outlet tailored to the small-scale flower farmer as well as future farm tours and gatherings for the " budding" New England Farmer/Florist Community.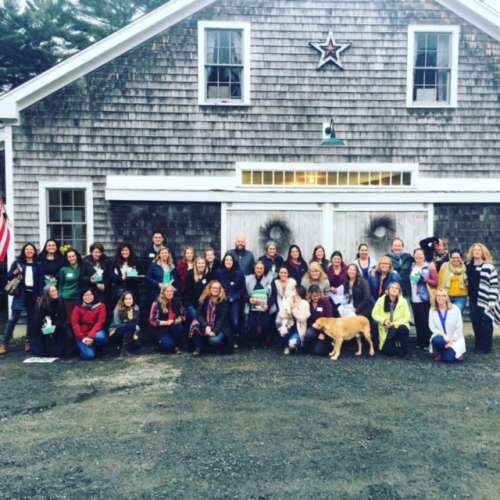 After the raffle I herded everyone that was still there out to the barn for a group photo which is now the header photo for our group!
The passion for sustainability grown flowers and design is alive and well and growing in New England, thanks to Debra Prinzing, slow flowers advocate and author of The 50 Mile Bouquet and Slow Flowers. Our guests were primed and ready for a face to face meeting and were so grateful for the opportunity to get together. Debra had me as a guest on her Slow Flowers Podcast show in late February to help us promote the event and our Facebook membership has grown by 75 new members! You can have a listen here.
I'll share Debra's story about how she became the ambassador for the slow flowers movement in our August/September issue. I can't wait for you to meet her!  Stay tuned!
Thanks for joining me on the shorelines, once again! I promise a trip to the beach is in your future. The cottage is open and I have some fun" beachy " projects to share with you and I'd love to hear how your May is shaping up in the comments below!
Until our next farm/coast visit~
Beach Blessings and Happy Growing!
Much love,
Deb aka, Beach Farmgirl & Flower Farmgirl!
# 1199
Save
Save
Save
Save
Save
Save
Save