Dear Sisters,
Happy belated Mother's Day! What did you Farmgirl mamma's do to celebrate?  I find the older I get the less I want to do what's expected on holidays. I don't need anymore stuff or stuff-y brunches. I'd rather have an experience together that we can both enjoy and look back on as a happy time. Since my mom moved in with us we try to make time one day a week to do something together. Most of the time it's just lunch out combined with errands. Heck, we even make the most out of trips into Boston for her Dr's appointments. It gives us time to catch up. Even though we live in the same house life goes at pretty fast clip and it's easy to get swept away moving from one obligation to the next. This year for Mother's Day I was determined to do something out of the ordinary. Like tulips? Come with mom and I on our Mother's Day adventure to Wicked Tulips Flower Farm.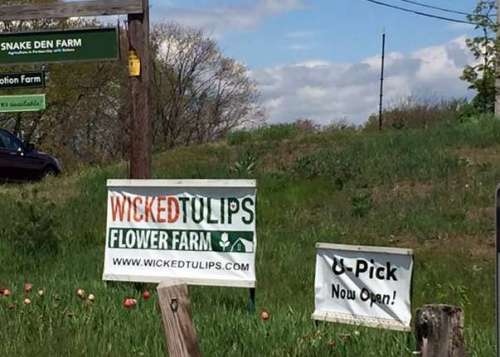 I learned about Wicked Tulips Flower Farm in Johnston Rhode, Island last spring, sadly, after tulip season was over so I put it on my bucket list for this year and mom and I made a date to go! The operation is in the budding stages and has only been open to the public since 2015. With over 27K Facebook followers and growing this young farm is surely " bolting" in popularity. The land is leased from the Rhode Island Department of Agriculture and is located at the Historic Snake Den State Park, a 744-acre State Park that stretches from Hartford Avenue to Greenville Avenue, along the Brown Avenue Historic District.
As stated on their website, Keriann and Jeroan have been working very hard to protect pollinators by increasing awareness about the systemic pesticides used in the flower industry. which have been linked to declining bee, bird and butterfly populations. The pair have also been importing certified organic flower bulbs from Holland since 2009 because organic equals bulbs that are free of these harmful pesticides. I invite you to visit their website to learn more about this amazing couple and their little hidden gem here in the northeast.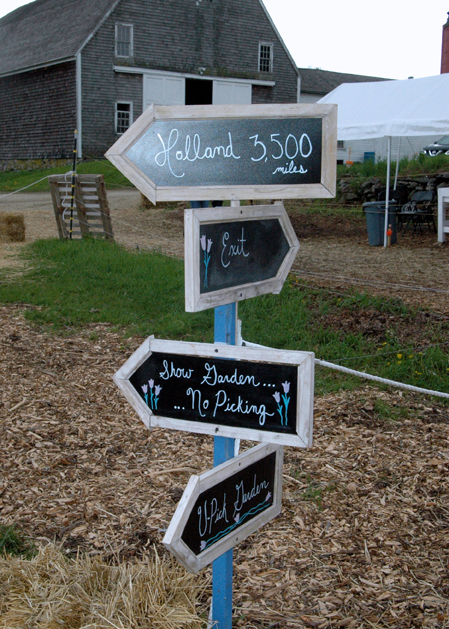 I was so tickled to find that the farm was only about a 90 minute drive from my house. Who needs Holland when you can pick your own tulips right here in the good old USA?  Tickets are easily  purchased online and presented the day you visit. The farm is very user-friendly and the 4 acre site is just perfect for walking the U-Pick fields and taking notes in the show gardens. They even provided the buckets.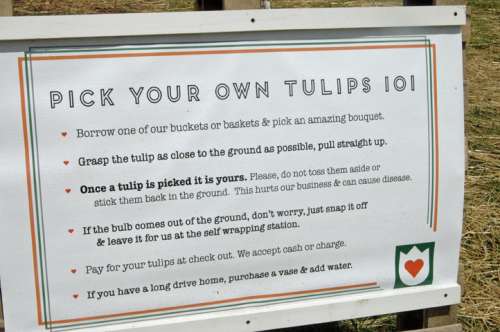 The signs were very helpful! We learned how to properly " pick" a tulip. No sheers necessary! Just simply grab the stem as close to the ground as possible and pull straight up. Easy!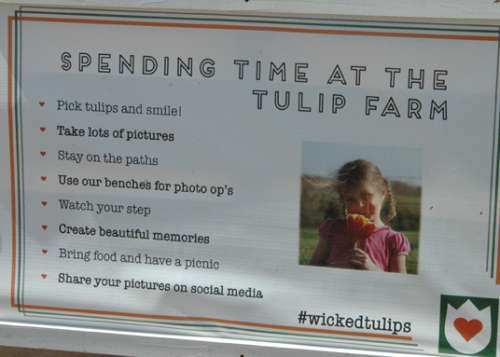 People of all ages and stages were there the day we visited. Couples holding hands, new moms with young babes in strollers, retired folks, gaggle of girlfriends, and photographers. We saw several groups of people having their photos taken in the fields.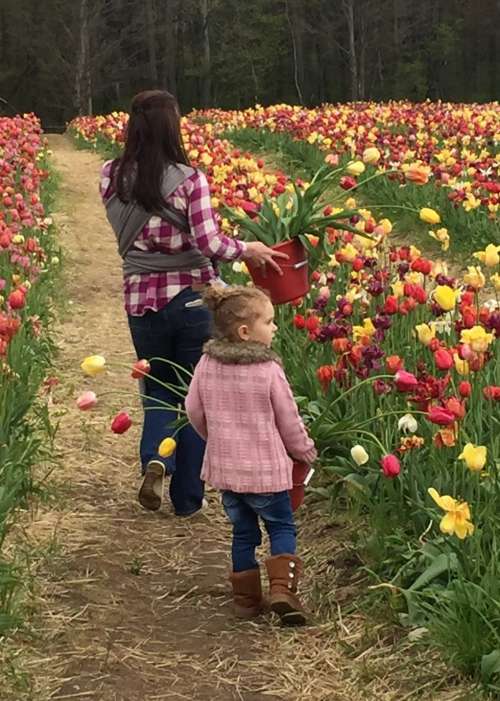 I love this one of this young mother and her babes. It brought back memories of me and my two during their wonder years.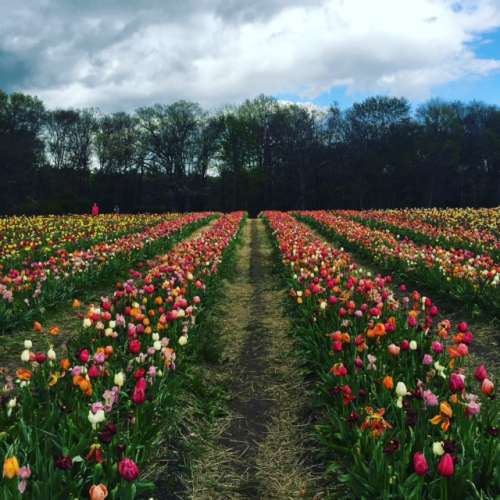 As you can tell by the angry sky the weather was fair to midland that day. Truth be told many of the tulips had been nipped by a spring frost and were less than perfect but that's no fault of the farmers. In fact they closed the week after we went due to the arrival of an impending Mother's Day nor'easter, which did in fact come.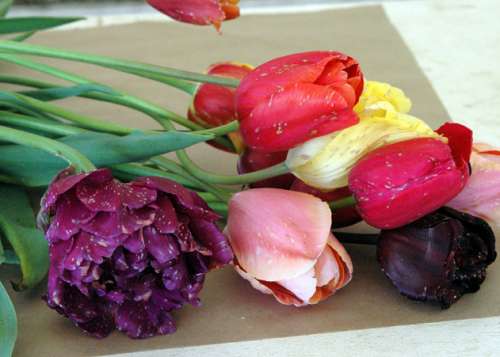 We didn't let the weather report ( nor did any of the other visitors) ruin our chances of enjoying the fields and the views.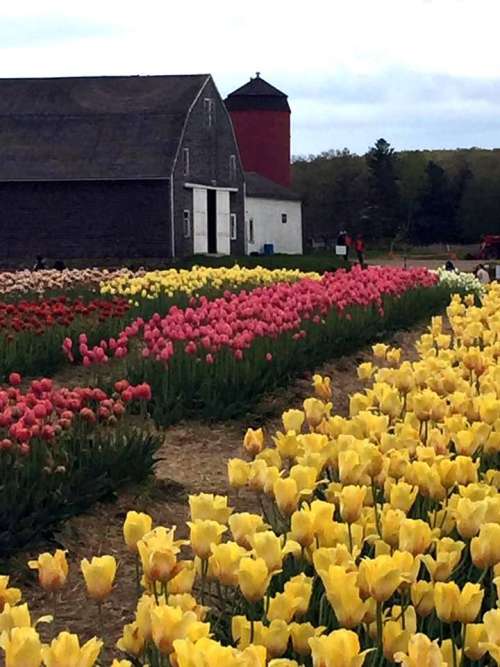 The farm buildings surrounded by upwards of 400,000 tulips and the threatening skies above created a mood of mixed emotions.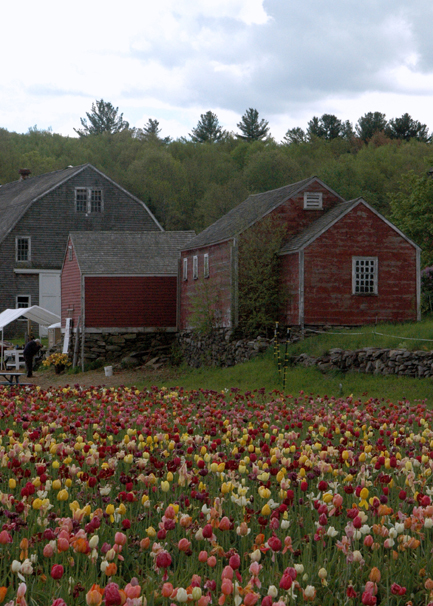 On the one hand the fields were dancing with colorful tulips and on the other, the dark clouds rolling in were signalling us to get things wrapped up and get back to the car. We picked carefully and quickly to beat the rain we knew was coming.
We had our handy cart with us which traveled over the bumps and humps like a fine-tuned 4 wheeler.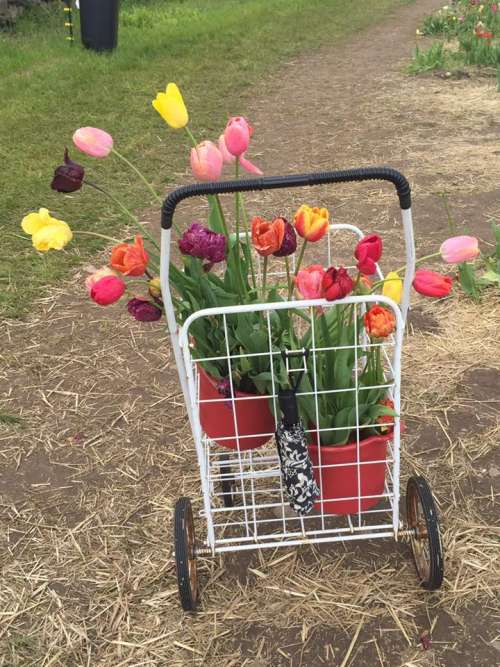 There were fields for picking and show gardens where picking wasn't allowed but you could jot down the name of specific varieties as you walked along with a pencil and paper given out by one of the farm volunteers. I'll check back in August to see if any of them will be available for sale for fall planting.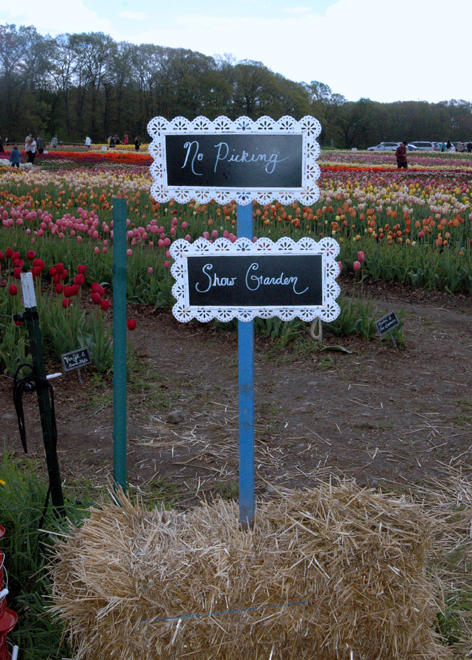 After we had picked all we could carry home and afford at a buck per stem, I whizzed through the show gardens to get some close-ups before we headed over to the wrapping station and check out line.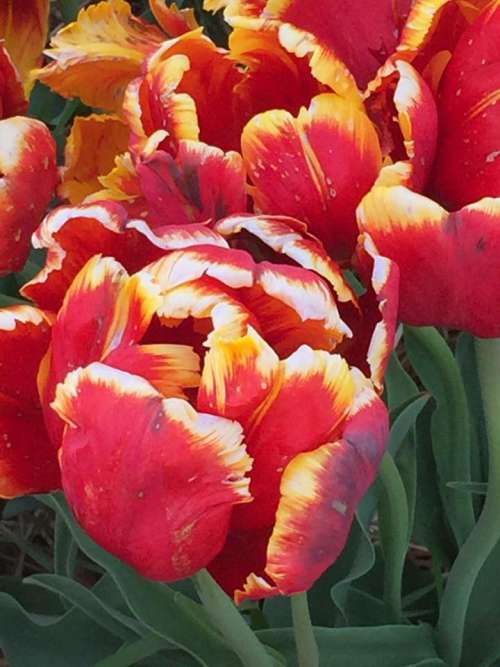 These weren't your standard single color tulips. The variations in the shapes and colors of the petals was captivating!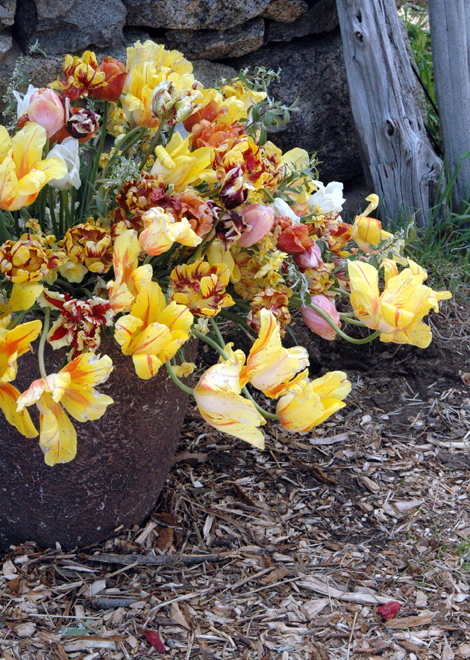 Save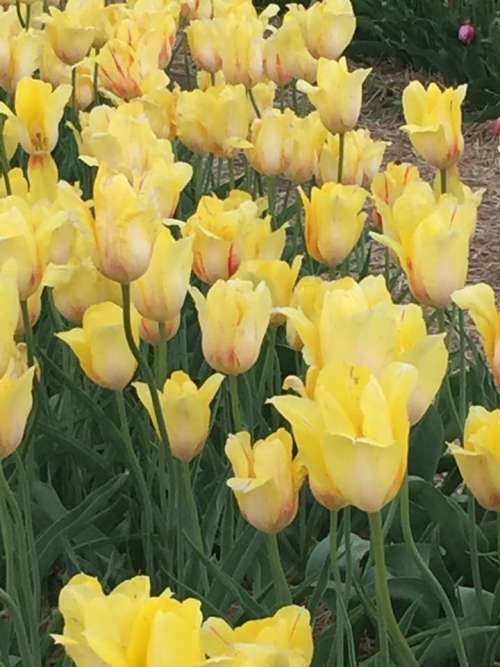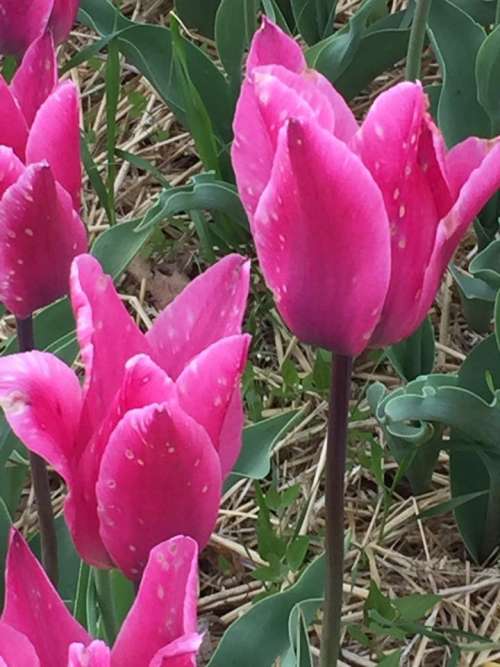 My mom and I hopped from row to row oohing and awing as we went along. We couldn't believe what we were seeing!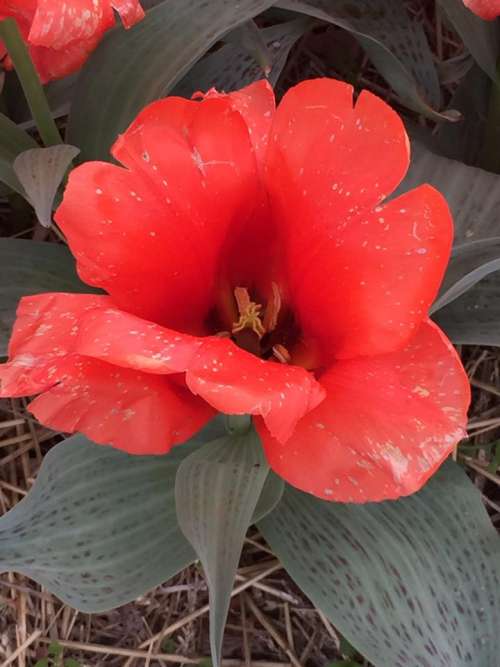 This one pictured above looked more like a blend of a hosta and hibiscus than a tulip.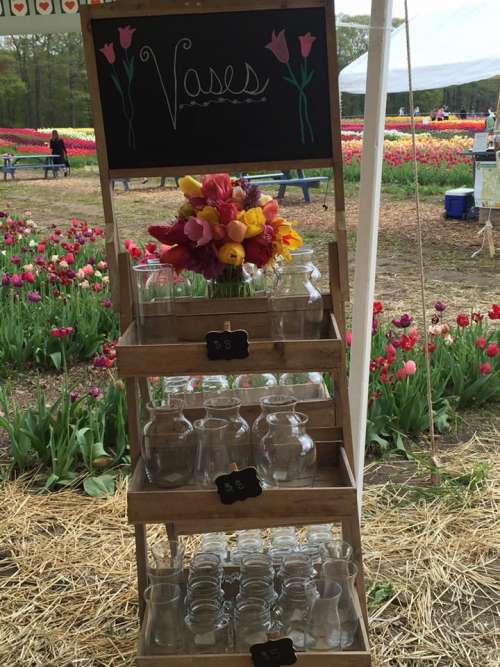 Different sized vases were available for creating bouquets.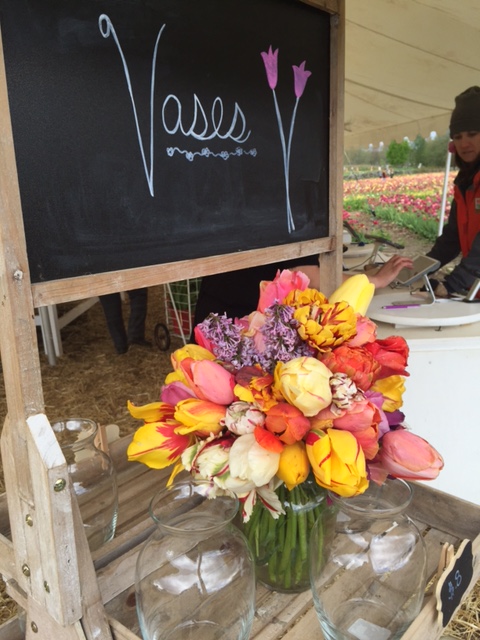 The wrapping stating was set up with several tables with tape and brown craft paper for wrapping your tulips.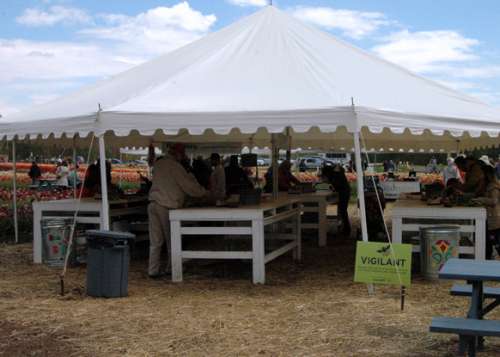 Volunteers helped visitors wrap up their tulips before heading over to the check out counter.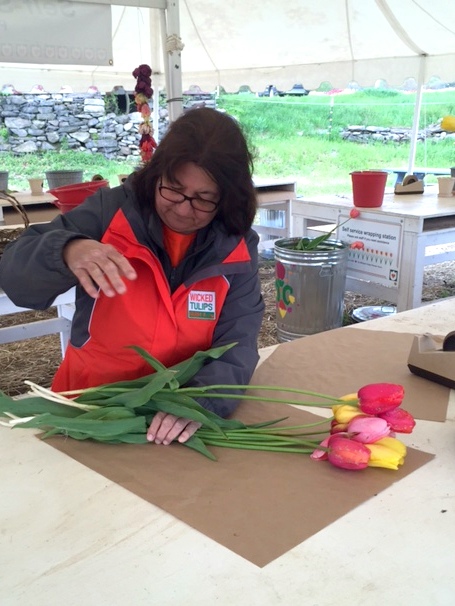 I have to say, our visit to the tulip farm was, "wicked" amazing. How "wicked" was it? We'll be back next year!
Tulip season is over now but I googled tulip farms in America to see how many others might exist so you can plan ahead for next year!  Here's a link for 7 Tulip farms to visit in America.
Maybe there's one near you?
Until our next shoreline visit~ Keep having new experiences and making new memories with those you love!
Beach Blessings and Much Love from
The Beach & Flower Farmgirl,
Deb,
Beach Farmgirl
# 1199
PS. I got a bit off my blog schedule last month and posted late. Here's the link to my last posting in case you missed it!
Save
Save
Save
Save
Save