Dear Sisters,
Happy Thanksgiving! By the time this post goes live, you'll have wiped the pumpkin pie crumbs from the corners of your mouth and packed away the last of the mashed potatoes and gravy. I hope you had a wonderful and restful holiday with your loved ones. We sure did. In fact, I just ordered two pair of leggings ( hip stretchy pants ) online to get me through the rest of the holiday season! This is the time of year when our sense of gratitude heightens and all that we hold dear becomes crystal clear. The obvious and most important of those being family, friends, FARMGIRLS and community. So where do flowers come into play here? I coordinated The New England Farmer Florist Community's " Fall Floral Exchange" earlier this month and I'm excited to share the day with you!  I'll share tips on how to plan a similar event, you'll go behind the scenes of a dream floral studio and you'll meet the Flower Tribe!
You may recall me writing about the New England Farmer Florist Facebook group I founded in the spring of 2016. I started the group out of curiosity in hopes of connecting with other local flower farmers and florists who are interested in using more American Grown Flowers in their design work. To my pleasant surprise ( and our members too) the group took off. After we had about 220 members, I decided to see who might be interested in an " in the flesh" meet and greet. You can read about it here.
The first event sent everyone off into a new season fertile with new ideas and a found sense of community.
Fast forward to the Fall Floral Exchange, 2017!
Meet the coordinators!
I'm so grateful for the help of these three flower girls who helped make the event happen! It's so wonderful and inspiring to work with like-minded people who are anxious to share their time and talent to benefit others. My handsome Yankee was our personal photographer for the day and Monica's hubby was our tech guy for the power point presentations.
You could host an event like this for just about any kind of group. Quilters, knitters, jewelry makers, homesteaders, gardeners and more!
Here are my tips to help you host your own event.

Reach out to people who are passionate about the same thing you are to see if they have an interest in helping you coordinate an event.
Choose a location with plenty of room so you don't have to turn people away.  A fellow coordinator will often donate the space for free.
Set your program. Our program runs from 1-5 with plenty of time for networking and two presentations with a short Q and A period after each one.
Promote your event through a group email or create a Facebook group event.
Raffle off donated items or offer a table of small takeaway items pertaining to your event topic.
Decide who will present and be sure to have varied topics of interest.
Make it affordable. $20.00 – $25.00 per person is a reasonable entry fee if you are anticipating a group over 35 people. By keeping overhead low, you can afford to serve refreshments and cover any furniture rental costs, small speakers fees or travel expenses for your guest speakers.
Engage your guests! Ask them to share something about themselves in and introduction period. Offer a guest book for them to sign and follow-up with a group email list for those who attended. ( I still need to complete mine )
I love to have speakers from each side of the " row " if you will. Who better to speak about the Slow Flowers Movement on behalf of all Flower Farmers and Florists than the queen bee of Slow Flowers herself, Debra Prinzing! Author, ( Slow Flowers and The 50 Mile Bouquet ) speaker and podcast show host, Debra was gracious enough to fly from Seattle to Boston for a whirlwind weekend just to share the slow flowers message and her 2017/18 insights on the positive changes that are happening industry-wide in the floral trade in regards to American grown flowers. Debra also recently picked up a new writing gig in the well established floral trade magazine, Floral Review. In her column, The Slow Flowers Journal, Debra highlights, flower farmers, floral designers, and " flower hubs" ( groups like the NEFFC ) that come together with the mindset of community over competition.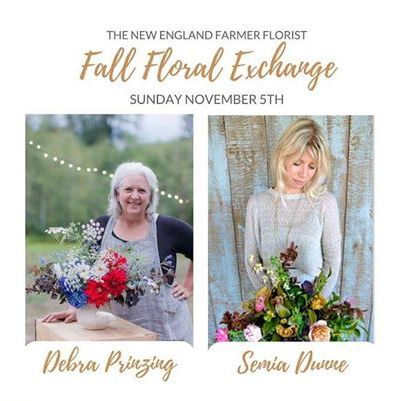 Our second guest speaker was the beautiful and talented, Semia Dunne of Flowers by Semia in Providence, Rhode Island. Semia is a studio florist whose designs are inspired by the seasons. If I could only describe Semia in 5 words or less they would be, creative, enterprising, smart, sweet, and generous.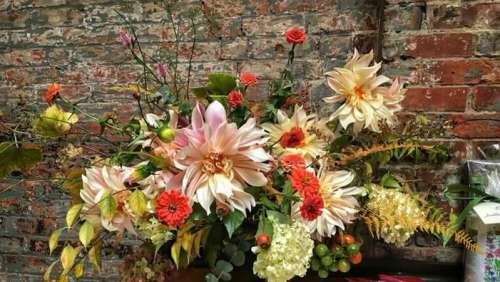 She is sought after for her signature nature inspired designs and floral installations in some of the areas finest venues. Semia (pronounced Se-meea, with the emphasis on the end of her name) hosted our event in her dreamy floral studio which is located in an old factory building turned arts district in Providence, Rhode Island. She's a neighbor to other local artisans and provides opportunities for collaboration as well. Semia surprised us all when she announced her new sister business, The Floral Reserve. A wholesale flowers and floral supply business ( launching in early December) with an emphasis on offering seasonal flowers from local flower farms amongst, American Grown Flowers and quality Dutch Grown blooms.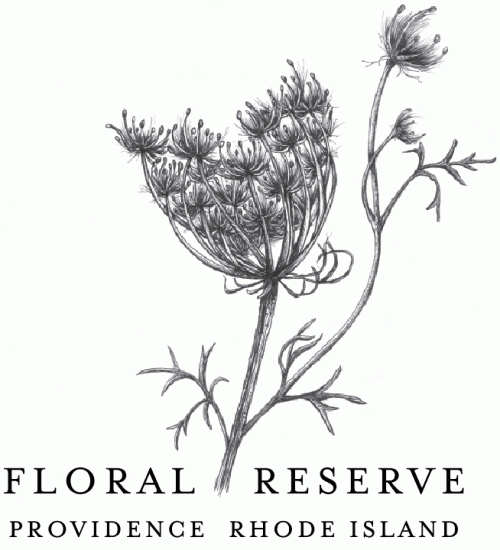 The Floral Reserve will be located in the same factory location as her design studio and I cannot wait for the grand opening!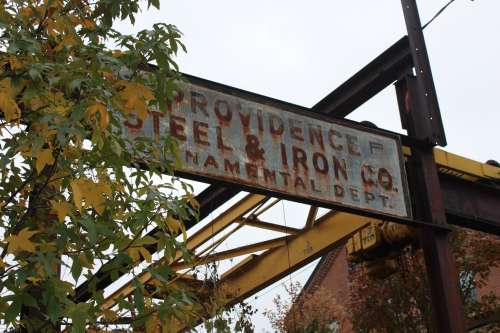 Are you ready to see inside her beautiful studio space and meet the flower tribe?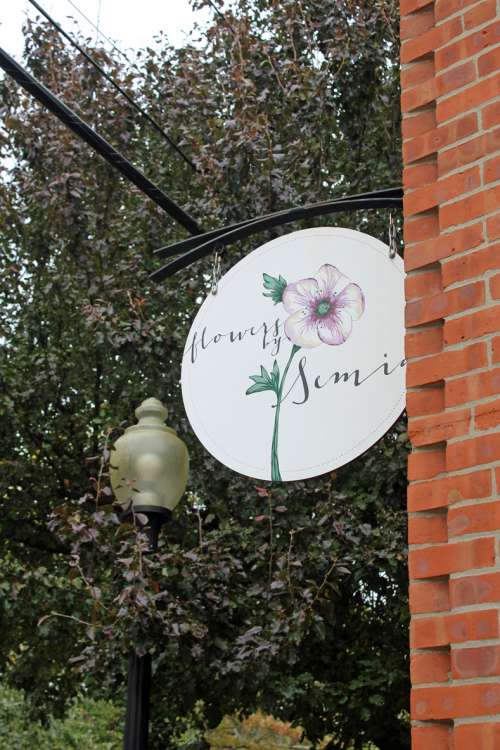 This is the back entrance to the studio where deliveries come and go. The garage door goes up and down to extend the loft-like space inside when it's being rented out for events.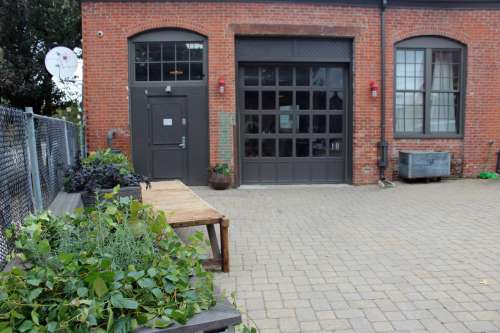 The studio is split into two separate spaces. The large open space is located near the walk in cooler and serves as the design studio as well.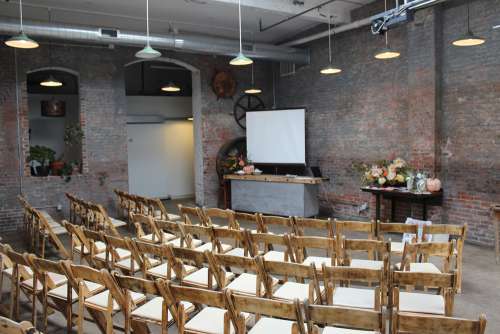 We rented chairs for the event through a local vendor. They couldn't have been more perfect for the venue, but they were even better once they were filled with nearly 70  chirping attendees!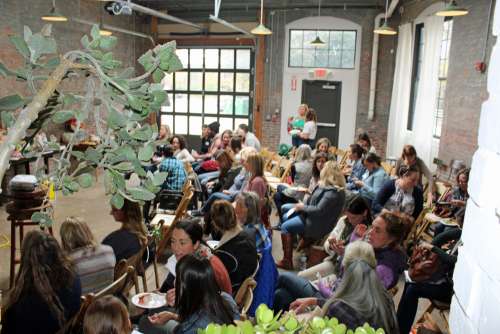 There is another entrance on the opposite side of the studio (where Semia and her team meet with their clients) which served as our check in point, a place to display take away items like seeds, magazines and trade publications that were donated to us for the event.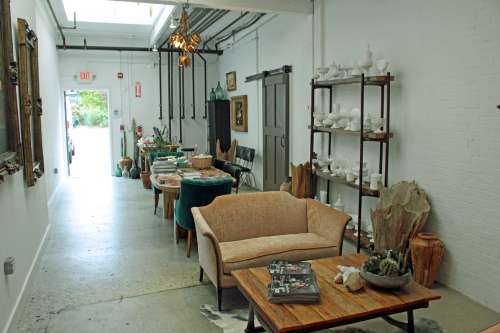 Plus, there was a perfect little parlor area for Debra to do a book signing too!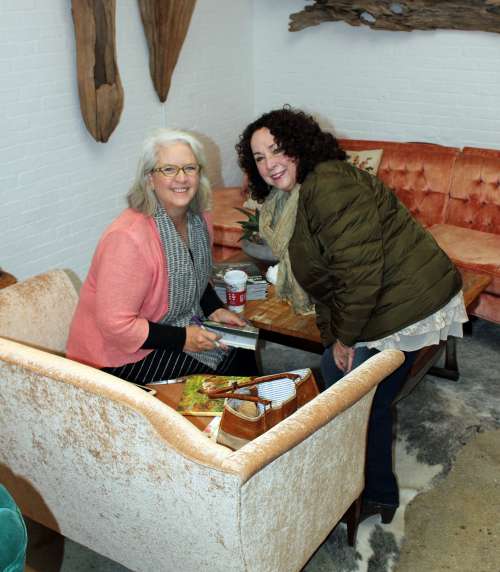 Debra with Donna, ( @the.country.nest) above and Tina (@pinewoodyankeefarm) below.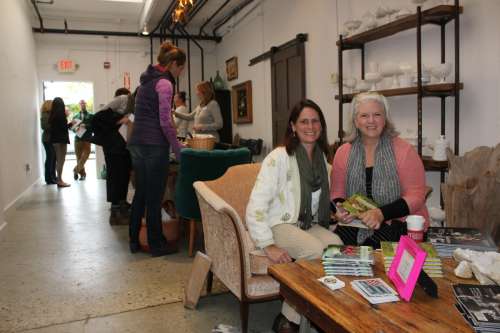 Debra and Semia talkin' flowers.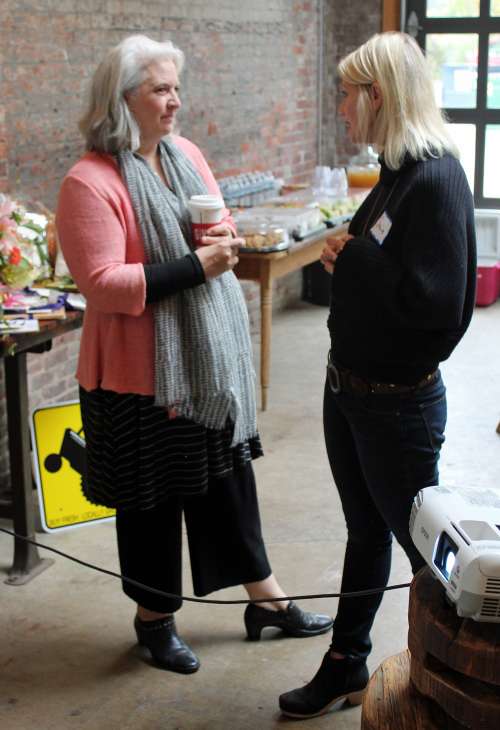 That's me below with Ryan Courtney of @DiamondRoadFlowerCo. ( in the pink) and Tara Riggs of @raisingbloom4.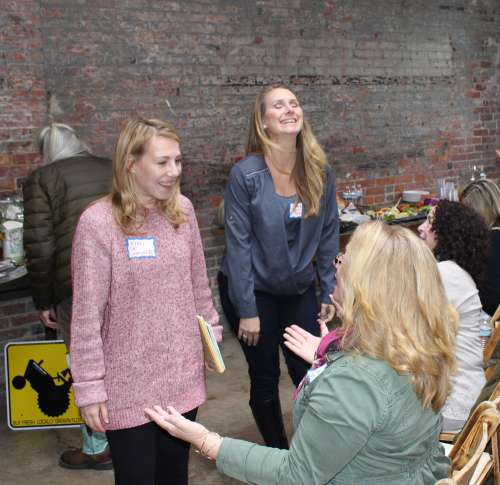 We had so many great product offerings from generous industry vendors to raffle off at the end of the afternoon. Beautiful flowers by Semia, books, tubers, seeds, gift coupons, and that great black and yellow sign from Henk Onings.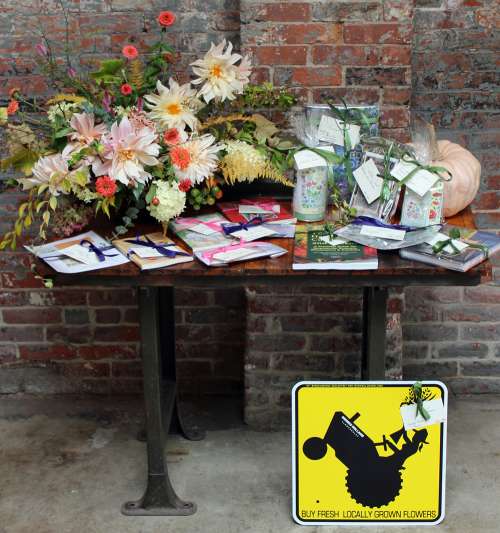 My fellow event coordinator, small-scale flower farmer and writing buddy, Monica Tavaras ( www.nantucketdaffodil.blogspot.com) was in charge of getting donations. She wrapped and tagged them beautifully with colorful ribbon in deep fall hues.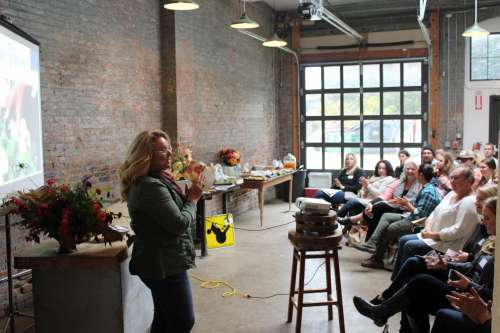 Here I am again pictured above welcoming our guests!
Meet the Flower Tribe of New England!
Every New England state was represented. I love the mix of ages and varied types of flower farmers and floral designers who came to learn, share and connect. Retired people excited about starting something new with passion and purpose, young, optimistic farm-minded couples just starting out, and families who farm together. Mother-daughter floral design teams, and home gardeners too. Being in a room filled with that much energy and entrepreneurial spirit is a golden experience. There was so much creativity and ingenuity, courage, boldness, and plain can-do spirit floating around you couldn't help but get carried away.
Sound familiar? It's the very same feeling you get when you gather with a gaggle of your best farmgirl friends and you know you've found your tribe with other farmgirls at heart. That good old-fashioned farmgirl spirit is some pretty powerful stuff!
This farmgirl is feeling very grateful for that farmgirl feeling.
The more grateful we feel the fuller our lives become!
Until our next shoreline visit~
Stay close to people who feel like sunshine!
~ Anonymous
BEACH BLESSINGS AND MUCH LOVE,
Deb # 1199
PS. If you popped by earlier and this post wasn't live, my apologies.  Darn computers!