Something spectacular is happening daily in my daughter's school.  Since December, therapy dogs have been in the halls and classrooms.  Brought in for comfort after December 14th,  these furry, four-legged souls have brought so much more.  
My daughter loves school, and feels sad when each school year ends. After December 14th, she adamantly stated she would not return to school… words I never imagined we'd hear.  Like all Newtown parents, I worried that first day back.  I knew she'd be safe, but worried how she'd feel.  To my surprise (and relief), she smiled getting off the bus home, exclaiming, "Mommy, there were DOGS there!"
Our principal, Dr. Smith, had seen therapy dogs at work earlier in his career, and through friends. Seeing  the dog teams at the crisis center the first weekend after December 14th, he began screening dogs and handlers, asking them to return for the students the first day schools would reopen. All of them said yes, many "moving mountains"  to assist.
Fourteen dog teams were at  school to start, and have tapered off to six teams a day working two-hour tours.  The positive effect the dogs brought was apparent immediately.  In the medical community, there's countless studies listing the many health benefits of pets.  Google the subject, and articles come up listing the positives, from lowering blood pressure to decreasing loneliness and anxiety.  Petting a dog relaxes a person, and stimulates the inner child in everyone.  No one at our school has stated any negative from the presence of these dogs – only positive.
The children know all of the dogs by name,  their varied breeds and distinguishing character attributes.  "Canine Calling Cards" have become the rage, with handlers passing out cards about their pets, which the kids collect and trade.  My daughter created a special album for the ones she's collected. At first, Dr. Smith thought the children used the cards like bubble gum trading cards, but soon found out they mean much more.  One child stated that he is collecting the cards so that when the dogs aren't around he can "remember the happiness the dogs bring".  The cards open dialogue at home, as well.
The kids have been participating in meaningful writing assignments because of the dogs. Dr. Smith has received over 150 letters from students singing the dogs' praises.  One child wrote  they represent a "reminder that he was lucky his little sister wasn't hurt."  Another wrote, "The dogs are so cute.  They are comfort.  Please don't take them away."  Others have written they appreciate the love and comfort they receive after losing their own pet.  Dr. Smith feels  the experience with the dogs "helps the children see that when they run into a challenge or problem, often there's an unsolicited form of help, and to learn to recognize that help when it comes."
The dogs give the children something to look forward to at school on a random basis, and have helped the kids with their feelings the last three months. When I chatted with the teachers, they spoke with joy and gratitude toward the canine visitors.  They're comforting when a child (or staff member) is having a bad day. I watched as a  dog moved quietly through a classroom of kids and their teacher sitting in a circle having a lesson.  Every child was relaxed and  smiling, yet the dog wasn't an interruption.  After petting a dog, the kids are more focused and calm.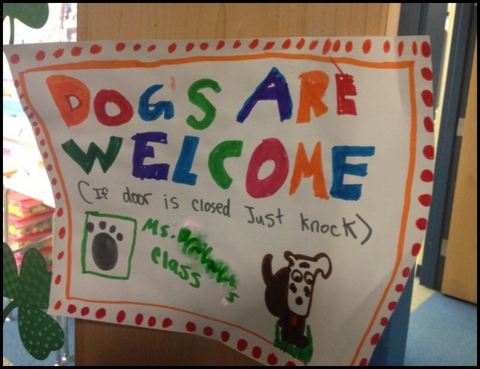 The dogs have not only brought unconditional love and comfort, but academic motivation and increased enthusiasm to learn. The teachers have witnessed kids wanting to research dogs and dog breeds, and have seen an increase in reading. Students want to read books about dogs. They also motivate writing.  A Language Arts teacher told me that her class was nervous about a recent writing prompt.  One of the dogs visited, and a palpable calm was felt in class. The class that had the visit from the dog did better on the assignment than the class that did not get a visit before the assignment.
At  the lunch period, I witnessed kids working together learning dog commands, talking about the dogs and chatting with the handlers.  One boy said his parents agreed to get a dog because of his enthusiasm.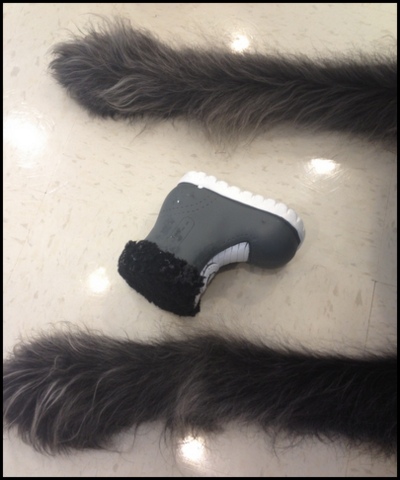 Some of the children bring cards or gifts for the dogs.  This squeeky toy was given by a little girl to her favorite therapy dog.  One child at our school asked for donations in lieu of birthday gifts so they could bring a thank you gift to each dog at school.
At home, having the dogs at school has motivated my daughter to take a more active role in the responsibility and care of our family dog.  It also inspired her to join a dog club through our county's 4-H program, with activities we can do together.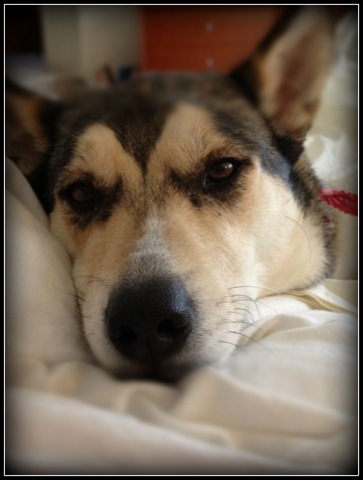 Our family dog brings us unconditional love and comfort.  This is the face greeting us each morning. My daughter has grown closer and more responsible with our dog after having dogs at school.
Of course, not any dog can be a therapy dog. The teams go through strict courses and tests for certification. Schools are noisy and a dog must handle what many could not. I saw kids hug and pet a dog non-stop, even "styling" his fur. His patience never wavered, his tail never stopped wagging.  One teacher said, "All the dogs have stories". The kids see this, prompting some to make "cards" highlighting  their  positive attributes.
A special moment occurred between a dog and a very quiet student.  This student's face "lit up" upon sight of their canine friend. The student became more outgoing, stroking the dog and speaking to it sweetly. The dog, instinctively extra gentle, without command calmly laid down. The interaction between them was nothing short of magical.
As a parent, I can't thank the dogs, their handlers and the school enough for the dogs' special gifts. The teachers feel the same, many expressing a wish to have them permanently. "We need them!" one exclaimed.  Whether dogs will return after this school year isn't known, but their presence this year will never be forgotten.  As the kids say, "How can you not be happy when around a dog?"
***Have you had an experience where an animal helped or inspired you?  Share with me by leaving a comment below.***
If you're a pet owner, give them an extra hug from me. Until next time…Farmgirl Hugs, Nicole