The International Llama Association declared 2012 the "Year of the Working Llama"! What better time than now to go llama trekking? Come along on a hiking adventure!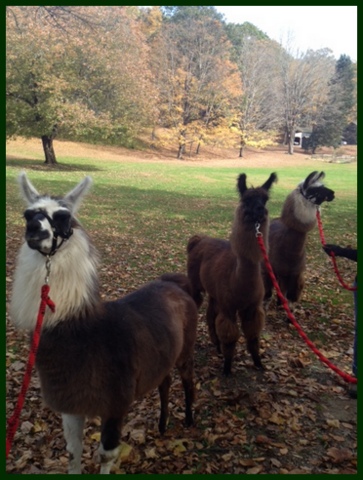 Llama trekking, a  wonderful form of "agri-tourism", means experiencing nature by hiking with the majestic creature, the llama.  My dear friend A.J.Collier, of Rowanwood Farm, is the only farmer in the state of Connecticut  licensed for Llama trekking.  I first introduced A.J. and her farm on the blog last year, when she was busy making goat-milk soap (http://sfgblog.maryjanesfarm.org/default.asp?Display=65).  Her talents have expanded to  llama trekking expeditions through the picturesque Connecticut woodlands.
Llamas, a man-made domesticated animal, date back 6000 years. A.J.'s llamas are a rare miniature breed from Argentina and Bolivia, where llamas were originally used by hunters as pack animals carrying game and supplies, and as guard animals.  A.J.'s farm, set up in a "do-nut" shape, gives the llamas the full outside perimeter to guard the miniature goats inside (part of the llamas' "herd").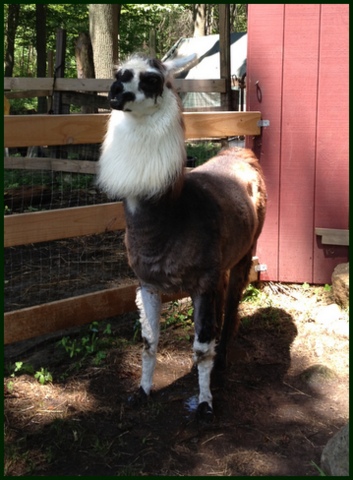 Males guard their territory, defending it from rival animals, driving away any predatory interlopers. Most animals will also drive away the weak and injured, but not llamas! They're noble – banning together to protect the weak and injured.  Because of their instincts, they make good therapy animals, something A.J.'s llamas are also trained in.  Rowanwood Farm llamas visit dementia wards at senior centers, schools, nature centers, fairs, fundraisers, and private birthday parties.  Llamas are versatile and talented animals. Modern-day llamas are also used on golf courses as caddies!   Their waste is a fabulous fertilizer, and need not be aged before using.  Their undercoat fiber is soft and luxurious.  A.J. spins it into multi-colored yarn on an antique spinning wheel. The heavier guard hairs are used for items such as rugs.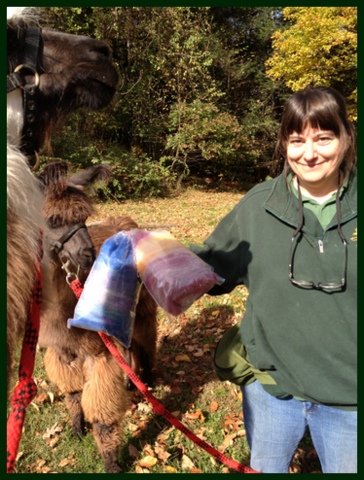 A.J. shows me some of her new hand-dyed, multi-colored batting she cards on a drum carder .
The animals first came to the US in the 1980's, and  A.J. 's loved llamas since age seven. When she learned about llama trekking, she felt it was the perfect job, as she loves animals, people and the outdoors.
For our hike, we met A.J. at McClaughlin Vineyards, (http://www.mclaughlinvineyards.com/), a  local, historic winery tucked in the suburban woods. A stunning estate on one-hundred-sixty acres, it boasts fifteen acres of vineyards, offering wine as well as other locally-made products.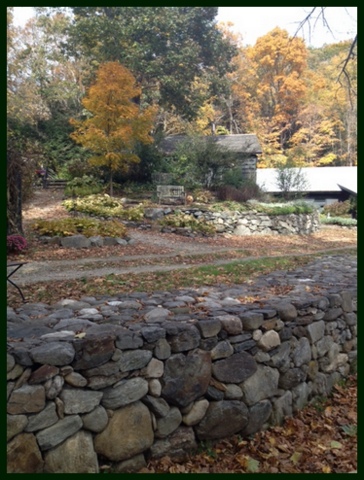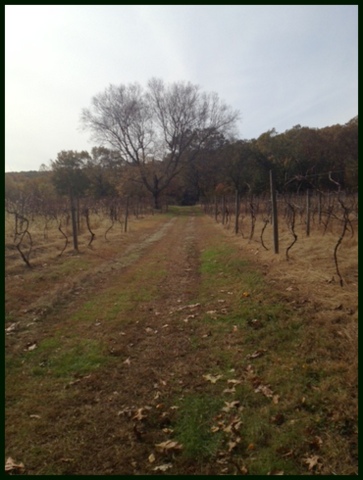 McClaughlin vineyards, Sandy Hook, CT.  Such a beautiful vineyard.
We were first introduced to the llamas while they were getting brushed, munching grass after their ride to the vineyard in the "Llama Limo",  a van purchased from a senior center and converted just for them.  A.J. created a ramp for it using re-purposed industrial baker rack sheets covered with rubber floor mats, and built her own portable corral used in conjunction with the wheelchair lift.  The dividers inside are made from a re-purposed display rack from a store.  The van's also air-conditioned, making it a better choice for the llamas, since they need cooler temperatures.  (They acclimate to higher temperatures, but must be shaved down to adjust).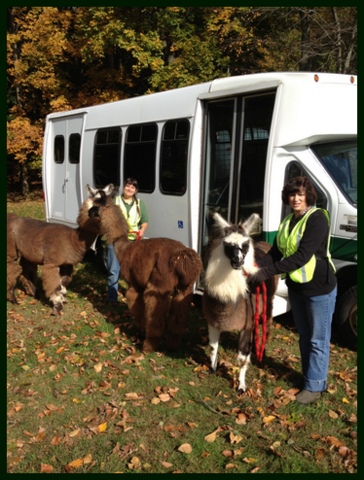 A.J.(left) and her friend, Loretta, with the "Llama Limo"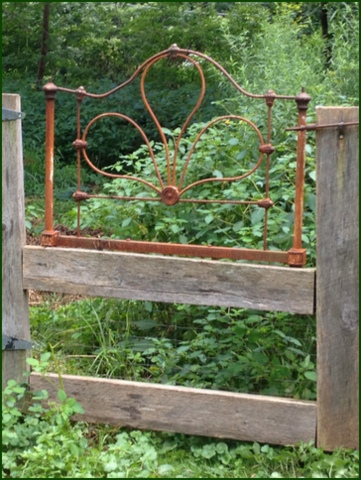 At A.J.'s farm, Rowanwood, I'm always inspired by how she re-purposes, like this garden gate made from a headboard.
Llamas are social, needing company. Solitary llamas have been known to develop ulcers.  Because of their large eyes, llamas don't usually like their faces handled, and don't touch in a herd.  A.J.'s llamas have calm dispositions and are sensitized for touching. (Her farm's also a licensed petting zoo).   A.J.  partners with local schools, offering internships to teens to help train the baby llamas.  As for spitting, llamas only spit  when provoked, and A.J.'s recognize and respect humans as "Alpha" creatures.
Llucky, Llady Hawk, and baby Cheyenne accompanied us on our journey, greeting us with affection – showering us with head rubs and kisses, and smelling our breath (how a llama recognizes a person).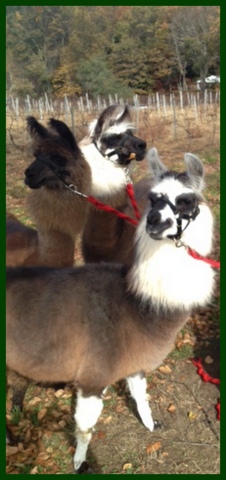 Everyone was given a safety vest. Llamas make perfect hiking companions, sensing and spotting wildlife before we can. Hiking with llamas is a calming family activity.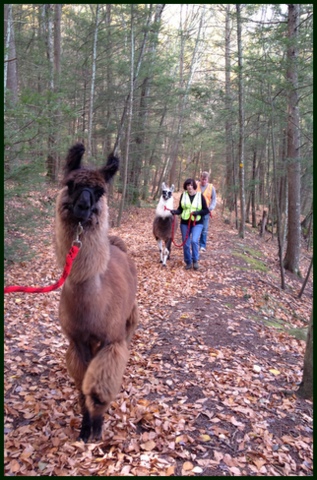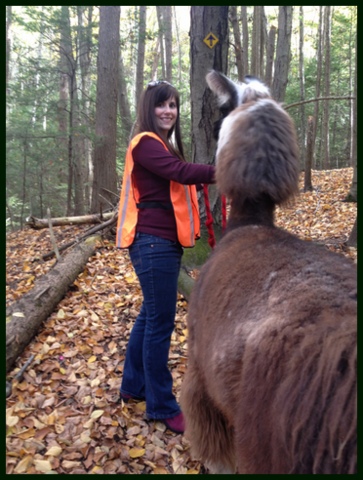 Walking along the trail, llama lead in hand, I found llamas easier to walk than my dog!  They know the trail, but follow my lead.  They're agile, reminiscent of flying reindeer when nimbly "hopping" over fallen trees along the way.  Llamas hum to each other as a means of communication, and their gentle, low humming brought a peaceful feel to the hike. Because of their clawed-toes and soft pads, llamas won't erode forestry like a horse; their feet do no more damage when walking through the woods than a human or dog.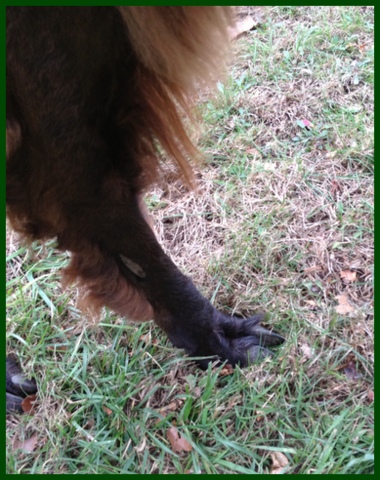 The McClaughlin Vineyard hike is breathtaking, taking us along the Houstatonic River dam, where bald eagles winter during certain parts of the year.  The eagles come down looking for open water,  using the dam for fishing.  Pootatuck indians once roamed this area, and arrowheads and 3000 year-old spear points from the Lamoca tribe have been found.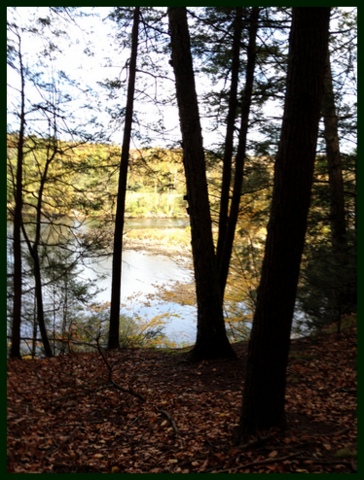 A.J. pointed out  wild vegetation, such as Princess Pines, (a toy-sized miniature breed of pine tree, like a Barbie doll-sized Christmas tree), wild Yarrow (the native Americans used this as a pain-reliever), and different types of oak and maple trees.  She also showed us a vernal pond, where a glacial ice chunk left a depression, like a natural "bowl".  In spring, it's filled with peepers and salamanders.  A.J. hikes with the llamas year-round (weather permitting) and says each season offers different beauty.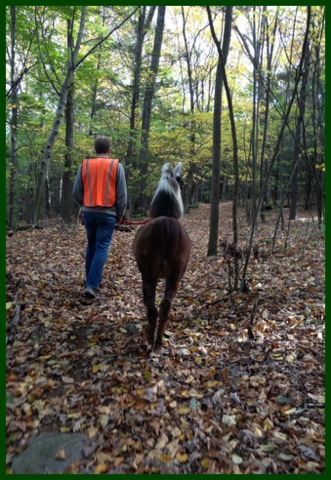 "Does this llama make my butt l

ook big?"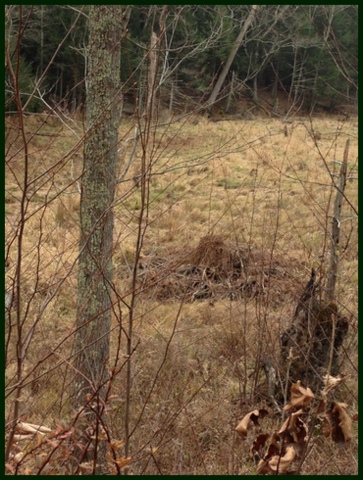 Half-way through the hike, we see where wild beaver have chewed and built.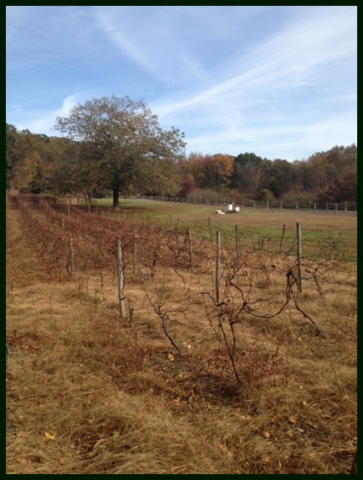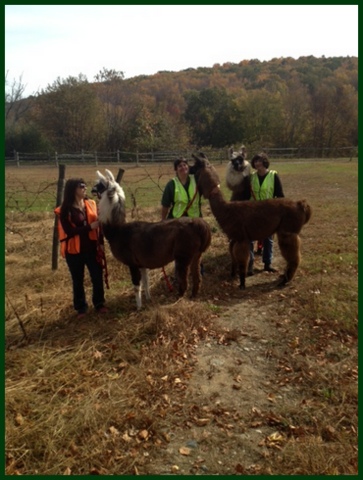 The Llama gives her Mama (middle) a kiss.  A.J. loves and spoils her animals, and they know it!
Ending the hike, we came around a dirt road path near the grapevines, where the llamas took a dirt bath…so cute!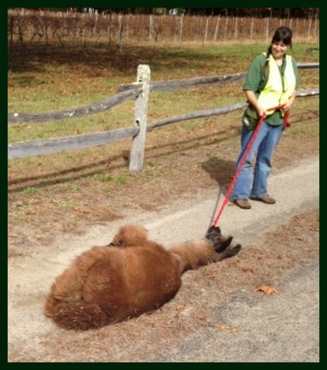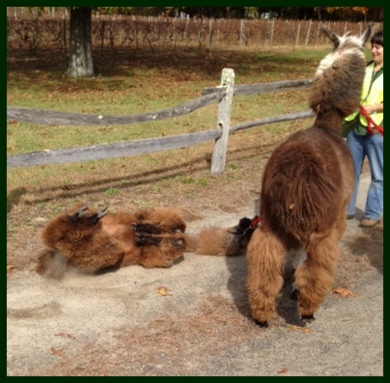 The two-hour hike went fast, and I was sorry to bid goodbye to our gentle companions.  We felt de-stressed and refreshed, and want to go again soon. I've added "llamas" to my  "dream-farm-wish-list!"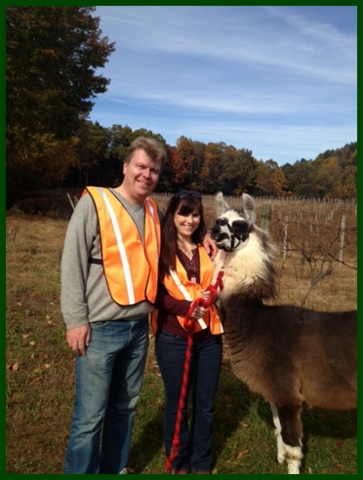 *To contact A.J. please go to: http://www.rowanwoodfarm.com/.