The Suburban Farmgirl's  talkin'  trash… recycling trash, that is!  (Got ya!)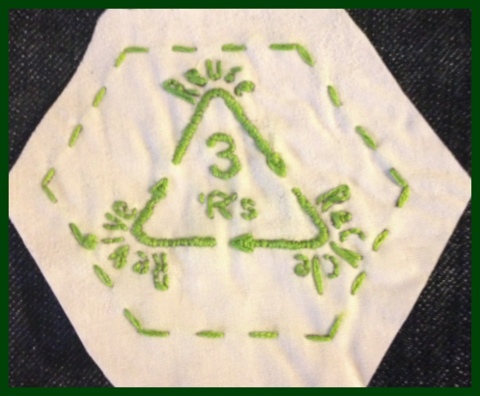 Reduce. Reuse. Recycle.  It's a farmgirl's mantra.  "Green" 's more than a color in recent years.  There's been an explosion of products manufactured from recycled materials.  Do you ever wonder where those products come from, or what happens to your recyclables once they leave your home?
As a newlywed in the 90's, my husband used to shake his head at what he considered "wasteful" habits, or everyday products we'd use containing chemicals not allowed for use in Denmark. Whenever lists are published ranking the greenest countries, Scandinavians are always in the top numbers.  I'm happy that with the rise of "green" products,  we're catching on, and I'm really proud of my town for its efforts to help residents go green.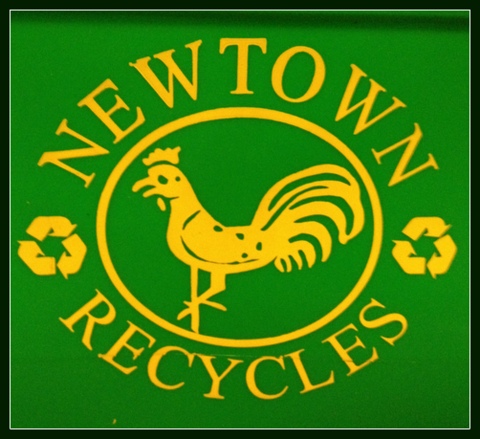 I try to reuse things before tossing them.  My dad still has jars full of assorted nuts and bolts, all neatly labeled, arranged in his workbench shelves from baby food jars from when my brother and I were babies in the 60's and 70's! Nowadays, my family doesn't drink soda, but  we do drink seltzer.  In every grocery store, there's machines for consumers to return glass and plastic beverage bottles and aluminum cans, getting five cents back for each. I treat that money back  as "coupons" at checkout, usually shaving a few dollars off my bill.  I don't mind the bottle deposit; it's a recycling motivator.  But what about everything else?  When you start paying  attention to what's recyclable in households everyday,  it's a lot!
Recycling in Connecticut is state law. There's recycling drop off and transfer stations throughout the region.  Recently,  I noticed a flyer from our town advertising improved curb-side recycling.  Phoning the Highway Department, I found it's a free service, part of our town's taxes.   Only Newtown offers curbside; other towns' residents hire private haulers.
According to Arlene Miles of the Newtown Highway Department, the curbside program started in the late 80's, when our landfills were close to capacity.  In 1986, the state's municipal agency, The Housatonic Research and Recovery Authority, was formed. This "recycling task force" is made up of one rep and one alternate from each municipality, of appointed town representatives such as janitors, heads of maintenance, and transfer station representatives, meeting  several times each year. Their website's a great resource for info on recycling: http://hrra.org.
I was given a big, green recycling tub.  The first one's free for each household.  If an additional one is wanted, currently it's just $5.00, or consumers can use clear plastic garbage bags for overflow. (The town hopes to phase in larger "can" type totes eventually).  Newtown utilizes "Single Stream Recycling", which couldn't be easier.  Gone are the days of separating plastics, glass, and paper…everything can go in one container!  Easy peasy! Just about anything marked for recycling can go in the bin: glass and plastic jars, bottles, cracker and cereal boxes, old phone books, paper,  milk cartons, and tin and steel food cans. We've lots of critters in our area, so for "messy" cans like cat food, I rinse them in the sink with a squirt of soap, then place in my dishwasher.  Nothing's simpler. Junk mail, catalogs, and unused newspapers  go in, as well.  (If there's personal information, I tear that off or mark it out).  The box is placed curbside the night before my street's scheduled pickup day.  Currently, 35 – 40 percent of our town's residents use curbside.  It's so convenient, I can't help but wonder why more don't take advantage of it. (For the rest of the trash, there's several local businesses for pickup, or our town offers a low-cost yearly membership for use of the town waste-yard).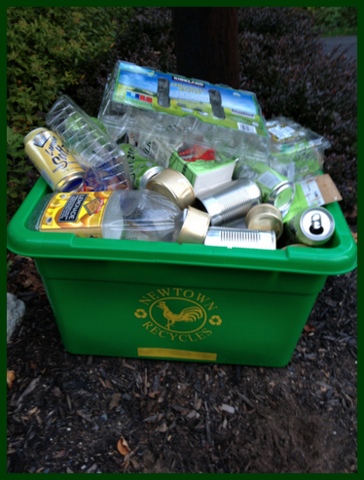 This is just one week's recyclables for our family of three in our curb-side bin!
The recycling is picked up by two private companies contracted by the town, so the process helps local small business.  After leaving curbside, the recyclables go to a transfer station, known as a  "Materials Recycling Facility".  There it's pulled apart, sorted, and baled into individual commodities, then sold into the commodities market for raw materials, which helps pay the companies that do the transporting and sorting.  The money from the sold commodities goes back to HRRA, and profits help our town through education and services such as Hazardous Waste Day, where residents can safely dispose of things such as old latex paint cans.
It's a boost to our environment and community.  Arlene says it costs $89.00 a ton to get rid of garbage, but only $10 a ton to get rid of single-stream recycling.  (Prior to July 2011, Newtown used Dual-Stream recycling, at a cost of $39 a ton to dispose of).
Recycling's now a habit, and it's amazing how much  we put in the bin each week.  That, in addition to composting our kitchen scraps, has greatly whittled down my household trash, saving money in garbage bags and disposal.  Can you imagine the environmental impact if everyone recycled?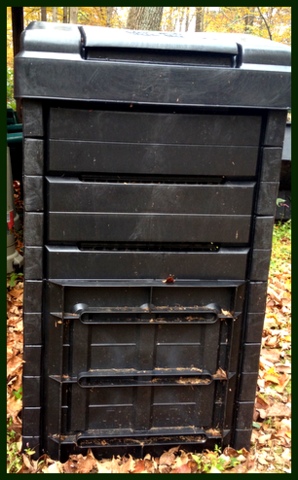 Another small suburban Connecticut town offered nice composting bins (made from post-consumer material) this summer at a very low cost to its residents to encourage residents to compost.  One of my Farmgirl Chapter sisters purchased an extra one just for me.
We only get one earth, and our children inherit what we've done or undone. In addition to conservation, it's cheaper to make products from recycled material. For example, according to Cheryl Reedy at HRRA, it costs 95% less energy to make a can from recycled material than to make a new can from newly minted aluminum.  Cheryl says, "As time passes, we need to realize that material we've thrown away for years as waste is not really waste.  We need to start thinking about garbage the way we think about electricity."  It's a "bright" idea, I think.
I'd love your thoughts on recycling.  Does your town have a recycling program?  Do you participate?  Why or why not?