There's been an "event" at the Suburban Farmgirl's home!  A new member has recently joined the family, and our hearts are tightly wrapped around four white paws!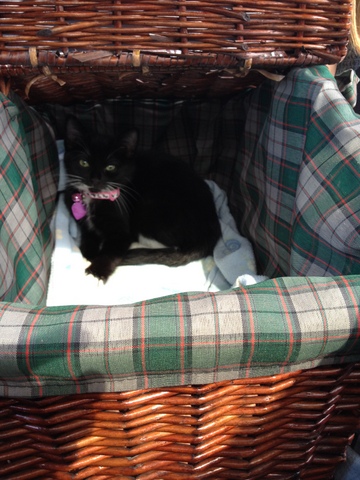 The latest outing with my Farmgirl Sisterhood Chapter, "Connecticut Simpler Life Sisters" was to the annual " Kent Sidewalk Festival".  The stores were having sales, and Main Street was alive and bustling with band music, performers, face painting, and petting zoos.  It was sunny, and while it was brutally humid, it was a great place to spend a Saturday. (Read more about the town of Kent, here: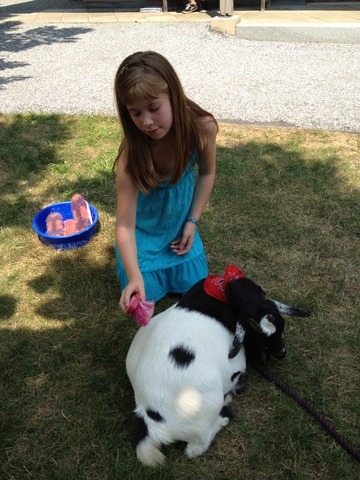 One of the stores in Kent, "Country Clothes", has sweet, rescued cats calling the shop home.  This particular day, they were working with an animal rescue group, and in the yard in a little playpen were the cutest, fuzziest kittens! Several little fur balls were romping in the grass, playing, and begging passersby to stop and pet them. How could you not want to stop…it was an overdose of cute!
My daughter has the biggest heart of anyone I know.  Adoring animals, her goal is to someday be a veterinarian.  Since infancy,  she's had a special bond with our cats, all of whom were older by the time she was born.  Last summer, our cat, Angel, passed away at twenty, and our other two elderly kitties are slowing way down.  Badger, our Maine Coon, and Audrey have been best buddies forever.  While he's still healthy, he's nearing twenty as well, preferring to sleep in a warm corner than to play much anymore.  Audrey's begged for a kitten for as long as I can remember.
They were all cute, but Audrey, my friend Ali, and I all zoomed in on one little girl kitten in particular.  She was mostly black, with a little white tummy and paws. When Audrey held the twelve-week old kitty, it was love-at-first-sight for both of them.  The kitten snuggled into Audrey's arms like she belonged there.  Ali mentioned something about the two being "made for each other."  My heart melted like butter in a hot skillet!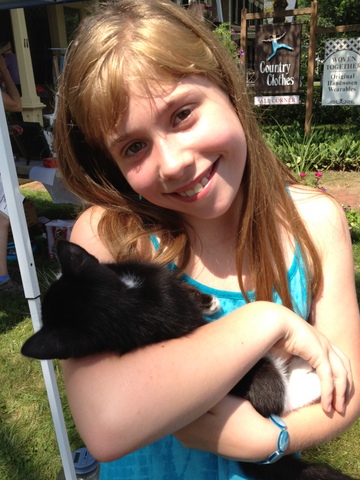 Love at first sight!  My hat is off to all those who volunteer in animal rescue.
I phoned my husband,  messaging him a photo of the bundle of fluff. When we first spoke, he was really busy at work, and I'm not sure he thought I was serious. After awhile of standing in the heat, I figured we'd better move on.  I'd never bring home a pet without my husband being on board, too. Sadly, I told Audrey to hand the kitten to another little girl.  Audrey did, and her eyes filled with tears. Seconds later, my cell phone rang.  It was my husband, saying he thought it was a great idea to adopt a kitten!  "Audrey's the right age, they'll grow up together, and she's old enough to take good care of her. Fill out the paperwork, let's get a kitten!"  I thought, "Oh no, we just passed her to someone else!"  The mother of the little girl holding "our" kitten overheard, smiled, and said they weren't adopting a kitty. Congratulating Audrey, she handed the kitten back.  My daughter was beaming, and I filled out the paperwork.  It'd be a few days before we'd know if we were approved, so we spent another hour or so holding the kitten.  Audrey named her "Mittens" .  Our hearts broke to say goodbye.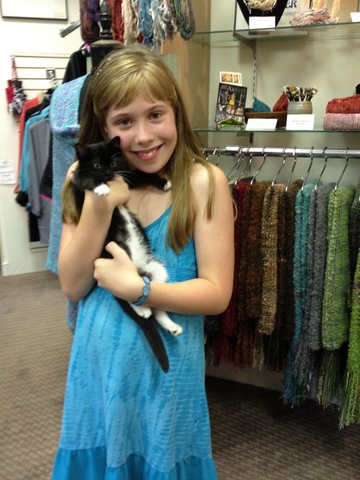 I was about Audrey's age when I got my first kitten.  We'd gone to my aunt's house for dinner, and her cat had had kittens.  I was over-the-moon for the fuzzy, all-white kitten with big blue eyes.  I remember the ride home like it was yesterday, holding my kitten in a bushel-basket with a red-and-white checked cushion. I was deliriously happy.  Her name was Harriet. She was with me as I went through my school years, college, got married, and moved cross-country twice.  She passed away in my arms when I was twenty seven.  Every little girl should have a kitty.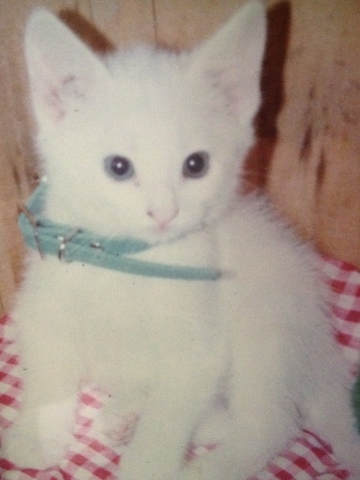 "Harriet", circa 1982
By Monday morning, the anticipation of knowing if Mittens was ours was almost excruciating.  I understand why the process is the way it is. There's so many unwanted, abandoned animals, and I know from friends who are vets and foster volunteers that the economy has made the situation worse. A pet's not a toy, it's an everyday commitment that will need you for years (but the love received in return is priceless). The rescue organizations must make sure the adopting family is the right one. I was so proud of my daughter when she said to me, "Mommy, if they don't choose us for Mittens, I hope she goes to a loving, warm home." That's my girl!
By Monday afternoon, we knew we were approved.  Audrey cried tears of joy, and by Wednesday, we were on our way to adopt our baby!  My friend Ali even took the day off of work to join us!  We drove to the most picturesque area of New York, to pick up Mittens from her foster home. I knew she'd fit right in at our house, since she'd been fostered around children, other cats and dogs.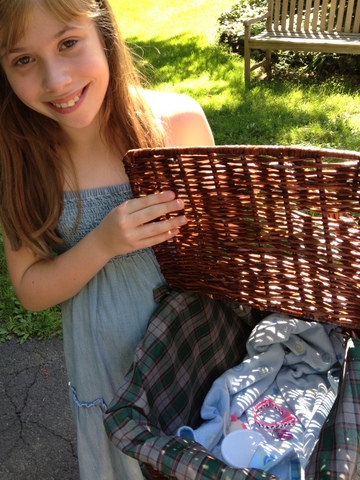 Everything's ready…let's go!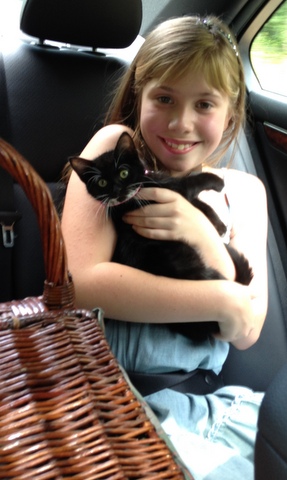 The two-hour ride home was a fun, blissful one.  Audrey's been the best little kitty mommy, taking great care and pride in her new fur-baby. Bonnie, the family dog, sulked a few days… a bath and a new kitten, all in one week!! Howl!  Now everyone's settled in nicely.  We'd forgotten how much fun a new baby is! She's very smart, using her litter box and scratching posts, and is
so
affectionate!  It's amazing how something so small can bring such joy!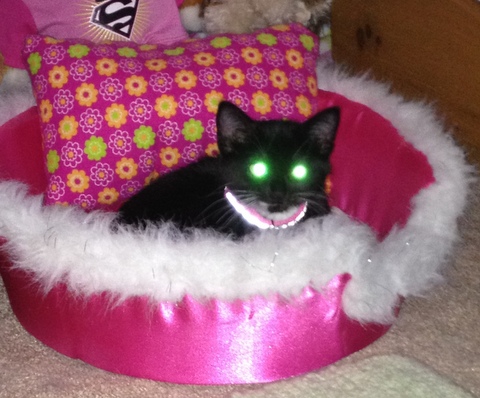 Mittens says, "Leave a comment…tell us about your fur-babies!"