Deep within the winter forest among the snowdrift wide
You can find a magic place where all the fairies hide….
~Author Unknown
Dear Sisters,
Howdy from the shorelines! Are you counting the days till spring too? February may be the shortest month of the year, but in New England it feels like the longest of them all. Anything can happen weather wise. It's been a steady diet of blizzards, nor' easter's ( we've had three so far) sleet and snow, freezing wind and pouring rain with the odd spring-like temperatures which we're having now. We get it all in February. I'm finally beginning to understand why the snowbirds migrate south this time of year. But since I'm not quite there yet I've got to keep my farmgirl spirit juiced up and think of things to do to pass the time in a creative and positive way so the crabbiness doesn't get too out of hand. So when my manager at the garden shop where I work asked if I'd like to give a Fairy Garden talk for the local Plymouth Garden Club February meeting, I said, " of course, but only if Gretchen does it with me"!Gretchen ( pictured above ) is the shop fairy garden maven. She channels her inner fairy goddess and creates some of the prettiest woodland themed fairy gardens I've ever seen. Thank goodness she said yes to the talk! I had never made a fairy garden until the day before the meeting. YIKES! Once she was on board we went to work creating a selection of different sized fairy gardens to bring to the meeting.
I thought you might be craving the greens of spring too, so sit back and let your inner fairy spirit dance while I tell you all about our evening at the Garden Club. Just for effect, you should know that it was pouring rain the night of the meeting which made the 5 trips we made back and forth from my Explorer to the meeting room all the more fun. Hence the rather untamed hairdo's we're sporting. Our hair may have flopped but we made the most of the evening once we were all set up and by the end of the evening we felt as if we'd all been dusted in pixie dust!
The meeting was held in a historical building which used to be a library and has since been re-purposed into a beautiful art gallery and performing arts center. What a perfect venue for Fairy Gardens which are like a piece living art if you ask me!
I had no idea there were so many plants created just for fairy gardens! The variety of house plants, succulents and cacti is endless. What ever size, shape, color or texture you're looking for it's probably available.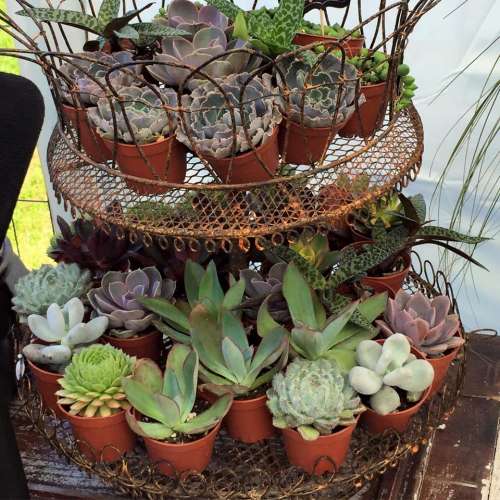 One thing to keep in mind when making any indoor garden is to plant things together that like the same light and water requirements. For example: Succulents and cacti need very little water so they make great container mates! Ferns, coleus, and other tender house plants will need more water and indirect natural light for best results.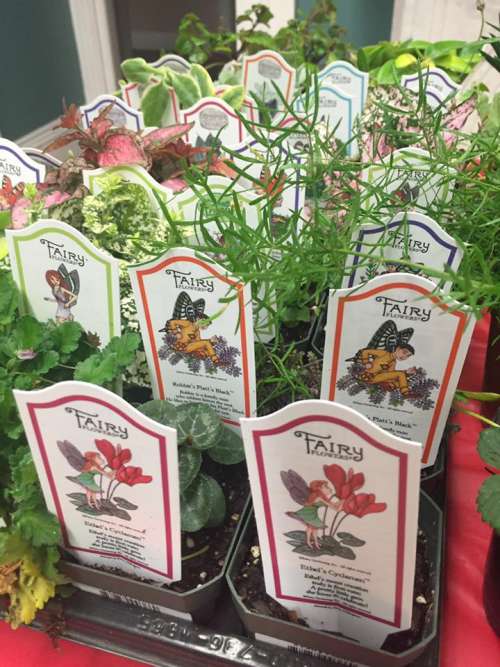 You don't need any sort of special container to create a fairy garden in. In fact, all of the containers we used were procured at our local Savers and my basement stash.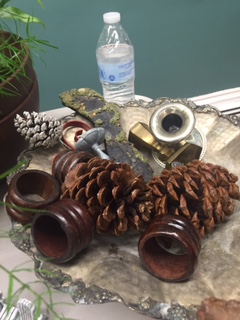 Smaller items such as candle sticks, napkin rings, mini glass bottles make for great mini planters in fairy gardens so grab few misc. items while you're out shopping just for good measure. Broken pieces of terracotta pots allow for creating height and separation in larger fairy gardens.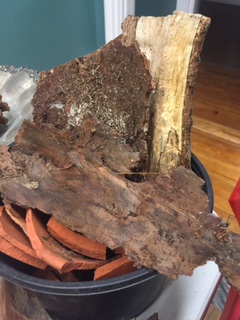 Nothing says fairy garden more than materials gathered from nature. After all, that's where fairies build their homes so get out there and scavenge some seashells, tree bark, pine cones, twigs and branches, dried leaves, acorns, rocks and pebbles, moss and the like.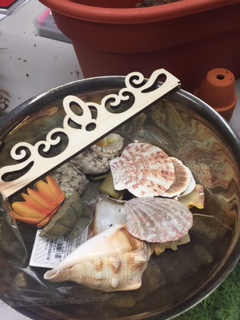 One can also purchase Fairy Garden supplies such as, containers, fairies and gnomes, fairy houses, fairy furniture, fairy landscaping, fairy buildings, and seasonal items such as lollypops, pumpkins and Christmas tree lights! Not to mention, little garden critters like ducks, raccoons, rabbits, squirrels, slugs, snails, and turtles. The selections offered are endless allowing for all types of creativity to blossom!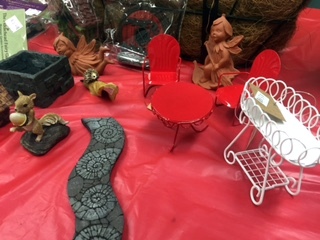 Are you ready to see some fairy gardens now?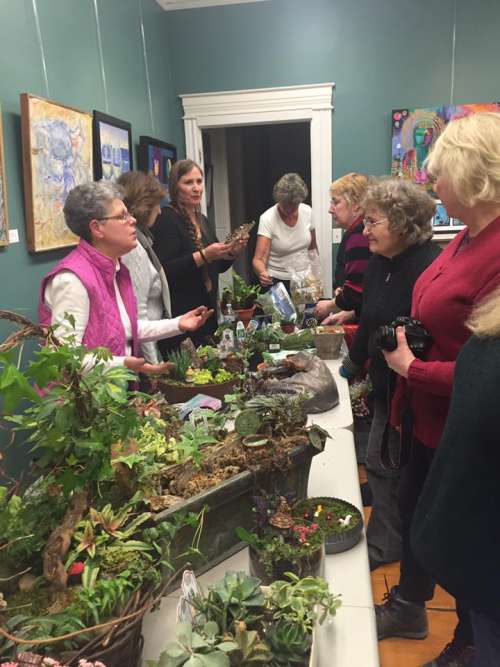 The ladies of the Plymouth Garden Club huddled up to the table for a closer look at the fairy gardens we created after our presentation for some Q and A time.
Here's a closer look at each one just for you!
I called this one the 'Champagne Fairy Garden' because it was created in a vintage silver plated champagne glass.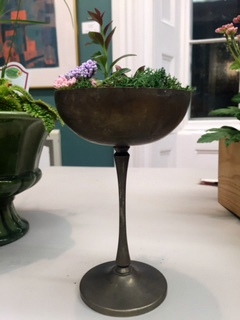 It has one live plant in it placed behind the curved bench.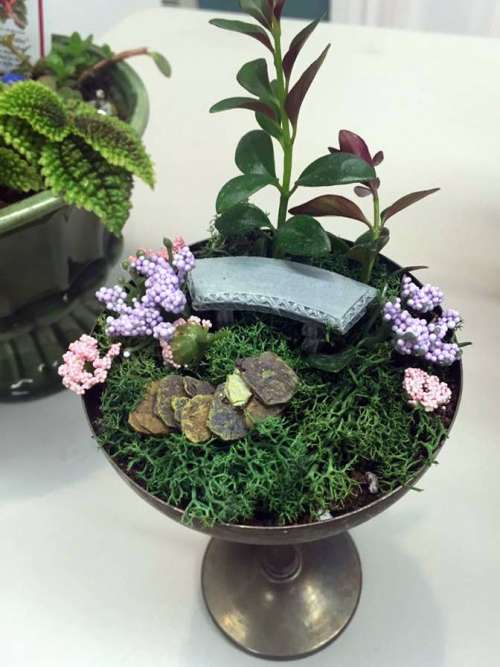 The soil is topped with moss ( which has been color- enhanced). A small little stone walkway leads to the bench. The smallest tips of some faux flowers were cut off and places along the edges for the effect of blooming shrubs in springtime.
And, for the chicken loving farmgirl. How about a Free Range Chicken Fairy Garden?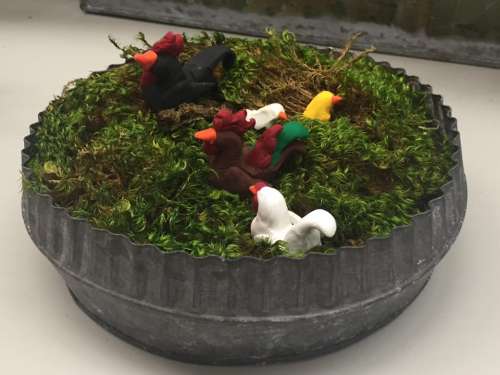 Gretchen made the chicks and hens and the the rooster from clay that you bake and paint afterwards. Didn't she do an amazing job? I had the easy part. I filled the galvanized metal container with moss and plopped the clay figures on top.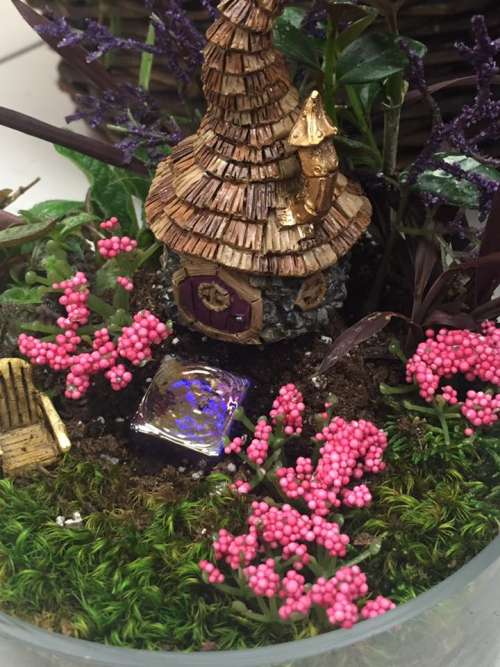 Gretchen also created this terrarium Fairy Garden using a small clear glass bowl from Savers. It features a combination of live plantings, faux flowers in the garden, a fairy house and moss covered soil.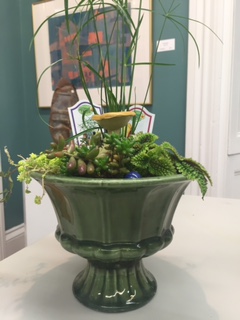 I created this easy Urn Fairy Garden using plants in varying heights and textures and a few fairy garden items such as a bird bath, and a few marbles for sparkle.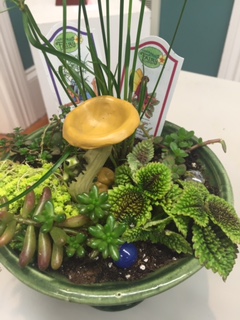 This succulent fairy garden I created looks right at home in a beautiful vintage soup dish doesn't it?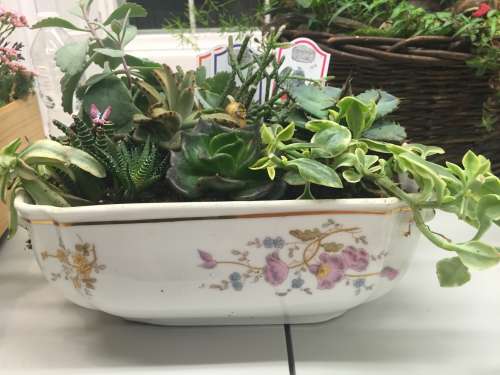 All it takes is one little fairy house to let the fairies know they are welcome!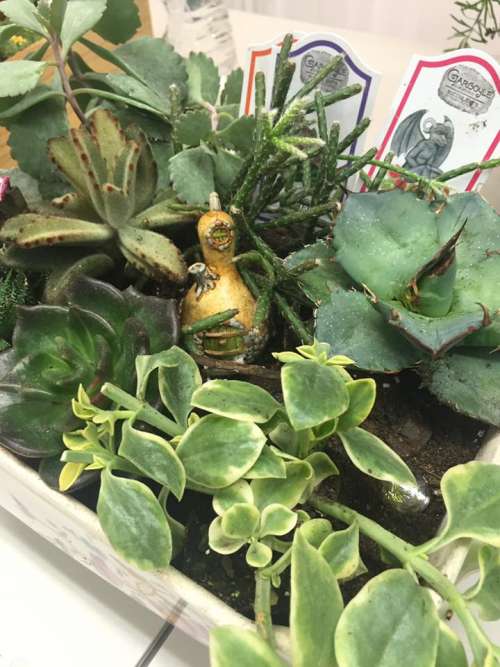 Gretchen really channeled her enchanted garden magic on this woodland themed fairy garden she created in a large round wrought iron platter, also purchased at Savers.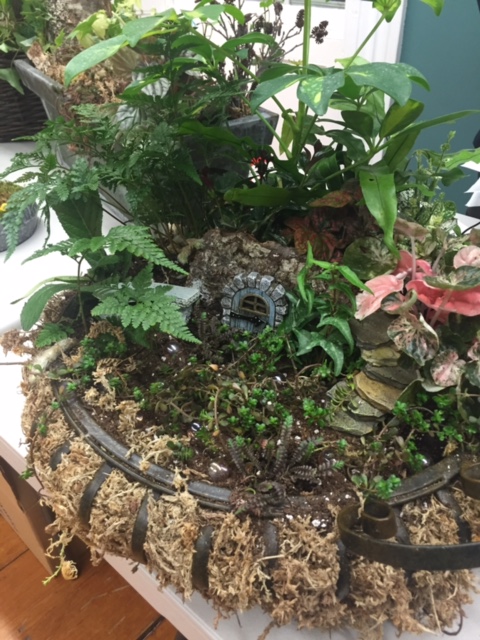 The fairy house tucked way back under the trees and looks as if it grew right out of the ground there. I bet the fairies have already moved in!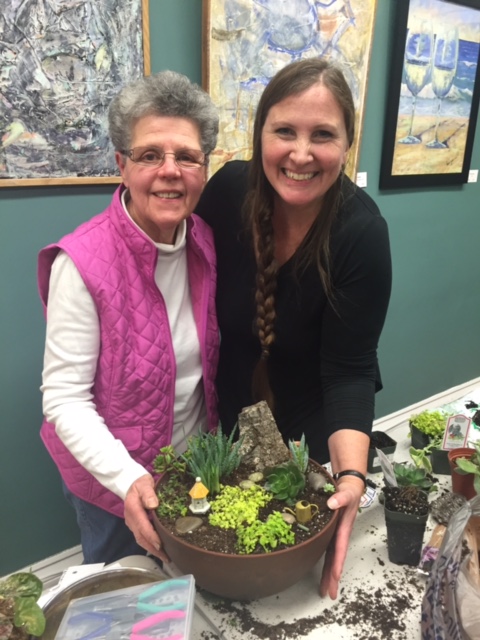 Instead of doing a demonstration we talked about each one of the fairy gardens that we brought to the meeting. Then we invited a couple of volunteers to come up and make one for themselves to take home. Gretchen and Shirley pictured above with her finished fairy garden.
We raffled off the largest and most enchanted fairy garden of them all at the end of the evening! Sue was one happy garden lady to be taking home one of Gretchen's' signature Fairy Gardens! Everyone took home a plant and hopefully our little fairy dusting was just enough magic to get us all through the rest of February!
I hope you enjoyed seeing the fairy gardens!Tell me in the comments if you have ever made one and how you liked it!
Until our next shoreline visit~ Here's to spring being right around the corner! Go out and make some magic!
Beach Blessings and Much Love,
Deb #1199
Save
Save
Save
Save