We spent New Year's Day in Manhattan, figuring it'd be a good day to go, since most everyone from the night before would be asleep or already left, and, my daughter had never seen the Christmas tree in Rockefeller Center. Getting up early and driving in, we headed to Times Square. Hours before, there'd been millions of New Year's Eve revelers, and several tons of paper confetti had dropped on the crowd. When we arrived at 10:00 AM, there was not a scrap of trash to be seen! The only shred of evidence of the celebration were a few sanitation trucks parked at the end of the street, and the lit "2012" lights where the Ball had been dropped at midnight. Talk about efficient post-holiday cleaning! While many do "Spring Cleaning", the weeks after New Year's are a good time to clean and organize. Packing away holiday decorations leaves open table tops and spaces, and it's too cold to do much outside. With indoor pets and a busy family, I have a lot to keep up with. We've already "gone organic," getting chemicals out of our foods, now my New Years' resolution is to "cleanse" us of the rest of the chemicals in our lives!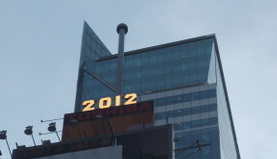 When I first became the "Suburban Farmgirl," I chuckled when I saw the icon of the happy woman with the vacuum.  I love to vacuum! Because I have pets, it's the chore that's got the most dramatic end result. It's also great therapy…I vacuum when I'm nervous or worried. It helps me "think". (Perhaps that's why when I'm at my most stressed, I have the cleanest floors)! The last vacuum I bought is a greener choice, with a clear dispenser cup for the dirt, saving the planet and my wallet from having to buy bags. A good vacuum also means I don't buy those perfumed powders for the carpet. If anything extra is needed, pure baking soda works just as well. Vacuuming makes me happy…what's your "favorite" chore? Is there one that makes you feel better?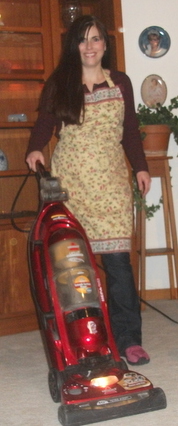 For hard surfaces, in the past, I've spent countless dollars on all types of cleaning products. I probably could've gone on that dream cruise and hired a cleaning team to handle the housekeeping to boot! Now my favorite money-saver is my "All-Purpose Vinegar Spray". I keep a spray bottle filled with two-thirds water and one-third vinegar, and use it for everything. I spray my countertops, cook top, and appliances in the kitchen with it, and use it to keep the inside of my microwave and shelves of my fridge clean. I used to use anti-bacterial wipes. They're pricey, and come with a warning to rinse with water any surfaces after using that could come in contact with food. Vinegar's a natural antibacterial agent, and will not induce armies of antibiotic-resistant germs in your home. The vinegar scent dissipates quickly. It's great for glass, too. You can also add a little rubbing alcohol or a teaspoon of your favorite dish soap to the bottle. For windows, try vinegar and water and use newspaper instead of paper towels. You'll get streak-free results! Pure vinegar works to neutralize urine odor, as well. We recently had a cat with a UTI. Thank the Lord for vinegar! For blood, nothing beats pure hydrogen peroxide worked into the stain before laundering. (Just check that the fabric is color-fast).
In my laundry, I use vinegar in the fabric softener cup. My clothes are softer, whites are whiter, and my towels smell fresh. This week, I made laundry detergent. I'd previously switched to a dye and fragrance-free version, but am excited to take the next step with my own homemade detergent (and look forward to earning a new Merit Badge).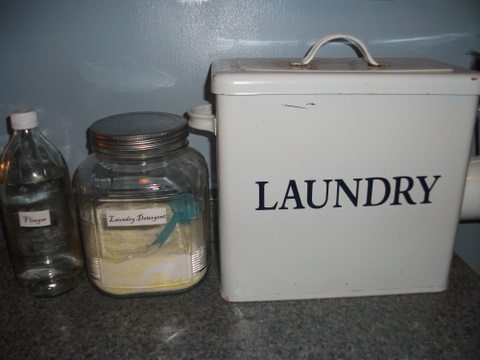 I recently made my own laundry detergent and love the results! There are many variations to the "recipe" to be found, but I used 1 cup Borax, 1 cup Washing Soda, and 1/3 bar of Fels Naptha Laundry soap.I use 1/4 cup detergent for normal to large loads, and 2-3 TBSP for small ones.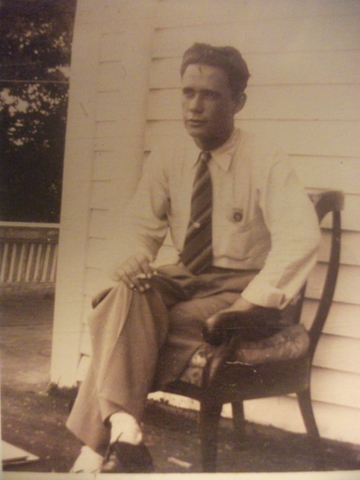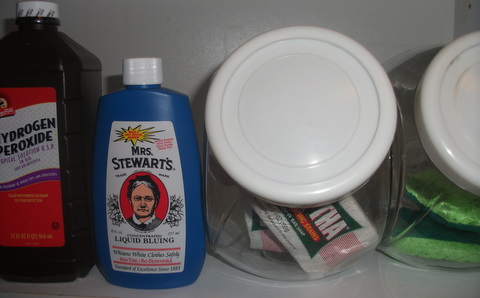 My grandpa, Rayford Waggoner (above, in the 1940's) wore a crisp, white shirt everyday, even after he retired.  My grandmother always had them looking like new with bluing, which I recently found at a grocery store, and a hot iron. 
One chore I find tedious is ironing hubby's dress shirts for work. Unfortunately, he can't use dry-cleaners because of his sensitive skin. Even asking for no starch, the residue of the chemical starch in the machines they use can irritate him. We've been to the emergency room because of an allergic reaction to a starched collar! Instead, I use a steam iron, or for really stubborn wrinkles, make my own spray starch using 1 TBSP cornstarch to 2 cups water.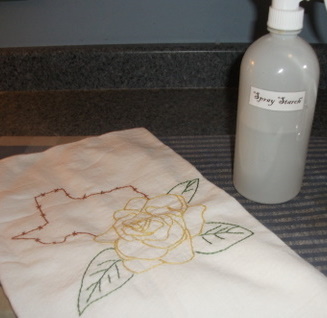 Speaking of steam, I switched to a steam mop for my tiles. The only expense is a yearly replacement of the filter.
My house smells fresh without the headache-inducing, heavy perfumes and bleaches from conventional cleaners. I do love scented candles, though. Last year, my mom sent me some soy candles fragranced with essential oil which are healthier to burn than conventional candles.
I dislike using gloves when cleaning, and have suffered for years with peeling, brittle nails that break. One surprise after switching my cleaning products is the fact that my nails are now long, strong and healthy.
The hardest part of "going all-natural" has been personal care products, which are chock-full of tongue-twisting synthetics and chemicals. I'm an outdoor girl, but also a girlie-girl who loves a little glam! I've happily found all-natural or close-to-it products, and many at main-stream stores. My new favorite cosmetics are Physician's Formula Organics mascara and Gentle Concealer, and Burt's Bees Lip Shimmers and glosses. Meeting MaryJane, I was in awe of her complexion. Complimenting her skin, she answered back, "Organic food." My family's skin has changed, too, since going organic, and I find that I use fewer products because I simply no longer need them. Did you know that your body absorbs a large percentage of what you put on your skin? I have a friend that won't use anything on her body that isn't safe to eat.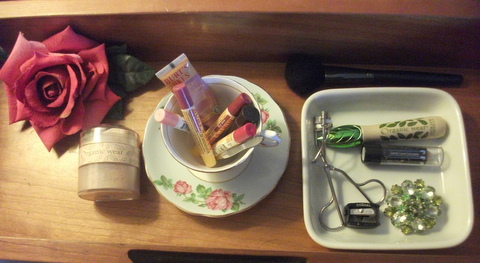 The inside of my vanity with a few of my favorite cosmetics.  As I  run out of something, I try to replace it with a "natural" version.
I know it's almost impossible to cut our exposure to everything chemical, but my thought is that it's got to be better to limit that exposure as much as possible. I'd love to hear from you. What all-natural (or close to it) products do you use or make? Do you have any penny-pinching, natural cleaning or beauty tips? Post me a comment and let me know. I hope I've inspired you to try at least one natural alternative to something chemical. If so, it's a start, and I think every little bit helps.