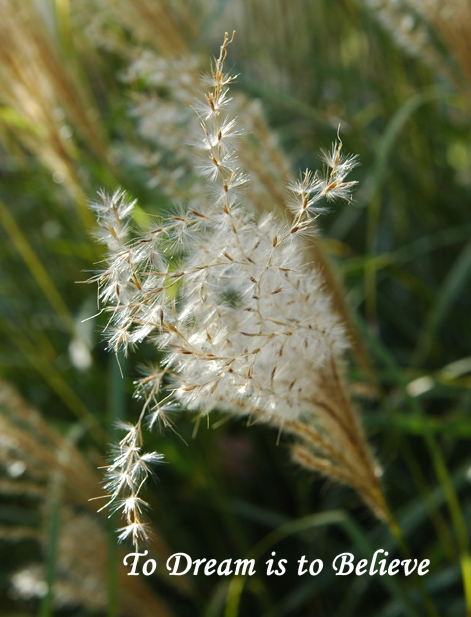 You, you may say I'm just a dreamer, but I'm not the only one ~ John Lennon.
I don't think John was alone in being a dreamer, do you? There are lots of us out there and I'm in the business of encourging you to DREAM BIG with a 
Anytime of year is a good time to sow some dream seeds, but I like winter the best.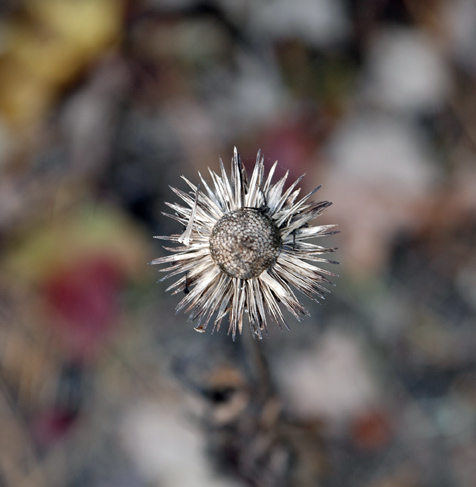 NOW is the perfect time to scatter dream seeds in the snow drifts of your heart and mind. Tell you what, I'll let you in on what I'm planting in my dream garden this winter then you can leave me a comment and tell me what you're planting too! Deal? Okay, here goes.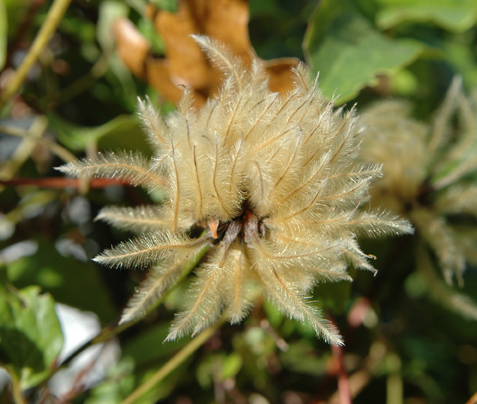 First, I guess I should tell you why I'm such a believer in planting dream seeds.
Dream seeds are rare, special, one of a kind seeds that if planted, nurtured and harvested, have the power to change the world.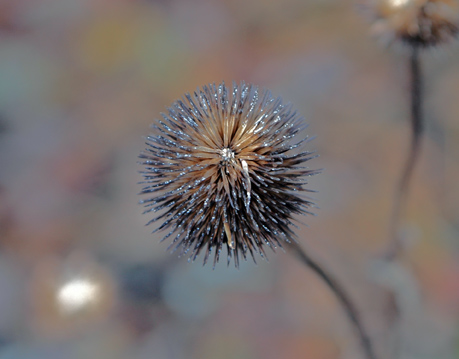 All you have to do is think of every time you've been inspired by someone or some-thing to know that to believe in dreaming is worthwhile. We wouldn't even know eachother if MaryJane hadn't scattered her dream seeds ( and worked her tail off to boot) now would we? It's not hard really; planting dream seeds is a lot like planting your favorite flowers or choosing a gift for someone you love. You already know you love it and you want to share with others too, so why not make a place in your life for your dream garden?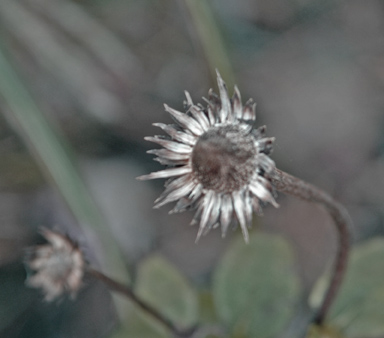 I have a confession to make. My dream garden begins to take shape long before the dawn of the New Year. For me it begins, during Fall of every year. As I snip, trim and cut away the deadwood of last years garden, new dreams ( CRAZY IDEAS ) begin to dance in my head! Ah, bare ground, wide open spaces… Oh, the possibilities are endless!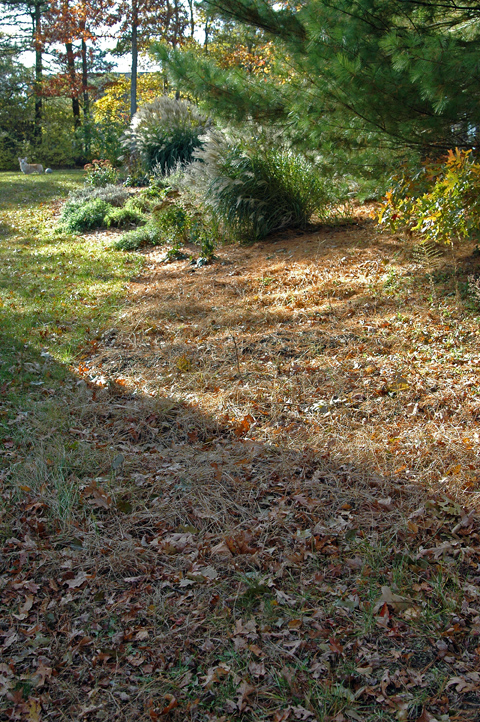 Do you see my best friend up in the left hand corner? Poor fella, he's waiting on me to put down the camera and play!
Here I am studying the area in ( see above photo ) my garden that I usually plant veggies in. They failed terribly last year due to a very wet spring and a cool and cloudy June. So, this year it will become my sample ORGANIC CUT FLOWER GARDEN! This section of my large perennial border is about 6 x 20 feet. I plan to widen it by two or three feet to take advantage of the morning sun. Plantings will include mostly Perennials.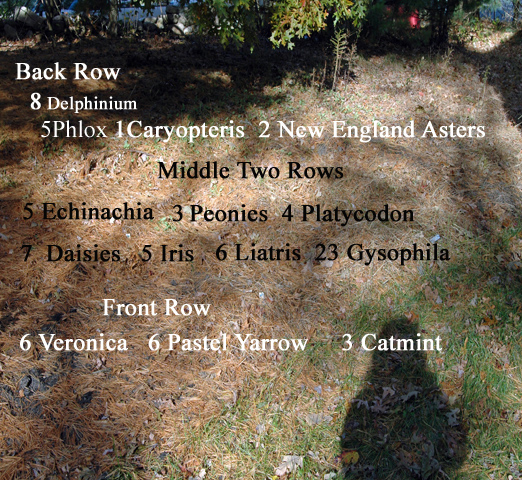 I've purchased Lynn Bycynski's book The Flower Farmer, an organic growers guide to raising and selling cut flowers to get me rolling. The above plant list is similar to one she recommends in her book for a 5×12 cut flower perennial garden. It's perfect for the backyard gardner who needs guidence in basics such as variety selection. soil prep, planting, cultivation, harvest and flower design. Designed for the commercial grower too, this book includes information about larger-scale production and advice about selling and marketing.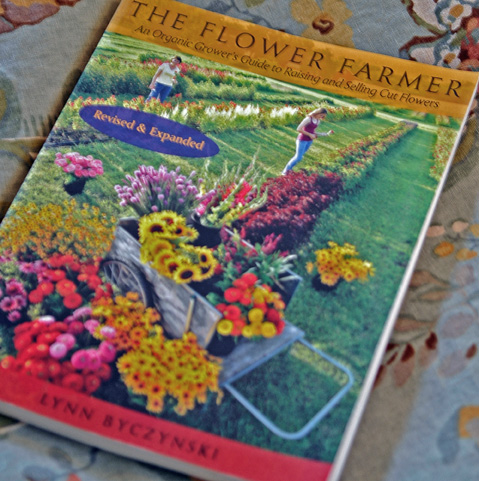 I have MaryJane in part to thank for the inspiration behind one of my newest dream seeds. I've been a hobby gardner for 20 plus years, but after reading MJ's piece on Cut Flowers as a business in her LIFE BOOK, I got to thinking. Why not give it a try on a small scale, in my own BACKYARD and see if I like it? I love gardening and the idea of bringing " happiness in a jar" to others tickles my fancy! I just love that feeling of my fancy being tickled! Don't you?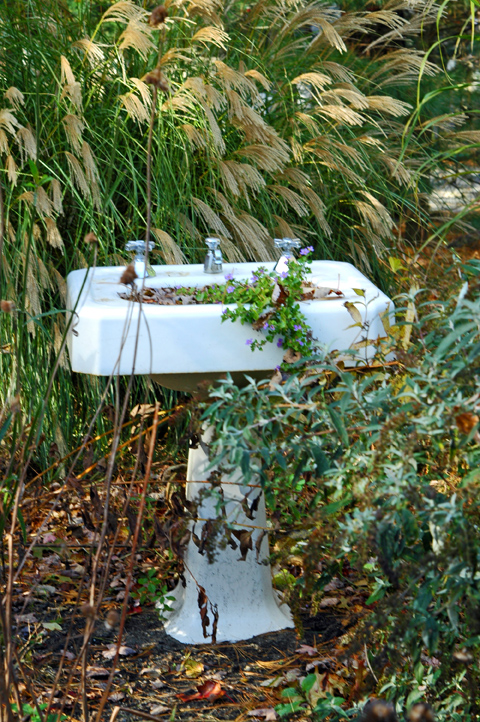 I've discovered other CUT FLOWER farmgirls along the way too! Jane Lindsey has a small holding in Scotland and calls her enterprise, Snapdragon Garden due to the fact that they were the only thing the slugs wouldn't eat! And, you'll love this. She sells embroidered items she makes during the winter months, inspired by her cut flowers out of her 1970's Airstream. Here's her blog!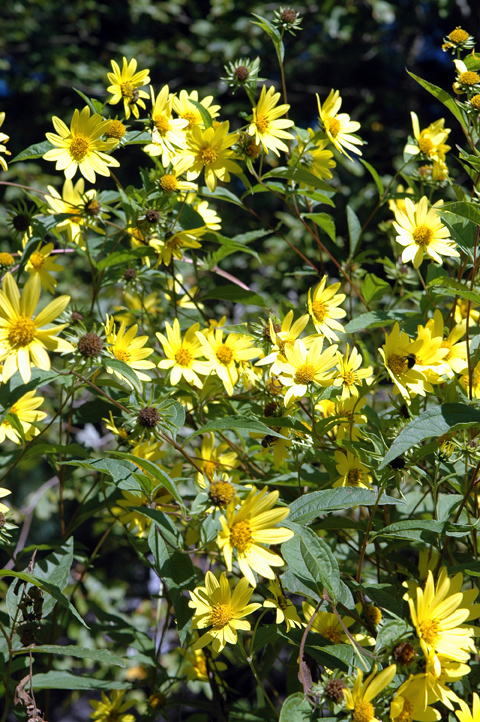 Lemon Queen from my garden this past Fall. If you have a sunny spot for this beauty, plant it!
I learned about Erin of Floret Flower Farm in an article I read about her in Victoria Bliss Magazine. She talks about her accidental path to Cut Flower Farming and she credits MaryJane as being the one who encouraged her to " brand herself " for long term success! At this moment, I'm knee deep in researching Hoop Houses ( also called Cold Frames) so I can extend my growing season on both ends.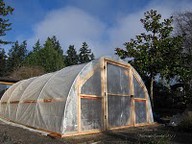 Imagine,Lilies, Delphiniums, Tulips, Sunflowers, Zinnias, Sweet Peas, and Snapdragons IN BLOOM weeks before their natural outside bloom time? Here's the layout of our backyard farm.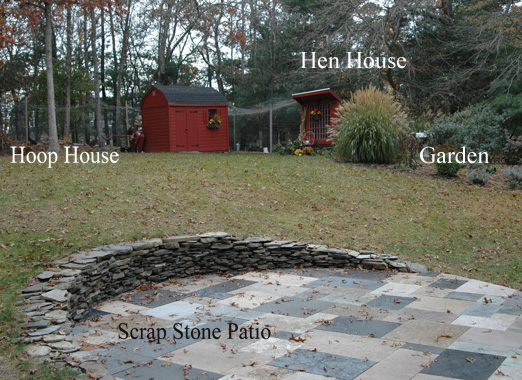 Go here to read how my hubby ( the Yankee ) created our lovely patio from SCRAP STONE!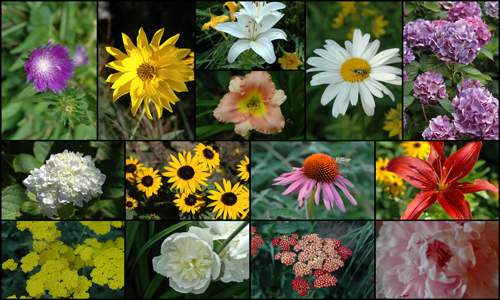 These are some snippets from my flower gardens last year!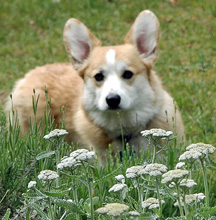 I know I've got a lot to learn and " new starts " are always tender, but I believe with the right mix of good organic soil, water, sunshine, and a little help from my faithful gardening buddy I can produce something beautiful, inspiring and rewarding.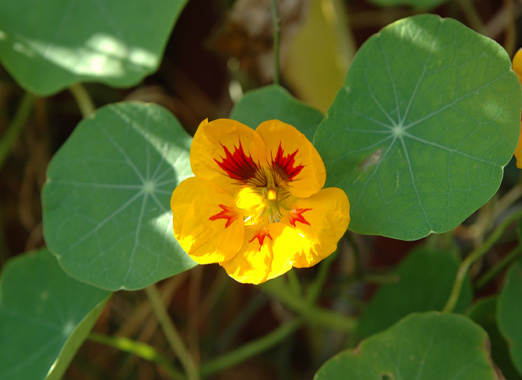 If I expect to have a harvest of any kind, I'll need to corral a long list of to-do's between now and mid-March into one handy place.  All I need is a few good snow storms so I can snuggle up with my new books and my Dream journal.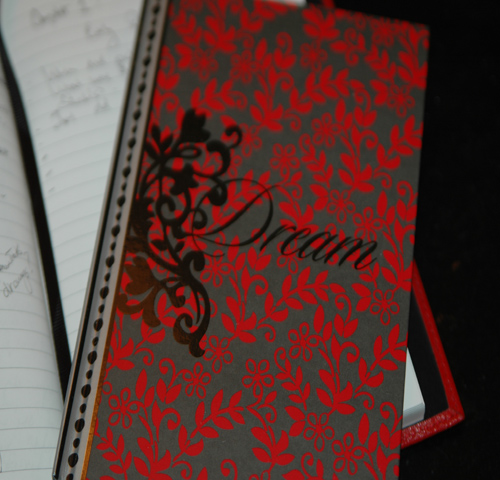 Let's see. I'll need a list for heirloom seeds, seed trays, warming pads, hoop house supplies, help building the hoop house, and the enthusiasm of a farmgirl who DREAMS BIG with a BEGINNERS HEART! Oh, I'll need a name for my backyard flower farm! Hey! " My Backyard Flower Farm " is kind of catchy! What do you think would make a snappy name for a Cut Flower Farm?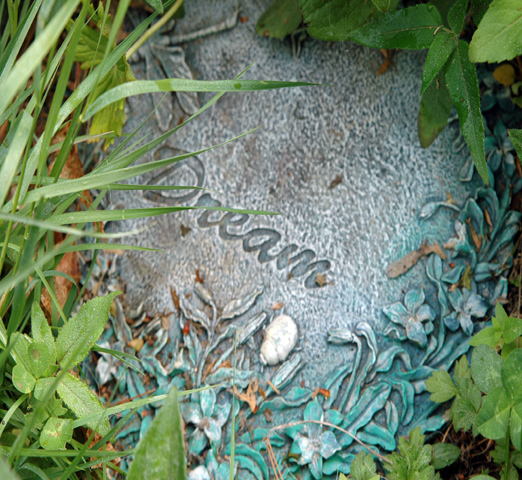 Visit my blog www.deborahjeansdandelionhouse.blogspot.com and look for all posts under the HOME GROWN tab to follow my past, present and future garden adventures!
All Our Dreams Come True if we have the courage to persue them.
~ Walt Disney
Now it's your turn to " broadcast" what dream seeds you'll be sprinkling in the snow drifts this winter! ~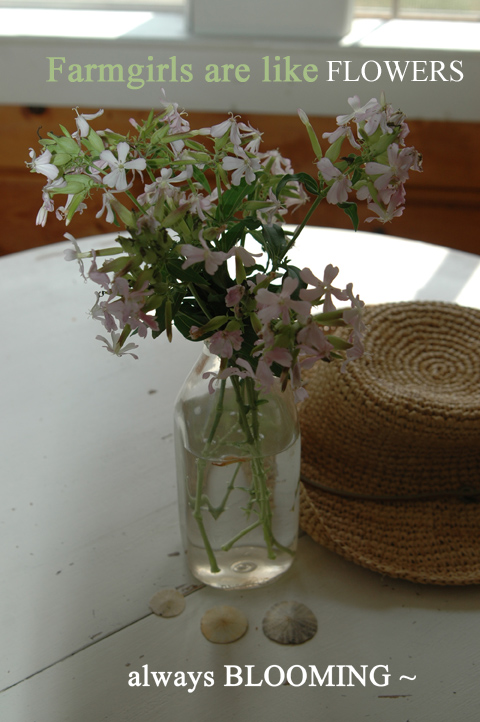 HOW WILL YOU GROW IN 2012? I want to hear all about it!
Until our next shoreline visit~
Beach Blessings and Happy GROWING in 2012!
Love,
Deb