Isn't everything better when homemade? I think so. Some foods, I won't even eat unless it's homemade. Especially jam. Are you a regular "Jammer", or is it something you've thought of, but never attempted?  Well, come on in to my kitchen, as I make a batch!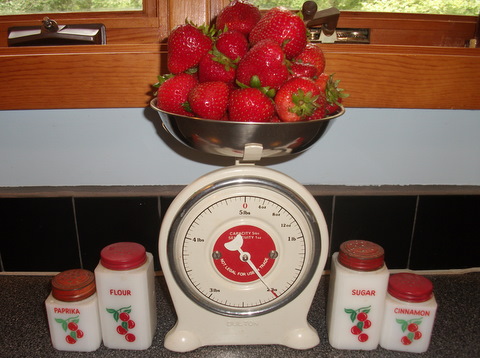 I started making jam years ago, due to wild blackberries and raspberries that grow here.  After the cobblers and muffins were baked, I didn't want to watch unused fruit go to waste.  So, I tried my hand at jam.  Nervous at first, I had mental images of burned pans, sticky messes…nevertheless, I was determined.  If my ancestors could make jam in a log cabin, I could do it in this century, too!  After my first batch, and raves from friends and family, I was hooked.  Similar to knitting, I found practice makes perfect, learning little "tips" that now make it a snap!
Cleanliness is important in making jam.  Re-use your jars and rings, but never the lids.  Always buy new lids.  I put all my jars and utensils in the dishwasher, and use them right after they're freshly washed.  I spread clean dishtowels on my counters where I"ll be working.  This protects your counter tops from hot jars, gives you a place to set a jar down in a hurry if need be, and catches any drips of sticky jam.  It's much easier to throw all the towels in the wash at the end of a jam session than to spend time trying to pry dried jam off your counters.  I also keep a clean, damp rag nearby to wipe the tops of the jars before sealing, to ensure a tight seal.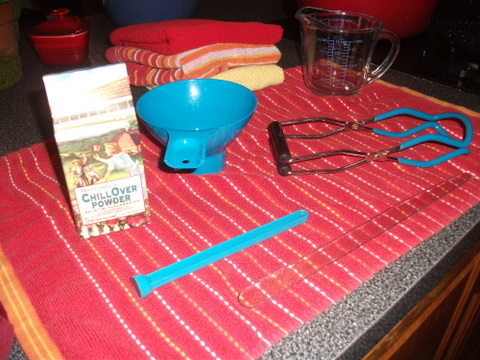 Getting everything ready before hand makes a difference.
I have a very large, enameled cast iron pot that I use for my canner.  When I first tried jam, I didn't want to invest too much (to see if I liked it).  I now consider jam-making a hobby, an art if you will.  I still  use my large pot, but love the handiness of my jar lifter and lid-grabber (a small handle with a magnet on the end).   I put my favorite Ella Fitzgerald and Louis Armstrong music on, (can you hear it?)  and my daughter and I tie on our aprons!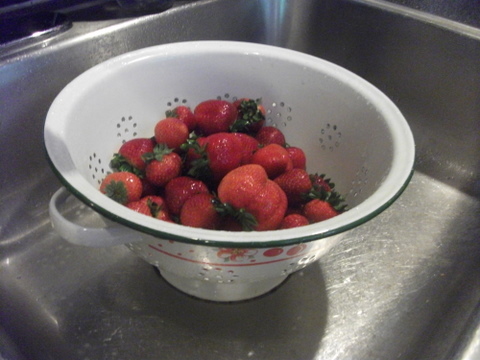 I always buy extra as my daughter can't help but eat a couple when she does the washing and hulling!
I've made three-berry, peach, and  plum jams, but the hands-down favorite is strawberry.  I always buy organic strawberries.  Did you know that strawberries are the food that contain the most pesticide residue, up to seventy-five different types?  I make my strawberry jam when the berries are on sale. Timing's everything, as overripe fruit shouldn't be used.  My daughter loves to wash the berries and hull them, and serves as the official "fruit quality-control taste tester".  We then put the washed berries in a food processor, to puree.  I like to leave mine slightly lumpy.
Whatever fruit I use, I stick to the same formula, about two pounds of fruit, or five cups of puree.  I've always used low-sugar pectin with four cups of sugar, but this year tried MaryJane's Chill-Over powder, with her recipe of using two pounds of fruit and only two cups of sugar.  Yum!  This worked great, and I like that I get to use less sugar.
Bring your jam to a boil, then turn down the heat and let it simmer for a few minutes.  For the best consistency, spoon a bit out and let it cool.  If it's too runny, let if simmer a bit longer.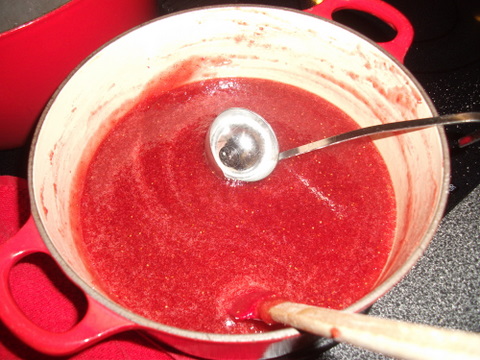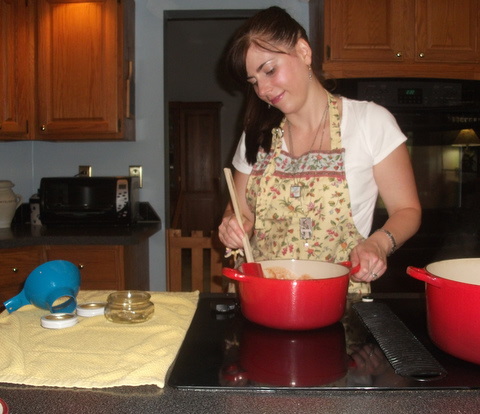 Stirring is important to keep the fruit from sticking to the bottom or scorching.
While the jam mixture simmers on the stove, I put the clean jars in my boiling pot to sanitize them, so they are hot when I pour the jam in, and my lids so the rubber seal "grabs" better, drying them well before filling.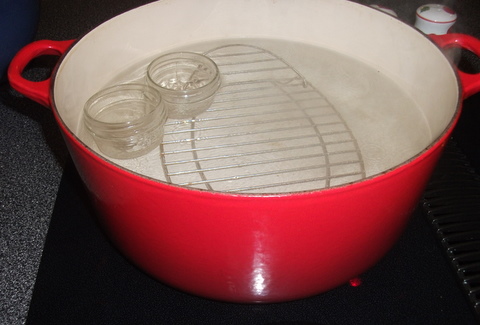 I use a roasting rack in the bottom of the canner to keep the jars off the bottom.  A wet towel works, too.
After filling the jars, use a spatula around the inside wall of the jar to release any trapped air, and wipe the tops with a damp dishcloth before sealing and putting in the boiling water.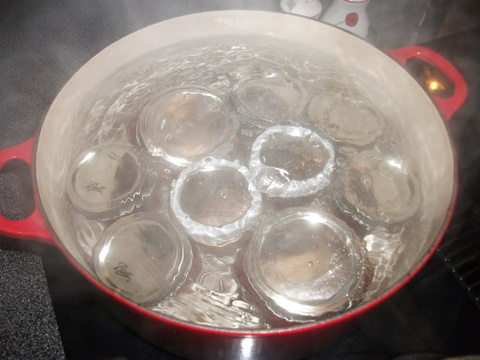 Make sure your jars are completely immersed when boiling the sealed jars.
I boil the jars for at  least twenty minutes.  Afterwards, I let them cool on the counter on a dishtowel.  I love hearing the "pop" each jar makes when sealed correctly.  After the jars cool, if one hasn't sealed, just open, wipe the top, re-seal and re-boil.  When we're done, my daughter and I always have a snack of bread with the last bit of jam left in the pot, a sweet reward!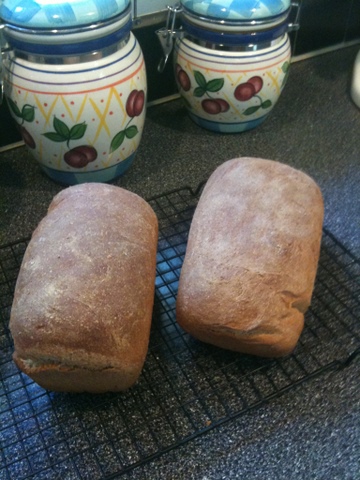 The most fun part for me is decorating the jars!  Jam's my favorite gift to give to friends and family, and makes a terrific teacher and hostess gift.  I use rounds of fabric on the tops of the jars, secure it with a rubber band, and then cover the rubber band with ribbon or rafia for a "rustic" look.  Sometimes I'll hot glue on a silk flower, a holiday pick, or attach a stamped tag.  Wrapping a whole jar in tissue paper and tying the top with a bow is also cute.  People are always appreciative of homemade jams, jellies, and canned items.
Mason and jam jars are one of my most favorite things!  We use them as durable drinking glasses, perfect for iced tea, and the smaller ones are great for juice.  Use the smaller ones for tea light holders.  I line some up on my deck railing.   Everything from flowers to buttons looks charming in a canning jar!
Everything's cuter in a canning jar!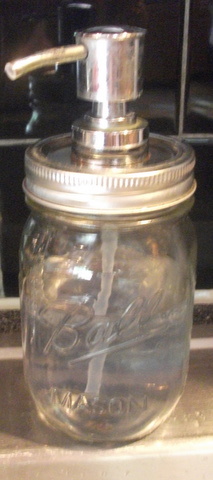 I saw a soap pump made from a mason jar in a gift shop.  I thought, "I can do that!"
One last tip:  Once opened, jam must be kept in the refrigerator.  To keep it fresh, re-purpose plastic mayonnaise jar lids…they fit perfectly!
That's my "tricks of the trade", so to speak.  Let me know if I've inspired you to make your own jam, and leave me any tips you have!
HAPPY JAMMIN'!