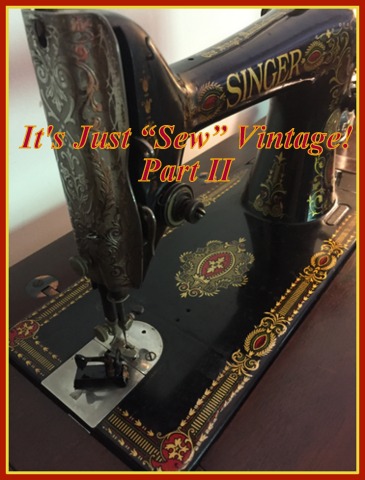 It was thrilling hearing how many people are vintage sewing machine enthusiasts! Thank you, everyone, who reached out! I'm excited to pass on more tips on vintage sewing machines, share how I've re-purposed vintage patterns, and announce the winner of the "September 'Sew Cute' Giveaway"!
A big CONGRATULATIONS to Laura M! Her name was randomly drawn from all the comments. Laura is my winner for the goodie box!
I loved ALL of the name ideas for my Singer-301A! Several suggested the name "Lucy", which I've decided to go with since the name reminds me of someone special. Lucille "Lucy" Miller was our neighbor living across the street from me as a child in Bellaire, Texas. She was like family. After we moved when I was eighteen, she always kept in touch until she passed away at age 95 in 2002. I think of her often- she was a great friend and one of the most talented people I've ever known. Head of the alterations department of a major Houston department store, she made me many wonderful things when I was growing up, including the most beautiful Barbie doll clothes. "Lucy" it is!
Most vintage sewing machine enthusiasts agree that VSMs tend to multiply when we aren't looking. Since my last blog, I've "adopted" a few more "babies".
As I write this, it's currently my 24th wedding anniversary. My sweet husband surprised me with an early present: a 1938 Singer Scroll Plate Featherweight, like the one my grandmother would've sewn on! I named her "Carolyn", after my beloved grandmother. She's very sentimental, and has a place of honor in my sewing room.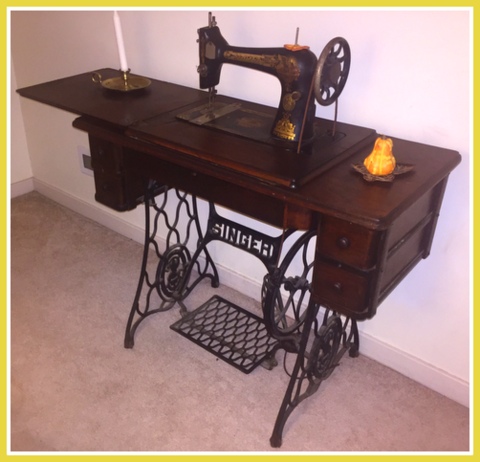 We weren't going to get more treadles, but my husband wanted this one, too. Meet "Cleopatra", a Singer "Sphinx" model from 1910. I'm not done fixing her up. She and her table were really in need of TLC, but the Egyptian themed decals are spectacular!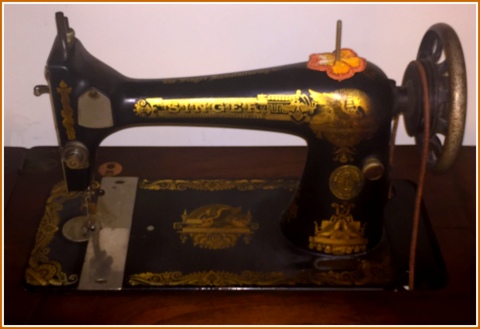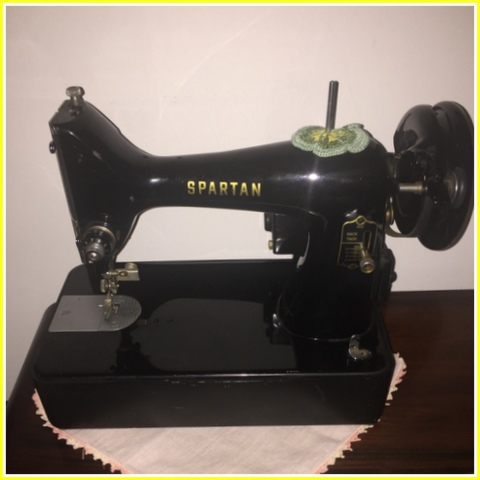 I almost passed up this model, but I liked her look and the fact that she's a Singer, though not as fancy as other models. The ¾ size Singer-192 "Spartan" was made at the same overseas plant where late-model  Featherweights were made.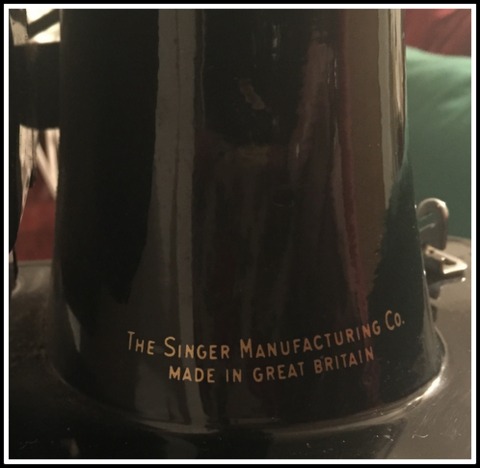 Slightly heavier and noisier than a Featherweight, the Spartan-192 is similar to a Singer-99, but more "sparse". Another straight-stitch machine, this model, aside from the name at the top, has no fancy decals or lamp. This one belonged to the seller's aunt and was well-loved. Super dusty, I was pleased how shiny she is after I cleaned her up! A sensible '50's model, I dubbed her "Aunt Bea". I was alarmed, however, when I opened the grease plate – it was filled with MEALWORMS! Always ask TONS of questions when buying a vintage machine. In this case, it worked out. "Aunt Bea" is still sound and sews, but there was a bit of an "ick" factor when I was servicing this one. NEVER plug in a very dirty machine before inspecting, or one that has any nicks or breaks in the wiring. It's also a good idea not to use a VSM during a thunderstorm, and store unplugged when not using. Most VSMs don't have an "off" switch except for the light, so when it's plugged in, it's "on".
I wasn't going to get anymore for awhile…then THIS happened. On my "wish" list was a VSM heavily decorated with floral decals, known as "Tiffany" or "Gingerbread" decals. My husband and I found this 1922 Singer-15. She was in pretty bad shape, but after five hours and a completely messed up manicure, cosmetically, she is stunning (she still needs work to be able to sew again). A good source for decal identification is here.
To shine up a vintage sewing machine, it's recommended to use organic-based car wax "Zymol", using clean, old soft cotton rags like cut up t-shirts to apply and then buff. A little goes a long way, and be careful around decals. If the clear coat has worn off, they could "silver". To be safe, I avoid using on my decals, but it certainly shines up the paint!
If your Singer machine was "born" before 1970, visit http://www.mysingerstories.com . Enter your machine's serial number in the right hand corner, and print out a free beautiful certificate with your name and the date your machine was made. LOVE!
Vintage patterns from the '30's, '40's and '50's have beautiful period art! When my friend Andrea bought a big lot of antique patterns, we wanted a way to re-purpose or display them (I'd love to sew one, but let's face it, my one thigh wouldn't fit those waistlines – women were so tiny back then)!  We decided to make sewing-themed, decoupaged trays.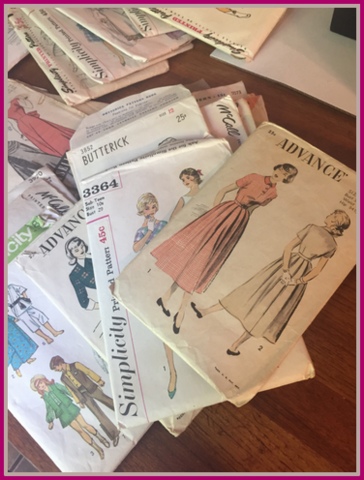 I had a cheap wooden tray from the 1990's, and Andrea found a big painted one at Goodwill.
After roughing up the surface of the trays with sandpaper (to help the patterns adhere) we spray painted them a matte black and let dry several days.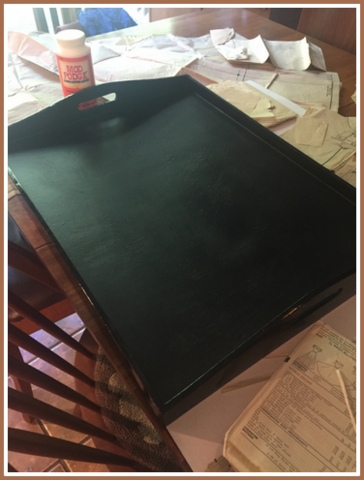 Once dry, decide on placement of the patterns on the tray. Use just the top of the pattern package by carefully cutting away the tabs and back, so you have a single flat page.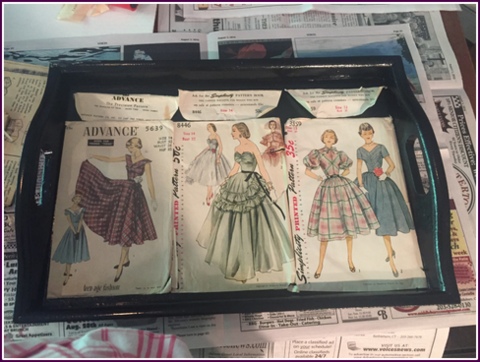 Apply Modge-Podge to the bottom of the tray, then carefully slide your pattern page on top where you want it.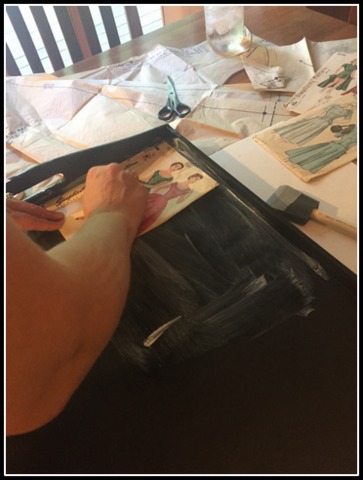 Once you have the patterns in the right spot, apply a top layer of Modge-Podge. Let dry, then apply again. Keep in mind that the paper's very old, and probably wasn't the best quality. You might get little rips or air bubbles. Carefully flatten out the pieces using a Modge-Podge roller or your fingers, always keeping the pieces moist with Modge-Podge. If the Modge-Podge gets dry when you are flattening or shifting the paper, you risk ripping the image. For air bubbles, use a straight pin to carefully "pop" the bubble, and use the pinpoint to insert Modge-Podge under the image where the air bubble occurred, then liberally apply more on top.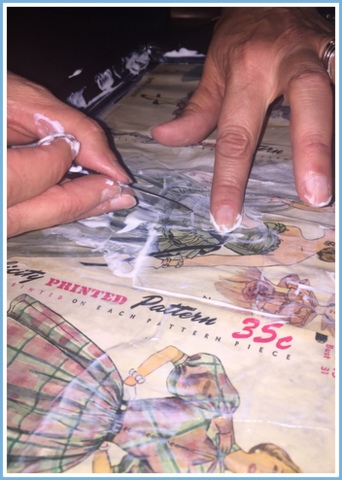 Apply several coats, letting dry between each one, alternating the coats' direction from top to bottom and side to side. It won't dry completely glass smooth, but will have a "textured" look.
The Modge-Podge, when wet, will obscure the colors, but once dry the pictures will "pop" again. I did five coats of Modge-Podge. Finally, let the whole thing dry completely (I waited a week) then spray a coat of clear lacquer varnish and let dry.
Cute anywhere, mine decorates my sewing room! (Re-purpose the tissue paper pattern pieces by stuffing them in purses and shoes to help keep their shape in your closet. Cleaner than newspaper and more chic than plain tissue, doing this will help your purses and shoes last longer. I also use tissue pattern pieces as shipping box stuffing and as gift bag tissue wrap).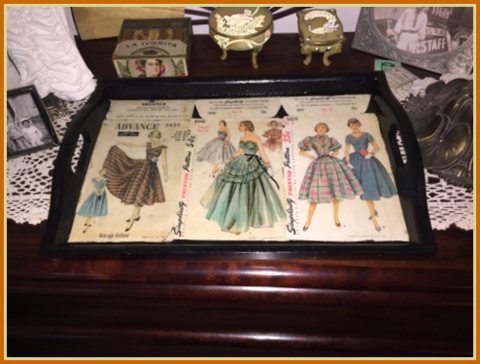 I decided to unclutter my sewing room and display my VSM's, taking them all out of their cases. I rotate which one I use, depending on what project I'm sewing. I love 'em all. I also "decked out" the treadle in the family room for Halloween!
Honestly, I can't promise I won't add to my collection! It's a bug, and I've been bitten, but there's something so satisfying about taking something many would discard and restoring back to original glory.
Until Next Time…Farmgirl Hugs, Nicole