The last few weeks it seems everyone I know has been buzzing about their New Year's resolutions. I've even seen celebrities on television and in magazines pledging to stick to their New Year's resolutions. Let me be honest and straight with you: I don't like New Year's resolutions. This year I have a better idea…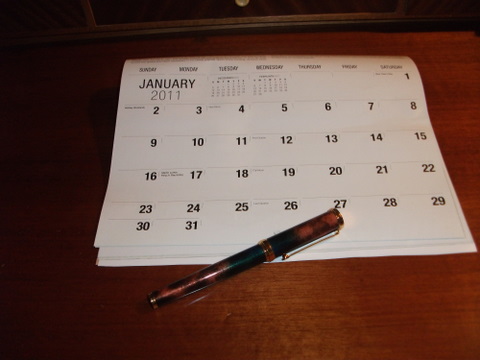 For years I've made a list between Christmas and New Year's of resolutions that I plan to tackle and stick to.  Most of my friends and family do the same. Now, I think I am a "glass half-full" kind of girl.  I try to look at the bright side of things and try to stay positive.  But when it comes to New Year's resolutions, frankly, I feel it is a way to set myself up for failure. January first, I was going to give up sweets, but in my Christmas stocking came some lovely truffles, and I broke that promise January second. (I wonder what is the percentage of us that have "lose weight" and "get fit" as a resolution)?
Don't get me wrong, I'm all for changing our lives and improving ourselves. One of the greatest life changes for me happened last year, when our household pledged to go "organic".  Now feeling better than ever, it was a gradual change, not something we dove into headfirst.  New Year's resolutions seem hard to do, like we need to change things "cold-turkey".  Additionally, all too-often, resolutions become not what we want to change, but, what we haven't accomplished.
As much as I love traditional and vintage things, I am also a fan of modern conveniences and technology.  However, with all of our phones, computers, applications, calendars, and planners, sometimes our busy lives become just that – too busy, an endless 'To Do List'.  Cross off one thing, run to the next, multi-tasking and always feeling we "have to get it all done".
We moms show pride in everything our children do, from the minute they execute the most basic of human tasks like walking, to each precious crayoned work of art, all the while never congratulating ourselves on what we do.  How many young mothers have you heard say, "I just can't get anything done!"
I teach both adult and child knitting classes in my town.  One little student taught me a lesson I will never forget.  She was in a Beginners' class and just couldn't get the garter stitch.  Everyone else in the class had several inches of scarf done, and she barely had stitches cast on.  Then one day, she just got it. It was her celebration of her accomplishment that was so remarkable. She was so happy, and kept saying to her friends, "Look!  I've got it!  I'm knitting!"   It wasn't bragging she was doing, it was joy she conveyed at her accomplishment, and it was just contagious!  We all were thrilled for her, and it was one of the best classes I ever taught.  That little girl reminded me to "stop and smell the roses".  She taught me to keep trying, and to be happy when I accomplish something, not just move on without paying attention.
I think Mother Nature knows what I'm thinking.  This past weekend, we were hit with a major snowstorm, thus forcing us all to slow down.  I put down my "To-Do" list, donned my snow pants, and went outside with my daughter.  We went sledding, made snow angels, and had a ball.  Quality time with my daughter was time well spent.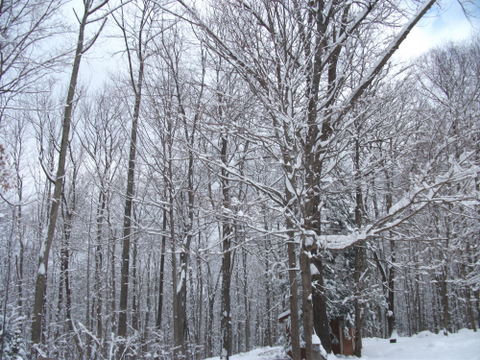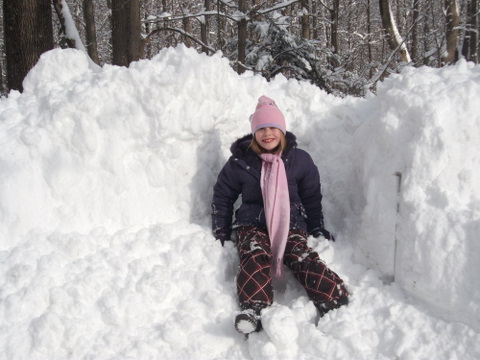 So, here's what I propose.  Keep your list of New Year's resolutions, but also make a list of what you DID accomplish.  Everyday, try to celebrate the little things, as well, like making a great dinner, knitting a new scarf, learning something new, or just getting the dishes done before it's time to start the next meal.  Join me, as I make "slow down " a priority at home. Pat yourself on the back once in a while, so to speak.  Take care of everyone and everything we need to, but let's not forget to also take care of ourselves.