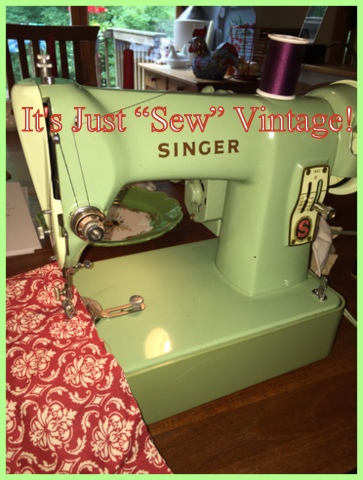 I love sewing. Recently, my sewing machine broke, and replacement parts are unavailable. What's a farmgirl to do? Find something built to last…something vintage! Be warned, as this summer I discovered it's easy to become smitten (obsessed?) with antique sewing machines!
I've enjoyed sewing since childhood, when Mama taught me on her machine, and Santa brought me a "Sew Easy" for Christmas, 1980-something. In high school, a favorite class was Home Economics; for my final I sewed ruffly dresses for two little girls I'd babysit. My mother learned to sew from her mother, who was a magician at sewing, her favorite model a Singer "Featherweight".
My dad's mother used a treadle, which was ruined in the '40s when she tried converting it to electric. I fell in love with treadle machines after seeing one in MaryJanesFarm magazine. In 2014, I was thrilled to find an 1896 Waltham treadle in a thrift store (read about about that here). While "Sir Walter" isn't sewing yet, it displays beautifully.
It was my husband who thought a treadle would also look great in the family room. (We think they're beautiful, in a "steampunk", meant-to-work-hard but-be-beautiful way. It's sad to see them discarded. I love MaryJane's idea of re-purposing a too-rusted-to-sew-again treadle machine into a lamp in the June-July '16 magazine). We bought a dusty 1911 treadle from a couple downsizing their home to a condo. The machine once belonged to the woman's grandmother. It still worked, but hadn't been stored properly or sewn on since the '70's. Of all the romantic gifts my husband has given me in two-and-a-half decades, this takes my breath away. It took many late-nights of hard work and broken nails to clean her up. Never use any solvents on decals or they'll "silver", turning white. (A great "how-to" guide is Connie McCaffery's book,  "How to Select, Service, Repair, and Maintain Your Vintage Sewing Machine" ). She was so filthy at first, I didn't realize she's a Singer "Red Eye", the same exact model my grandmother had. I named her "Ruby"; all she needs now is a new leather treadle belt.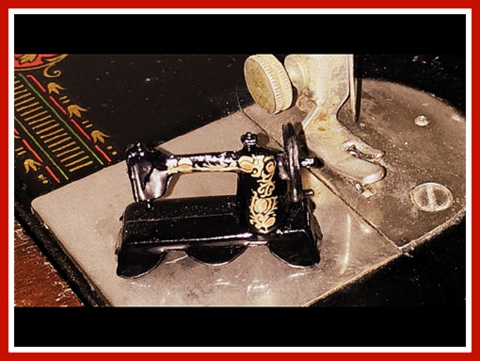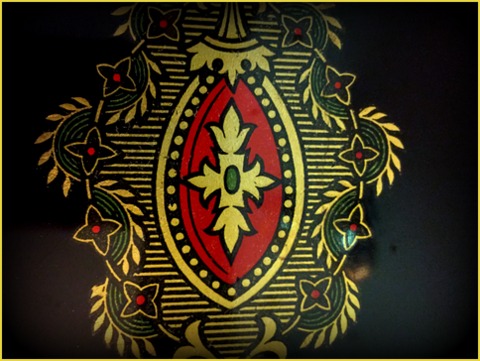 At a fair with a friend, we complimented a woman's pretty print skirt. She told us she'd purchased it previously at that very fair. Visiting the booth filled with feminine A-line skirts, I choked at the price. I could make similar skirts for a quarter of the price tag – if my machine worked right. In the late 1990's, my husband bought me a sewing machine. He'd worked a booth at a Home Show, next to a booth with top-of-the-line sewing machines. At the end of the day, he brought home a fancy machine meant for quilting. My twenty-something-year-old sewing machine was quite the machine back in the day, but parts are no longer made nor easily found, and though fancy, it's made of plastic. Computerized, I never used all the features. New machines I looked at were similar- plastic, some with tablet and smartphone features (which become outdated). I needed a new machine, but craved simple. After reading Connie's book, I knew I wanted a vintage machine.
Then I found her. A tag sale bargain, she's mint green from 1958- compact yet heavy-duty, similar to what Mama once taught me on. It was love at first sight. I brought her home, cleaned and oiled her, and started sewing my first clothing pattern in a long time. She has a place of honor in my sunny sewing room. A model 485J, she was sold as Singer's "Budget machine" Researching online, I found the original 1950's commercial. Yep, I'm definitely born in the wrong generation.
Just like vintage car lovers, vintage sewing machine enthusiasts love different models for different reasons. When a Singer Featherweight popped up for sale at a steal-of-a-price on an online tag sale, I couldn't help myself!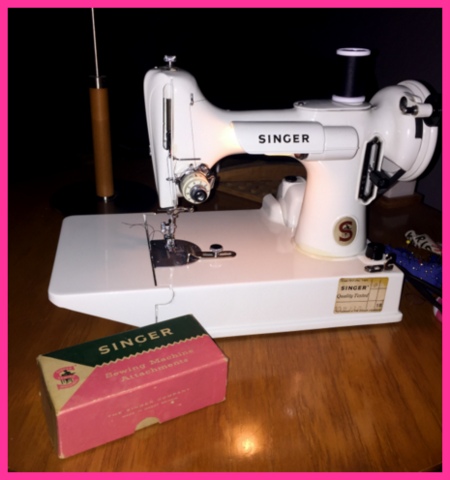 Featherweights were made in the United States from 1933 to 1957, and for a few short years a "white" model was made in Scotland until 1970. My white machine was "born" in 1968, and like many other vintage sewing machine enthusiasts do, I named her. Meet "Snow White".
With an almost rock-star-like following, there's classes, books, dvd's and Facebook groups dedicated to Singer's compact, lightweight portable known as the Featherweight. Well-known nationwide among Featherweight fans, David Werther's a Featherweight expert. He and wife, Shelley Chappell, own Quilters Connection, a full-service quilt shop in Dallas, Texas. While Shelley's a lifelong quilter, David was always mechanically-oriented, eventually taking on the job of mechanic for their shop. After fixing a Featherweight, another arrived, then another, until they were "up to their elbows" in the little powerhouses. Soon, they started buying and selling them, having owned and sold 168 in the last five years! The couple keeps around fifteen for their personal collection. While David likes other vintage models, too, (currently, he has 55), he attributes the popularity of the Featherweight to its lightweight portability, quality of stitches, and true vintage style. "Like a classic model car-  like a '57 Chevy, Singer got it right with the Featherweight design." He adds, "When you use a Featherweight, it's like 'time traveling', doing the same motions, sewing on the same machine that your grandparents would've sewn on". David says his best advice is to "know your machine", noting when it starts to sound not as smooth and quiet. "Oil after every 8 – 10 hours of the needle sewing", adding that there's "35 places the Featherweight needs oil'.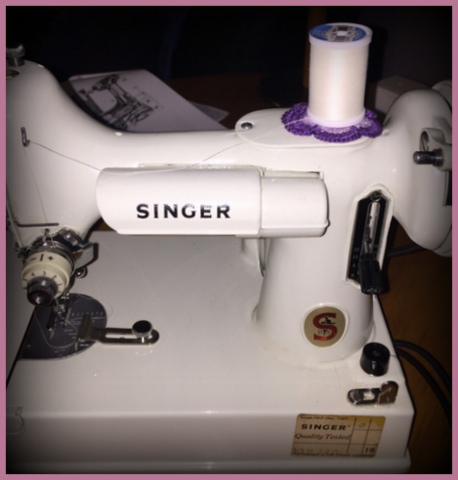 David says the Featherweight spanned so much of America's history – "Through the Depression, after World War II, after the Baby Boom, the Featherweight was there, through it all".  A true piece of Americana, I love "Snow White", sewing while my family watches television (she's so quiet). I recently purchased a "Spool Pin Doily" for her for $6.00 from Marietta O'Brien, from Arizona, who hand-crochets the beautiful doilies to resemble pansies (let me know if you'd like to contact Marietta for one of your own).
I didn't need another machine, but a 1961 Singer 301A popped up for sale at a great price. She came in the cutest vintage-suitcase-like case, so I was doomed. She's creamy tan and white, and needs a name!
Whether you're a seasoned quilter, just starting to sew or don't sew at all, be careful – a vintage sewing machine (or two, or three…) might just steal your heart!
Help me name my 301, share a memory of a vintage machine, or just say "hi" – all comments this month will be entered into a drawing for the"Sew" Cute September goodie giveaway!

Until Next Time…Farmgirl Hugs, Nicole