"One man's trash is another's treasure". I think breathing new life into something is an art! Lately, I've been lucky, finding fantastic items to restore and repurpose. Last week, I found something I've wanted forever, that's got me giddy like a little kid on Christmas! Little did I know, this item wouldn't just speak to me, it would tell me its history!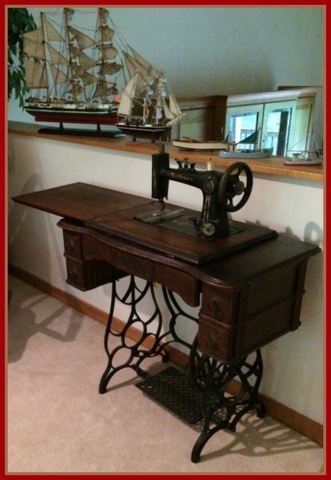 Flea markets, antique stores, consignment shops, tag sales…I love them! It's fun seeing things from the past, and going treasure hunting.   Now that it's spring, I've been hitting my favorite flea market, in search of  "something" to go between two chairs on my shabby-chic porch. I was thrilled to find an old, three-legged milking stool. Covered in chipping white paint, with loose legs and a water ring, it wasn't chic, just shabby.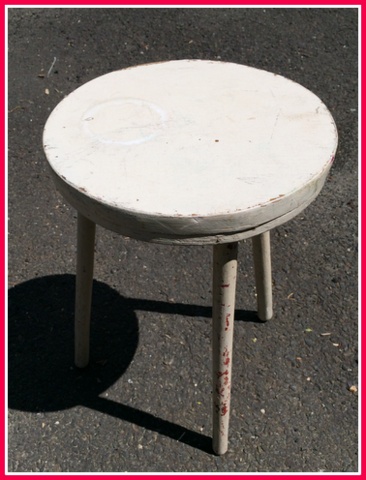 I painted it bright red, with paint I already had, and distressed it just a bit so some of the old white paint could show through.  It's perfect, and only cost me $5.00!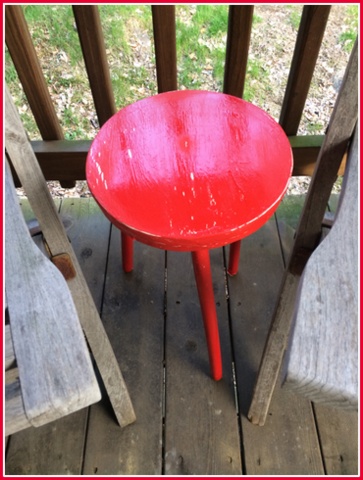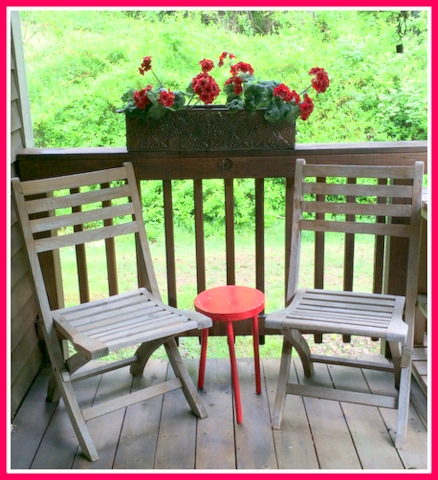 I love red.  For Mother's Day, at the flea market, I picked out a 1950's red covered cake tin, in excellent condition.  I'll use it for hamburger buns at cookouts.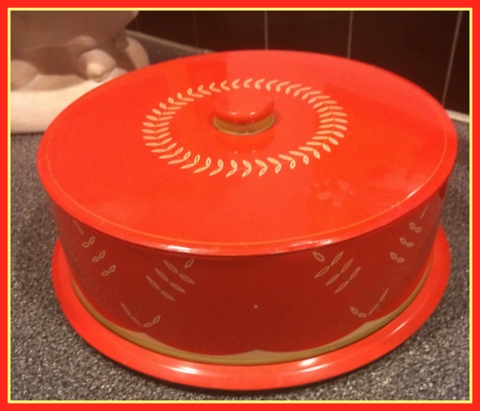 I also picked up two cans of outdoor, rust-proof spray paint for $2.00 each, to restore old plant stands I bought in the1990's. Rusty, their green paint was faded and chipped.  My husband planned on tossing them, since they went unused several summers. I knew they had more life in them.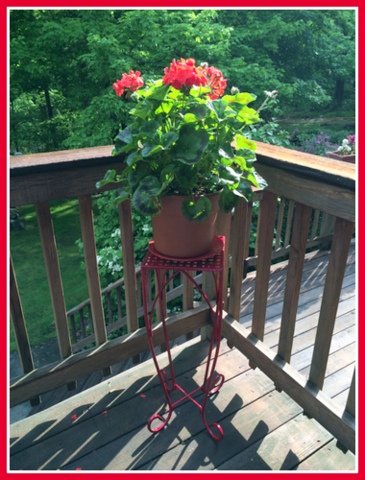 One of the prettiest "trash to treasure" restorations I've seen is by my mom's talented cousin, Bobbette Risk.  She rescued a bench a neighbor discarded, turning it into a stunning settee.
There's two things I've always wanted: one's a vintage pick-up, like an old Ford or Studebaker. That'll probably never happen, since every time I've ever seen one, I can't get the clutch all the way in (darn my short legs)! The other's an antique treadle sewing machine.
My friend Andrea alerted me when she saw one posted for sale (I drool over her antique treadle whenever I visit).  We both tried researching the brand, Waltham, but didn't find much, just an advertisement from the 1920's. We figured that must be age of the sewing machine for sale. It was in a thrift store, where they were marking down items that hadn't moved quickly.  The treadle machine was one.
To my surprise, it was older than I'd guessed!  Marked 1896, it was grimy and smelled musty, like an old barn. My husband immediately declared it "junk", asked me where-in-the-world it would go, but said if I really wanted it, he'd load it in the car. I saw beauty, with it's hand-carved drawers, brass hardware and cast-iron stand. I wasn't leaving without it.  Closed, I could use it as a table in my sewing room.
At home, it sat in the hallway a few days so I could clean it and decide where it'd go. A "back-breaker", we wanted to move it just once. For the cabinet, I used a gentle, Scandinavian deep cleaner for wood, and a slightly damp, soft cloth for the machine. As I removed years of grime, (and sunflower seeds stuck in crevices), it seemed to come to life. I imagined Victorian and Edwardian clothes that might have been created with it, and who might have purchased it new, as excited as I was now. It morphed from "junk" to "art with a history". When my husband came home, he uttered those three words every woman loves to hear: "You were right".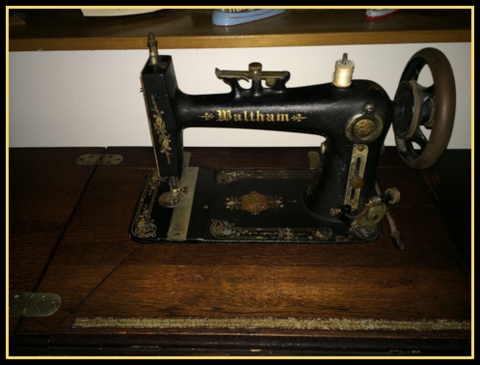 We decided it should be displayed, not closed and hidden.  It's along a wall in my living room, where a blank spot had long bugged me.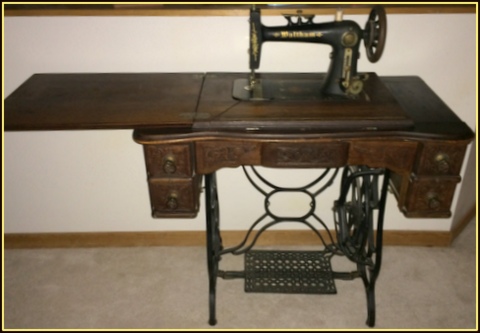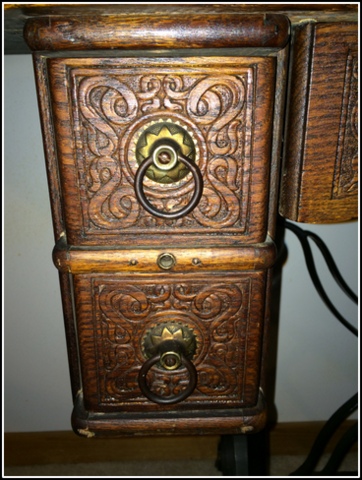 Going through the drawers, I found tangible history tucked inside: the manual, original needles, 1920's needle packages, old wooden spools of thread, leather belts, original attachments, and a newer-looking piece stamped "W.R. Parsons, Chicago, Illinois, 1904".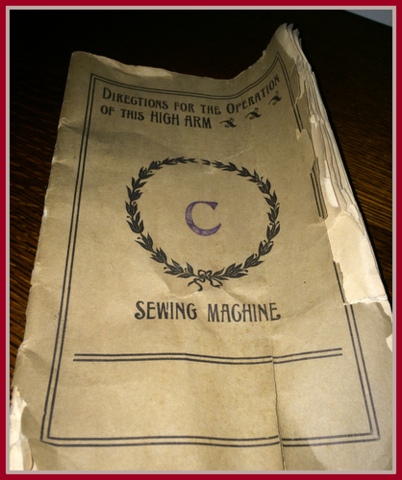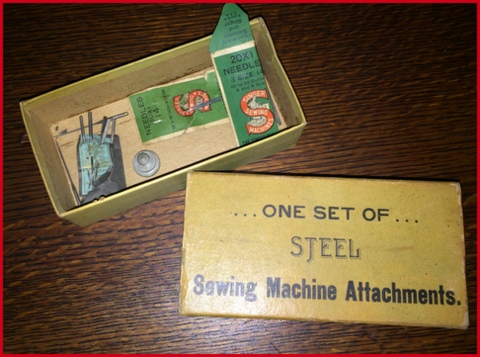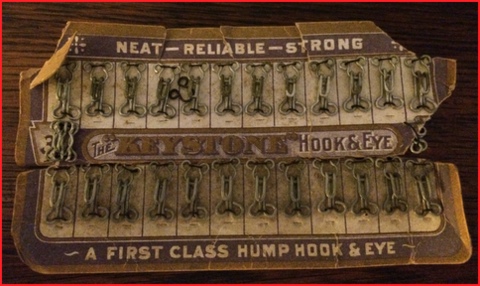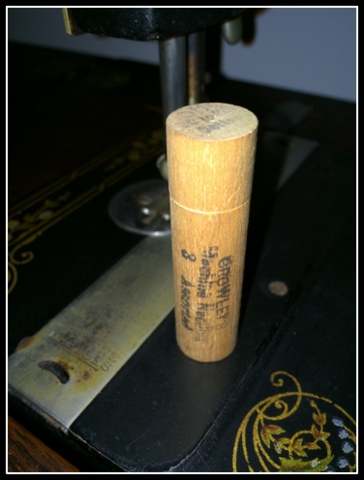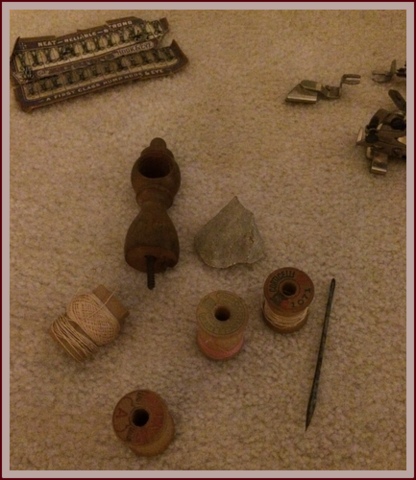 I also found some old thread, wrapped around folded, yellowed paper. Prying it slightly, I saw writing. I had to know what it said. I carefully removed the thread, so old it felt like dried grass clippings. It was an envelope, postmarked 1945. The miniscule amount of thread illustrated the thriftiness of WWII. The return address was a long-gone New York machine shop.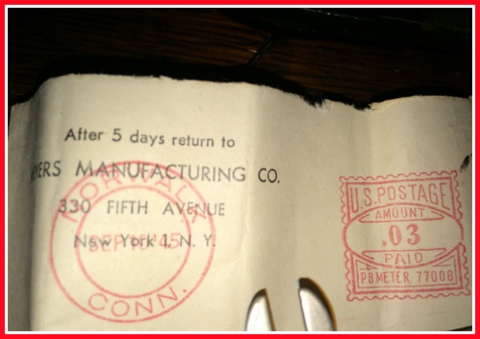 Researching it, I think the machine must have been serviced by them. Perhaps the machine once belonged to the addressee's mother, who had lovingly crafted her baby's clothes. Maybe it was sewn on for decades, eventually replaced with an electric one, like a retired work horse replaced by a tractor. Perhaps it once held family memories, until finally discarded as something "old", in the way. I think it's exquisite.
The working parts move, just needing a belt.  I'm not sure if I'll restore it to working or leave it, having earned its retirement.
Sometimes we give items a new life, with new purpose. Other times, they tell us their past… if we just listen.
Until Next Time…Farmgirl Hugs, Nicole