[Previous Suburban Farmgirl, October 2009 – October 2010]
…"The nicest thing about the promise of spring is that sooner or later, she'll have to keep it." That's what I write in a card to my old pal Kathleen every year about this time, between our birthdays – well, every year I remember, but it's the majority of the past near-thirty.
I don't even know how our tradition got started. (It's a quote we picked up somewhere.) But since I live in the South, it's a promise that's kept to me before Kathleen, who's lived in Iowa ever since we met there in college, so I figure she can use the sentiment. I heard Iowa had snow last week!
Over here in North Carolina, this first week of spring, I've got daffodils, Lenten roses (below), forsythia, redbud, and flowering trees galore. But it's my psychology, rather than my weather, that's really ready to "break into blossom," as another line of poetry stuck in my head goes.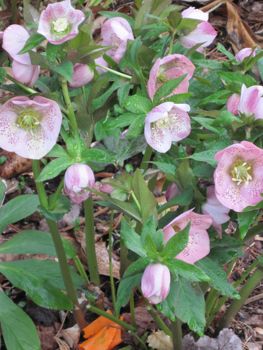 Continue reading →