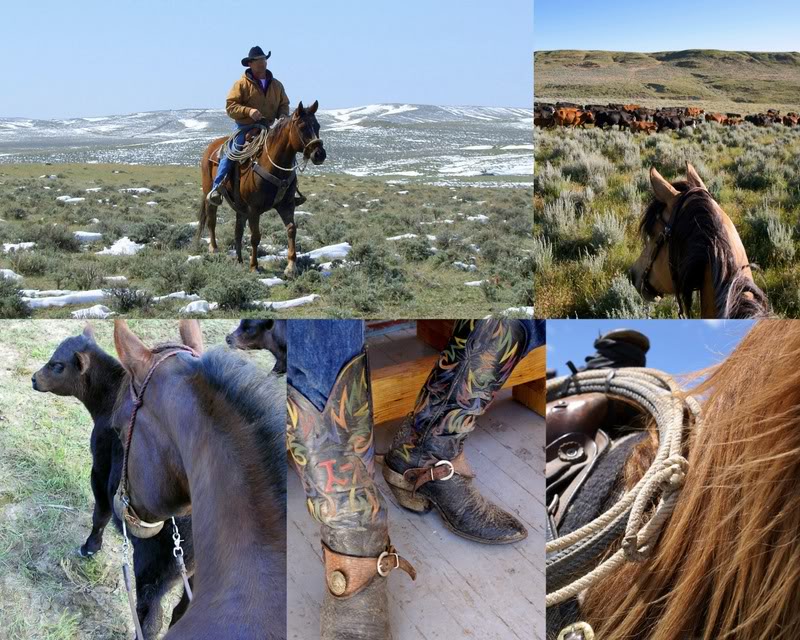 Everyone looks forward to "springtime", none more so than those who live in the north. Our winters are neither short, nor mild. Cabin fever hits us `long about late February, but we have quite a wait in front of us before relief comes. A surge of hope brightens the mood on that first warm, sunny day in March. Then, it snows and blows again. Just when our spirit sags back into winter weariness, the unmistakable song of a Meadowlark jerks you to attention! You remember what faith is all about: believing in something you may not be able to see or touch, and yet you know your hope is safe.
We begin calving in April. That means a lot of riding for my husband and I as we move cattle to pastures that are ideal for calving…good shelter in ravines and in tall sagebrush. Then, once things are situated, we ride once or twice a day through May to check the cows. Most mature cows do not need help, but occasionally there is a problem we may need to address. When a newborn calf is 'up & going', we move the baby and mama to an adjoining pasture. My favorite riding on the ranch is moving 'pairs'. It is a leisurely pace since the baby generally toddles along slowly behind it's mother.
I so look forward to riding this time of year … drinking deeply the fresh air of springtime that carries on it the scent of green things and a pungent aroma unique to the plains … Sagebrush. Every sign of spring that nature produces in this part of the world will soon be in high gear. The sights, the sounds and the smell of spring surround you.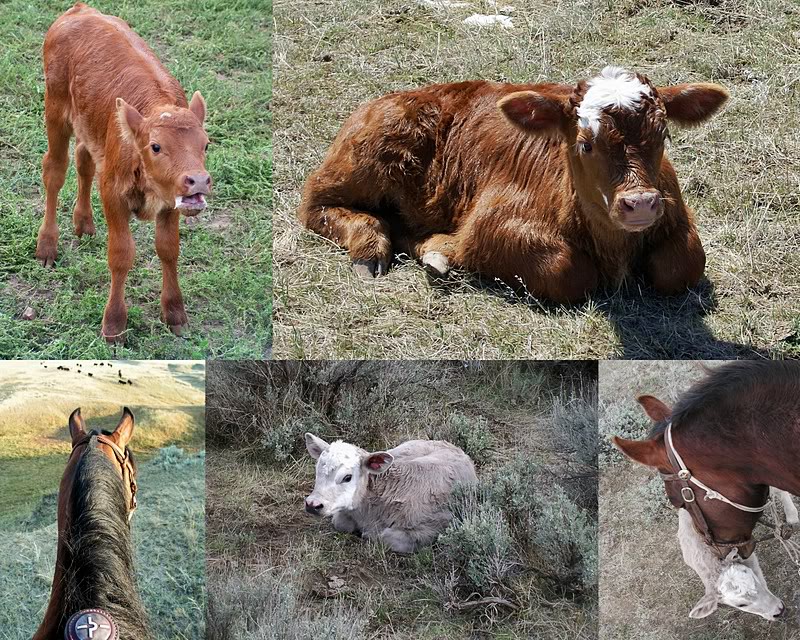 Meadowlarks, Bluebirds and Lark Buntings flit from fencepost to sagebrush … singing as they go. No man-made symphony sounds better than a meadow brought to life by the return of spring. Wildflowers take their cue and push up through the prairie turf to paint a scene unequaled by Monet or Renoir.
I'm always on the lookout for little miracles while riding. Spying a bird's nest with sky blue eggs in it, tucked into the sagebrush thrills me as much now as it did when I was a wee lassie. Catching sight of a wildflower at its peak of bloom is worth getting off my horse for. Actually, lots of things inspire me to dismount and set to memory whatever it was I discovered. I began carrying a camera with me a few years back and it gave me more of an excuse to linger. Setting aside the busyness of life has never been an issue. If anything, I linger too long and too often. But, thank you very much I don't want the cure.
On the practical side of things, in preparation for the riding season, I need to curry my horses – they're shedding heavy now. Winter hair is coming off of them like feathers out of a burst pillow. You'd think that after all these years I would remember an important detail connected with this chore: Do not apply lip balm beforehand; it results in hairy lips!