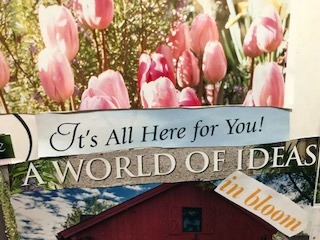 Dear sisters,
Welcome to my Vision Board Party! In my last post I invited you to join me in slowly and ever so thoughtfully creating a vision board filled with your hopes, dreams and aspirations for 2018. I hope you've been having fun working on yours. If you missed my invite, no worries. There's still time to join in the fun and send in your boards! I'm revealing mine today plus an additional board sent in by farmgirl, Joan Brown.There's no right or wrong way to make a vision board. It's all about having fun and creating with joy. You simply choose a topic you want to focus on and go for it!
Joan Marie's vision board oozes refreshing summer breezes with travel, fun activities, relaxation, dappled with hopefulness and simplicity. The way she organized her clippings tells me she is all about simplifying and bringing only those things she truly loves and enjoys into her life. Thank you for sharing, Joan!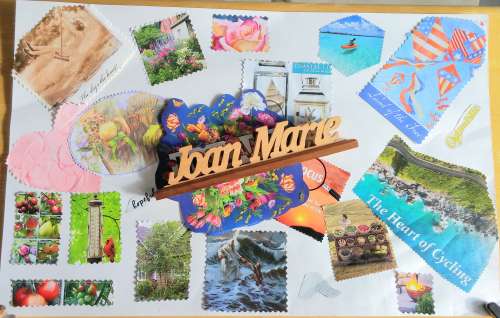 Who knew you could tell so much about a person with a smattering of images and phrases?  I think a visual journal really teach us a lot about who we are and what's truly in our heart of hearts right in that moment.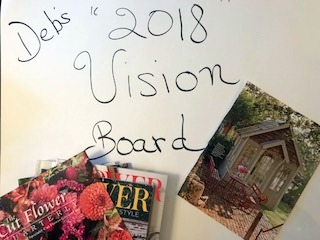 You really don't need much in the way of supplies. A pile of old magazines, scissors, a glue stick and a piece of poster board. As I mentioned in my previous post, you can make it a party and invite friends or family or you can go it alone. I put on some music, lit a candle and made myself a giant cup of hot green tea with honey and thought of all of you working on your dream boards at the same time!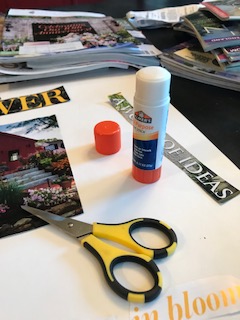 Keep your heart wide open so all of your dreams and desires will pour out easily.
I chose to focus on my career in flowers and words.  Naturally, I had a boat load of gardening magazines at the ready. Ironically, I had just packed them up in a box ready to donate and I just hadn't gotten them out to the car yet. Phew!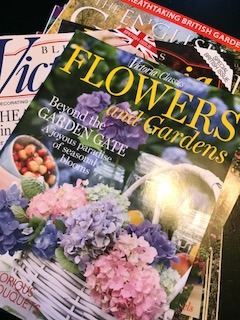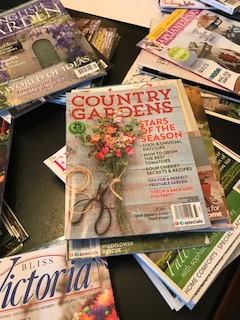 As I started flipping through the pages, words and phrases with positivity and possibility started to jump out at me and inspired me to think in new ways about those words and how I would weave those new meanings into my new year.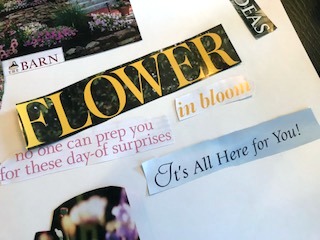 Something that kept popping up for me was my desire for space. I've been longing for a separate space ( away from the inside of our home ) to create, design, teach, write and paint. I think all creatives crave such a space and I aim to make it a reality in the coming year!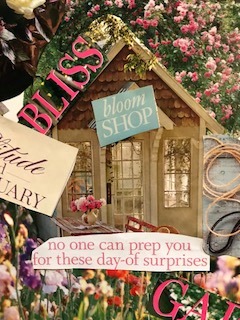 This image of a garden shed has been stuck to my frig for three years. Now it's part of my vision board, surrounded by beautiful blooms and inspiring, motivational words.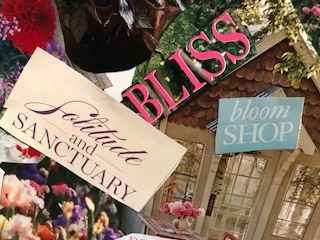 An even bigger idea and dream I've been having ( I've only said this one out loud to my hubby a couple of times) is a brick and mortar retail studio space for meeting with clients, holding workshops and perhaps some retail sales. Wouldn't that be dreamy?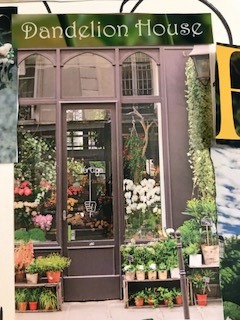 After doing some weddings in 2017, I'm feeling drawn to doing more and am actively pursuing that kind of work. I've already taken action by creating a website just for floral design, and a storefront on the ever popular wedding site, The Knot. Inquiries are already coming in!
I thought this phrase would be great for a workshop! What do you think?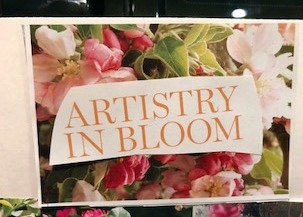 Rustic Elegance…  Just my style…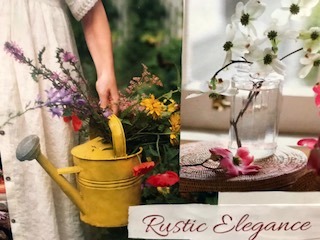 There are so many places I would love to travel to, but good old England is my # 1!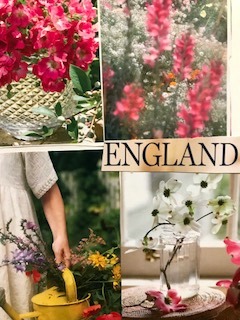 I've just got to get to the English Countryside someday.
Here's my board in it's entirety! It's like a flower explosion! Just what I needed to pull me through the next 8 weeks of a New England winter.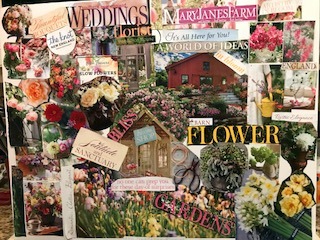 Last, but certainly not least of all, my vision board includes MaryJanesFarm! I couldn't do without my MJF! As long as MaryJane will have me, I'm stickin' around for more blogging and Girl Genius features!
I hope you enjoyed my Vision Board Reveal and you're inspired to get one started too! It's never too late! I'm 56 and still DREAMING BIG!
Let me know in the comments if you're working on one now or plan to start one.
I'd love to share them in my next post! Send me your Vision Board to Deb@maryjanesfarm.org
Until our next shoreline visit, Keep dreaming, planning and doing!
Beach Blessings and Much Love,
Deb Beach Farmgirl, # 1199