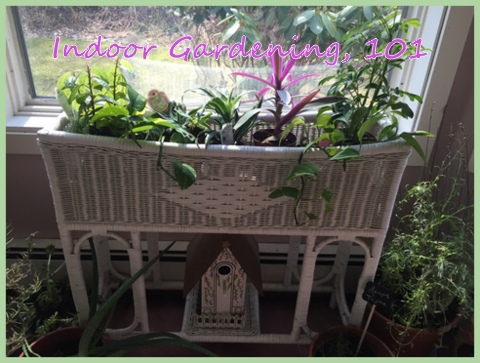 If you're like me, you can't wait to get outside and get the garden growin'! Unfortunately, it will be a few more weeks in my area before we can really get gardening outside. That's okay – we can garden indoors!
I'm seed-obsessed!  I love everything about seeds- the promise of what's inside, the photos and artwork outside the packets, and the pride I feel when my seedlings actually survive, morph into big plants, and produce yummy garden goodies!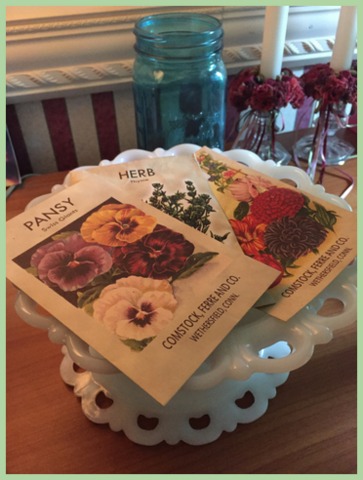 Here in Connecticut, many of our seeds are started indoors. I've started quite a few things already. I was pleasantly surprised to find this great quality, steel-frame greenhouse at the grocery store chain Aldi for only $29.99! It's as tall as me, with nice sturdy powder-coated steel shelves and a heavy zip-up cover. Two grow lights have their own stands and were $34.00 each at Wal-mart; both are a one-time investment that will be useful for years! Grow lights should mimic natural light as closely as possible, so I turn mine on in the morning, off in the evening; my seedlings are off to a very good start this year!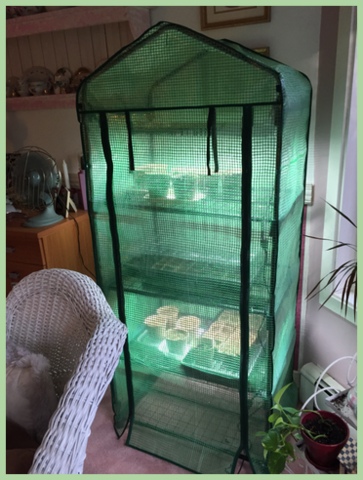 While I'm waiting to really get my hands in the earth, I check up on my houseplants, re-potting those that have outgrown their pots (going two inches bigger than the previous pot), checking for infestations, and giving my plants a little TLC.
I've heard some who have amazing gardens say that they don't do well with houseplants. I used to kill a houseplant just by looking at it! With a little knowledge, patience and good tips, keeping healthy houseplants isn't a big secret skill. Giving them what they need insures strong plants. Stressed plants are open to getting diseases and issues that threaten their health.
One of the best pieces of advice I gained from studying to be a Master Gardener is "Right plant, right place." Light's the most important thing for plants to survive – they need it to produce food. Knowing what kind of light a plant needs (low, medium, high) and which direction a window faces are two factors that can make a difference as to what plant should go where. Too little, as well as too much light can affect the health of a plant. Choose the plant based on the place you have.
One of the major reasons plants die is from either neglect or the opposite- "too much love". Learning to water correctly is important. Watering on a set schedule isn't ideal. While a reminder on your smartphone every week might sound like a good idea, some plants need water more or less than others. Too much water can damage the little root hairs, suffocating it from the bottom up. Too little water, and you can stress and dry out your plant. If a plant has "flagged" –  drooping before wilting completely, with limp leaves and pale color – watering right away might save it.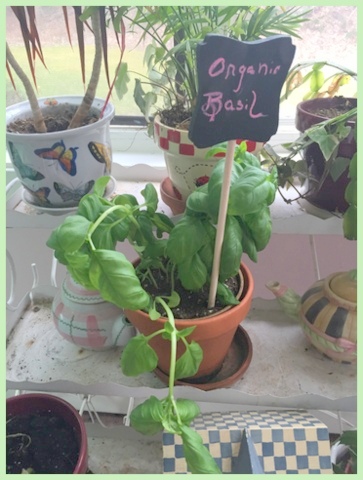 Once it wilts completely, it's lost. A good rule of thumb is to water when the plant needs it. Ideal soil should feel like a "wrung out sponge".
Clay pots dry out faster than other types.
If a plant prefers soil on the dry side, then one to two inches of soil can be dry. Beyond that, it's time to water. You wouldn't like to be left thirsty!
Orchids don't need as much water some other plants. Water from the bottom-up by submerging in a sink or tub of water, then let it drain, or use the "ice cube trick" that I learned from a member of the Orchid Society: give your orchid 2 -3 ice cubes per week on top of the soil.
If you keep your plants in plastic but then put them inside decorative, non-draining containers or have saucers underneath, avoid letting the water that has flowed through "puddle" and let the plant sit in it. This can cause root rot or accumulation of excess salts from fertilizers and kill your plants.
Avoid splashing water on African Violet (Saintpaulias) leaves. This will cause scarring on the leaves.
Terrariums are fun to assemble now when it's not quite time to plant outdoors. They need a non-rubberized lidded jar, gravel, activated charcoal, soil and a few plants, and do best away from direct sunlight (such as on a dining table). Water about once every three months.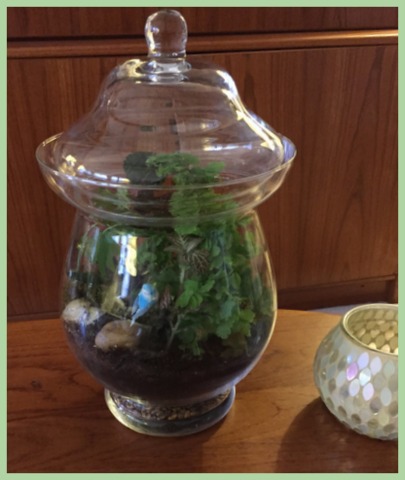 Indoor plants need fertilizer, but not too often. Over-fertilization will burn roots. Plants need less in the winter when they don't grow as much, and  low-light plants don't require as much as those in sunnier areas. In the summer, once a month is good way to feed plants, when growth is at its peak. I prefer to use organic water-soluble fertilizer. I also sprinkle a bit of the vermi-compost from my indoor worm farm on top of my plants.
To learn how to make your own worm bin, click here: http://www.farmgirlbloggers.com/6657#more-6657.
In addition to being beautiful and mood-lifting decor, plants filter inside air, converting carbon dioxide to oxygen, and absorbing pollutants such as formaldehyde (often emitted by furniture and carpets) and other harmful gases. The best houseplants for absorbing bad pollutants include spider plant (Chlorophytum comosum),  philodendron (Philodendron)  English Ivy (Hedera helix), Pothos (Epipremnum aureum), and Dragon Tree (Dracaena), all of which are commonly found. When shopping for houseplants, just because it's in a store doesn't mean it's healthy – watch for smelly roots, yellowing leaves, over-dry soil, and infestations.
Houseplants don't have to cost a lot. I have found stunning orchids for $9.99 at Ikea, and a five-foot tall palm at Walmart on clearance for $10!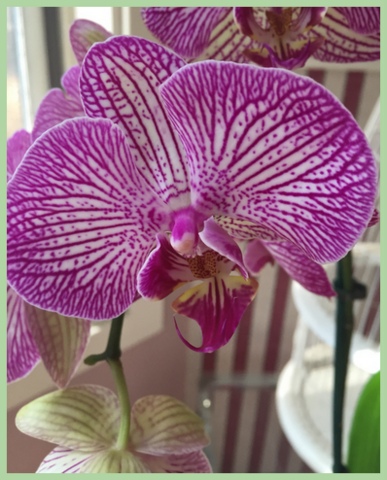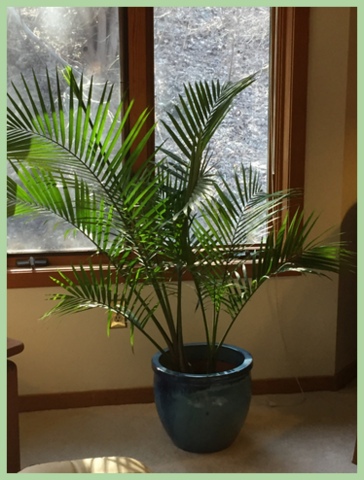 Every week, our forecast looks better. Warmer weather will be here soon…
and before you know it, we will be in FULL GARDEN MODE! Happy Spring, dear readers!
Until Next Time…Farmgirl Hugs, Nicole