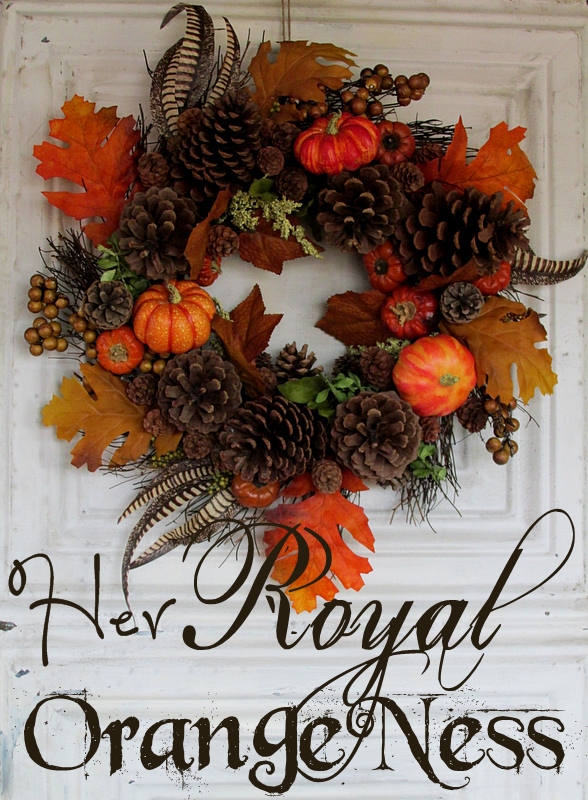 I'm loopy about pumpkins. Well, actually, Autumn is the root of this love for 'Her Royal OrangeNess' ~ the undisputed Queen of the fall parade.
The word 'pumpkin' originated from the Greek word Pepõn which means large melon. The word gradually morphed via the French into pepon, then by the English into pumpion and then Americans came up with pumpkin. Pumpkins and squash are believed to have originated in the ancient Americas.
Early Native Americans dined on pumpkins in various ways. They cooked pumpkins whole [after gutting the seeds out] by filling the cavity with a little milk, honey and spices. They then roasted it in the fire; the result was a blackened shell that contained a spicy-sweet custard/pudding. The Indians cut and dried thin strips of pumpkin flesh – kind of like jerky. They also dried the flesh to grind it into flour.
Without pumpkins many of the early settlers might have died from starvation. The following poem is a testament to the Pilgrim's dependence upon pumpkins for food:
For pottage and puddings and custards and pies
Our pumpkins and parsnips are common supplies,
We have pumpkins at morning and pumpkins at noon,
If it were not for pumpkins we should be undoon."
The pilgrims were also known to make pumpkin beer. They fermented a combination of persimmons, hops, maple sugar and pumpkin to make a colonial era brew.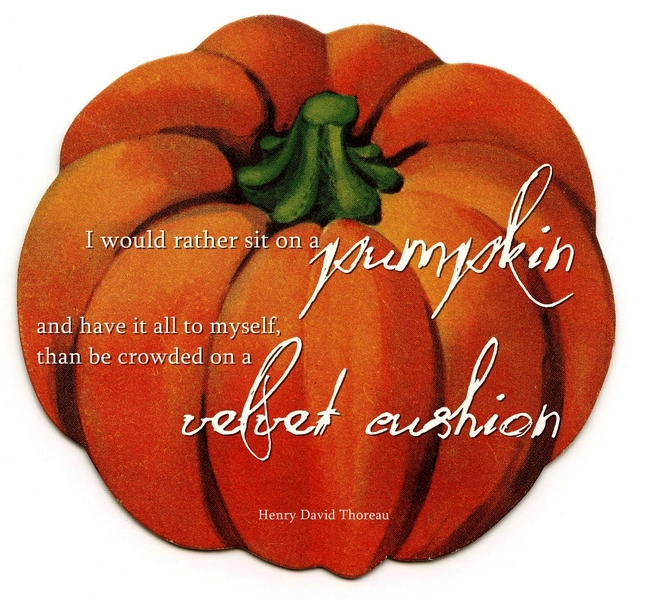 The only pumpkin treats I ate as a child was pie and roasted seeds. Nowadays, there are allllllll kinds of pumpkin edibles to enjoy. Pumpkin wine is fruity, mellow, and a beautiful shade of soft apricot – perfect for fall meals and Thanksgiving.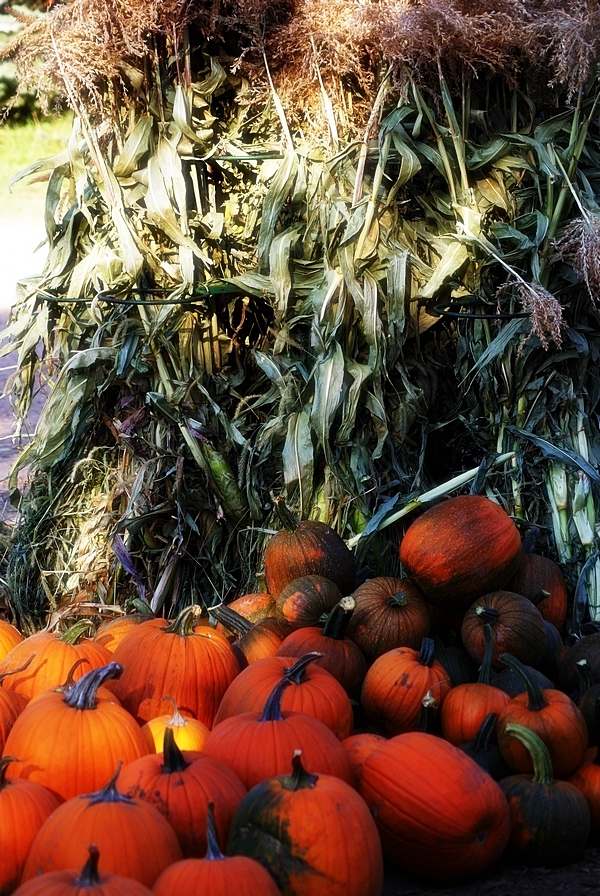 In early colonies, pumpkin shells were used as a template for haircuts to ensure a round and uniform finished cut. As a result of this practice, New Englanders were sometimes nicknamed "pumpkinheads". Now you know where the nickname came from! :o)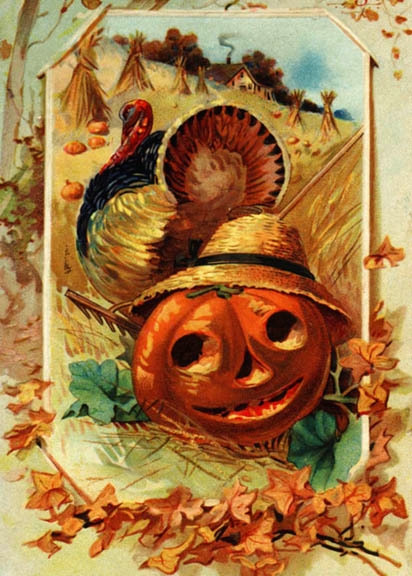 Seasonal decorating would be incomplete without a pumpkin here & there. I bought a primitive wheelbarrow [reproduction made from recycled lumber and an old iron wheel] so that I could use it year round for seasonal décor … filled with greens for Christmas, flowers in summer and autumn gatherings for NOW.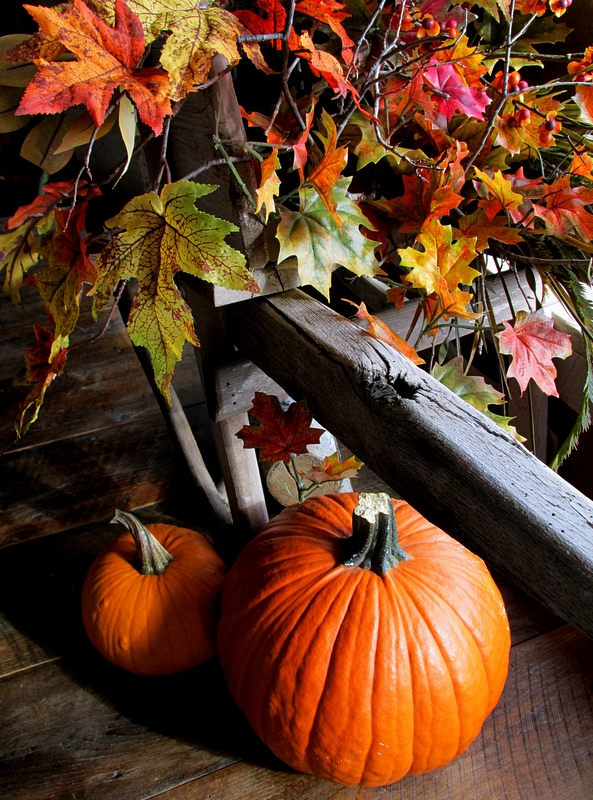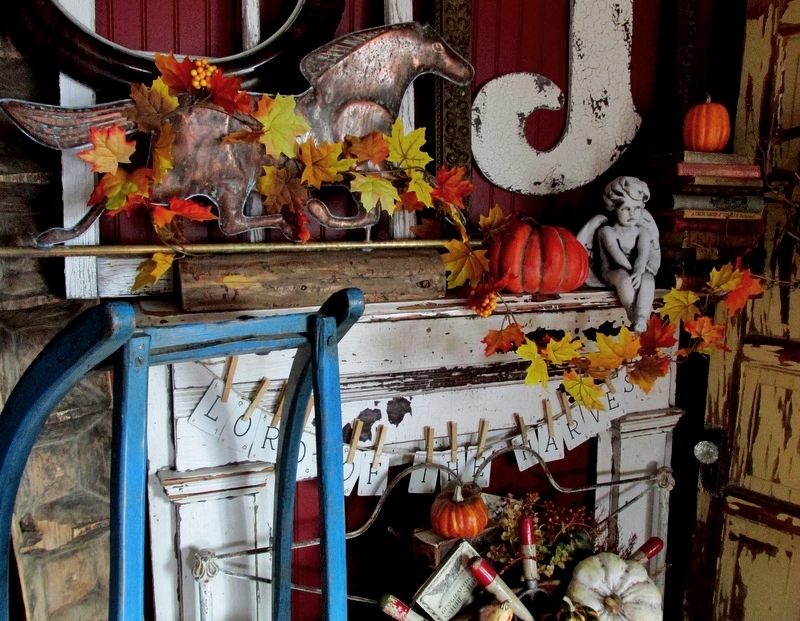 Have you noticed in recent times that there are more varieties of pumpkins than there used to be? Perhaps they might have always existed, but were not made so widely available? My favorite is the Cinderella [below]. There is another called Vermont Cheddar that is similar in form; it has a pale peachy colored skin, a dainty stem and cheddar colored flesh. I've not eaten it, but I'm going to try it this year. There is also a teal-green variety. The Luna pumpkin is creamy white with orangey flesh. Note: the last one mentioned is not edible to my way of thinking – just ornamental and chicken food thereafter. I learned that after making my stuffed pumpkin recipe with one. Blech! No flavor at all. The best pumpkin by far for stuffing is the small pie pumpkin – see my recipe further down this page.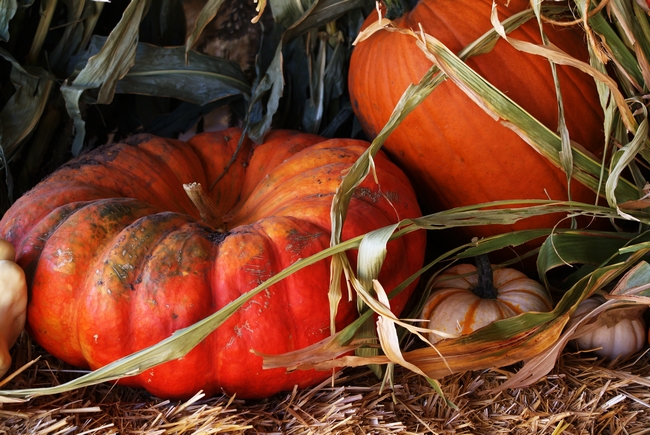 I ordered a spicy pumpkin soup [Mexican inspired] at an organic café a couple of years ago. It was so flavorful and hearty. I came up with my own version … here 'tiz: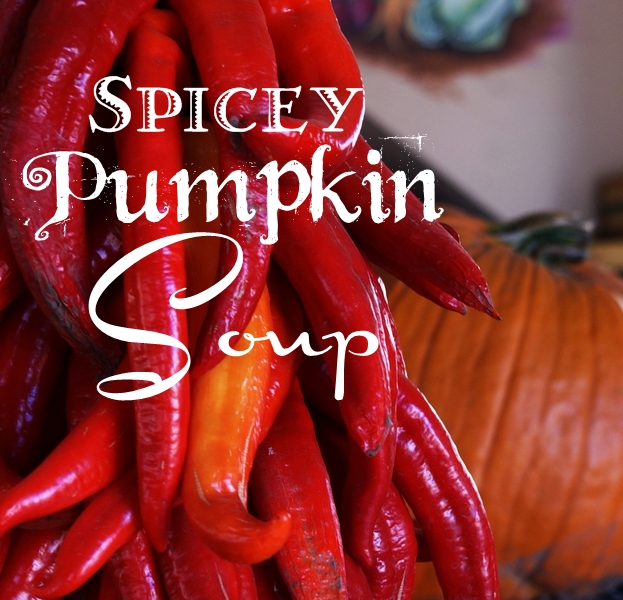 Shery's Spicy Pumpkin Soup
Two quarts of chicken broth/stock
1 15 oz. can of pumpkin
1 medium onion – minced
1 tsp garlic powder [or fresh minced]
1 tsp lemon juice
1/4 tsp red pepper flakes
1 tsp cumin powder
1 15 oz. can of hominy
1 tsp Cajun seasoning or season salt [optional]
1 Cup whole milk or half & half
Saute onions, then combine all ingredients and simmer for about half an hour. Serve with warm tortillas or cornbread.
~~~~~~~~
Ok, next on the menu is pumpkin butter. This is kind of like pumpkin pie as a spread. Soooo yummy on a toasted bagel or homemade bread. Dress it up as a gift and offer it to friends & loved ones for their Thanksgiving table.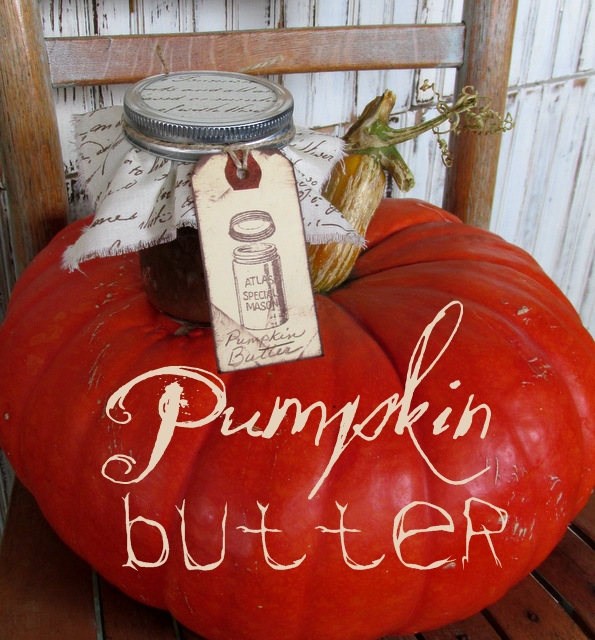 Shery's Pumpkin Butter – *no canning process required*
1 29 oz. can of pumpkin
1 tbsp vanilla
3/4 cup apple cider
1 cup brown sugar
1/4 cup maple syrup
1 tsp cloves, 1 tsp nutmeg, 1 tsp cinnamon, 2 tsp ginger.
Combine all ingredients in a saucepan, stir well, bring to a boil; turn it down and simmer on low for about 30 minutes until it is thickened to a 'spreadable' consistency. STIR frequently to avoid scorching. When cooled somewhat, pour it into a glass container and store in the refrigerator.
~~~~~~~~~
My farmgirl pal, Michele, shared a recipe with me that is my #1 fav-O-rite pumpkin goodie – Pumpkin Chocolate Chip Bread.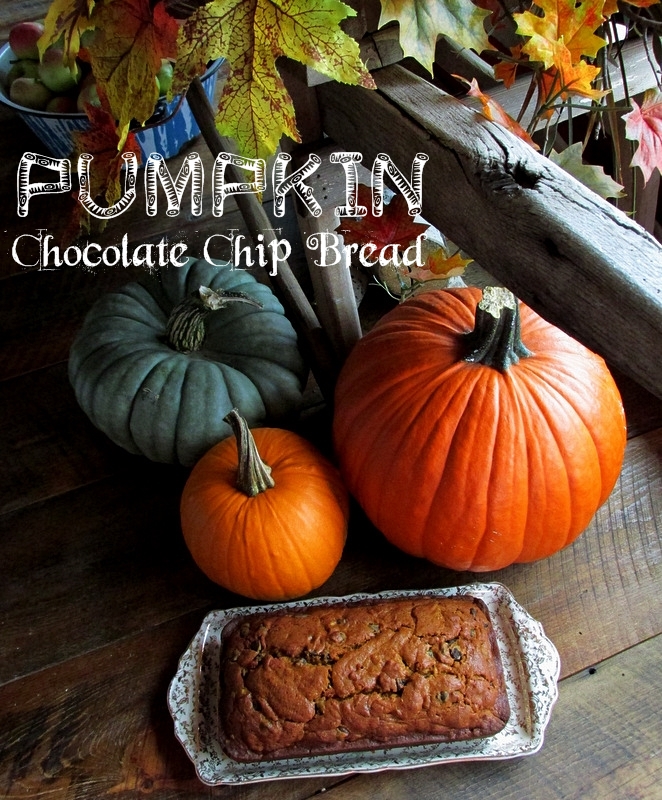 Michele's Pumpkin Chocolate Chip Bread
1 15 oz can pumpkin
3 cups flour
2 tsp cinnamon
1 tsp salt
1 tsp baking soda
4 eggs
2 cups sugar
1 1/2 cups melted butter
1 package of semi-sweet chocolate chips. *Option: use golden raisins or dried cranberries instead if they're more to your liking – the latter makes for a colorful loaf when cut!
Pour batter into two greased loaf pans. Bake at 350 for about 60 minutes or until toothpick comes out clean.
~~~~~~~~~
Lastly, I shared this recipe on my blog 3 years ago, but it is well worth repeating! I said then that this turned out to be one of the best things I'd made in long while! It looks so 'gourmet', but it is SO easy! This is my version of a 'stuffed pumpkin' recipe I found online. I'm sure there are many variations out there if you wish to explore.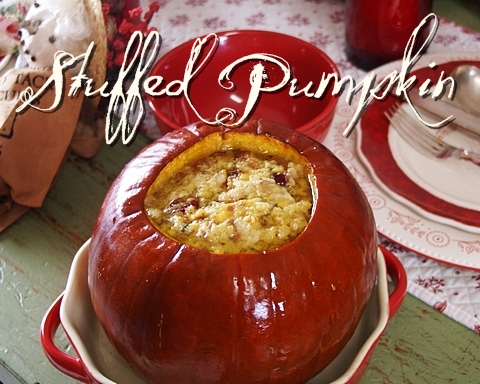 Shery's Stuffed Pumpkin
8″ Pumpkin (cleaned out), save top. Heat oven to 350. Serves 4-6.
Dried bread and cornbread (about 8 cups)
1/2 pound cooked bacon bits
1 cup dried cranberries
1 cup shredded cheese
Dash of Thyme
1 Tbsp chives
1/2 tsp sea salt
1/4 tsp pepper
1/2 tsp garlic
1/4 tsp nutmeg
3/4 cup heavy cream
Combine stuffing ingredients in a mixing bowl – the mixture shouldn't be too wet & sticky; it should kind of fall apart. Add a little more bread if you think it is too moist. Spoon it into the pumpkin cavity and press it down very firmly as you go. Fill it to the brim. Place top back onto the pumpkin and bake it in an oven proof dish for about an hour and a half – remove top for the last 30 minutes. When done, the pumpkin will be softened and very shiny (the color of cinnamon). Take it to the table whole (since it so pretty) and slice into quarters.
~~~~~~~~
Another pretty pumpkin goodie that is VERY EASY to make are pumpkins made from velvet; you use a real stem to finish it. Save the stems when you discard a jack-o-lantern or cook pumpkins to can the flesh. Here is a good tutorial link: http://thesimplewife.typepad.com/the_simple_wife/2008/10/fabric-pumpkin-tutorial.html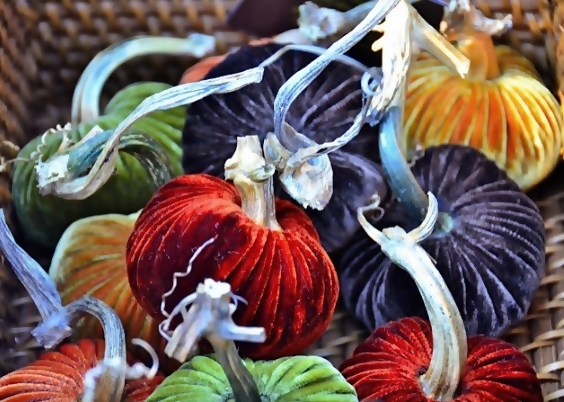 The pumpkin, to me, offers much in the way of being full of ideas in regards to gift-giving. Be it the gift of a pie, a cake/cream cheese roll, muffins, cupcakes, pumpkin headed dolls or folkart items etc. We're soon to enter the season of Thanksgiving ~ the season of enjoying all the fruits [and stored veggies] from the harvest. Giving thanks and giving gifts to those we are grateful for go hand in hand. I hope your Autumn involves these things: inspiration to give … and that you also receive sweet acts of goodness and kindness from those you know and perhaps from someone who will surprise you :o)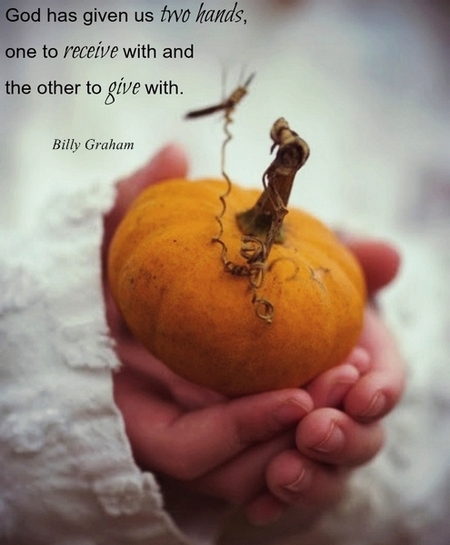 Ok, now onto local news of sorts. This is the time of year when northern cattle ranchers are busy doing their 'fallwork' – one word. We move cattle around, separating cow/calf pairs into two groups – heifer and steer pairs. It will make shipping day much easier. We worked pairs apart last weekend – our own and we helped my BIL with his cattle too. This weekend, we're going to vaccinate the calves and treat both cows & calves for parasites. If the weather allows, I would also like to ride quietly through the heifer/cow pairs and choose replacement heifers – bring them into the corral and ear-tag the keepers. *I* get to do the picking. One of the things that gave my ranchy self esteem a real boost years back was when my husband asked if I wanted to choose the replacements. It was like I got my diploma! It meant that I had 'arrived' in his estimation and was well able to discern quality. I married into ranching. I had bred horses and felt confident about judging horseflesh, but I was initially unfamiliar with cattle. Honestly though, quality is evident in all creatures and certain baseline truths are common. I know, too, that my Beloved wanted to encourage me to feel more connected to *our* livelihood and that the cattle were not just His that I acquired by proxy [marriage certificate]. ;o) It worked.
So, we get to do quite a bit of riding this time of year. Some days you can dress lightly, but it is looking like 'layers' of warm clothing are going to be in order for this weekend. It has been a COLD October. How I grieve for the ranchers to our very near West. What a horror they have had to endure with that freak storm [Atlas]. We only received 12″ [which is actually a lot for this time of year!] The worst of it was all around us. We were spared and for that I am grateful beyond words, but my heart sinks for those who face very tough times due to the terrible loss of livestock. I pray for their recovery and comfort.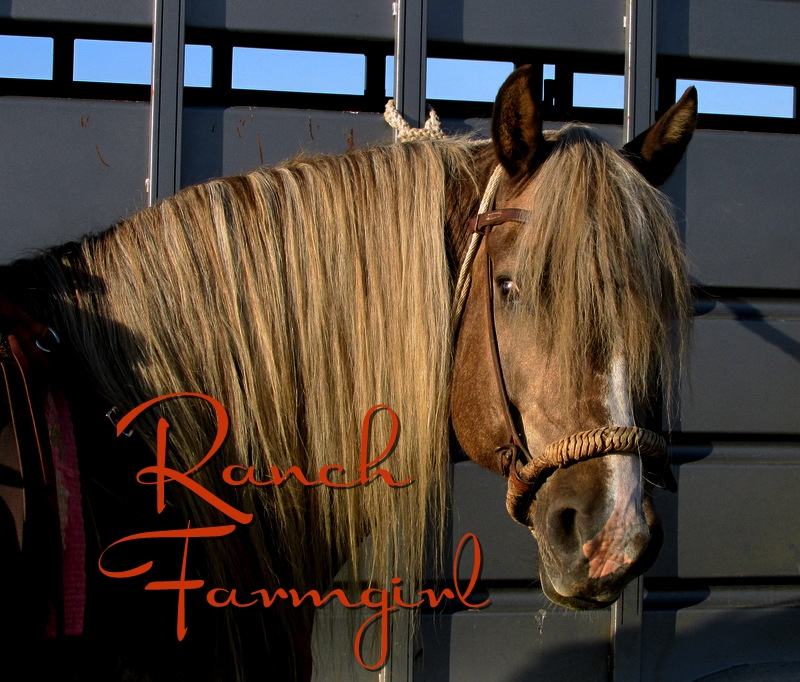 It is fun to see our friends when we help each other with fallwork.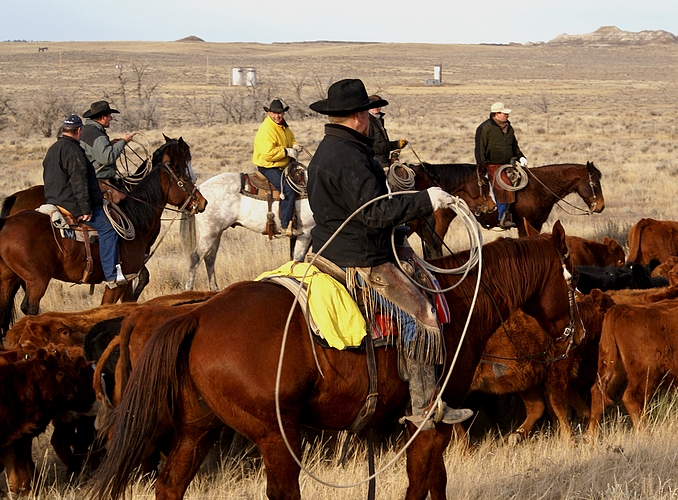 The other day, I took my Corgi puppy on her first 'working' outing. Below, she met a new friend long acquainted with ranch work.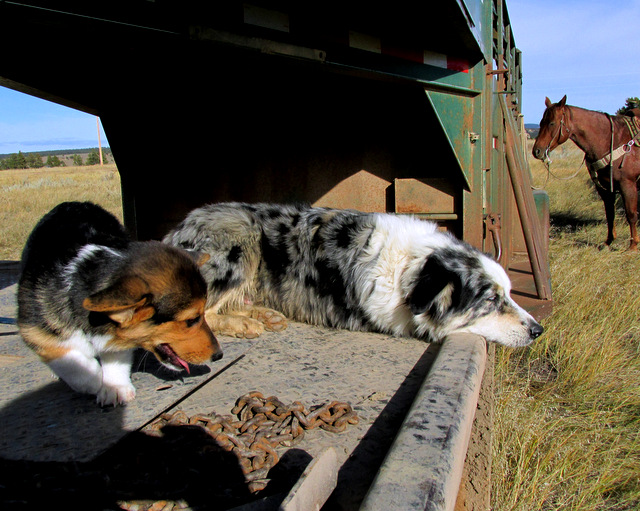 While we were working pairs apart the other day, I heard the riddled calls of Sandhill Cranes. Thousands pass overheard this time of year … going south. Usually, they are wayyyyyyyyyy up in the sky, so far up that if it were not for their calls, you couldn't tell if they were geese or cranes. They even migrate during the night. I stood out on our deck the other evening and listened to them with the stars and moon above. I took the photo below with little pocket camera. Apparently, hundreds of them had rested near a reservoir elsewhere on the ranch. They were obviously ascending. This is as close as I have ever seen them. They are coming back from their summer breeding grounds in northern Canada and Alaska.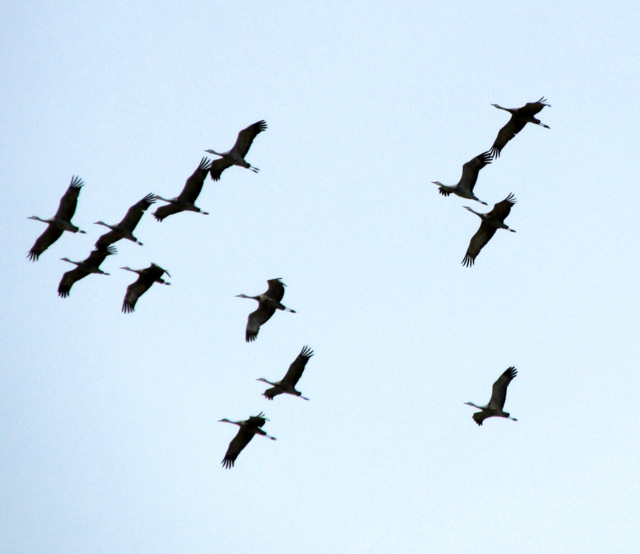 We're on a major migratory pathway for waterfowl. But, we don't get to see many of the 'fly overs' up-close. If they do stop to rest, it is brief and they're soon gone.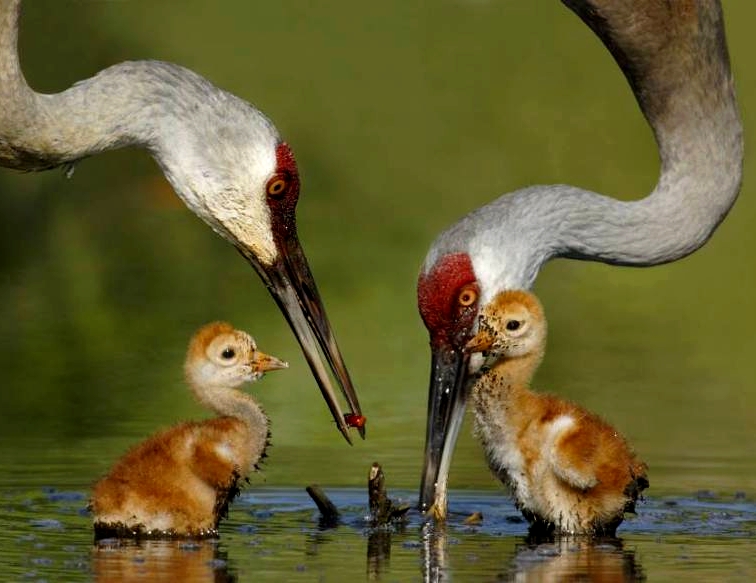 Do you enjoy bird watching this time of year? One of my favorite old Disney flicks is Those Calloways – starring Brian Keith. It was about saving the Canada Goose as a species. As plentiful as they are nowadays throughout the U.S., they were once nearly extinct in this country. Fortunately, the mindset of our culture matured and came to its senses in time to preserve many species of wildlife. Now, if only we could put some of that good sense to work in Washington. :o) And, with that I will close! Happy Fall Y'All !!