I.LOVE.SNOW.
My DEEP feelings for SNOW go way back. In fact, I don't remember ever NOT being enamored with Snow. I've loved Snow forever.
Of course, growing up in Georgia, and living there most of my life, I didn't KNOW Snow personally, but I fell in love any way. I suspect it is kinda like online dating? We have never met in person until I moved to this farm, but I loved SNOW before we met.
However.
Life on a mountain farm in "real" snow is way different than life in a house in Metro-Atlanta with a few flurries.
I am learning. How to get things done. How to manage in snow. Our farm was a dairy farm many many years ago. I try to imagine what it was like THEN. To get everything done in winter on a dairy farm in, say the 1940's. Now, with all the modern conveniences I have, surely I can take care of myself, my family, and a few farm animals in the winter.
It's bright and early Monday morning. No school again today. (yay!) The world became white a few days ago. Later, at sunset, this snowy world will take on a pinkish tinge as the white snow reflects the cotton candy clouds. I've been waiting on the snow for months now. "Been a-missin' you."
But for now, let's get ready to head out. The temperature is a balmy 14 degrees.
A few things I've learned.
Boot dryer.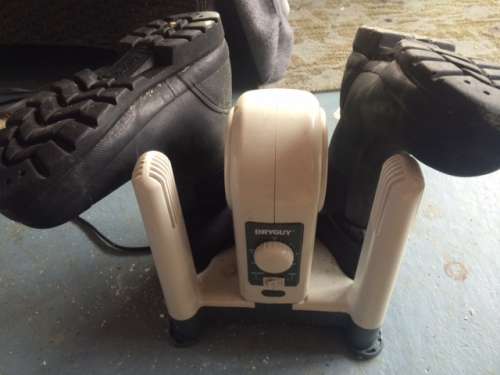 Get you one. When you need your boots, you need them to be dry on the inside. Believe me on this.
Also, get two chicken waterers. Keep one in the chicken house and one in YOUR house. Let's go get the chicken waterer and fill it up before we head out. Mine's in my pretty 1970s funky blue tub.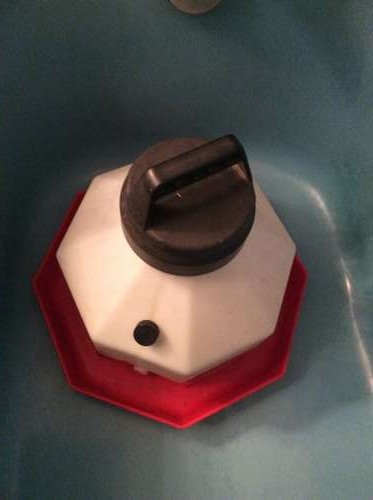 Oh yes. One more thing. The hose. I don't have water at my barn, so I get water to the horses with buckets and a hose. Now, in winter….hoses freeze. So, I bring the hose into the house. It is in my hallway. Let's grab that too and head out.
Excuse me, Feral Barn Cat with a mustache who now lives in my house.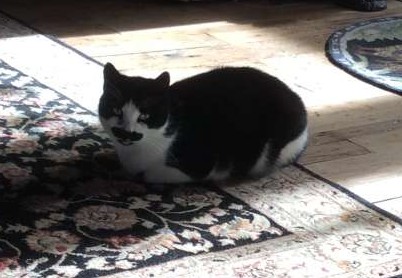 Here we go. Here's the hose.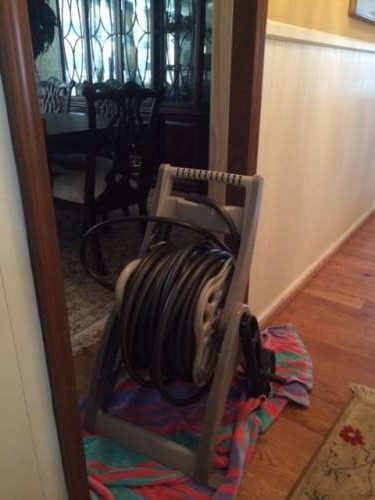 Wait, wait. One more thing. I think I'll have coffee with the horses this morning, so let me get a cup of joe to go.
Alright. Let's go to the chicken house first.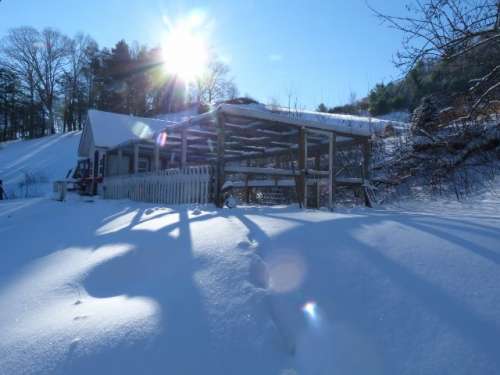 One thing I've learned about chickens is that they do not like the snow the way I do. They will just stay in their house and aggravate and bother each other rather than go outside. I've figured out a way to get them out and about. I put out hay on top of the snow for them to walk on, peck around on, and cuddle up in. So, let me put out some hay and I'll be right back.
Okay, done.
Here they come. The rooster leads the way.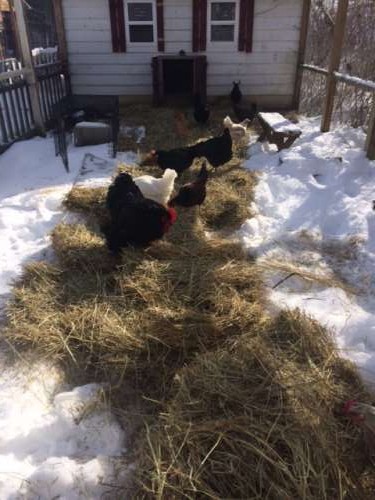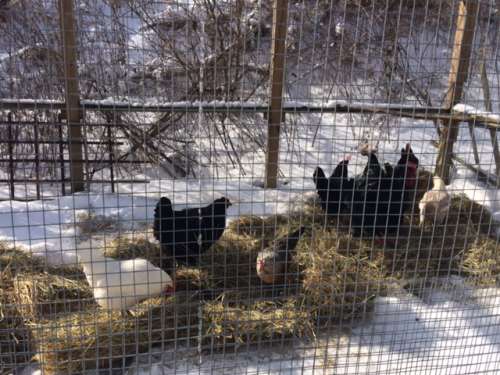 So, now let's take care of the horses.
Here's Little Banjo saying, "Top of the morning to ya." His head is about as big as his body. He is half pony, half miniature horse.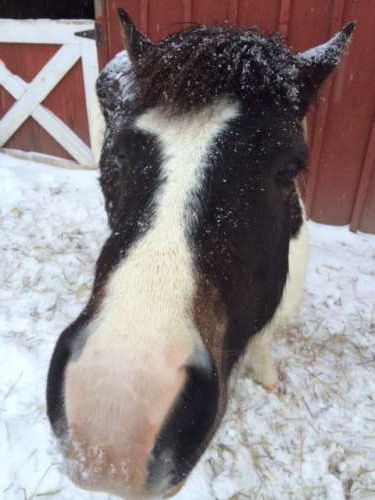 Let me sit down and have that cup of coffee before it gets any colder.
I pulled a couple of chairs into the barn this winter. I have enjoyed them being in there. Half the charm of having horses is being able to hang out with them. Now I have a place to sit and just hang out.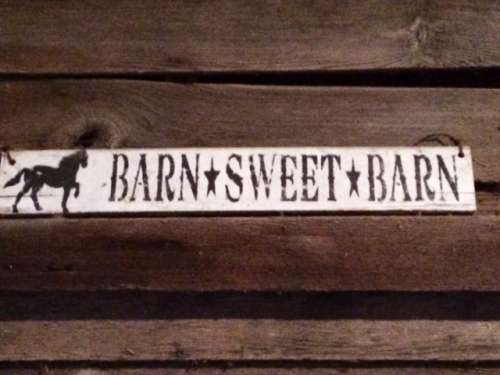 Here's what I see while I sit here and drink my coffee this morning. (I have also been known to sit here and drink a glass of wine in the evening.) It is quiet here, the only sounds being munching of hay or a bird chirping. Yesterday, there was a hawk in the barn that couldn't figure out how to get out. When I came in, it was totally freaking out. I opened all the doors wide and showed it the way to freedom. Thankfully, today there is no such commotion, just these guys.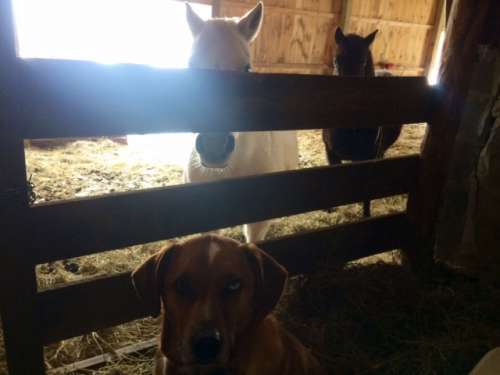 I would tell you that they just admire me this much. Blue, the dog, and the horses gazing lovingly at me.
But the truth is that yesterday I had a cup of coffee AND a bowl of oatmeal while I sat here. I gave them each a little bite of my warm oatmeal. So, that's why I have their undivided attention. Oatmeal. Which I do not have today.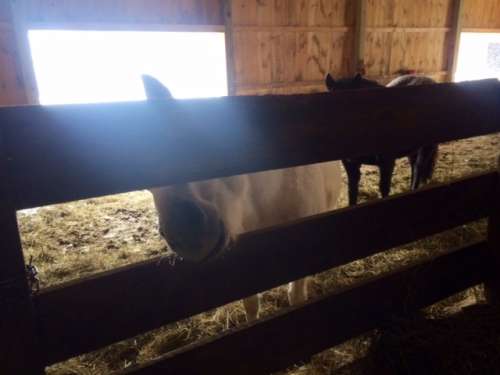 My Magical Merlin thinks I DO have the oatmeal. Got to go kiss that muzzle. Big smooooch! Not exactly what he wanted when he stuck his muzzle in there.
I've had a little bit of coffee, so let's head out and get the horses some hay. I use this wagon constantly. It is my HAY wagon. It is also my SITTING wagon. Once I get the hay out, I flip it up and sit in it. I'll show you in a minute.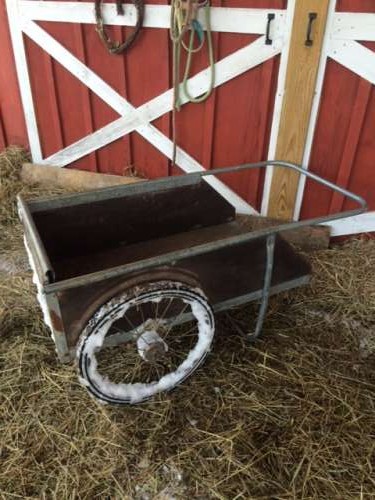 Oh, have I shown you the sign I made? It is hanging right here and speaks the truth.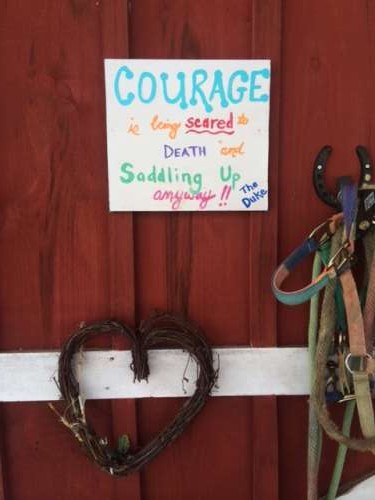 Me=scared to death.
Okay, let's go to the hay bay of the barn and get some hay.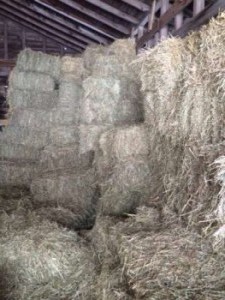 Argh. It is hard to pull this wagon through the snow. Even with tire tracks, it is is tough to pull!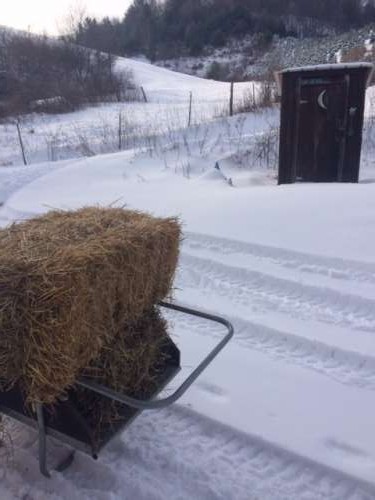 I know.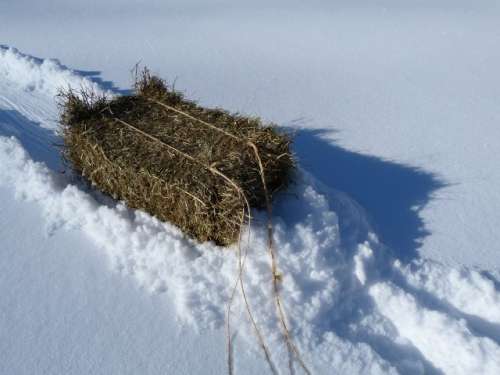 I got the hay out of the wagon and am simply sliding it across the snow. Much easier!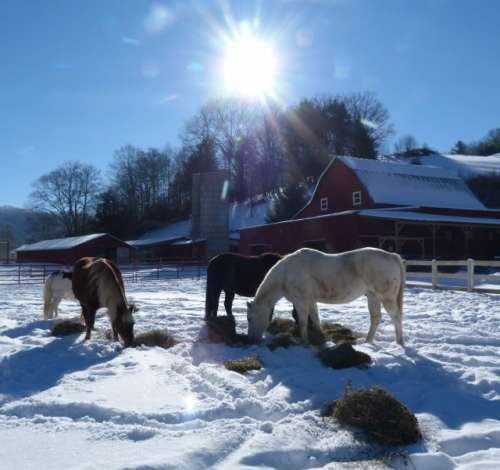 Here you go, Cutie Pies. Hay!
Hmmmm, it is incredibly bright out here. It makes my eyes ache. I'm glad I have sunglasses in my pocket. Now, if my eyes ache, it means Mr. Merlin's do as well. He is very sensitive, both physically and emotionally.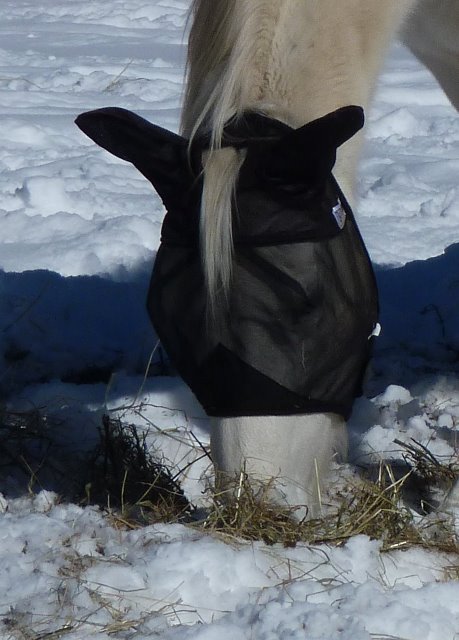 There we go. His fly mask should do the trick.
Okay, let me go get my wagon and sit for a minute with the rest of my coffee. I'll show you how to use the wagon as a chair just in case you ever need to know.
Like this. It is a rocking chair. I am leaning my back on the bottom of the wagon and above my head is the handle. You see?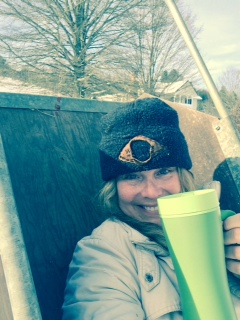 I laugh at this photo. No makeup. Hat that has been chewed up by the dog (Oreo!); it used to say "Whistler" in the front. I got it on a trip we made 15+ years ago to enjoy the snow in Whistler. I wear it because it is the warmest hat ever, not because it is photo worthy. And, you should see that coat. It has been my puffy, warm barn coat for 3 years now and it is a mess. I throw it in the washing machine every few weeks. This year, I used masking tape on the pockets and the holes. But whatever. I'm smiling and that's what matters, right. Ah, farmlife. Stinky, dirty, wonderful farmlife. Sitting on a wagon, smiling like a fool farmlife.
Actually, now that I think about it. Maybe I'll throw out that coat at the end of this winter and treat myself to a new one. Maybe. Maybe not.
Time to head back inside. I'll change clothes and hang the wet clothes up to dry. On my to-do list next is building a fire and making some tiny biscuits. And do some lawyering. It's a good day. A very, very good day.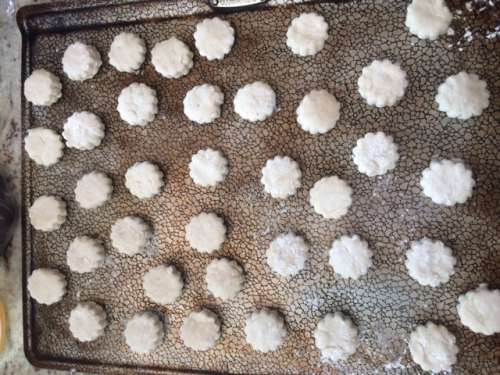 Until next time, Friends, savor the flavor of life!
Lots of love, The City Farmgirl in the Country, Rebekah