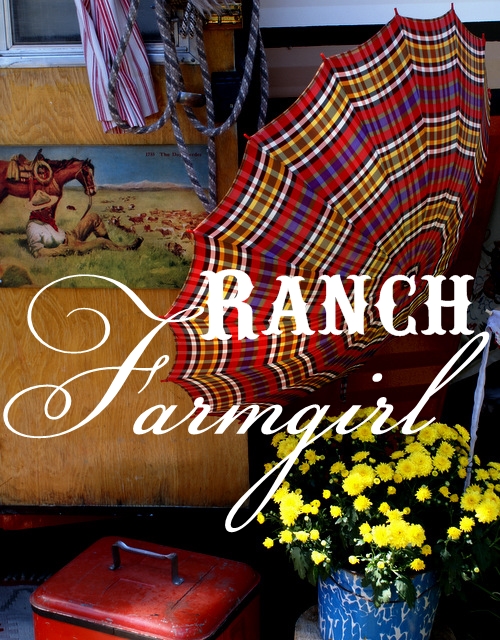 Remember the old Neil Diamond tune, September Morn? It came to mind a Saturday ago. My glampy galpals and I participated in our little town's annual classic car show. We reserved a corner in the city park and glamped up our part of the show in Glamperous fashion, in full regalia! It was a beautiful September morning that turned into a hot 'indian summer' afternoon. It was so much fun sitting around all day and visiting with the mob of passers by. The glampers were open for everyone to look at and they were a huge hit! Golden Oldies music filled the air at the park. It was like being in a time capsule, or taking a trip back through the years, back to a time when your food order was brought to your car and sat on a tray hung on the driver's window. Memory Lane to be sure … and we had alllll day to linger in that now far away place – "Happy Days".
"September morn, we danced until the night became a brand new day, two lovers playing scenes from some romantic play."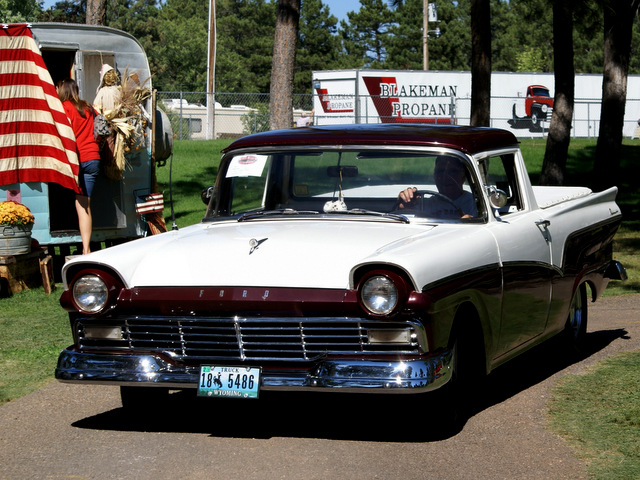 Above: A gorgeous 1958 Ford Ranchero slowly glides by 'Glamper Row'. I love the colors … the same as a very popular drink when this old beauty was new … Root Beer float.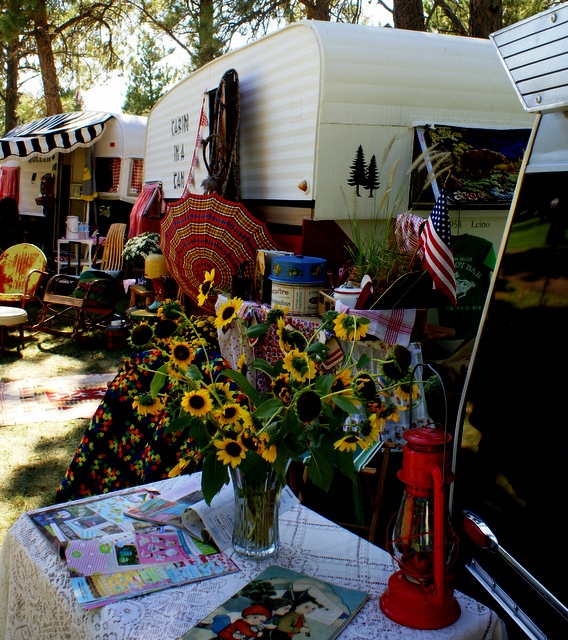 Here we are, in part … rowed up. Glamperville! There were six of us. Our next glamping trip is scheduled for the end of this month. So, stay tuned. Our number might be eight glampers by then, with my sister hopefully having her glamper road-ready and Heather having a glamperized pop-up camper.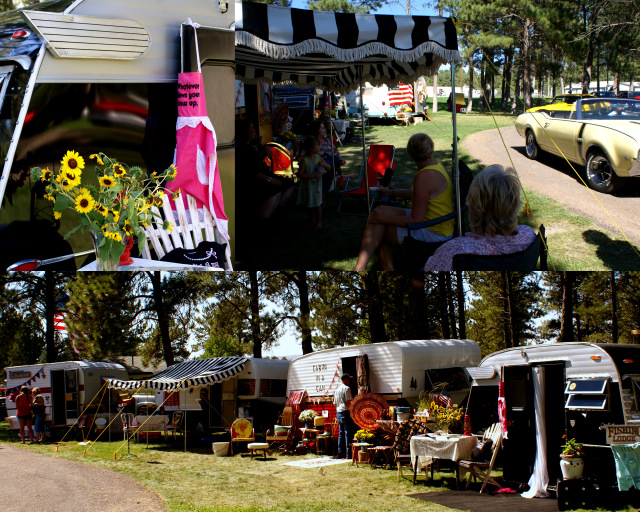 Below is Anita's IttyBitty Bunkhouse.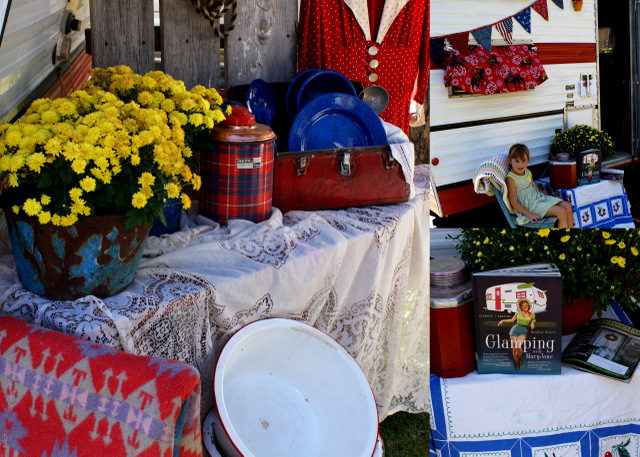 Our new glamping sister, LaDonna, was in attendance too, Her freshly renovated glamper was unveiled. Meet "Stitchin Sally". LaDonna has an upholstery business, hence the name. Here is a visual tour …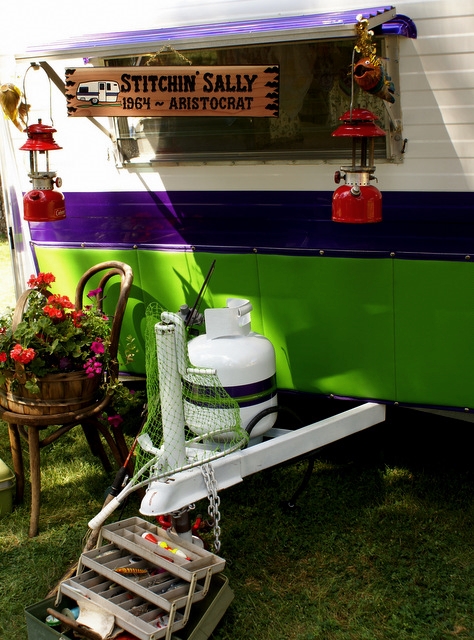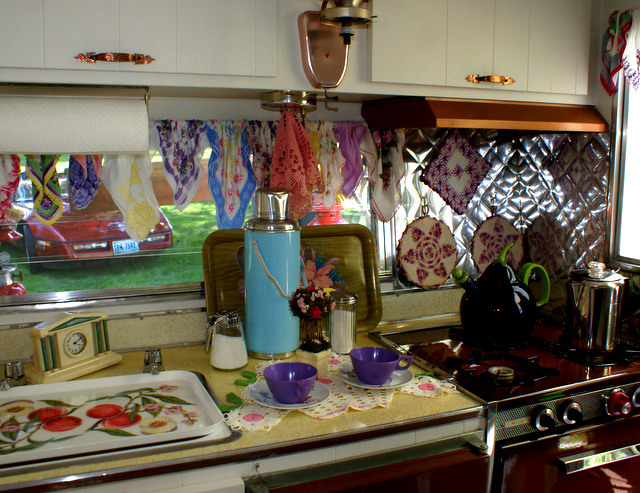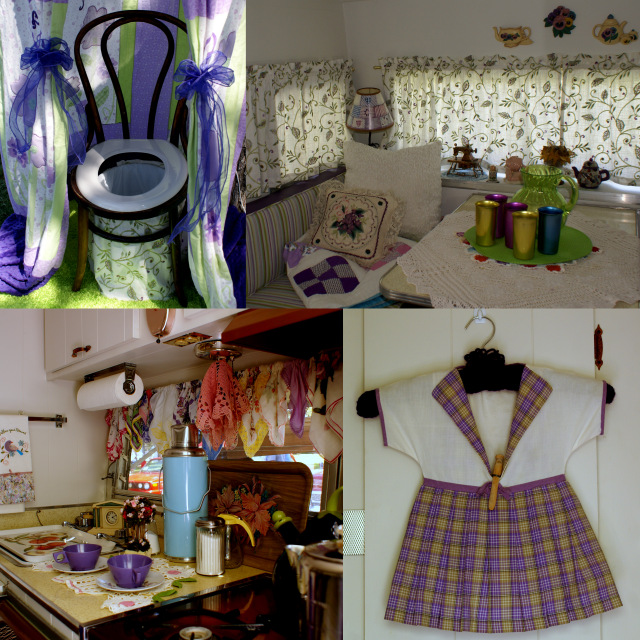 I interrupt this broadcast to share a fun find for farmgirls that love old canning jars. I'm inserting it here because it has many glampy applications. I found these mason jar 'ReCaps' the other day. You can use them for drinks, sauces, salad dressings, beverages etc etc etc. You can buy them on eBay or Amazon. There are standard size ReCaps and wide mouth. Neat, hu?!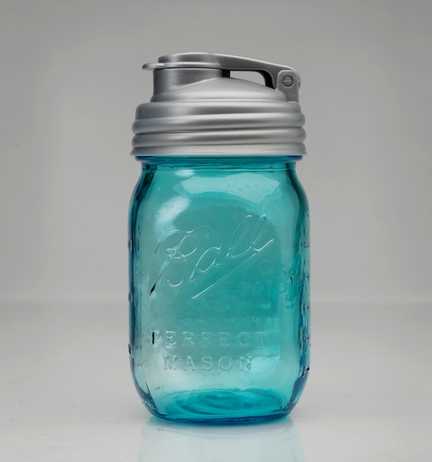 Ok, back to the Glamperville tour. Here are few pics of my glampsite…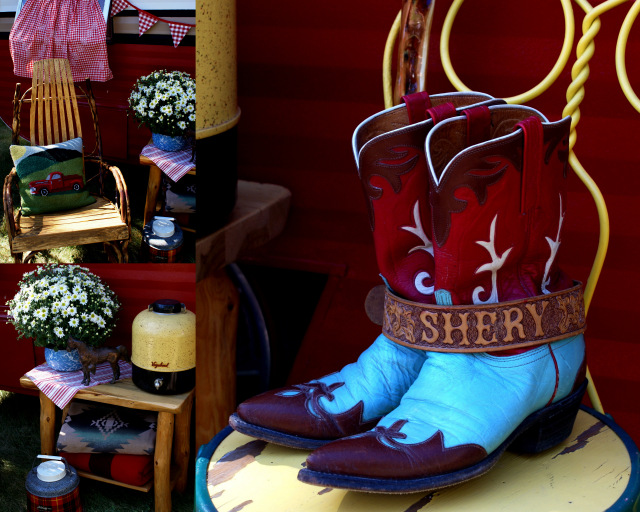 We displayed MaryJanesFarm books & magazines at each glampsite and explained to lots of visitors MaryJane's key role in the Glamping phenomena.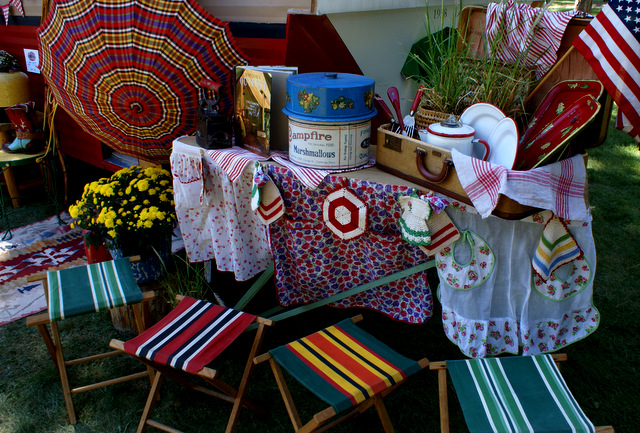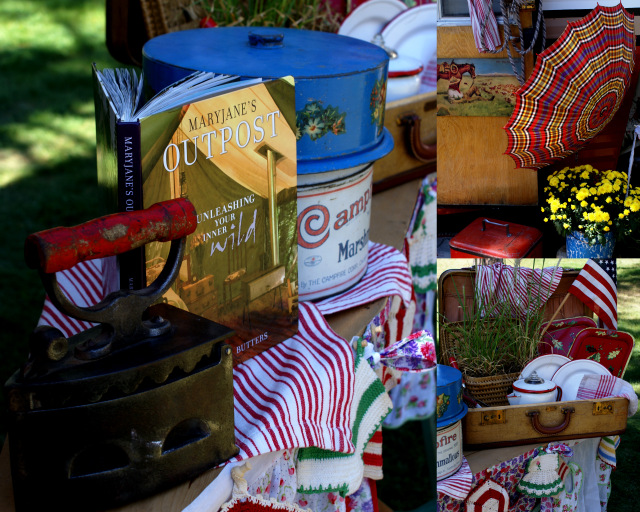 And, the cars … Oh, how I lovelovelove old cars. If I could pick my top three wants, they would be, well, first of all RED, then these models: 50s era pickup, 50s era flatbed farm truck, 50s era Chevy BelAir.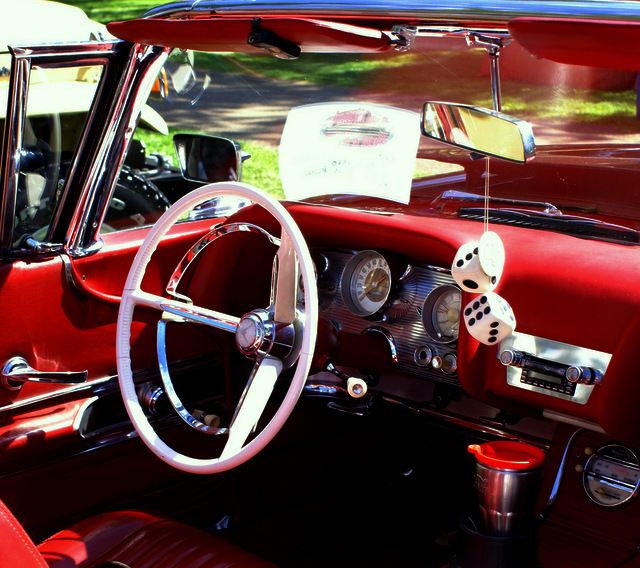 Red, red … and more red …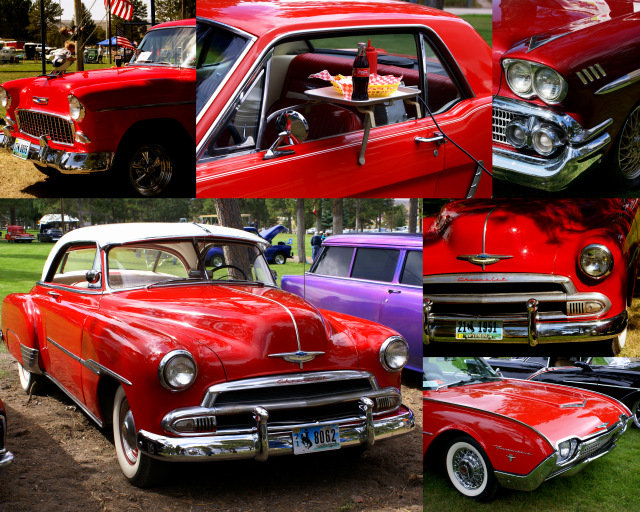 And this red 1958 Chevy BelAir makes me swoon…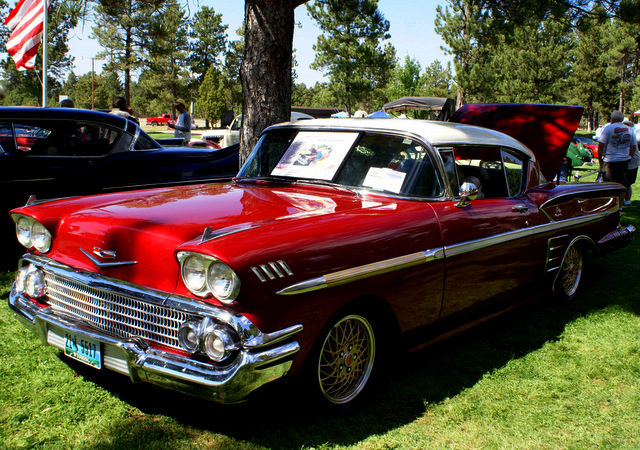 There were lots of other colors too. Below: A black 1958 Buick and a 1959 Ford Fairlane.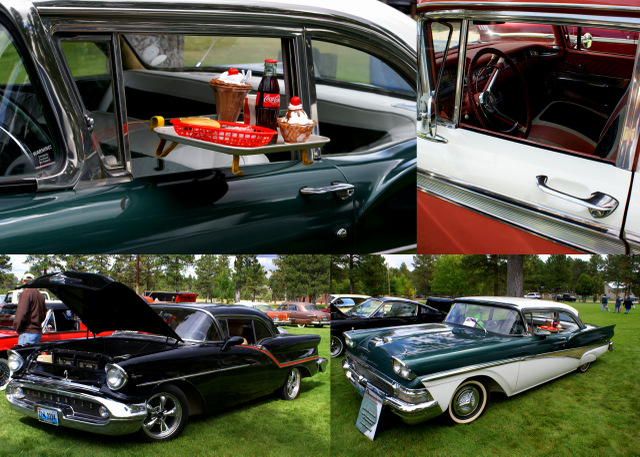 And, lots of old pickups. The propane truck below is one that belongs to an old friend of my husband's whose father drove this very truck to deliver propane back in the day.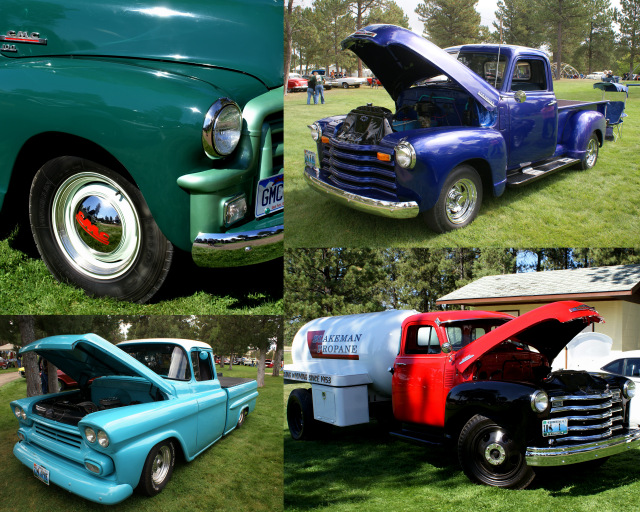 There were several 50s era Chevrolets … the dreamboat muscle cars. My husband and his brother each had Chevys like these – a 57 BelAir and a 57 210. Lynn so regrets selling his.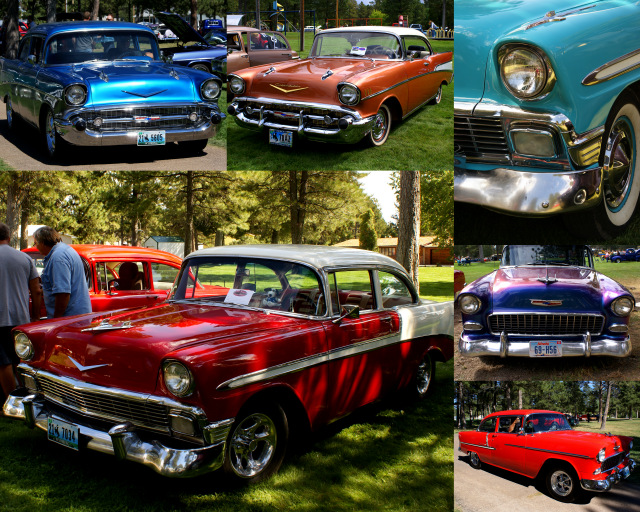 This fuschia pink beauty is a 1959 Ford Fairlane – owned by a friend of ours. Ain't she the berries!!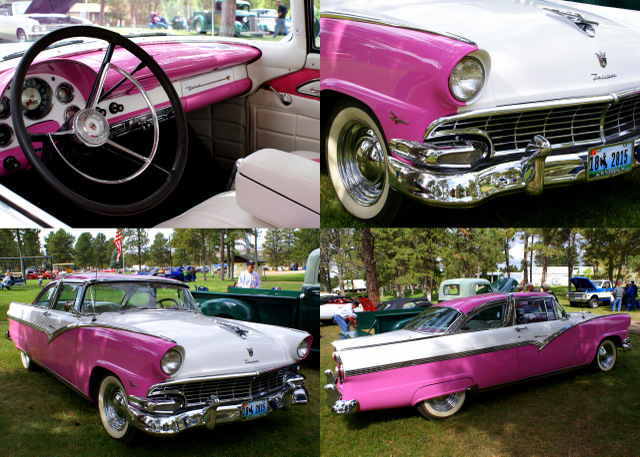 Other September goings on back at the home-front include saving seeds. I planted a new variety of Cosmos. They are much brighter pink than the old fashioned version, and MyOhMy are they prolific bloomers; plus they're about 3x the size of the old favorite. So, I'm saving seeds for next year. Some of the flowers are solid magenta while others are white with colored borders.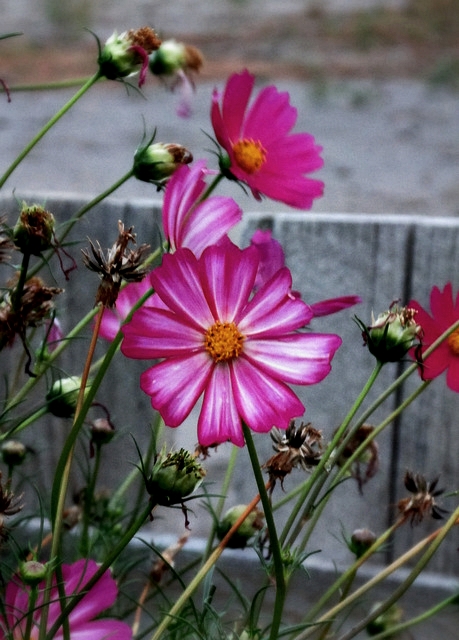 Gotta save some Morning Glory seeds too. The Grandpa Ott variety puts out gobs of seed pods that are ready to harvest now.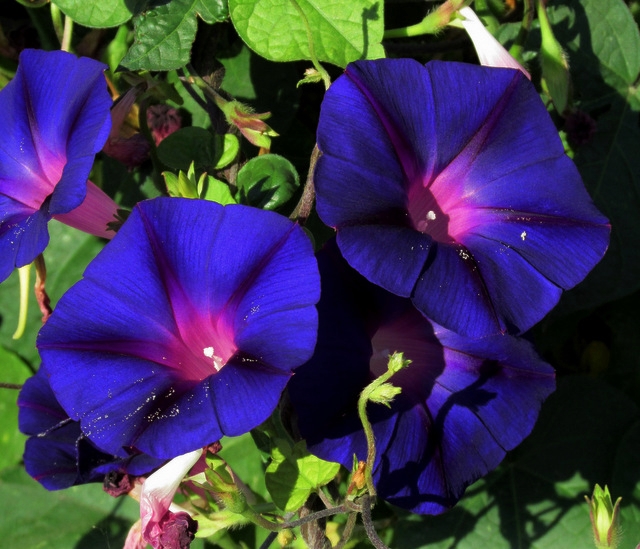 I've been drying tomatoes and freezing them. I'll most likely can some salsa too.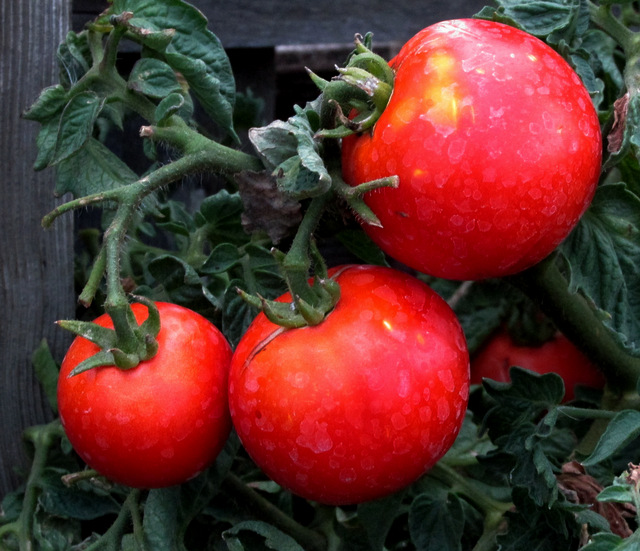 A friend turned me onto four heavily laden apple trees. I'll round up a couple of farmgirl pals soon and go on an apple picking safari. The trees are so heavily laden this year that the apples hang like monster clusters of grapes.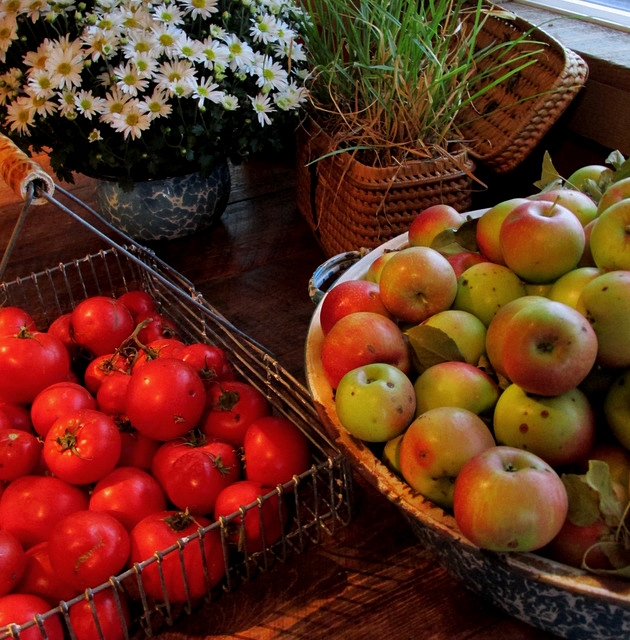 Lastly … and lately, I've been studying a lot of prophecy. While the end outcome is GOOD, there are many troubling times ahead and many of them are here – as opposed to coming. So many signs are occurring in real time now, 'live-streaming', if you will. Sometimes I have a hard time wrapping my brain around the reality. The other day, I was a little overcome with just how deeply and broadly the darkness has metastasized and how broad deception is – and in so many forms. At one point, I had to step outside. I walked out onto our deck and for no apparent reason I glanced up. There it was right above me, a signal, a symbol of hope so obvious that I knew exactly why I was moved to go outside for a breath of fresh air. An upswept cross. All my anxiety fell away. Hope was renewed. The 'good old days' are not all behind us. Oh no, the best of days are just ahead. True 'HAPPY DAYS' will be here again!