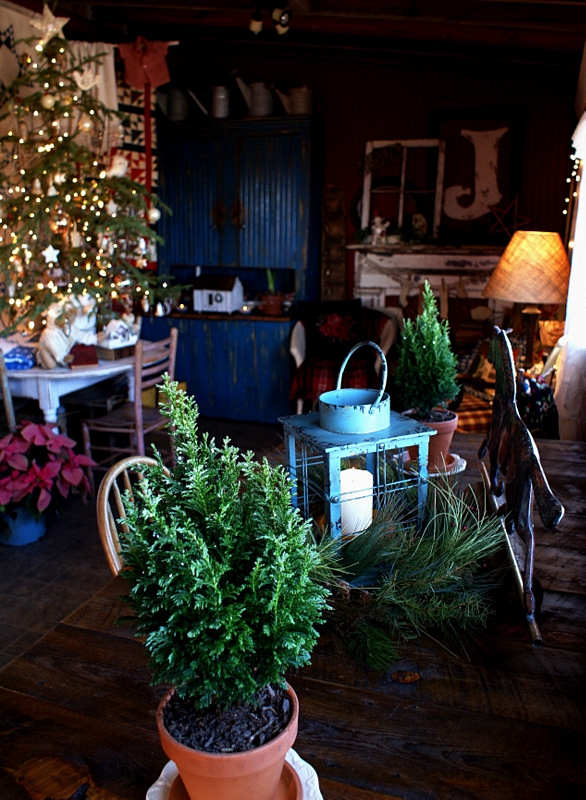 For over a year and a half, my husband and I have been working on building an addition … a "porch" of sorts that would multi-task. Our house is small and we needed a dining room that could seat 8-10 people. But, it also needed to serve as a mudroom. The challenge was to make it pretty and practical. The absolute deadline was Christmas 2012 because it was our turn to host the holiday get-together for my family. We did it! I love my new sanctuary … C'mon on in and have a look …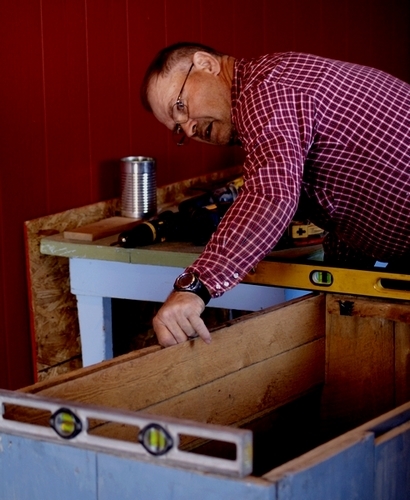 First, here is my carpenter-husband at work this past summer. He built every inch of the porch in his spare time. Also, 90% of the building materials are recycled – all of the lumber! We dismantled an old school building. The sub-floor is made of the school's hardwood gymnasium bleachers, as are the steps. We were building the porch and refinishing antique furniture simultaneously — working on top of what we were building – not ideal to be sure. It was difficult to stay out of our own way

 In this picture, Lynn was 'putting a fix' on my 1880s era step-back cupboard (given to me by a friend). It was in dire need of a rescue and as crooked as a country road. But, Lynn firmed her up and I put a new "old" finish on it. I've wanted an antique cupboard like this for nearly 30 years … and it HAD to be that wonderful shade of indigo so popular in the 19th century. Here she is at long last … Ta-Dahhhh!!!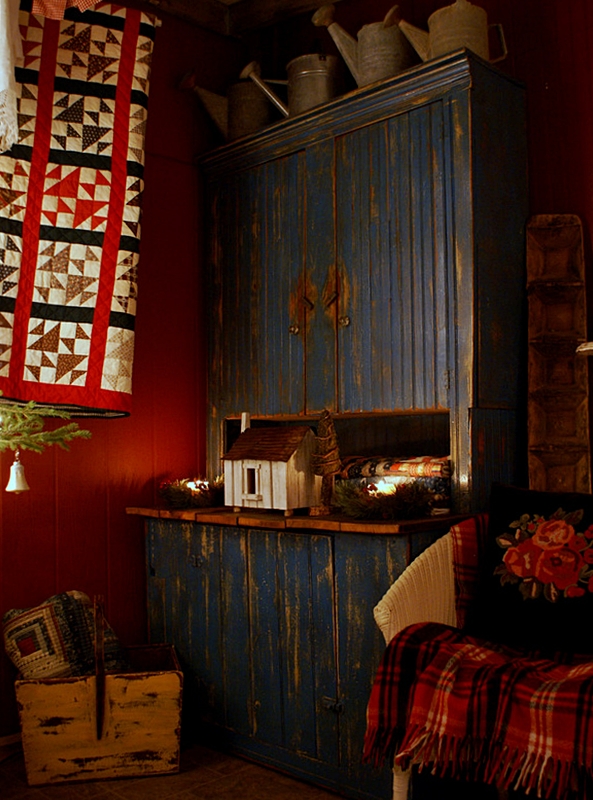 My farmgirl pal, Michele, built the little house and she made the tree too. Both were inspired by the book, Seasons At Seven Gates Farm.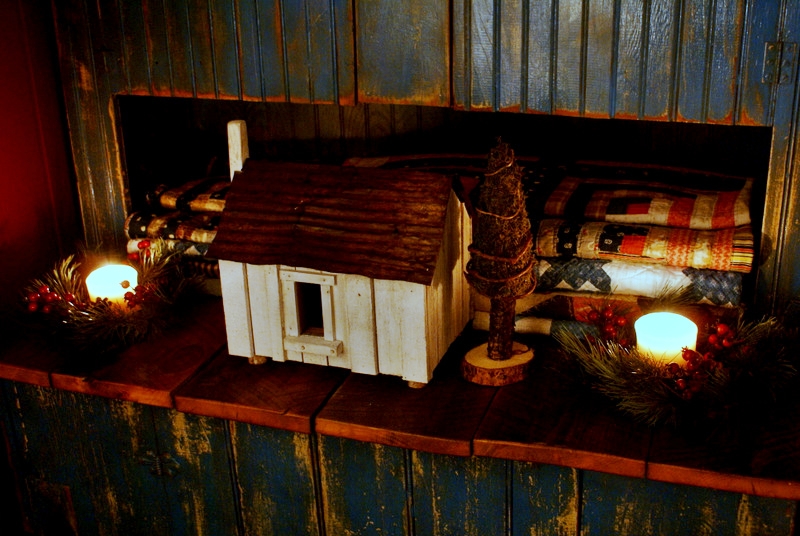 Once we had finished the porch and all the furniture refinishing, I had no time to dawdle as I was looking down the barrel of Christmas right around the corner. So, I cleaned the porch from stem to stern and immediately moved EVERYTHING in and then decorated the porch and the rest of the house for the holiday season. Ready for the tour?
Here 'tiz … and my sister & I.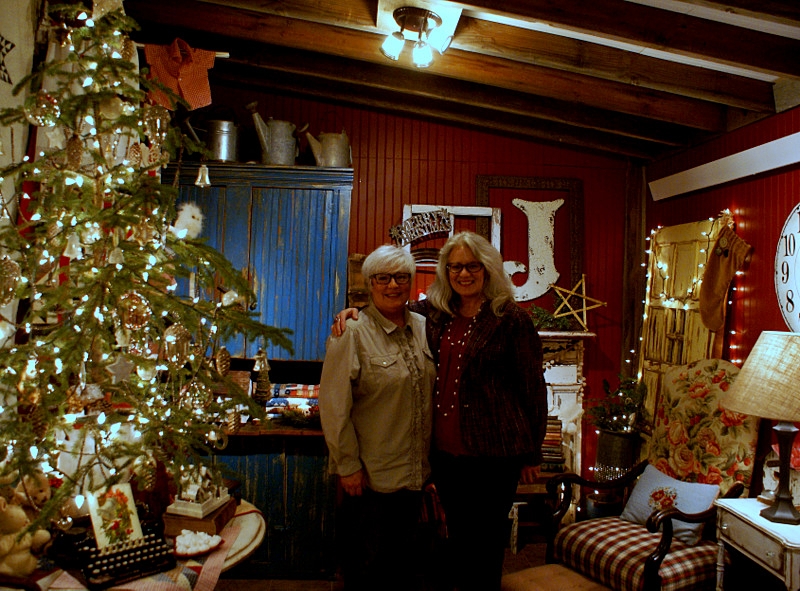 A few details: I bought the upholstered chair 30 years ago and had it reupholstered by a friend recently. The small white sidetable was purchased this past fall at a benefit auction; I refinished it. The round table that the Christmas tree is sitting on was pulled out of an old shed on a ranch. My sister gave me the ladder-back chairs. I was going to re-paint them, but I decided they're cute just the way they are; all they needed was a little Tung oil. The blue and white Bethlehem sawtooth star quilt (hung on the wall) was one that I bought in Ohio in the late 1980s. It is a masterpiece and quite fragile now. It was made in the late 1800s. Perfectly matched points on the stars and tiny quilting stitches tell of hands well acquainted with the quilting art. A few of my farmgirl pals joined us for our Christmas party: Donna and Anita (their husbands came too).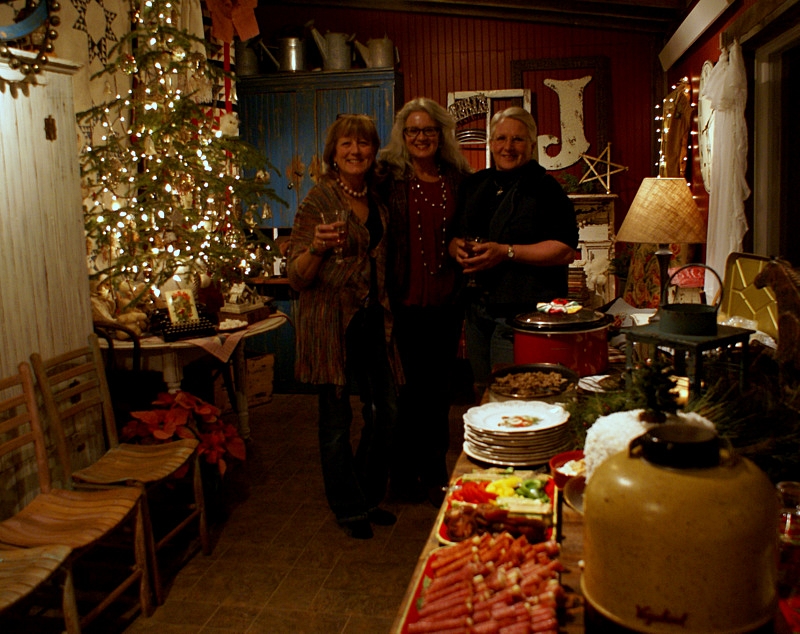 I found this old sign at an antique shop; it had been painted solid white. You could barely make out the lettering on it. So, I repainted the message, sanded it off a little to age it again and then applied a light coat of spray varnish. It now graces a dutch door that Lynn built in place of the former exterior door into the house.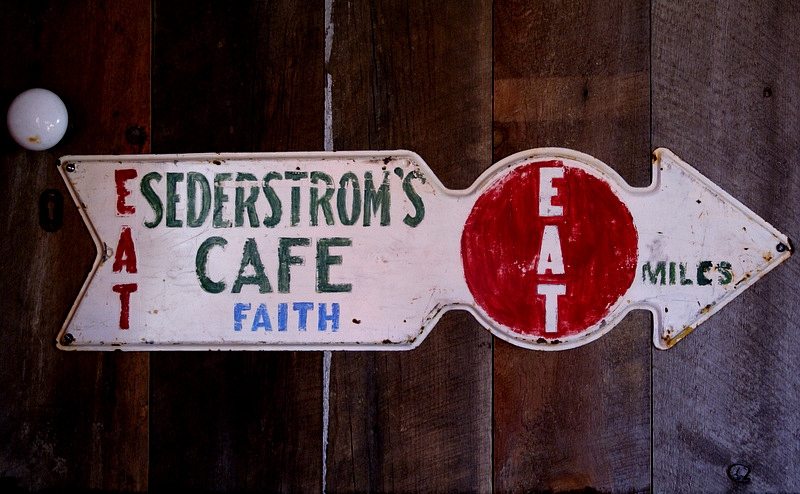 One of the other things my new porch needed to provide was more storage! The old blue cupboard is my emergency pantry. The white cupboard is a general catch-all and the large barnwood closet that Lynn built is the "hidey-hole" for boots, coats, chaps etc etc. I didn't want all of that to be visible, so, we used an old shed door on the closet. I'd stashed a couple of white porcelain door knobs and closures for the closet and the dutch door. I also found a piece of old textured tin for the closet door.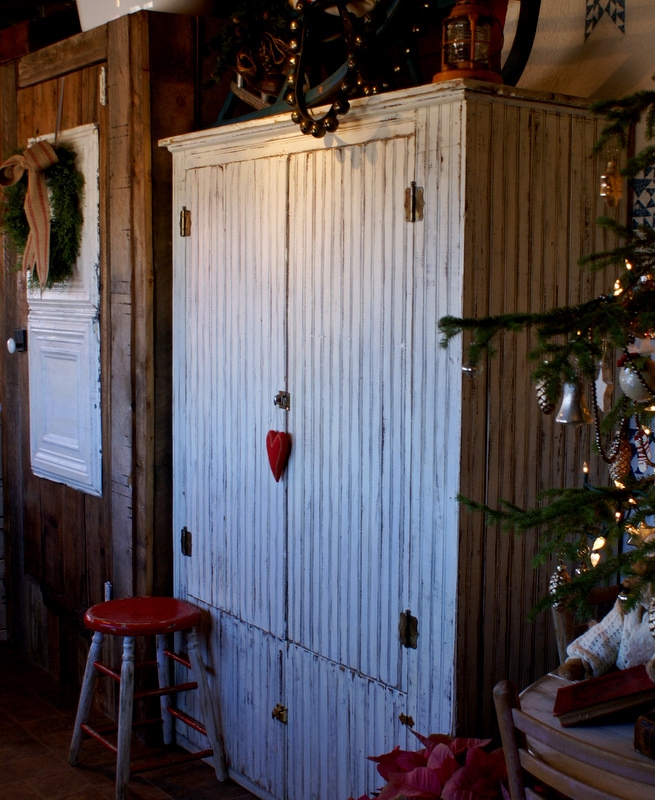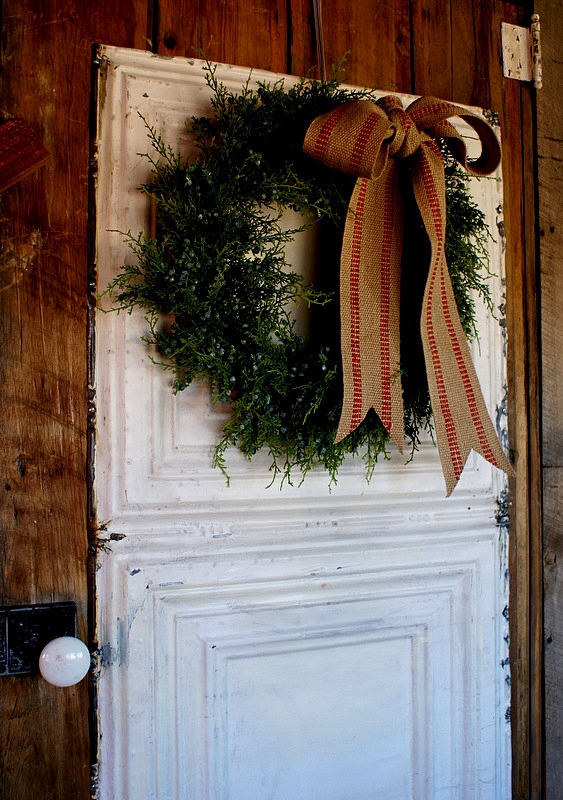 I really like RED and I decided that barn paint would fit my old farmhouse theme perfectly. We put beadboard on the walls for an old fashioned look.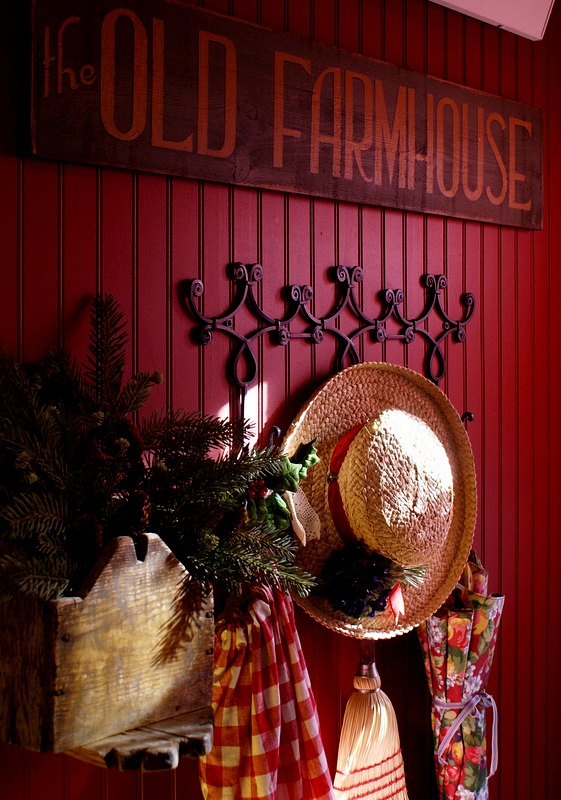 A checkered apron serves as a curtain on the door. Next spring, the plan is to walk out of this door into a screened patio. Phase II of the make-over.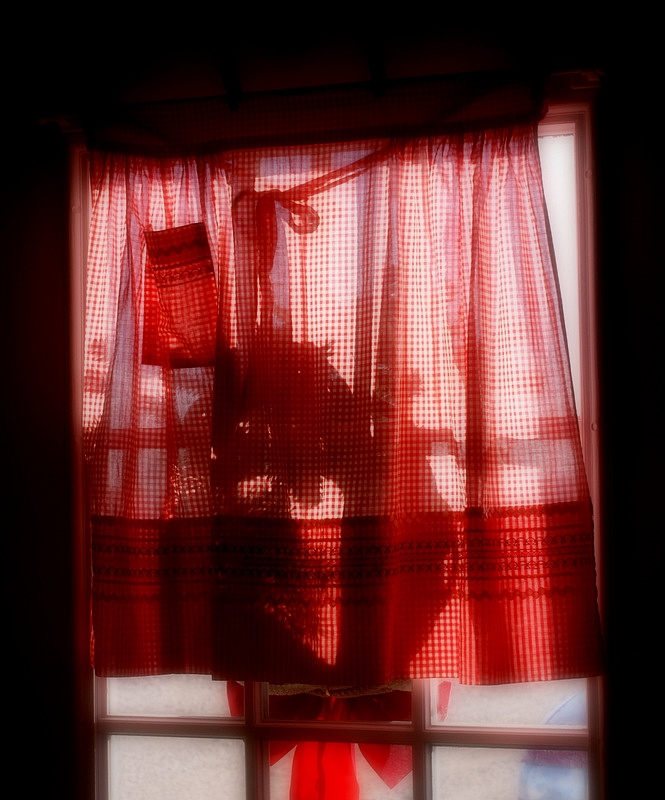 The oil painting was a gift from my sister.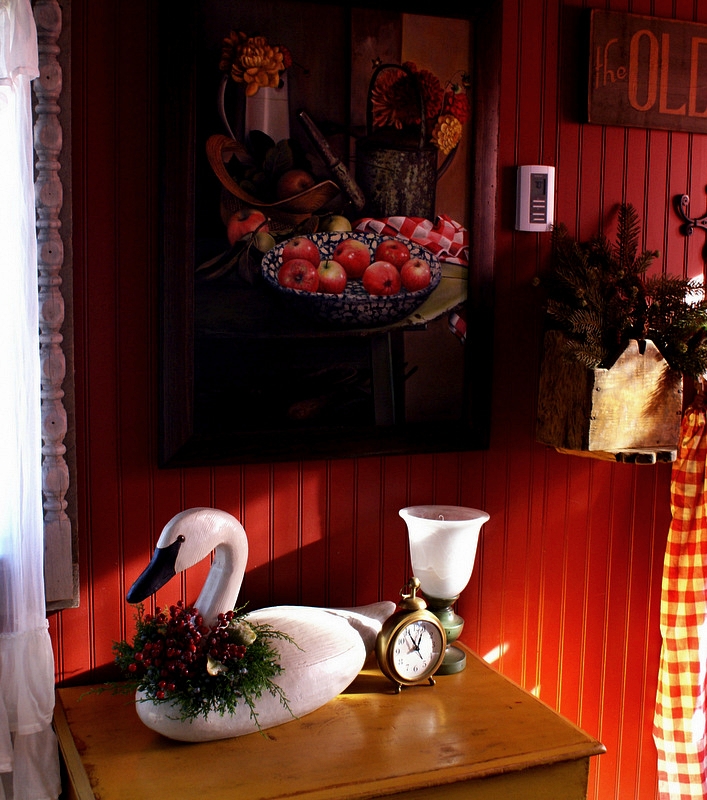 Ok, you get the idea by now … so, below are more photos …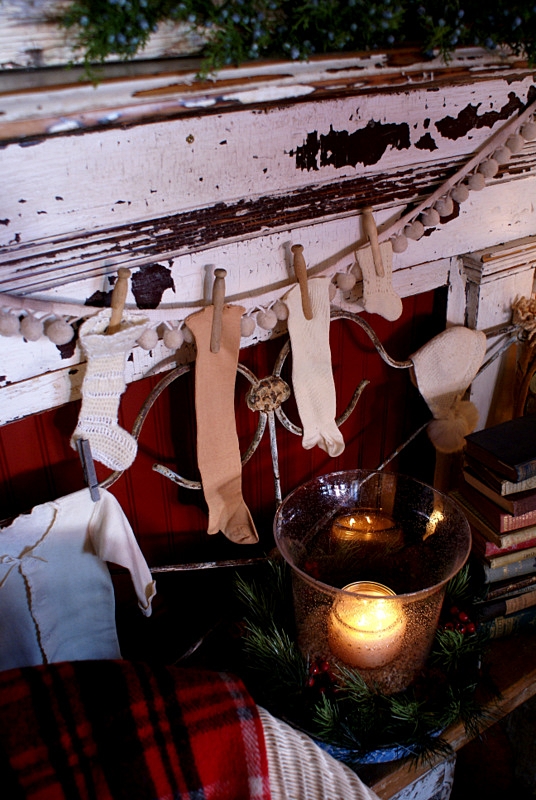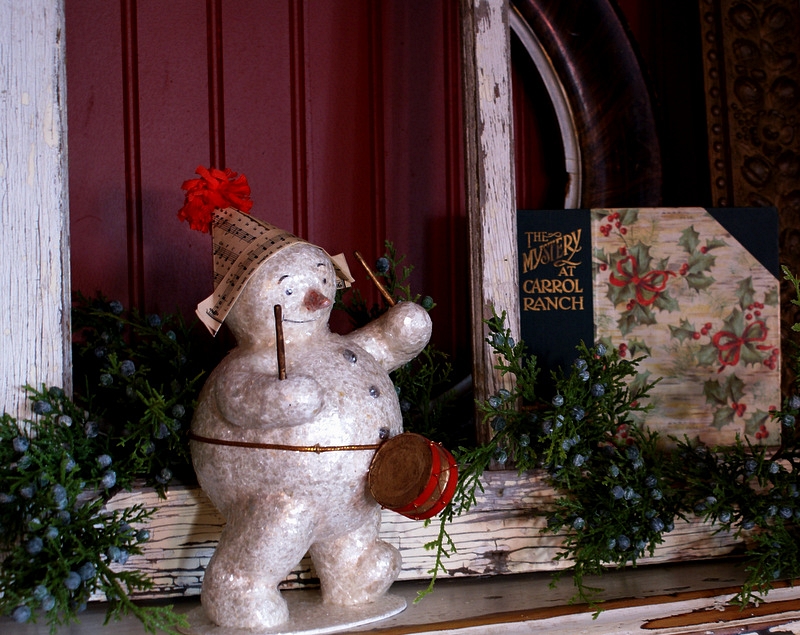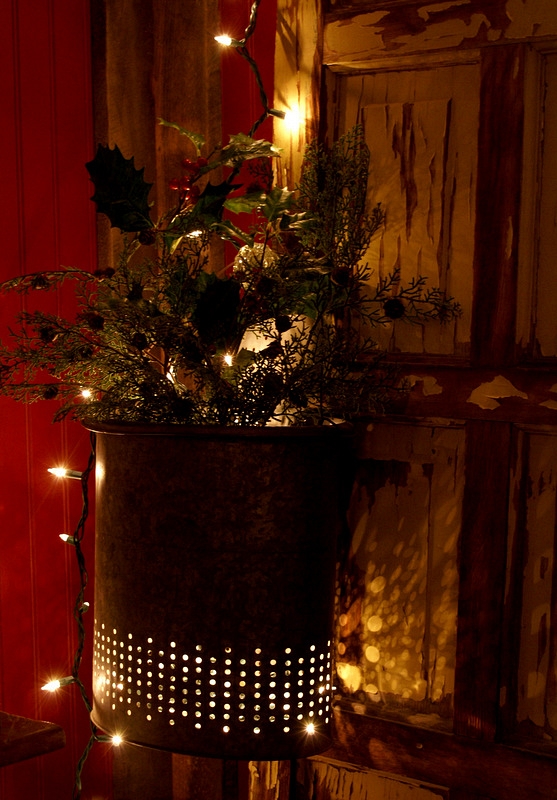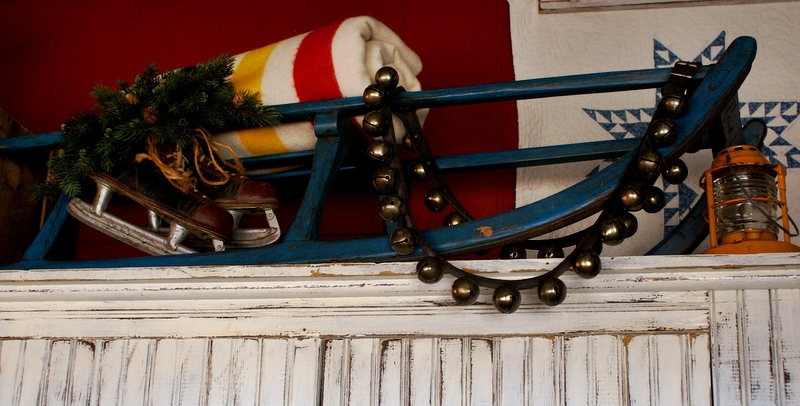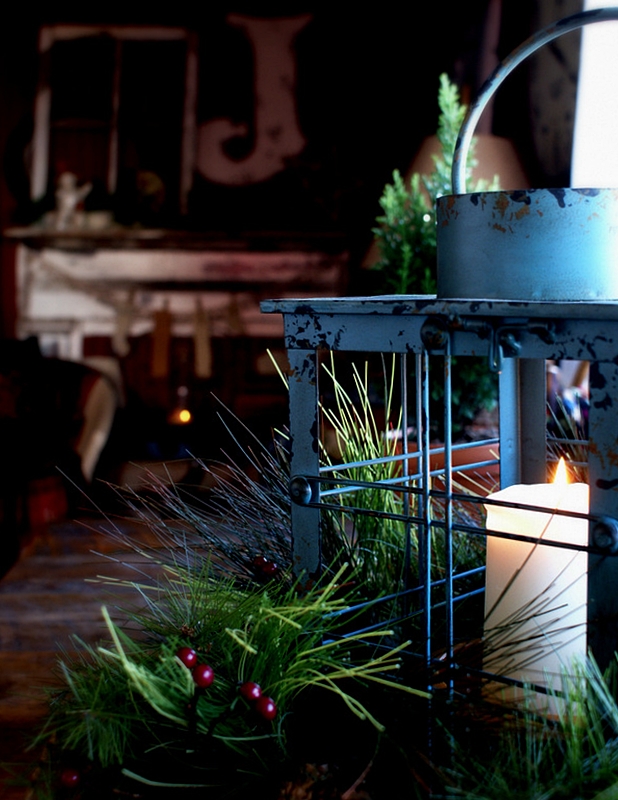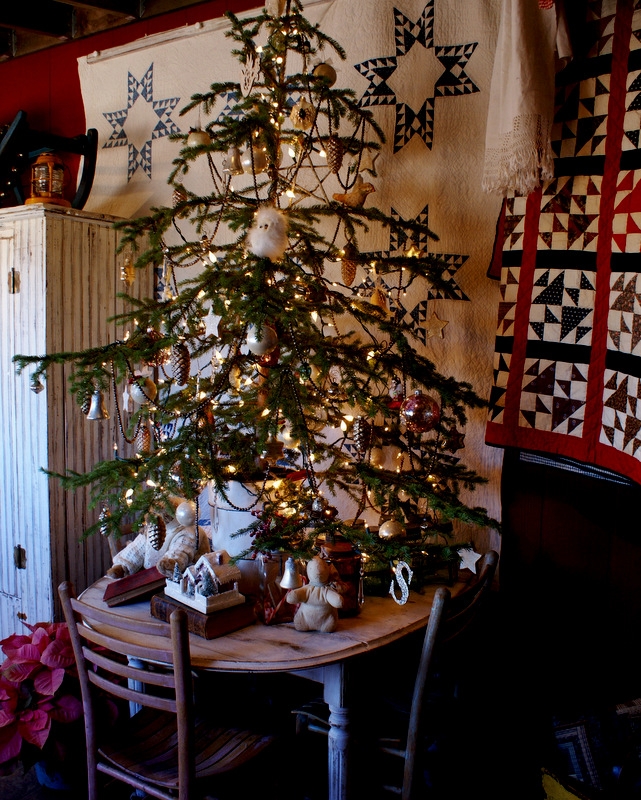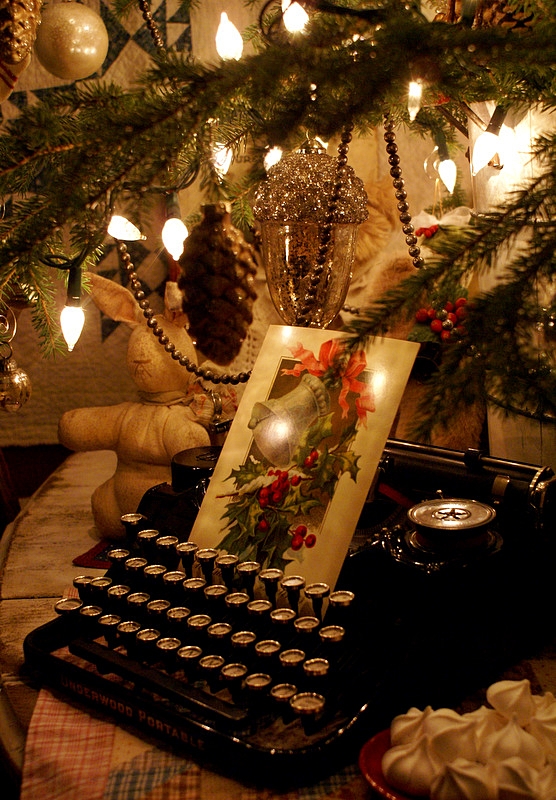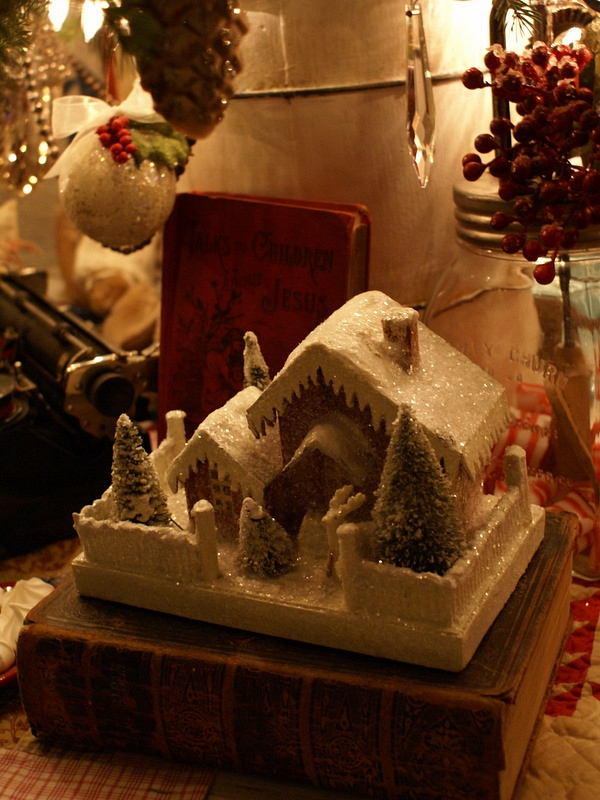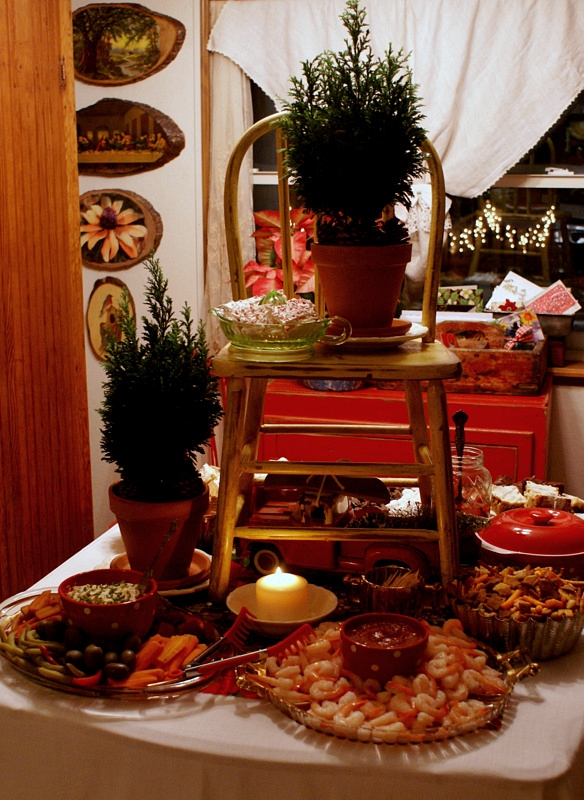 As a special treat, I ordered a cake from my friend, Brittany. She's a gourmet baker. I saw a picture on Pinterest and thought this cake would be the perfect Christmas cake. It was four layers of dark chocolate — coconut frosting, covered with coconut snow … and topped with a little tree. It tasted like a Mounds candy bar – as delicious as it was beautiful.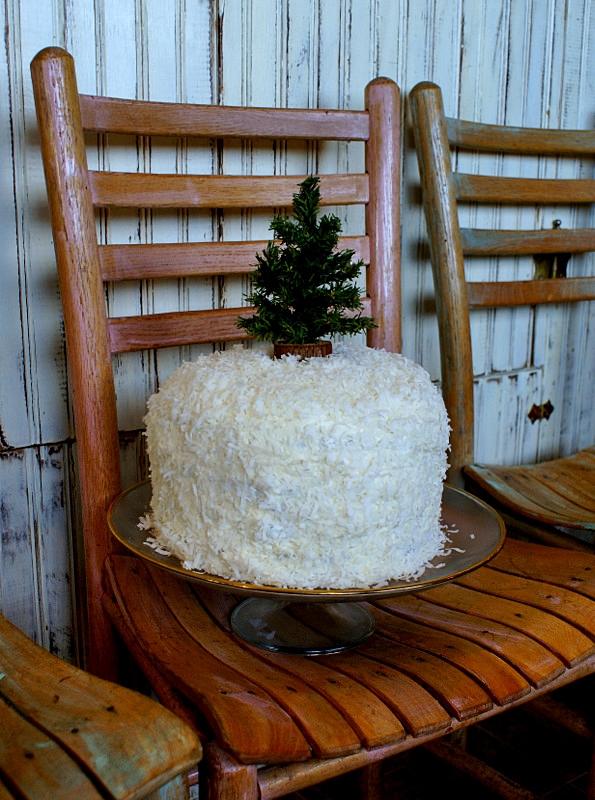 After Christmas, I sat in the quiet of my new room and enjoyed the realization of a dream. There is very little in life that is more satisfying than the rush of self-esteem that results from finishing and being well pleased with a big project. Ahhhhhhh, I could finally soak up the ambience of my cozy farmgirl-style haven. The bank of windows in the room looks out onto my garden yard, which now wears a large wreath and Christmas lights.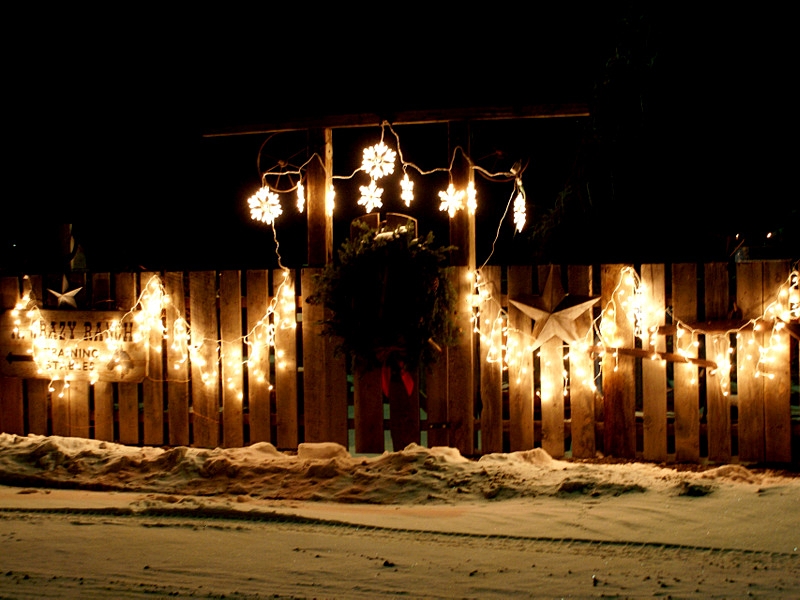 Shery's new porch: Put a fork in it … IT IS DONE!
So, now onto planning projects for 2013. I bet you have a list too. Before, I get carried away with more To-Do items, there is time for some New Years socializing. The other night, we went to a dance at the local senior center. It was fun … an old-fashioned dance is something that I'm sad to say is probably a dying pastime. It was a delight to see folks enjoying the cordial closeness of dancing hand in hand with friends & neighbors. My farmgirl friend, Anita, is married to a guitar playing songbird and another friend played with him. I scattered some cornmeal on the floor and the boys played country dance tunes. What a great way to welcome the new year. Lynn is shown below, too, dancing with a friend.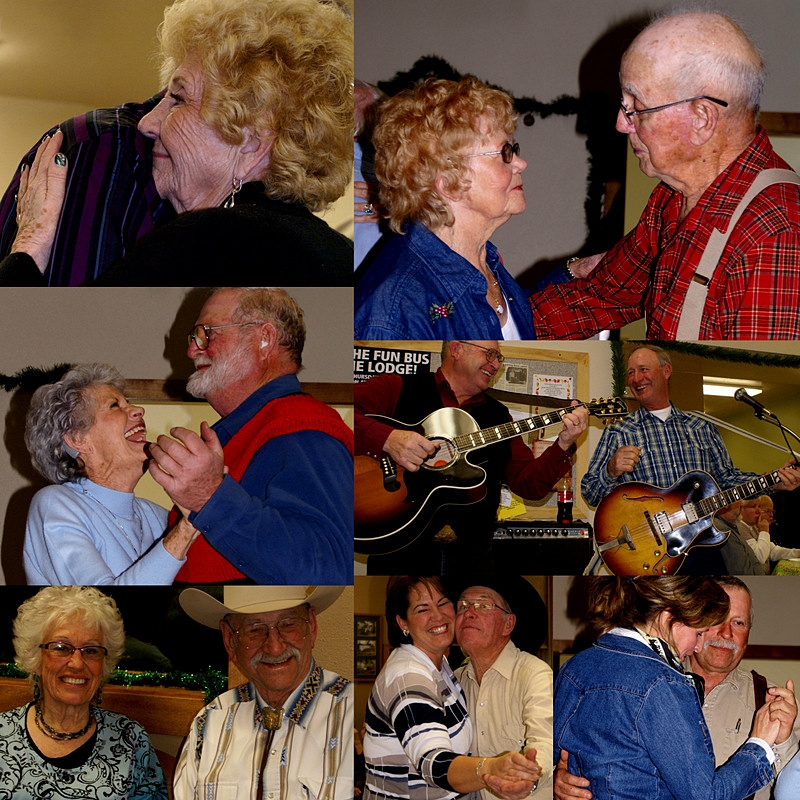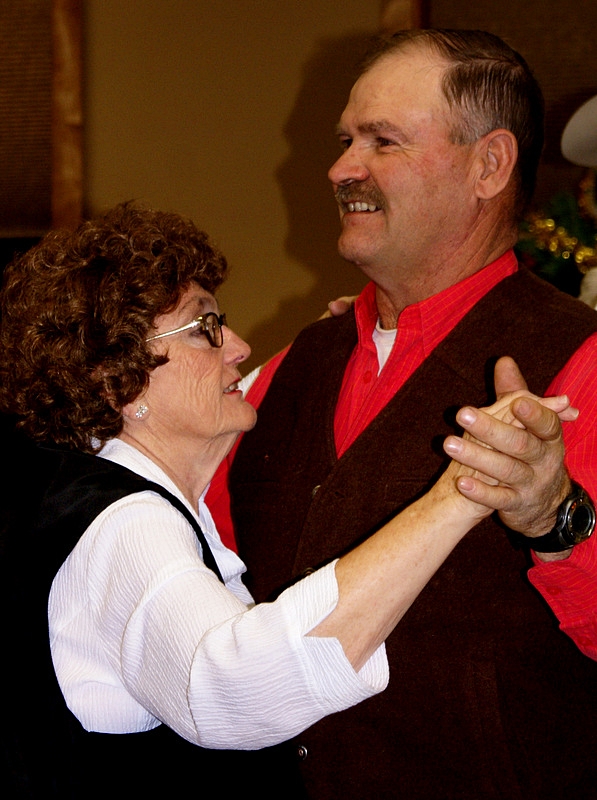 On New Years Eve, we're going out to dinner with friends and then on to the annual Buck & Ball — an all rough-stock rodeo in which the rodeo officials in the arena and the pick-up men wear tuxedo coats. After the rodeo, a dance in the great hall follows. Everyone will be 'dressed to the nines' in cowboy bling. I'm wearing a vintage fur coat and my turquoise boots!! Woohoo

To all my farmgirl friends out there … I hope that your 2013 is full of the good things in life and that a hardy & positive attitude will get you through the unavoidable challenges that lie ahead. Happy New Year … and in the words of Tiny Tim, "God Bless Us Every One!"