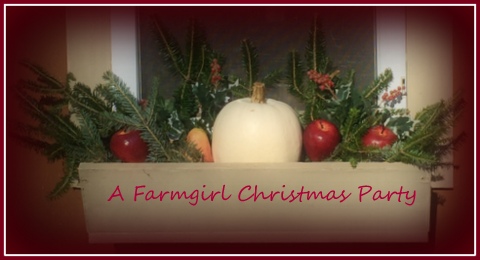 My Farmgirl Sisterhood Chapter, "CT Simpler Life Sisters" have been together as a group since 2010. Every year, we try to vary the activities we do, but each Christmas, we keep to our tradition, started that first holiday season together. I have the privilege of hostessing our Annual Christmas party – and it is this sisterhood chapter gathering that we really look forward to all year long.
Farmgirl Chapter Get-Togethers should be fun, not stressful. Gatherings should be simple, with good food and great conversation. For our Christmas party, we always have a potluck. If you're hostessing, asking each farmgirl in attendance to bring a dish eliminates one person from having to do elaborate meal planning or bearing the entire expense of providing all of the food. I don't want to be exhausted by the time the girls arrive, so I make easy-to-prepare-ahead-of-time dishes I know will turn out great! Potlucks are also a great way to try different recipes (our group often swaps recipes). This time, I made Baked Ziti With Spinach and Cheese. Delicious and filling, it's similar to meatless lasagna but easier and quicker to assemble, and serves as a main dish for a few guests, or as a side dish for a crowd. I also made tasty, festive Home Style Green Beans (with cherry tomatoes it looks "Christmas-y"). Both are simple and tried and true dishes I've made before, so I can focus on having fun with my farmsisters. I collect vintage cookbooks, and while it isn't "vintage",  both recipes came out of one of my all-time favorite books, Christmas All Through the House, published by Gooseberry Patch in 2008. It's got so many great recipes, ideas, and crafts for the holidays.
"CT Simpler Life Sisters" usually do a craft together, or one of us will do a presentation. This time, Jackie showed us all how to make homemade suet cakes. Easy to do, it's a fraction of the cost of store bought cakes, and a winter activity that will draw appreciative hungry birds to your feeders.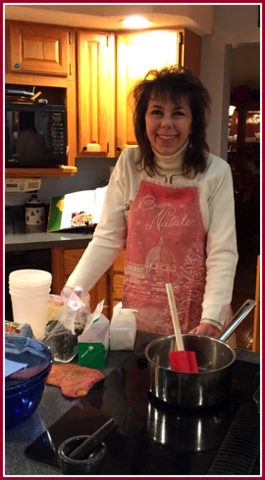 Square Bird Cakes
2 cups lard, melted over low heat in a saucepan

2 cups birdseed mix

2 cups black oil sunflower seeds

1 cup dried fruit (such as raisins or cranberries, etc.)

2 cups cornmeal
Line a 9X13 pan with wax paper or foil.. Pour the melted lard into a large bowl. Add remaining ingredients and mix thoroughly. Pour into the lined pan, flattening the mixture and spreading to all sides. Refrigerate for a few hours and cut into squares using a pizza cutter. Place a square in a suet cage. Wrap remaining cakes in wax paper (tape shut) and refrigerate of freeze. *Any fat that can be liquified and turned into a solid can be used. Dry oatmeal can also be used in the recipe.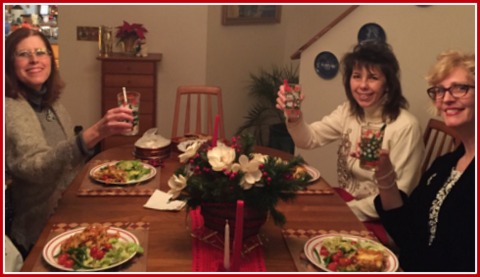 The highlight of our evening together is always the Annual Handmade Christmas Gift swap. For this, each participant brings a wrapped gift, but it must be homemade/handmade. Each year, we farmsisters try to top the year before! This is our sixth handmade gift swap and so far, no gifts have yet to be repeated! Past years we've had candy wreaths, knitted scarves, homemade fire starter kits,embroidered pillows and beautifully sewn table runners – all made with love. The excitement to see what each person has created makes it a gift swap like no other (and gives us ideas for crafts we can make together as a group later in the year).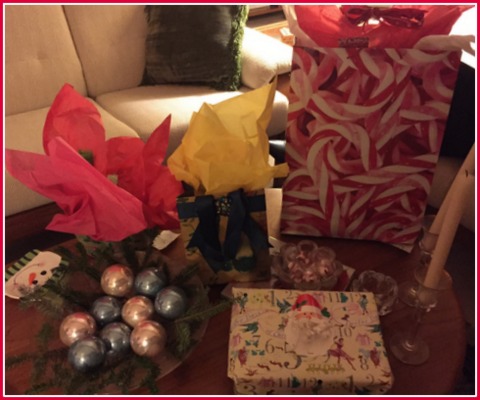 December is such a crazy-busy month, and this year there's just a few weekends before Christmas arrives! Half of our members couldn't attend this time, but we still enjoyed the evening. When I looked at my watch, it was almost midnight! Time flies when you're with good company. To join a chapter in your area (or start your own), go to http://www.maryjanesfarm.org/Chapters/.
Finally, it's time to pick a winner for my Recipe Box Giveaway! I had so much fun having you pop by to say hi, or share cherished memories and favorite holiday foods. I wish I had more than one box to share today! (I will definitely have to do another giveaway soon)!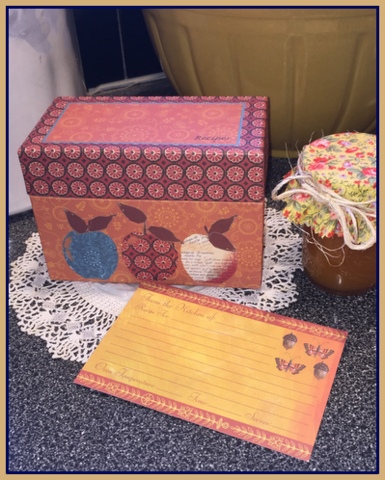 Tappin' on the breadbox for a drumroll….
And the winner is….
Marge Hofknechgt! Congratulations! Marge, please check your email and send me your address. I've sent you an email so I can send your box to you!
 Until Next Time…Farmgirl Hugs, Nicole