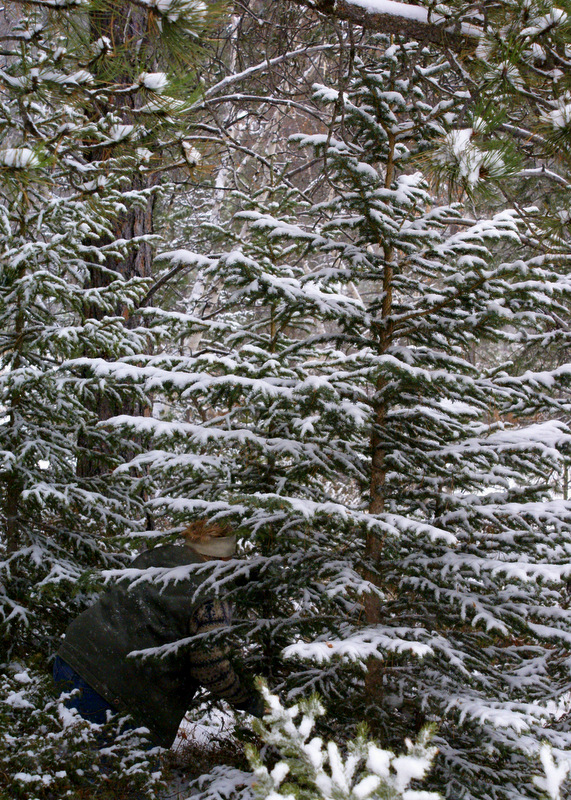 This past weekend was our annual Christmas tree hunting trip. Anita, Michele and I bought our permits and then headed to the nearby hill-country to find Fir trees. C'mon along!
Do you have a favorite type of Christmas tree? I've had several kinds over the years – mostly depending on what part of the country I was living in at the time. While living in New Mexico, I had Juniper or Pinyon Pine. The latter really isn't the classic shape, but I like the idea of having something native … and besides, Pinyons sport the cutest little cones.
When I was a little kid we always had a native Juniper. When I was older, we bought our trees at a lot. I had an artificial tree for a few years, but the honest truth is that I always felt cheated. When I got it all decorated, it just wasn't the same. Nowadays though, faux trees are much better looking. Ok, sooo, when I moved back to the land of my roots [Wyoming], all kinds of evergreens are readily available and easily accessible. No more faux trees for me. In late November, I've got my sights set on setting a date for a tree hunting safari. Just a girl and her saw …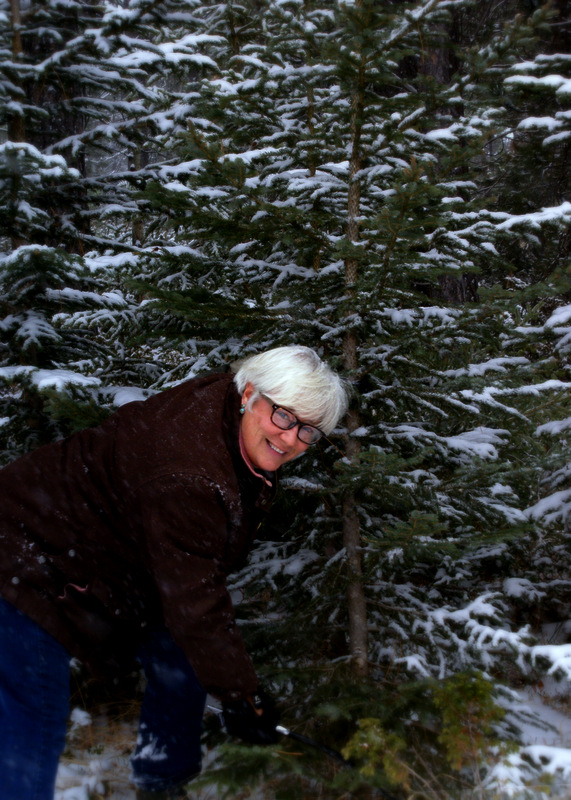 It isn't just about having a real tree, it is also the field trip with good friends in the fresh winter air. And, on the day we went, there was a fresh covering of new snow.
Anita was looking for three trees … a tabletop size, one for her brother and one for herself. Michele and I also wanted a couple of small ones in addition to a larger tree.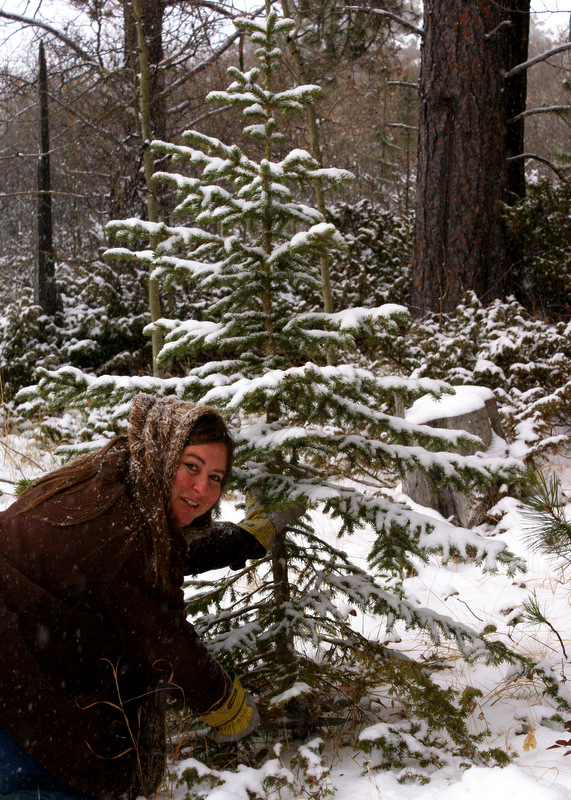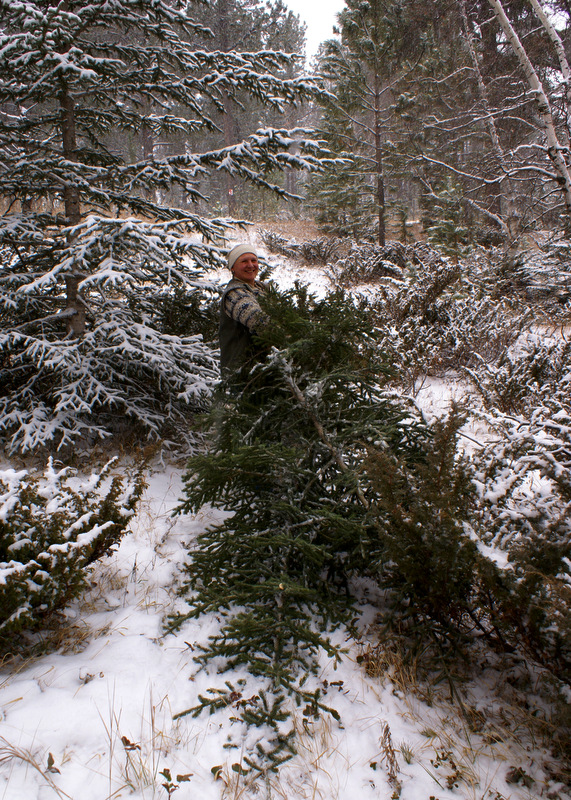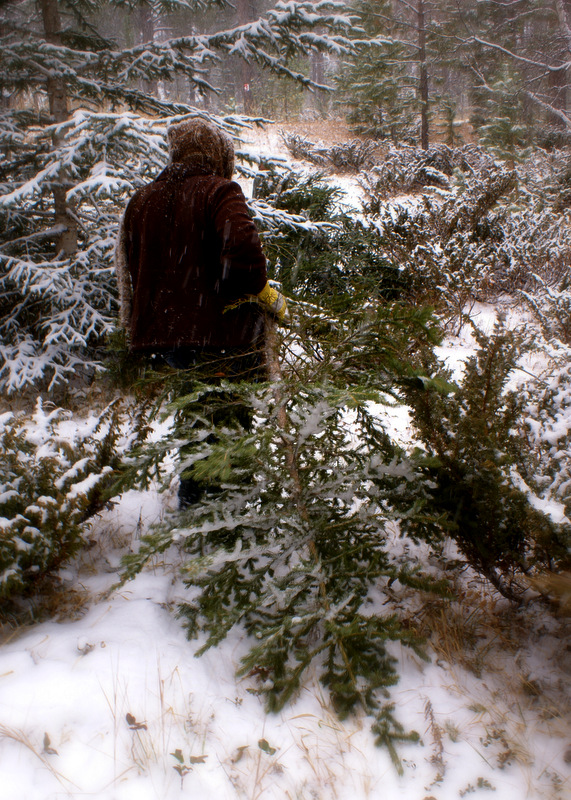 Now, back to the truck to load them up …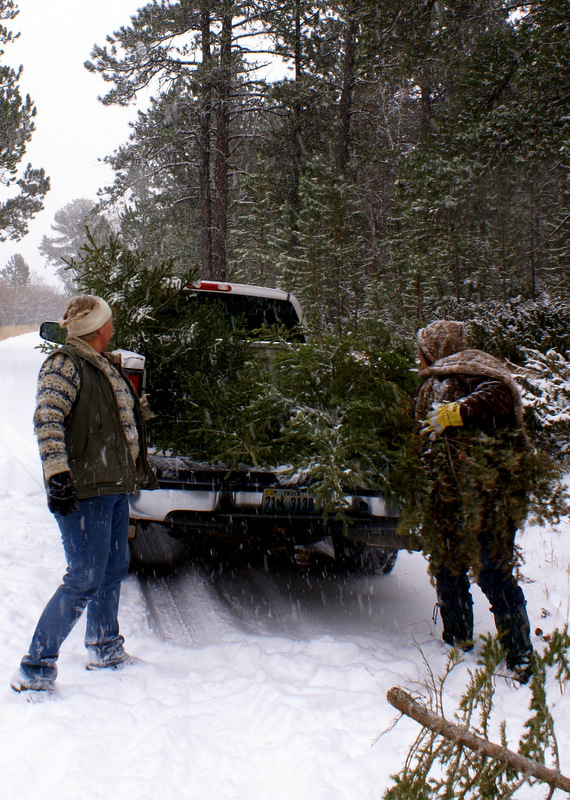 I love the quiet of a forest in the winter. All you can hear is your own footsteps in the snow … and maybe a bird.
Where you find Fir trees, Aspen are close by …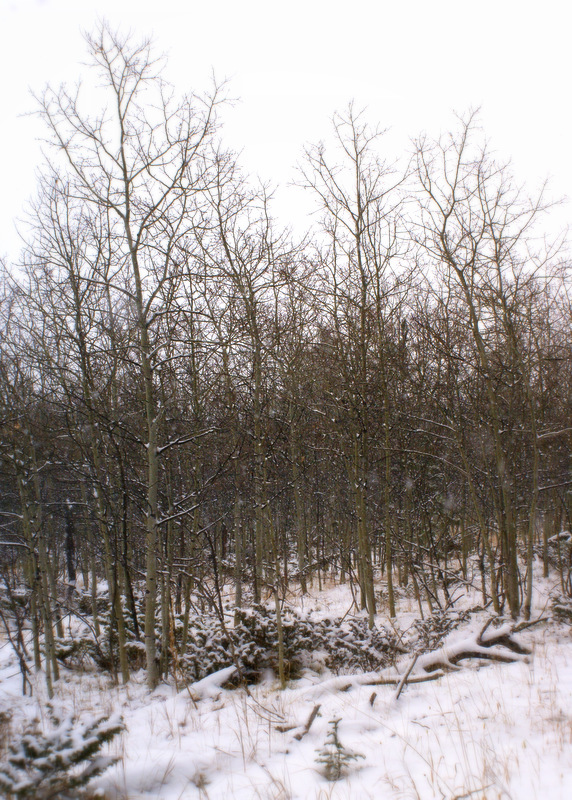 The Ponderosa pine trees in this area aren't as large as those in some regions – due to not getting as much water, but this one is huge and as big as they get around here.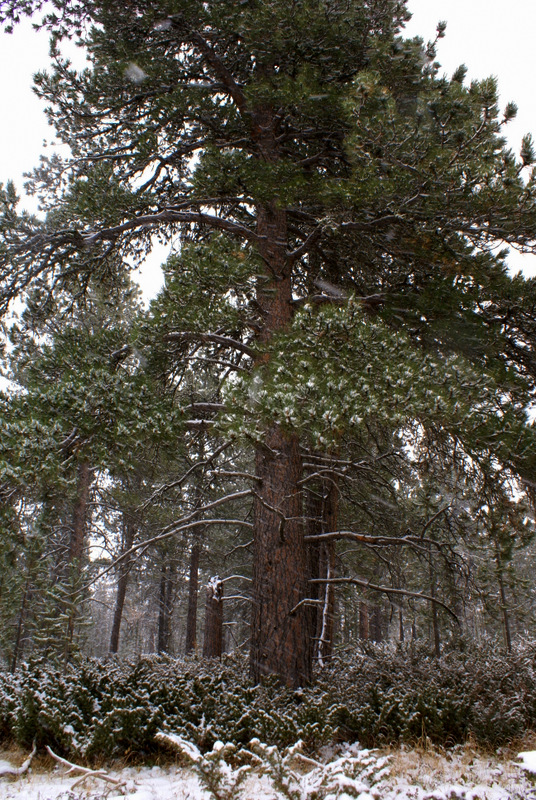 After we had our trees loaded up, we headed back and stopped for lunch at a popular hang-out for snow-machine enthusiasts and hunters. Our hunt was a success and the mild weather made it all the more enjoyable. Snowflakes fell all the while we were out … the over-sized kind that float slowly downward ever so lazily.
Ok, switching gears a little. I'm thinking about decorating for Christmas now. I started by making a farmgirl-style candle holder. All you need is a small wreath, a canning jar holder, an old, round doilie (about 10″), some ribbon, and old spoon (or not), rice and tea light candles. Here 'tiz … easy-easy-easy to assemble! Pour about 3″ of rice in the bottom of the jar for the tea light to sit on. Lace the ribbon through the outside holes in the borderaround the doilie, then gather it and place the jar in the center. Draw it up and tie the ribbon snuggly around the shoulder of the jar. I tied an old spoon into the bow. Place the wreath in the middle of the jar holder and then set the jar down into the slot. Vwa-lah!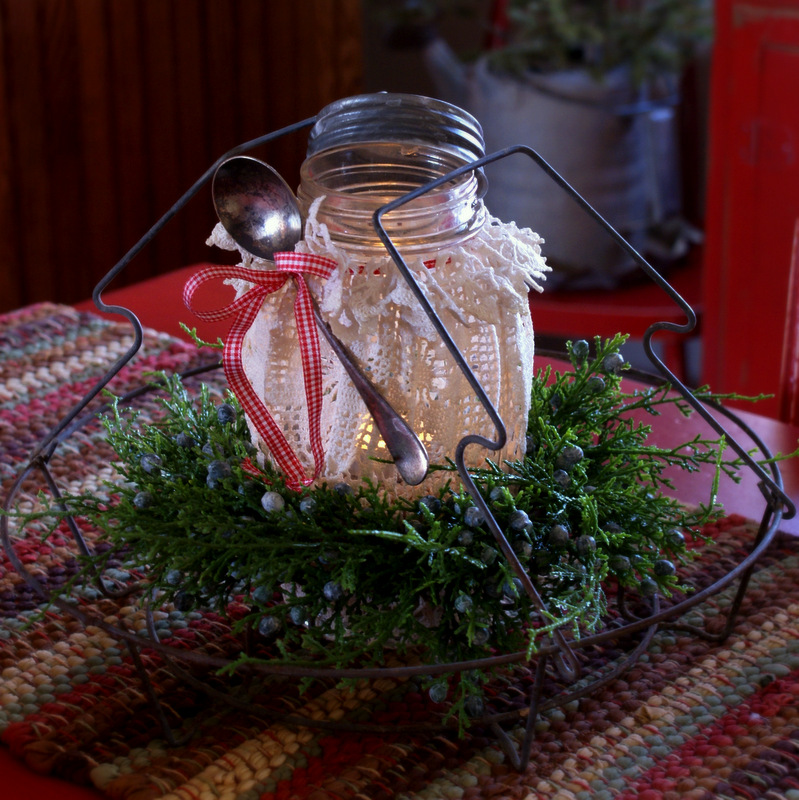 Now, to hang some lights outside and then work on our NEARLY FINISHED PORCH. The plan is for us to host a family get-together around Christmas, so, we're madly trying to "put a fork in it" … finally. I'm sooo excited to get to the DAY where I can move in. I've refinshed several pieces of furniture and wooden 'smalls' in preparation for what is to be a porchy family room. I've squirreled away lots of junky decor goodies – waiting in the barn for the much anticipated "play day". An antique fireplace mantel, two BIG antique cupboards, a long harvest table, an antique sled, old mix & match chairs, an antique iron bed (gonna be a daybed/sofa), etc etc. Oh, and a friend is reupholstering a chair and footstool for me —using four different fabrics! I'll take photos to share with you in an upcoming blog. Gotta have show & tell

Update on my injured dove: she's coming along nicely, I think. The patch near the base of her tail was where she was hit by a car, well, a new covering of feathers has grown in. She can also flit from place to place now. Hopefully she'll be fit to fly soon.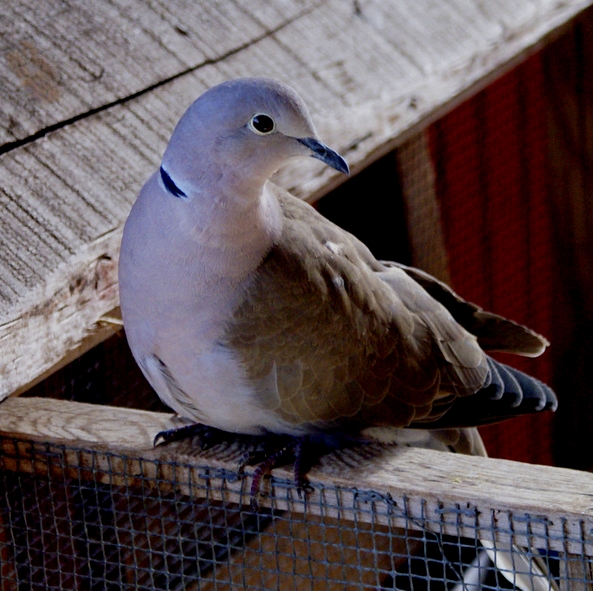 With doves on my mind of late, I included a dove design in a trio of paper ornament designs that will be in the next issue of the MaryJanesFarm sisterhood newsletter (The Cluck).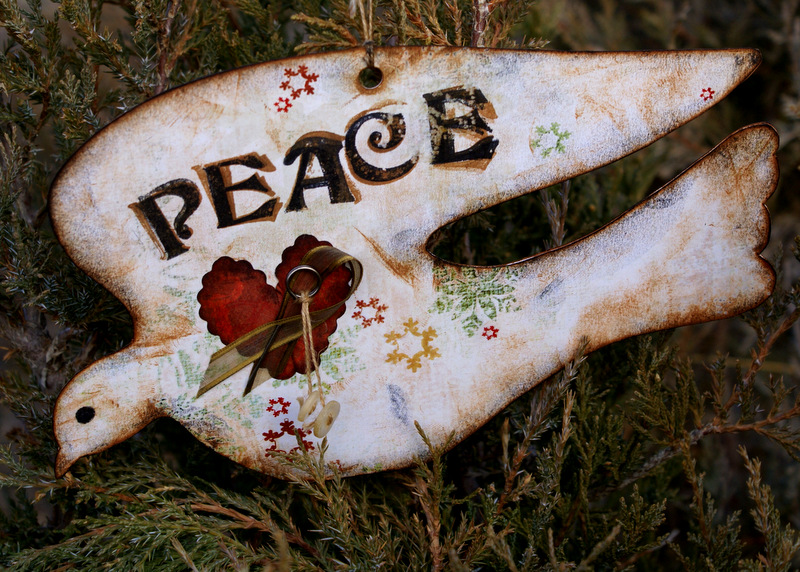 As always, thank you for stopping by and I hope that your holiday preparation is what it ought to be … enjoyable in a variety of ways. The festive preparation is fun, to be sure … but, my favorite moments are those that you have to slow down for. The quiet joy, the 'still spirit' water that flows down over you and into your being. The feeling you get when you hear your all-time favorite Christmas song. Christmastime … Ain't it grand?