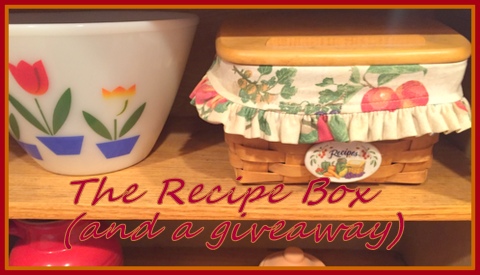 Happy Thanksgiving! Are you ready? Y'all know how much I love to cook and how much I adore holidays! My kitchen's the hub of my home, and I decorate it for each season. However, there's one thing in my kitchen that's always been a constant, that will get more use at Thanksgiving than any other item. Treasured, it's something I'll someday give to my daughter for her kitchen. Can you guess what it is? This post also marks my sixth year anniversary as the Suburban Farmgirl Blogger (my first post was Thanksgiving, 2010), so to celebrate I have an adorable giveaway for one lucky reader!
"Spice a dish with love, and it pleases every palate" – Plautus
Growing up, holidays were always delicious. I remember my mom cooking up a storm, everything always homemade. Mom never cut corners, making everything from scratch. We had a few big family gatherings, but mostly we spent Thanksgiving with just immediate family up at the "farm" – my dad's ranch in the Texas hill country.  I can still taste my mom's southern cornbread dressing – which I now make a version of, with a few of my own additions.
Living so very far from all of our family, we don't get to have big family gatherings that often, especially at the holidays, but our family has our own special way of celebrating. We make the house cozy with the fireplace going, speak to all of our faraway family on the phone, watch the Macy's Thanksgiving parade on television (while preparing our big meal), and COOK! We have a traditional Thanksgiving dinner, with all the fixin's.
The first thing I reach for is my recipe box!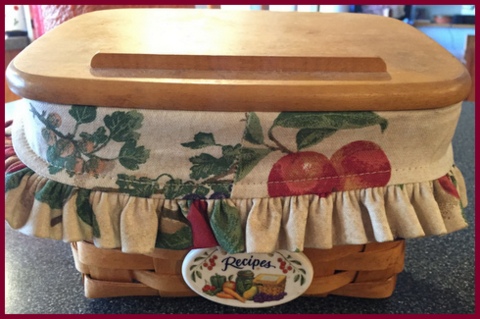 My recipe box is a "basket" – a Longaberger piece I bought at a basket party when I first moved to Connecticut over twenty years ago. Sturdily made and hand-woven, it has a maple top with a spot for whatever recipe card I am using. It's lined with fabric, and was the inspiration for me to do a "cherries" theme in my kitchen.
My box is cute, but it's what's inside that is special. Open the lid, and it's stuffed to the gills. All of my family's most favorite dishes can be found among the cards, separated alphabetically.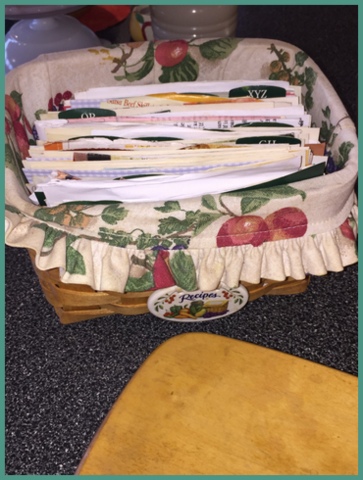 The most special ones are the cards from my mother, some in her handwriting. Before the internet, my mom would scan the newspaper, looking for new recipes to make for her family. Some of the cards are copies of those original clippings.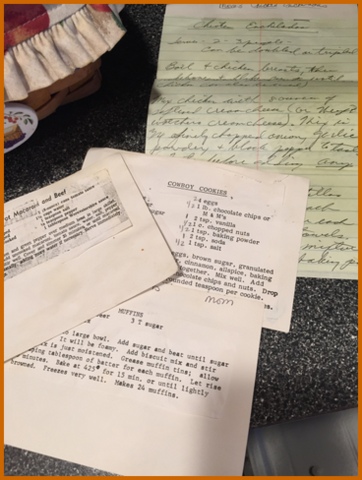 Not every kitchen has a recipe box these days. Many cooks now rely on "digital" copies of their favorite dishes. Just last week, I was in a gift shop with two farmgirl sisters, when my friend Jackie was so excited to find a recipe box and recipe cards. "You don't find these that often anymore", she exclaimed. For me, I love to see the hand written cards, remembering special people by the dishes they shared with me – always with love. You can tell which recipes are made the most by the cards that are dog-eared or have the most cake batter drips and grease-stained spots. Some of the recipes I have in my box are from old friends and relatives who have passed on. I honor them when I make their dishes.
Thursday, we'll eat our big meal in the dining room, with Christmas carols playing. If the weather is nice (usually we're lucky here in Connecticut), we always take a walk with our dogs, who are a big part of the family. Afterwards, we will eat pumpkin pie with real whipped cream, and just spend the rest of the day relaxing together, before the hustle and bustle of the holiday season goes into full swing.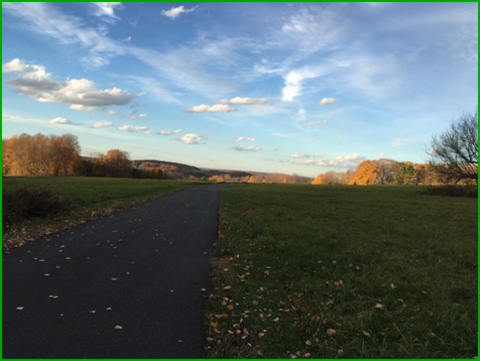 With the world around us in so much turmoil, I think it's really important to hold on to traditions we love, and special celebrations with those we hold dear. When my daughter has her own family someday, I hope she will think back on how special holidays were with our little family. My dream is that she'll look at each weathered recipe card with fondness, spicing all of the dishes she makes with love.
Thanksgiving is a time to count our blessings. One of my top blessings is MaryJane, and all of the wonderful people I have met through MaryJanesFarm. Writing as the Suburban Farmgirl is very special to me, and I am honored to be a part of the magical world of MaryJane. To say thank you, I'm doing a Thanksgiving giveaway! This adorable fall-themed recipe box with a brand new set of matching recipe cards is waiting for you to fill up with your treasured recipes!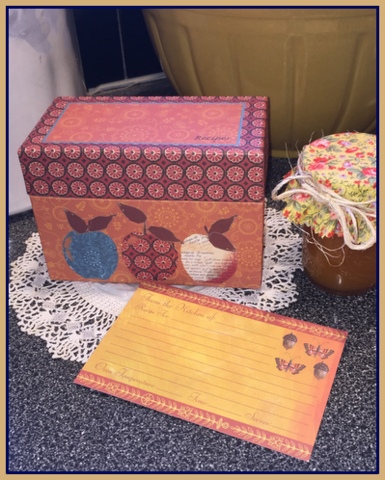 Leave me a comment, and I'll put your name in the drawing. Share with me your favorite dish to eat at Thanksgiving, a special holiday memory, what you plan on doing Thanksgiving day – or just pop in and say "hi". Next post, I'll draw a name at random, and will announce who the lucky recipient is!
HAPPY THANKSGIVING!
Until Next Time…Farmgirl Hugs, Nicole