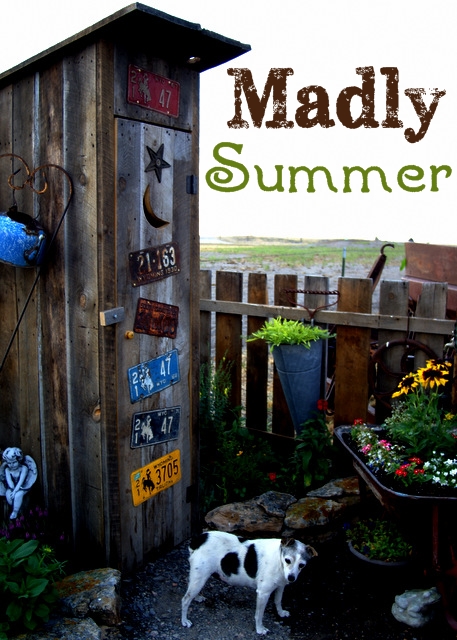 Ok, So … there are a thousand and seventeen things to do this time of year, right? How'z your to-do list faring at the end of each day? I run out of daylight before I get to the bottom of the list, but I think this is a common summer plight. Even with extra hours of sunshine, there just isn't enough time for, for, for it all. Hmmm, really? Well, I'm here to say I'm kinda wrong … kinda, sorta.

There'z always time for friends. And if you think there isn't, something's gotta give. You can load the dishwasher later. Chores wait patiently. They always will, they always have. Special time spent with friends & family shouldn't have to be stolen from your daily alottment of minutes. But, I'm as guilty as anyone for letting that bit of truth slip from memory. Keeping with this theme, I had the opportunity to spend most of an evening with one of my farmgirl pals (Jennie). We didn't do a darn thing (productive-wise) except visit and drink a bottle of wine in my camper. I need to back up a little though.
Jennie showed up when the sun was cooling off. She was toting something large-ish … when what to my wondering eyes did appear, but the cutest, vintage ice chest in need of a beer. Her smile and the gift bow & flower on the cooler allowed me to presume that she had brought it for lil ole me! I'd been on the hunt for one, but had yet to add such a gem to my "glamping" collection of vintage coolers for my camper. I'd acquired everything else cooler-wise except for an ice chest. To begin with, they're very hard to find (the cute vintage kind) and those that are in good shape are very pricey in antique stores. I'd looked at them on eBay. Yikes!! … price + shipping costs = no way. But, because of the heap savvy hunting skills of a farmgirl pal, I am now the delighted owner of this cool cooler!
The cooler is actually the third "glamping" gift that Jennie has given me. For Christmas, she gave me a camping journal and for my birthday, she gave me a book that sparked a fire within … "Sisters On The Fly". Oh my, how I lusted after wanderlust … via a vintage camper. No more back-packing for this aging hiker and no more sleeping on the ground. The hunt was on. Anita (my horsey farmgirl pal) and I talked about it too. We could take horses for trail-riding and camp comfortably. I'd pull the camper and she'd haul our ponies!
At our farmgirl get-togethers, we talked about how fun it would be to go together. That was a couple of years ago. I'm here to say, we're on the verge of making it happen as three of us are now owners of vintage campers. I was the first to get one (with the trailer-finding help and urging of Michele), but, Jennie had longed for one long before me. However, with teenagers in school and college in the offing, she held her dream close at bay … until … the other day. Her husband bought a glamper extraordinaire for her as an anniversary gift. OhMyStars, it is the sexiest little thing you've ever seen. Jennie no longer has to oogle over dreamy vintage trailers in the Sisters On The Fly book! I'll show it to you in a wee bit.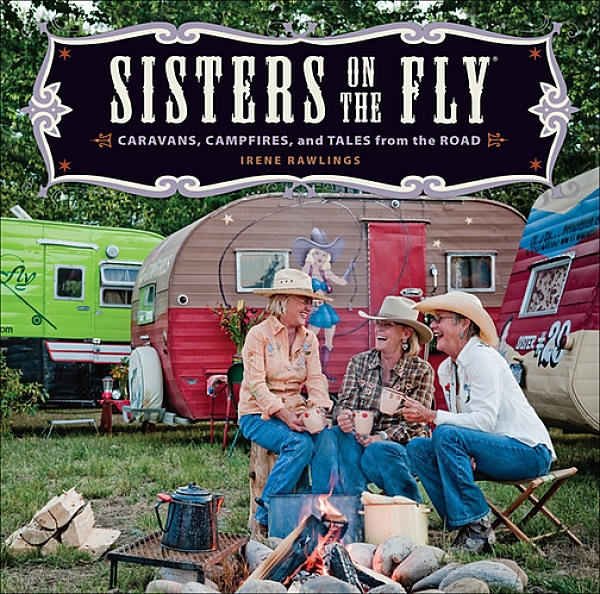 So ok, now Jennie has a trailer and I do too. Then begins the accessorizing … finding vintage goodies to use while camping and to decorate with. It is a grown-up girl's version of playing house :o) Here is one of my new vintage finds below – a 2 gallon beverage cooler.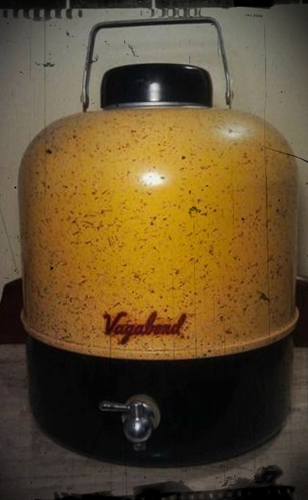 I also have a thing for old pick-ups. I doubt that I'll ever own a classic, but I did find a toy model that serves as a candle-holder in the camper. Later, she'll pack a little bottle-brush Christmas tree. It has been ten kinds of fun fitting my camper with vintage goodies. Now to actually go camping! The season is upon us! Anita and I are leaving for a day-trip on Monday — a reconoitering mission to locate ideal spots in the nearby Black Hills. We've both camped a lot over the course of our 50+ years, but, it was either afoot with backpacks or with saddle horses, pack horses, pannierds and tents … not trailer camping. So, we need to get this new approach to farmgirl outdoorsmanship figured out and get prepped.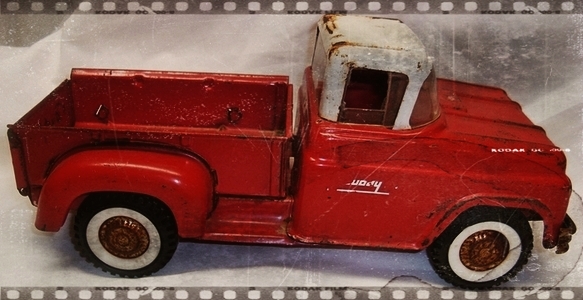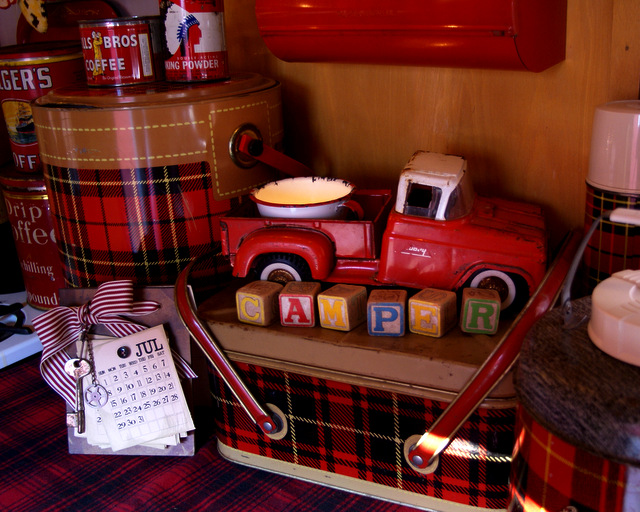 I've poured over gobs of vintage trailer photos. Oh, the creativity of people! They fit and fill their campers with such individual flair. Much of the decorative accents are personal and sentimental. With this in mind, I added a bit of family history to my camper table. The wooden toolbox belonged to my grandpa. Also, over 65 years ago, Grandpa had gone on a hunting trip to Alaska. He brought home a pair of Eskimo made slippers for his only child (my mama). On the fur slippers are beaded owls. Perfect for my woodsy/cabin theme camper, my little 'cabin in a can'.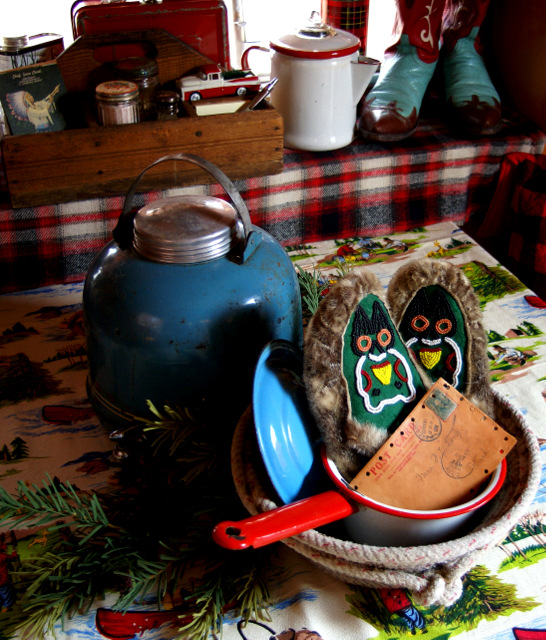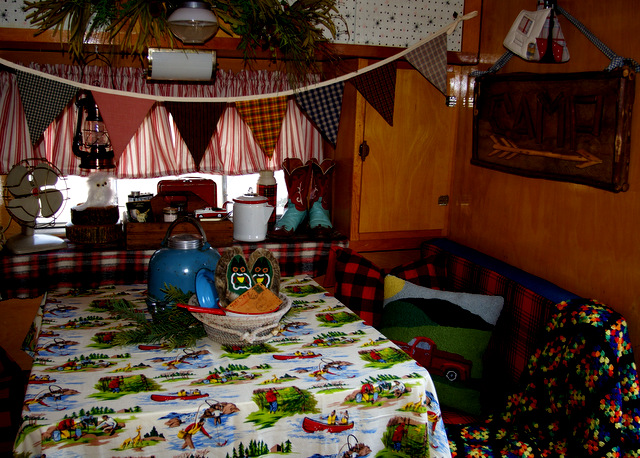 You might recall that our farmgirl flock grew recently. Donna joined us. She soon caught the glamper bug too and in short order, she found a 1962 Shasta in excellent condition. She's supposed to pick "her" up this weekend. Our little farmgirl flock is all glamped up and we're eager to caravan … out into the wilds!! Those of us that don't have vintage campers have beds reserved in the campers of those of us who do.
Like many mad-about-glamping farmgirls, we'll soon be adding a NEW book to our camper shelves … from the Queen of Glamping herself, Glamping With MaryJane. You can pre-order a copy at www.Amazon.com . The book is to be released in September. A preview is in the new issue of MaryJanesFarm magazine.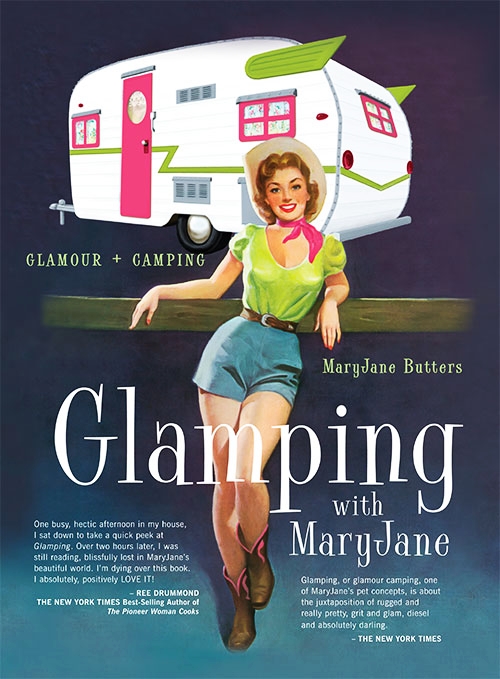 By now, you've gathered that we've gone mad with glamper fever. Last week, Jennie tells me that in nearby Gillette, there is a national convention of lady RV'ers. Nuthin' doin', we had to investigate. The vast majority of the campers were motor homes and newer trailers. However, we did spy two Sisters On The Fly and intro'd ourselves. Here is Sister Tani with her 1959 Shasta, named "Moo Fly". Jennie is standing.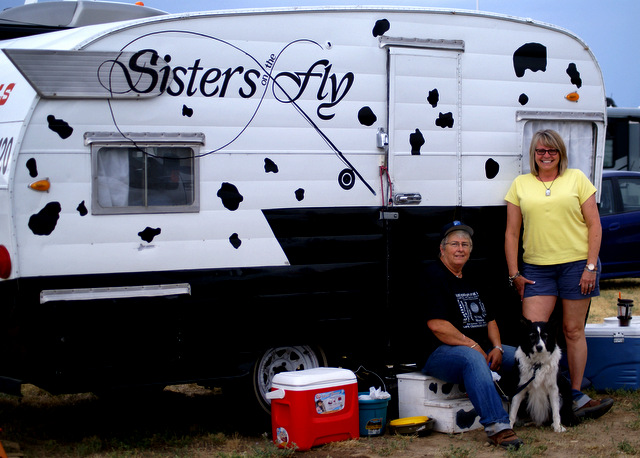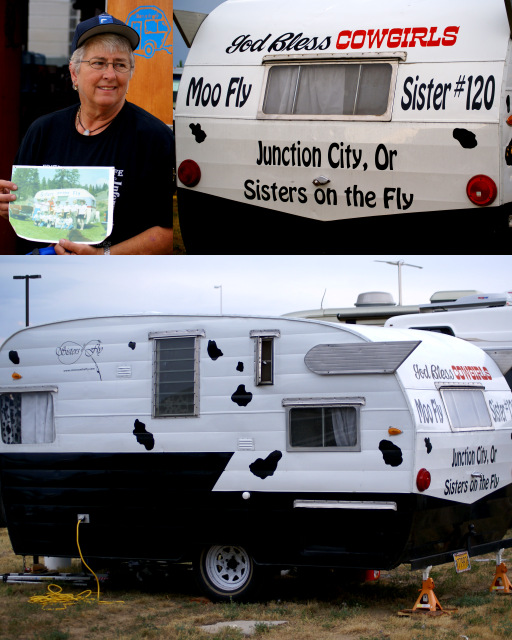 The other Sister On The Fly was out & about at the convention and we weren't able to hook up with her, but here is her cute little 'covered wagon' camper … a 1968 Nomad named the "Wagg Inn". I assume that the owner's last name might be Wagg?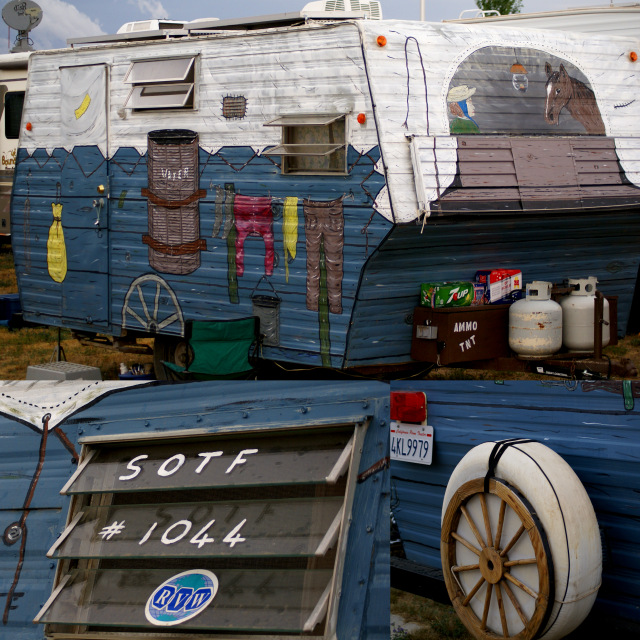 Now, a drumroll please, for the official unveiling of the sexiest glamper in our farmgirl flock's collection … Jennie's 1969 Scotty that she named "The Little Black Dress". She's already begun collecting vintage black and white enamelware for LBD. My trailer is a 1958 Leino with no modifications other than exterior paint and a replacement panel on the ceiling due to an old leak. Jennie's camper has been remodeled top to bottom, front to back — it even has PINK running lights under the chassis. It is Ab-So-Loootely tricked out … car-show beeee-yoo-tee-ful!! New wiring, new tires, new appliances, AC, the works.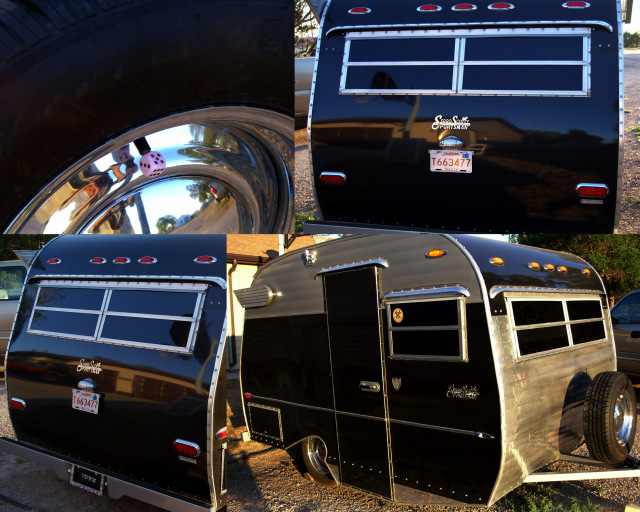 Donna is next up and her camper is almost road-ready. All she has to do is get some camping neccessities on board, give the camper a little 'girl it up, glamp it up' treatment and we can go! However, one thing this year that we are going to have to bear in mind (see below) when choosing camp sites is the severe drought of this summer. There are fires everywhere. A huge one just a few short miles from us is finally out after a couple of weeks fire-fighting. Over 65,000 acres of wooded ranch land is blackened. During the fire, we took in four rescue horses. The rancher was also able to save his cattle and transport them to a large set of shipping corrals down the road from us. Some ranchers were not so fortunate and I heard that some of them opted to shoot their cattle rather than let them burn to death. Horrible. Beyond horrible. Heartbreaking, traumatic and financially devastating. Then, too, homes were endangered. No loss of human life. So, in this area, almost the entire plains states region, any and all fires are absolutely prohibited. Nearly every ranch truck you see is now holding a water tank and pump in it's bed. All this means that campfires are not allowed ANYwhere.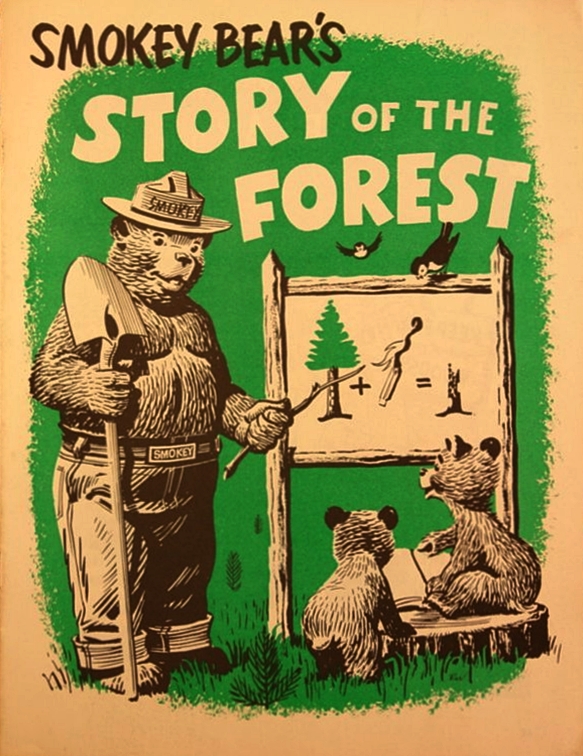 When we go camping/glamping, we're planning to take pre-prepared food so that we don't have to cook. If we happen to be in a campsite with electric hook-ups, we can microwave. Below is an antique postcard that is a colorized photo of a long ago forest fire in the Black Hills, SD. The unretouched vintage photo below it is another fire and it looks much like our view of the east when the fire was burning near here two weeks ago. The whole eastern horizon looked similar to a huge thunder cloud except it was smoke. My horse, Dolly, is sensitive to smoke and she was coughing off & on due to the heavy haze that hung in the area for days.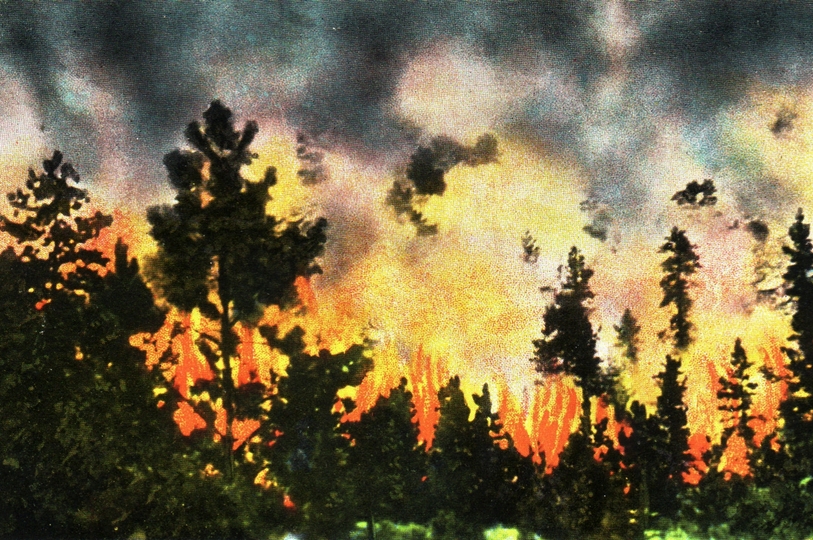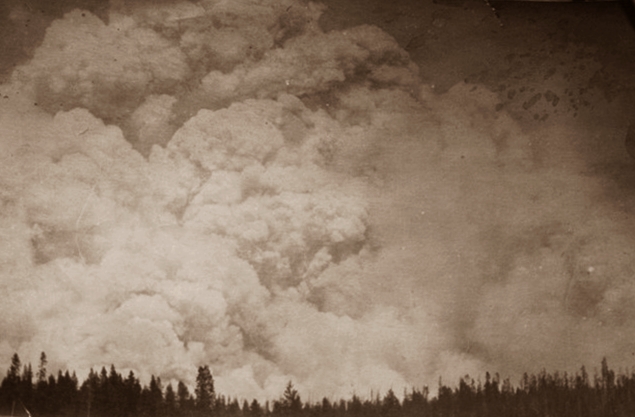 So many people this summer in this region have dealt personally with the dangers of wildfire. Many lost their homes in Colorado. Another huge fire burned thousands and thousands of acres south of us in west-central Wyoming. Evacuating livestock in such situations can be very difficult and impossible. If worse comes to worse, gates are thrown open and fences are cut to allow the animls to flee. We are only midway through summer and the fire danger can only deepen … unless it rains and that appears to be unlikely in this weather pattern. Grass fire is dangerous also and it can literally race across the landscape in the right conditions. Our glamping plans can go on as usual, but no campfires and we'll also have to pay close attention to fire news. Enough. I hope you're not in a parched place like this tinder box on the prairie.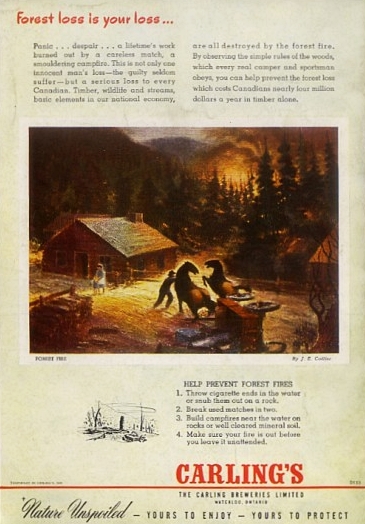 With this year being sooo dry and ~~~~windy~~~~, I found it neccessary to rescue some of my geraniums and bring them inside. Geraniums!?! They're tough, but not blast-furnace tough. I couldn't water my flowers enough. The hot, arid wind is like a toaster. Lobelia, forget it, they died in week. The only real lovers of this hot, dry summer are the moss roses.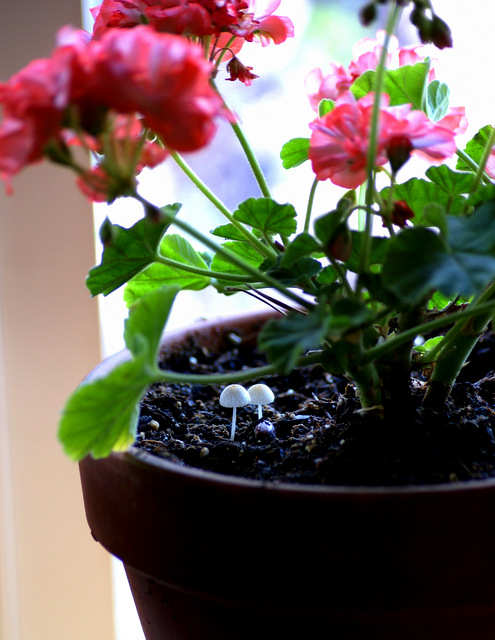 My garden-yard is even more of a sanctuary this year. It is a real & true oasis. I've so enjoyed watching the progress of my junk garden … from empty junk containers to homes for veggies and flowers. The board fence does provide shelter from the wind as well as some shade. I planted several perennials in rock-rimmed beds that I created around the 'outhouse' garden shed and by a tank. My new favorite hardy annual is the spectacular Denver Daisy Rudbeckia. Oh, what a show-off it is – with 5″ flowers that are a rich golden yellow with chocolatey red centers. I also found a favorite variety of Delphinium – the deep cobalt blue with white eyes.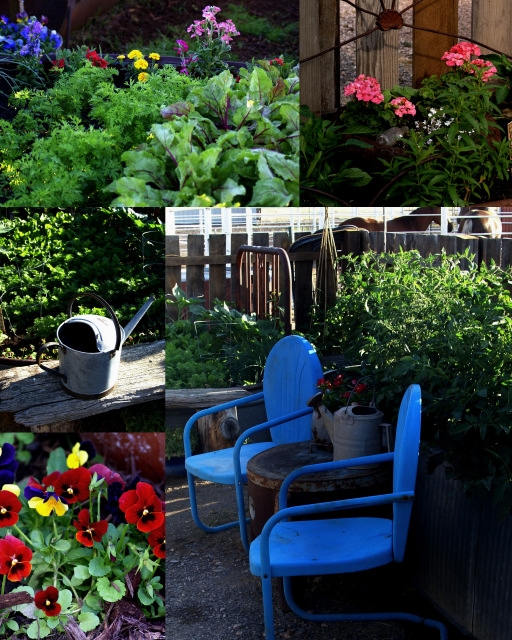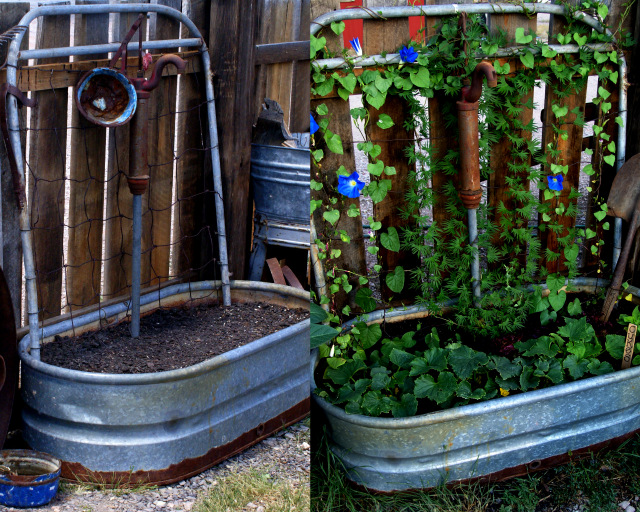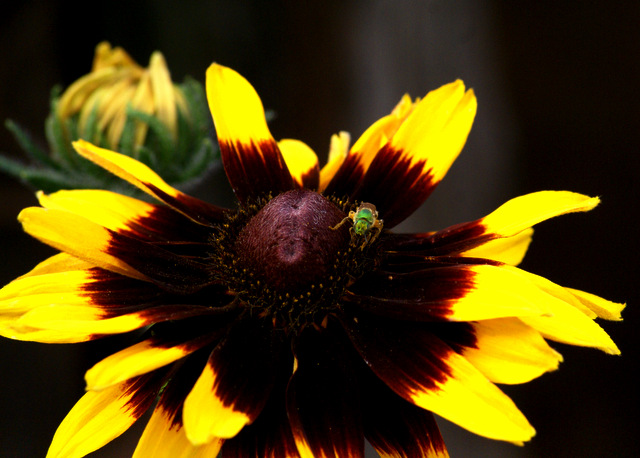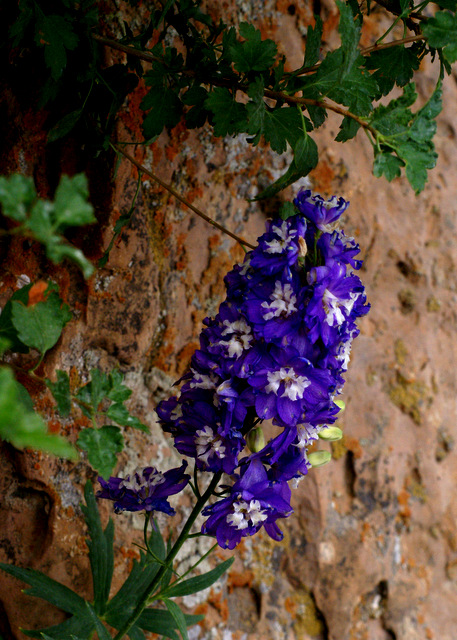 In the heat of the day, I've been making things and organizing my work-shop/craft room (a never ending chore I loathe). I also hung new curtains. I love vintage cabbage rose florals and bark cloth — and I found some used Ralph Lauren curtains on eBay that have the look. There were four valances – perfect number for my living room and hallway. I hung the hall curtain on an old rake. I'm going to stitch up some old lacey dresser scarves for 'new' kitchen and dining room curtains. What are you doing to pass the time when these hot afternoons drive you inside?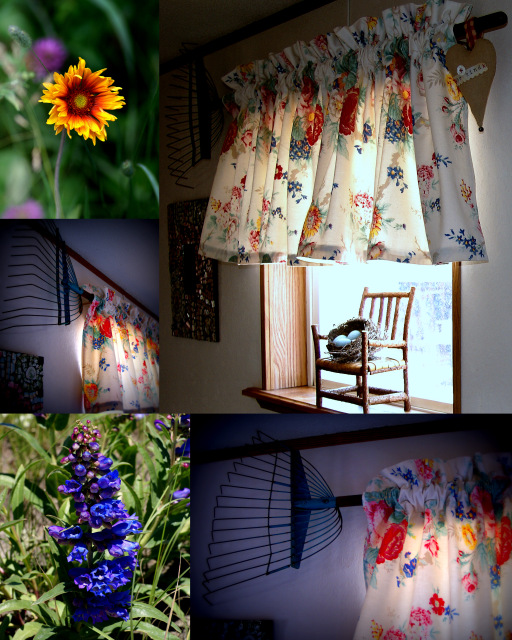 Maybe you like the heat! Not me, but I am soon to be on the road toward the cooler hill country for some lakeside R & R. My farmgirl pals & I are so looking forward to glampin' it up. I'd love to hear that maybe you are too. If so, pleasant journeys!