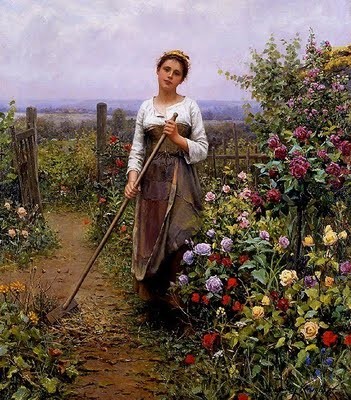 Here I am, working in my picturesque garden-yard. Birds are singing, butterflies flutter by and bees work as if they know they'll never get ahead of their to-do list. They are at peace with that knowing. Oh, to be a bee.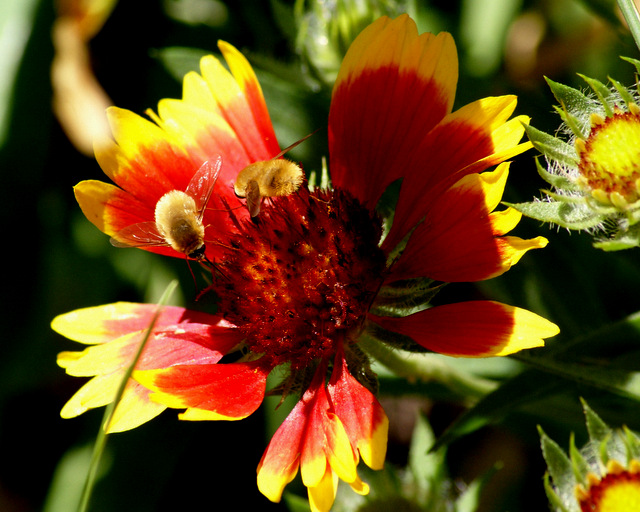 I am not a bee … nor am I Helen Reddy singing "I am woman, hear me roar".
I am woman, hear me whine a little. Humor me for a bit. I have a problem: I think I can do a lot more than I actually can. At least, that is what my to-do list is looking like these days. I work on whittling it down and it grows longer. I want to say that I'm a finisher, but I am beginning to wonder. I've known for a long time now that in many ways, I am my own worst enemy. That is a truth one needs to own in order to make any real progress in personal growth. It is also a reality you can own and handily ignore. I do it all the time.
When I was younger, my dreams lay ahead of me and I was in no real hurry. With age comes wisdom … and weariness … and an awareness that you really do have less time. I'm accutely aware that daylight is burning. I do less thinking, less frittering and more doing. Or, maybe it is more accurate to say that I've learned to think on the fly. I used to have to stop and think.
When I turned 50, I experienced a sense of urgency. I realized how fast 20 years whiz by and that the next 20 are flying by right now. My hearing has gotten better rather than worse … I hear the second hand ticking. My to-do list has also become a 'bucket list'.
With age comes confidence [for me anyhow]. I now know that I can do just about anything I want to do. But, a seemingly unfair irony followed closely on the heels of my late-bloomer confidence. Now that I know more than ever before, now that I have the experience to do a much wider variety of things, there is less of me to do it. My feet are tired, my bones are weary and my energy level is like my waistline … not what it used to be. It can be downright depressing to feel like you can finally tackle the world … if only I felt like it was worth the effort.
So, my 'unfinished business', my to-do list grows longer — not because I'm a more ambitious dreamer [although I am], but because I run out of me before I run out of things to do. Long before. I could pare things off the list. But, I don't want to do that. All I want is to get – things – done. Is that so much to ask?! :o) Please tell me I am not alone. I could use a farmgirl spirit lift.
All I can think to do is to keep on keeping on. We are making progress, good progress. But, things always take longer than you think they will. Soooo, why not plan for that annoying reality. Oh no, not me. Sooner or later, all of our 'unfinished business' will get done … right?? This is the year that we said our house and 'home in the general sense' will get some much needed attention. We can't weaken.
The porch we added is at a stand-still. I'm saying other things elevated themselves on the priority list. And, we started the garden-yard. A friend built panels from barnwood to make a 13′ x 30′ enclosure. He also built a gate, a potting bench and a small 'outhouse' that will be my tool shed. All the pieces are waiting on a flatbed trailer. Last evening, my husband dug post holes and we set six of the posts. Then, he embarassed himself when he cut the electrical wire [that he installed when we built this place from the ground up 18 years ago]. He knew precisely where the line lays, but he was so intent on digging holes that he simply forgot. Yes, THE electric wire … and at dusk, no less. No lights, no water, no nothing. And, we live in the middle of Nowhere. But, Lynn remembered an acquaintance who is a card-carrying electrician at one of the coal mines and he lives in town. So, 'Casper' came down and patched the lines … by flashlight. Tomorrow, he'll do a permanent fix. In the meantime, my garden plants wait impatiently. Our growing season is so short, you can just about measure it in hours. But, hopefully by the end of the weekend, the garden-yard will be done and I can be a gardener!
My heaping pile of beautiful(?) garden junk is waiting in the wings also. I have a vision of what it will all look like in the end. But, right now it just looks like junk. Everywhere I look around at home, I see unfinished business – the porch, three pieces of antique furniture waiting for paint, alllll the garden work, the barn that needs paint, the scraped off place by the porch – waiting for concrete – someday in the not distant future, it will become a dreamy screened-in patio. I'm so looking forward to relaxing in it. July maybe.
Below are some photos that will tell some of this story … and a few others that tell of the other goings on … like the first of several brandings that are now in full swing in this region. Our own branding is scheduled for the 26th. So, in addition to everything else, we're in the middle of calving and I have to get a menu together so that I can feed a crew of about 20 people after the branding. Oh, and I'm supposed to pick up two new horses somewhere along in there. Nooo problem, I got a few things done today which makes room for new entries on that little ole to-do list.
Below: One of my recent rewards … the deep purple Iris that I planted last year is now blooming. I hope for two more colors – 'root beer' (two-tone – amber & brown) and 'butterscotch' (two-tone – gold and pumpkin). Small thing to some since Iris are so easy to grow in most places, but this is not the Garden of Eden. It can be really cold, really dry, really windy and really severe in every other way that makes it not a user-friendly place for gardening. I EARN every tiny morsel of gardening success. These luxurious blooms welcomed me this morning. My farmgirl pals gave me starts of all three colors. I bought one more that ought to bloom next year – Sky Blue.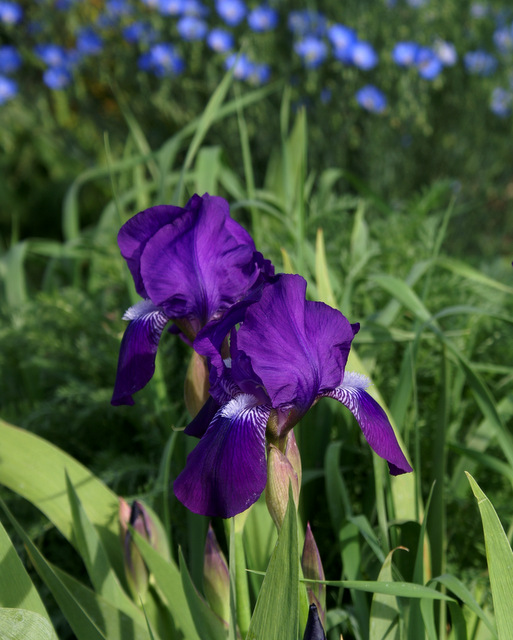 Below: Rookie free-rangers – my Buff Orpington pullets are growing and they like hanging out by all of the plants that are waiting for new homes. I've spent a lot of time with these three — each one is a lap sitter.
Oh, and while I have your ear … might any of you know what do with Hyacinth bulbs?? I'm letting them die back (in photo). Then what? I'm unclear what to do after that. I looked up info online, but there isn't much. Am I better off to box them up in shavings or plant them?? Thanks for any advice you might offer.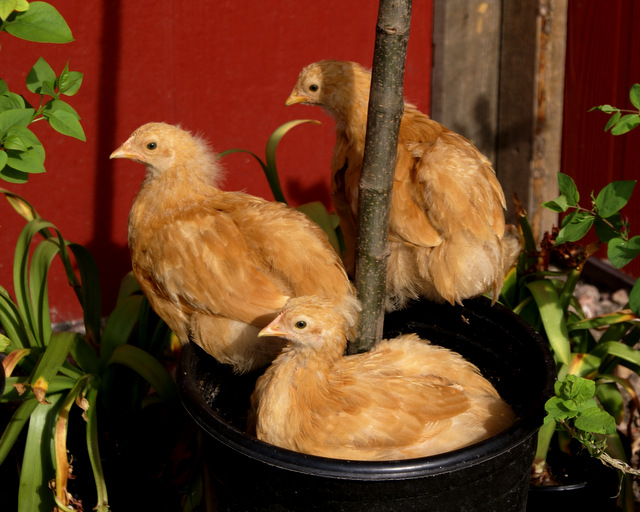 I've been taking plants in and out — inside the porch at night and back out again in the morning. So anxious am I to get all my new plants in. I've bought lots potting plants and hardy perennials — plus a Mountain Ash tree, a Lilac, a Honeysuckle and a Potentilla — none of which are exotic. I have to settle for what will survive. My enlarged garden yard holds two more old stock tanks. I saw such good results from the other two that it encouraged me to expand. I'm planting perennial flowers inside the garden yard too – my favorites: black eyed susans, coneflowers, delphiniums, gaillardia, hollyhocks (next to the outhouse), daisies, scarlet bee balm, various ground covers, a few hardy succulents, etc etc. Oh, and 2 kinds of Clematis will hopefully grow up and around the arched gate.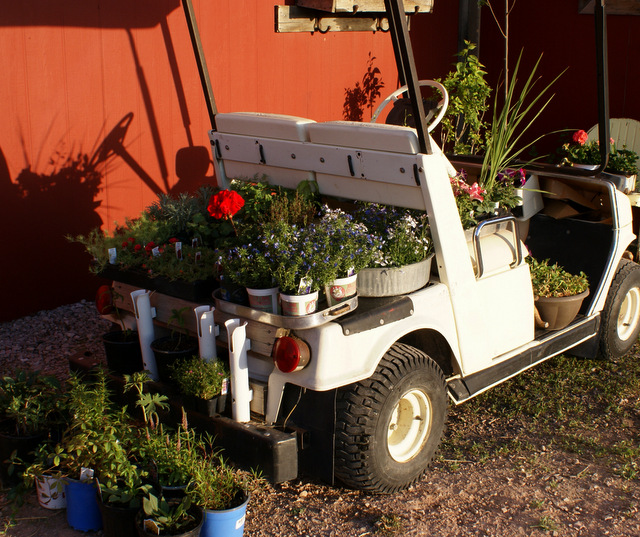 Here is a success story … sort of. Ok, in the end I won! On the west corner of my flower bed, the wind whips around the corner of the house like a tongue of ice or fire … depending on the temperature. Well, even if the temp is nice, high wind can make short work of many plants and trees. I've lost a Mugho pine, a juniper and a spruce to wind damage. Then, an Aspen to deer. The Chokecherry survived them both, but not before the deer broke branches off the side that shows. Grrrr ;o[ However, I was able to defeat one of my foes [the wind]. To heck with planting another tree or shrub. I planted a cement bird bath!!! Wish I'd have thought of that in the first place. I could victoriously shake my fist at the wind, but I'm afraid to dare it.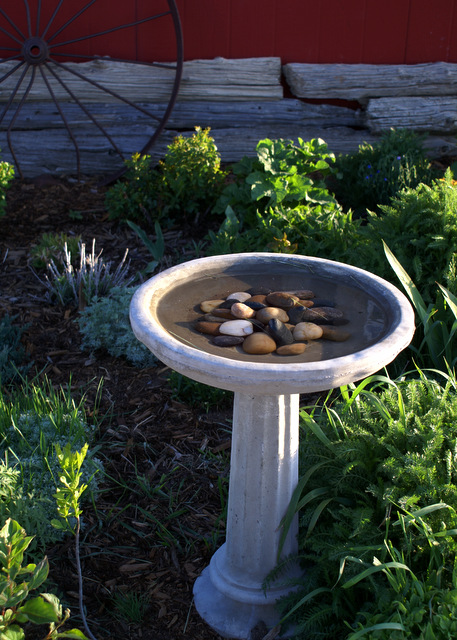 The garden yard yesterday before we began the fencing part of the project.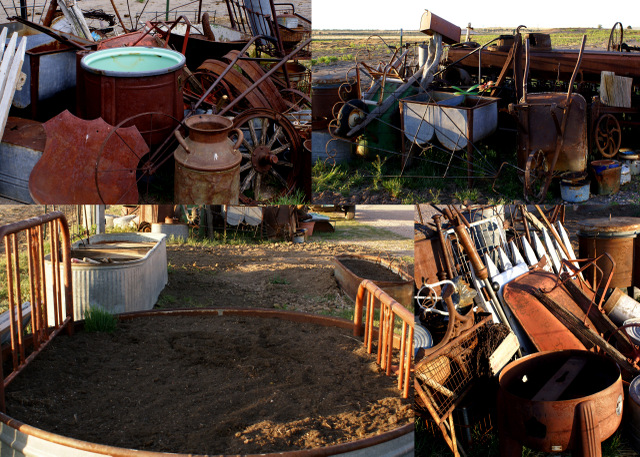 Digging postholes …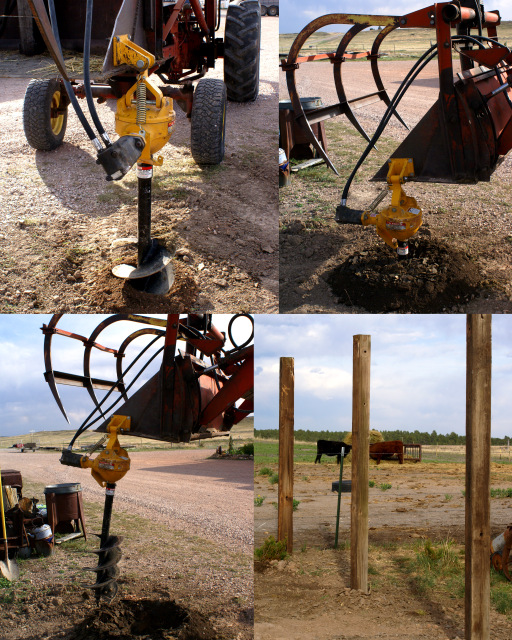 Branding at my BIL's [Earl] — in blue shirt.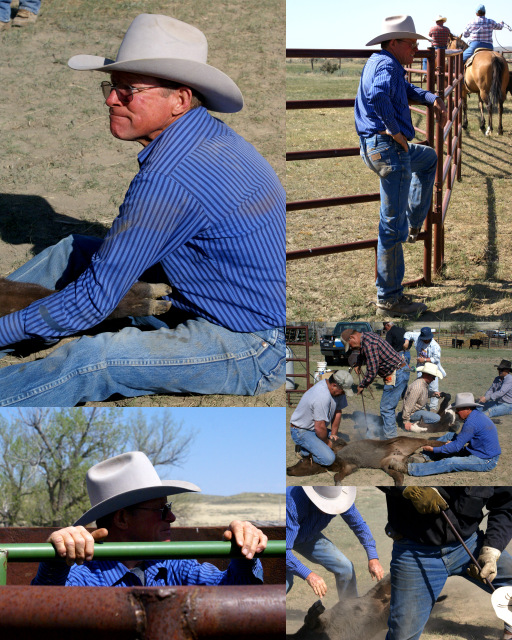 We didn't take horses for this branding — as he was only doing a small group — his younger cow's calves. So, while the menfolk were getting the branding gear ready, I looked around and took a few photos. Notice in the photo below, the handle on the gate into his horse barn. Earl, like my husband, can build about anything. They both weld too. This clever gate latch is made of oil field leftovers – rod & pipe. So are the corrals, other odds & ends, the branding irons and Earl's branding stove.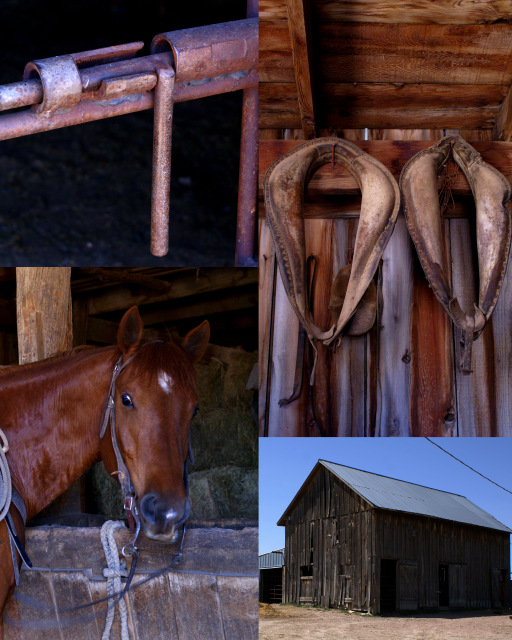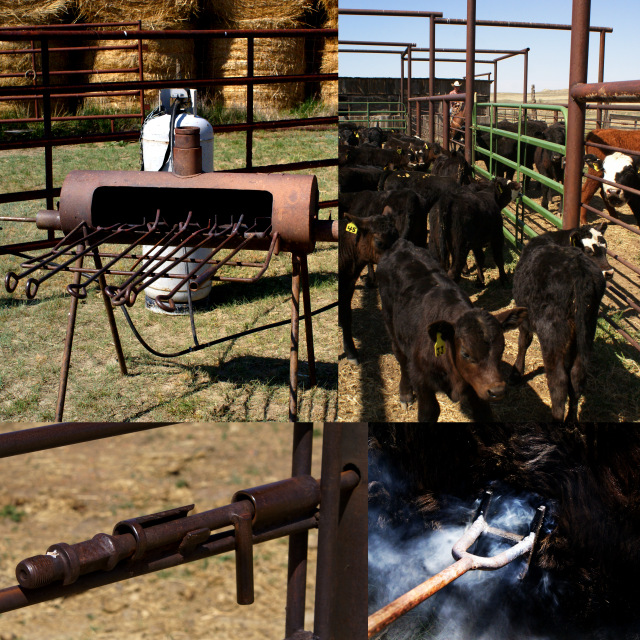 A double-decker swallows nest in the horse barn. I'm not sure what happened there — two different kinds of swallows?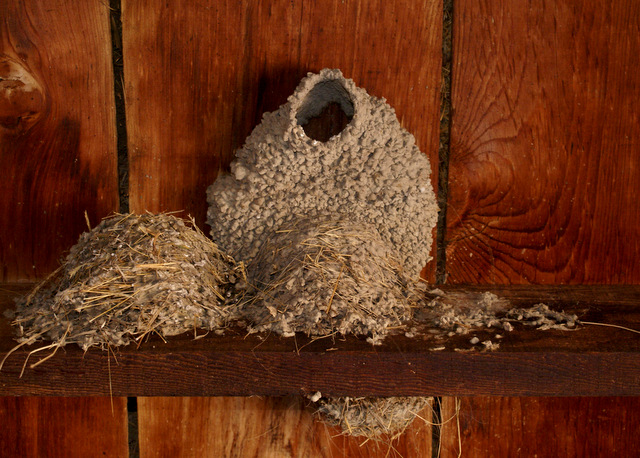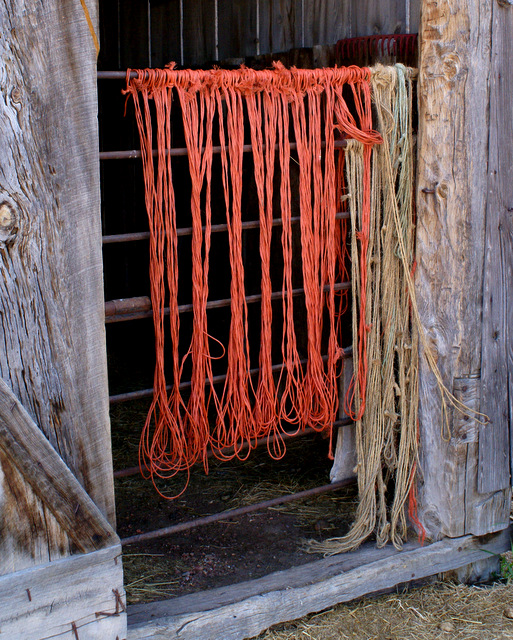 I paid particular attention to the larger barn door — it is on a slider and I want something similar in the porch. This barn is very old.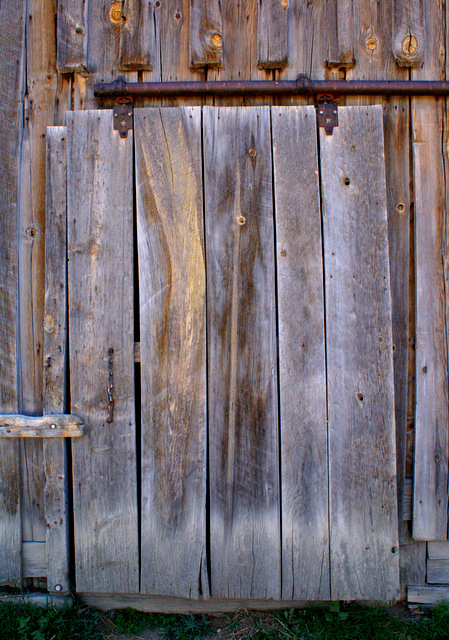 Before the calves were branded, the cows were vaccinated in a chute alley.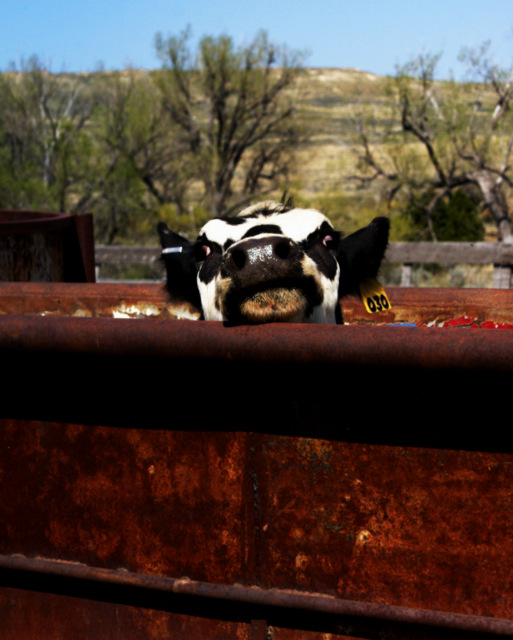 When the calves are roped, ropers make it look effortless and slick. Great care is taken to do it right and do it quickly so that the calf is stressed for the shortest time possible. Ideally, you want the rope around both feet. This lessens the struggle and chance of injury to calf [and people]. My job was to vaccinate the calves (and take pictures). Later, I make photo CDs for our friends.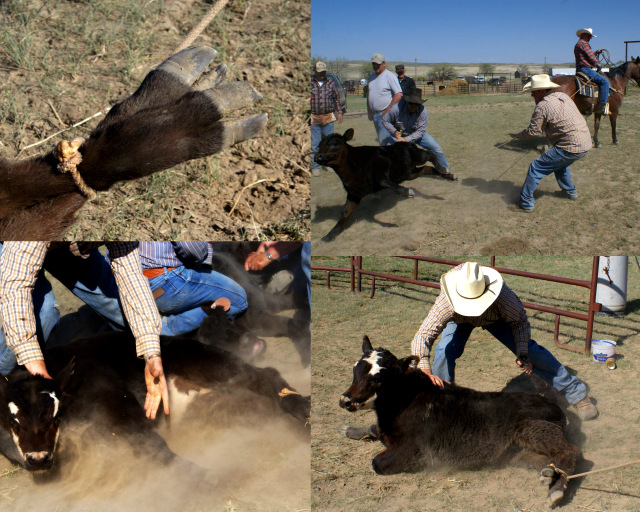 On this day, the ropers were husband & wife 'senior citizens'. Both, Bonnie and Joe are in their seventies! Bonnie is such an inspiration. She had both knees replaced last year and yet she gets on her horse just fine. She said, "It ain't pretty, but I can do it!" She won the breast collar on her horse. Neat, hu?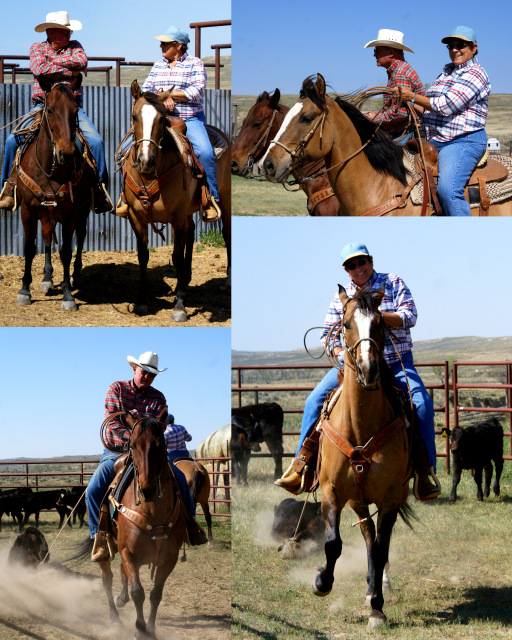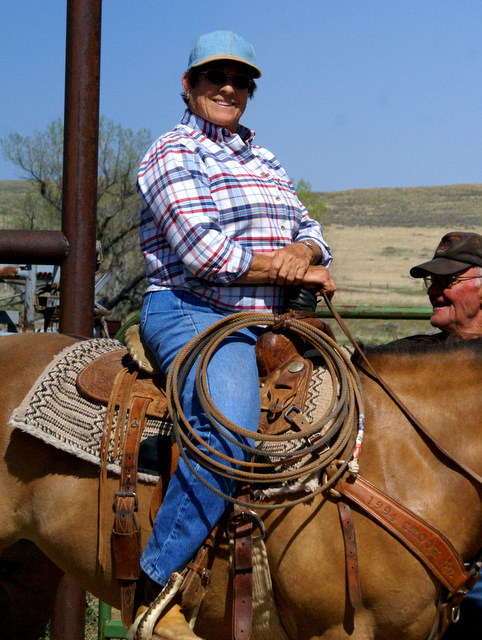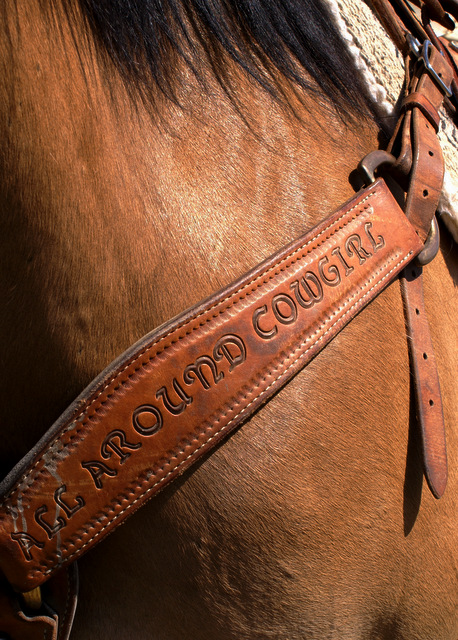 Then, it was home again. Home that we love enough to not let it remain 'as is'. To leave a place better than you found it is the right way to live. But, the doing of the thing is a never ending job because homes are like us … there is always room for improvement. :o) So, we just keep pecking away at the to-do list, don't we. How dreary life would be without 'Admiration Day'. You know, the day when you stand back, smile and are pleased with an accomplishment. As overwhelming as obligations in life can be sometimes, who would want to live a life where you have too much time on your hands? Nothing good can come of that. As much as I love my kitties, they don't have much to show for what little effort they put forth. Lesson being: If you aren't gonna do much, you aren't gonna get much. And that is also my message to the growing entitlement culture in this country. Our great nation wasn't built on that attitude, nor can it be maintained by it. 'Nuff said.