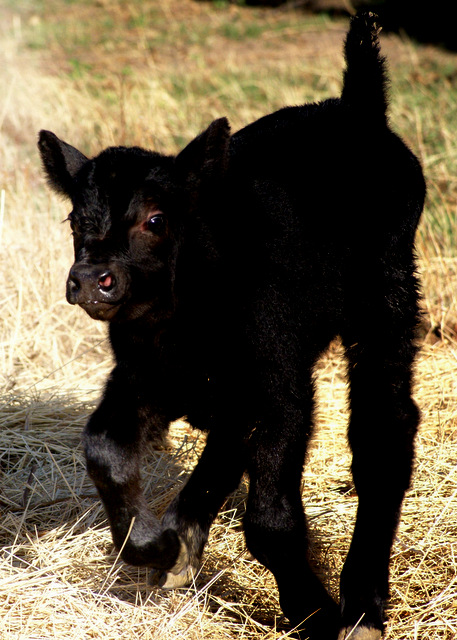 At last count, we have nine newborn calves. We're just entering calving season and pretty soon, there will be baby beefs snuggled under every sagebrush at the ranch. When we ride to check on the mother cows and their babies, the latter can be hard to find. Just yesterday, I had a heck of a time finding a new calf here at home where we keep the first-calf heifers. But, while I was looking for the little dickens, I did find something else … a treasure!
Baby calves slip in and out of a fenced pasture as easily as a dog or cat. A foal would get injured, but, calves have a lot of coarse hair and thick skin. They don't get scuffed up. I wasn't all that worried about the MIA calf being hurt, I was more concerned about one so young forgetting how to get back to where he belonged. So, when I couldn't locate him, I went on a reconnaissance mission. The pasture beyond our own here at home was once owned by a local junk-man. The residual relics still live there. I hadn't been back there for a long time. Since then, I've developed a love for re-purposing junk. While looking for the calf, I found an old porcelain sink and several other old rusty treasures that have 'garden container' written all over them. I called the current land-owner to make sure he didn't mind if I give some of the old junk on his property a new home. He said I was welcome to it. GoodyTwoShoes! Now I can make use of a cute idea I found at Pinterest. See below…the sink I found (where it laid) and the photo I saw at Pinterest (posted here with permission from Patti's Artful Design blog). Now, all I have to find is a couple more goodies for it: legs from an old iron stove and I think I recall seeing just such a thing at an old ranch dump nearby; and an old faucet & handles. Game On!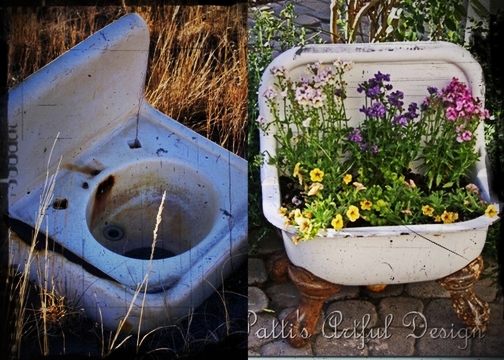 Kind of app-ro-po that a sink is part of this edition of my blog. I don't have a real theme this time — just rollin' with whatever is going on around here at present … I'm covering everything including the kitchen sink :o) Ok, bathroom sink if we're gonna be nitpicky.
ANYway, I've been going in about 7 different directions … which, for me is kinda normalish. I think I was A.D.D. before there was a diagnosis for it.
The porch project is near completion (kind of) — just a couple more things to do inside before I can move furnishings into the room. My husband is now getting things ready to set forms for concrete (for the covered patio). He thinks he has to do everything himself, so all of this happens between his full-time job (doing maintenance for our town's elementary school) and the ranch … and now calving – the busiest part of our ranching agenda. So, the home improvements take longer than if we were like 'normal' people who hire folks to do this sort of thing. Once the patio is in place, the timbers come next, then the screening (we'll have a wonderful screened porch) and THEN a new roof over the house and the new addition. Phew! My husband needs a clone. Below is a photo collage of the porch as it is now. Lynn built the stairs and landing out of old school bleachers. I painted, distressed and refinished them. The horizontal white strip on the wall is one of three radiant heat panels. Boy, is that a slick way to heat. Also in the photo collage are a few things that will find their way onto the porch: an antique sled, an antique mantel and the carved wooden swan I told you about in my last blog article. Until I get moved into the porch, the 'stuff' is being warehoused in our living room … and s'more in the barn.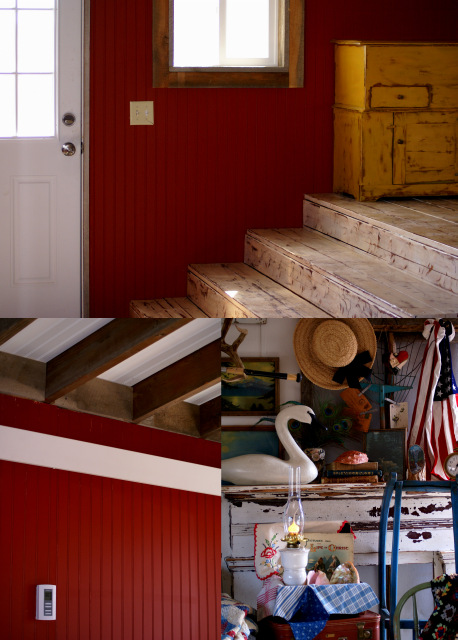 The other day, my farmgirl pal (Michele) and I went on our monthly shopping excursion over to the city. We hit all of our favorite antique shops along the way, had lunch at a Chinese restaurant and then did our 'neccessity' shopping. It is an all day affair since it is a two hour trip both ways just to get there if we didn't piddlefart as part of the trip. Both of us scored a few antique finds. I found another golden-oldie that I've been hankering for lo these many years: an antique weathervane horse. I wasn't tooooo picky about what kind, I just wanted one that A. I could afford, and B. is pretty. Some of the horse weathervane styles are kinda UGH-ly. I had in my mind's eye the likeness of one my Morgan Horse's ancestors: "Black Hawk", the famous racing roadhorse (Morgan Horse) of the 1800s. He is the classic trotting horse you see so often in old ads of the late 1800s … and it is his image in the form of a weathervane that I've been sighing over for many, many years. Because good quality *antique* weathervanes are so blinking expensive … to the tune of many hundreds of dollars up to many thou$ands of dollar$ … I assumed I'd never own the real thing.
So, ok, we stop at our first antique shop which is more of a place than a shop. The building is surrounded by gobs of old iron and a motley mix of alllllll kinds of vintage "junque". First, I found a couple of old galvanized tubs for my garden. Then, I wandered inside and before I laid my eyes on Black Hawk his-self, I think I heard the classic heavenly choir sing "Wa-Hahhhhhhh". And then, there he was … hanging on a nail from the rafters with old saws, chains, and a graniteware pot. I was shocked to see this kind of weathervane in this region. They're common back east, but not here. But, there he was … real copper and brass, perfectly aged, no bullet holes, his tail and ears were intact. I knew that he would be much more than I could justify spending, but I had to ask. When the store owner said, "60 bucks", I couldn't get him down soon enough! Thank you Lord for little trinkets that make us smile. At our next antique shop-stop, I took Black Hawk inside and Michele asked the owner (a friend of her's who is heap savvy about antiques) where she would price the weathervane. $350, she said — for this area and it would probably be much higher back east. WooHoooo! I did get a good deal and she confirmed that my prize is an antique and not a reproduction. "Black Hawk" will live somewhere in our new porch. Here he is …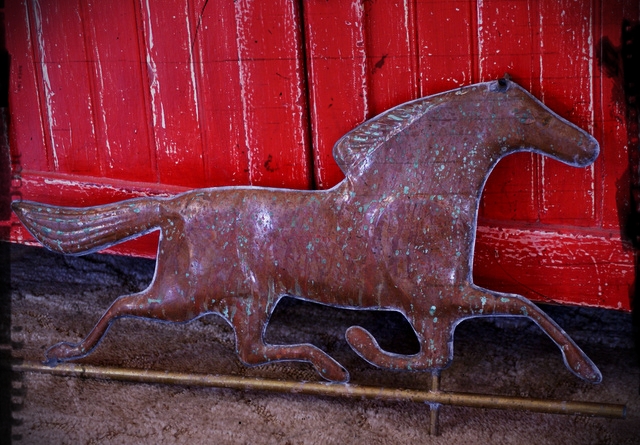 Sorry, I got a little carried away with my equine find. Moving on. How about some photos.
Here is wonderful photo that I know you'll love … unless you have a hair-trigger gag reflex.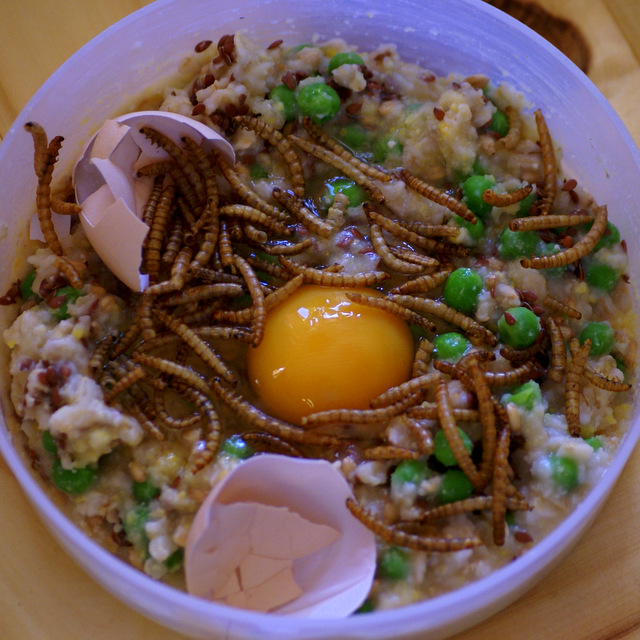 The answer to the obvious question, "What In The Sam-Hill Is That??!!" is: why, gourmet breakfast for my hens, of course. A yummy porridge of cooked oatmeal, flax seed, corn meal, barley, a few peas, an egg, the shell … and topped with dried meal worms. Mmm-Mmmmm. Since they are no longer yard-birds, but rather jail-birds, I fix them a good breakfast. They love to free-range and they're missing out on fresh greens and who knows what else. They only get an hour of freedom in the evenings now so that they can't tear up my flower bed.
Meanwhile, back at the ranch … like I said, we're calving now, just getting going. I thought I would share a few details that some of you might find of interest. Male and female cattle look quite different from one another – as it should be. There should be strong gender characteristics in both sexes. Even steers have their own 'look' — less male than a bull, but not like a cow. Even as babies, you can often tell the difference by looking at the overall animal and not just the more obvious indicators: the plumbing.
Here are photos of the first two babies of this year – one male and one female – standing by one of their mommas. The bull is in front – he is 'blockier', thicker built, heavier bodied and more masculine in the head. The baby heifer is noticeably more feminine … finer built, having a more delicate head, thinner neck – leaner looking body — even her leg bones are not quite as sturdy in appearance. Both of them are two days old in this photo. Not all babies are as gender-correct looking as these two, but it is clsoer to the norm than not.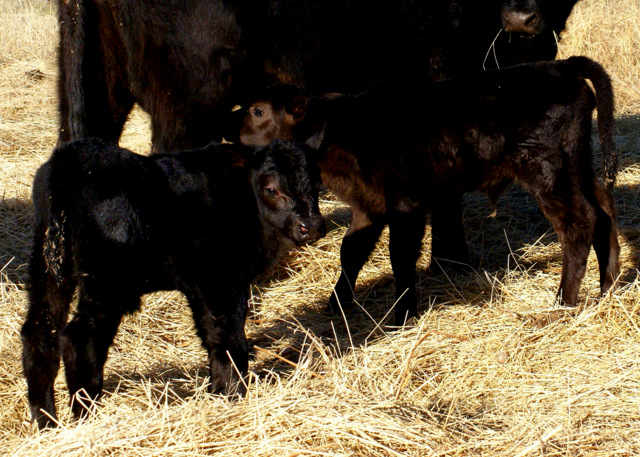 The photo at the top of the page is the baby bull playing. Here are head shots of the two …
The bull: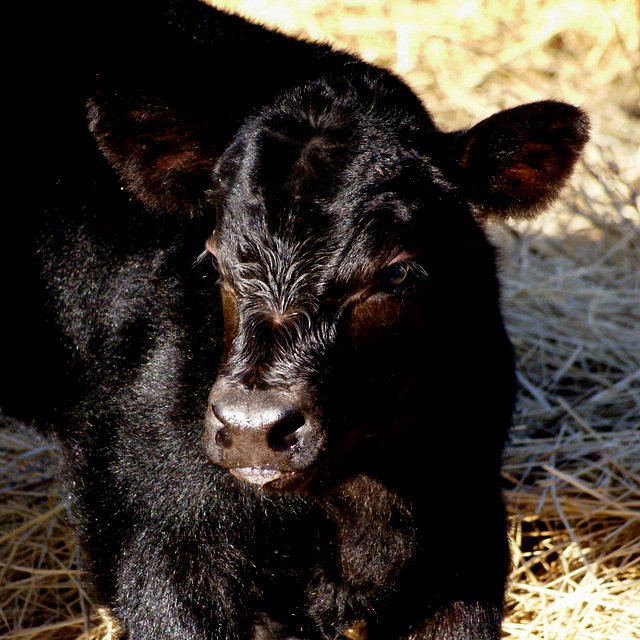 The heifer: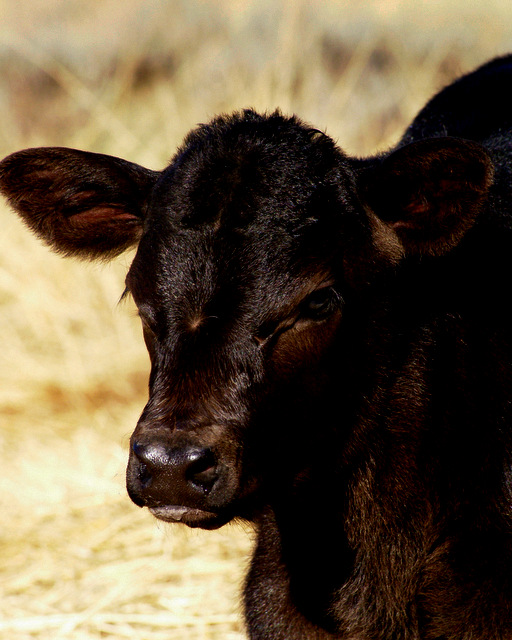 Can you see the difference now? Here are two more, first the little bull. His face and head look to be shorter and thicker than the heifer's. As he ages, his neck will thicken tremendously and a hump will develop over his 'withers'. Even the beef breeds have the hump that is much more pronounced in breeds that have Brahma in their lineage.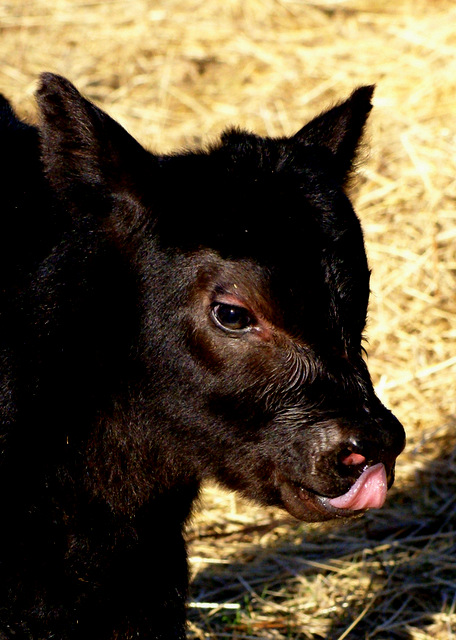 The heifer's profile is below. As she matures, her neck will not thicken. It will remain more slender looking and she will not develop the heavy muscling of a bull. Much of her energy will go to building babies and lactating.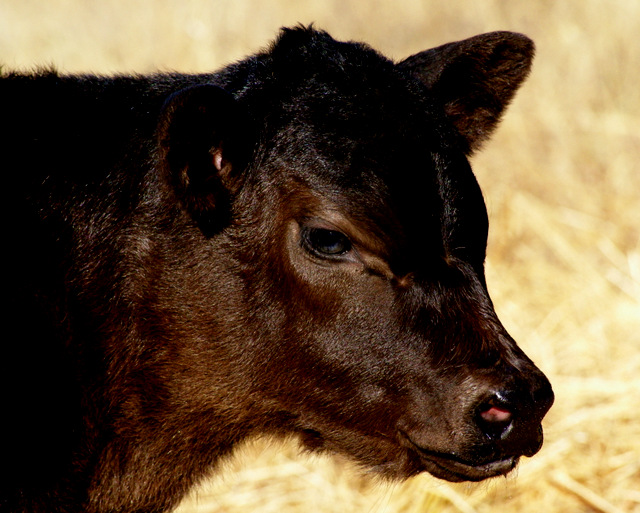 Baby girl again …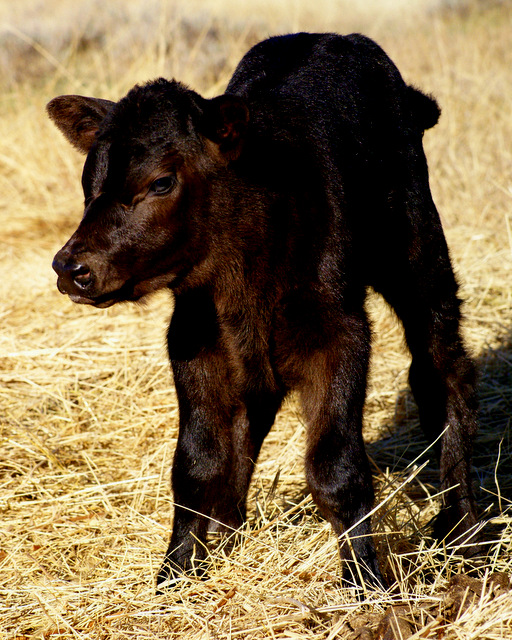 So, that is where we are at present … watching first-time mothers around the clock as they get close to birthing. Some need help, most do not. We lost a baby yesterday – still birth. No obvious reason. It just happens. Sometimes, if timing allows it, we graft an elderly cow's calf onto a young cow who has lost her own calf. This time, however, it is too early into calving to have a 'sub' at the ready. I feel sad for the mommies that lose their baby. The good news is that this little mommie found a sub of her own. She decided to adopt the bull calf. He thinks its great – he's got more milk which can be a little short in heifers until their milk comes in good. That is another reason we keep first-timers here for awhile — in the event that we have to supplement a calf whose mother doesn't produce enough early on. You can tell if a calf isn't getting enough to eat in two ways: lethargy and they are hollow looking in the flank area. Out at the ranch, sometimes a cow, even a veteran mother, will forget where she put her calf or a cow might have had twins and accepted only one. That is also an important reason to look for babies and at them. Another sign that a baby is underfed and perhaps orphaned is this: they stand and bawwwl … a lingering, plaintive bawl … the way a baby calf "cries". If we have an orphan on our hands, we take it home, feed it and we can usually graft it onto a new mother. A calf always does better with real milk. Dry milk replacement is a poor substitute for the real thing. But, it is a life-saver when you need it!
This is as 'ranch farmgirl' as my job gets and it is my favorite time of the year – from now until late June. Calving is ground zero in our line of work and both my husband and I really enjoy it. This weekend will be the first time we will ride this year at the ranch. We need to bring the horses home for some serious grooming. Poor "Ribbon" looks like she's had a serial bad hair day for months on end. Lynn trimmed everyone's hooves the other day, now they just need some grooming. They're also shedding big-time now which for a ranchy farmgirl means no lipstick or lip balm unless you like furry lips.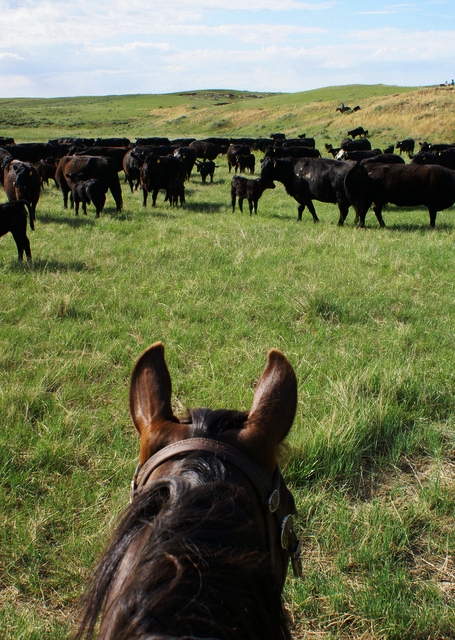 Well, girls, that's all I've got for now. I hope you're enjoying everything that springtime means in your little corner of the world. For all the turmoil we hear about in the news, for all the ills we see in society, for all the sad things that would make our hearts and spirits grow limp and weary … this is still a wonderous and wonderful place. It is no more evident than in the spring of the year, no more beautiful and full of promise and life's goodness. How perfect that Easter arrives when we're so in need of rejuvenation. "He Is Risen" … and the promise held in those three words means that hope really does spring eternal. Happy Spring and Happy Easter to all of my farmgirl friends. ~ Shery