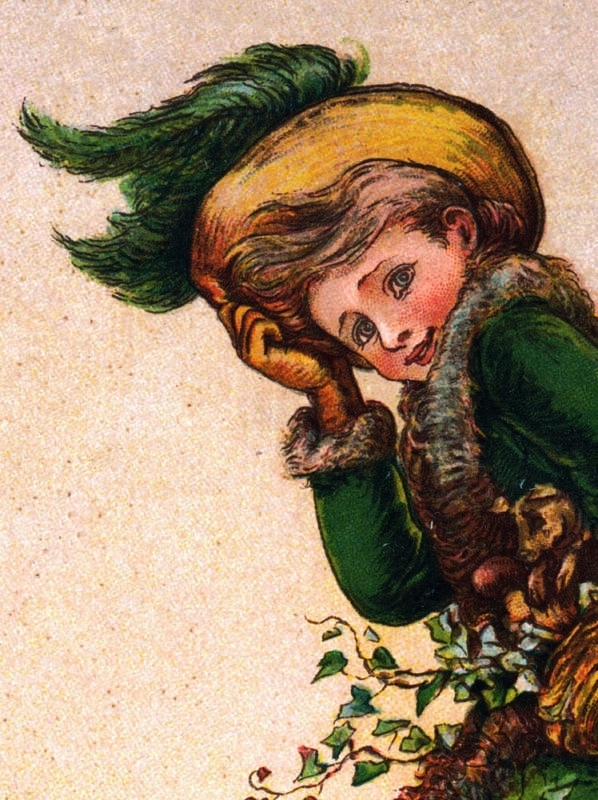 Curse not the month of bluster and tumbling bonnets, for it takes a blast of many trumpets to loosen winter's claws of ice. Ancient Jews held a festival in March in which trumpets owned the air. A jubilant chorus of brass marked the end of a season and the beginning of a new one. Indeed, there is something victorious sounding in the blowing of a horn!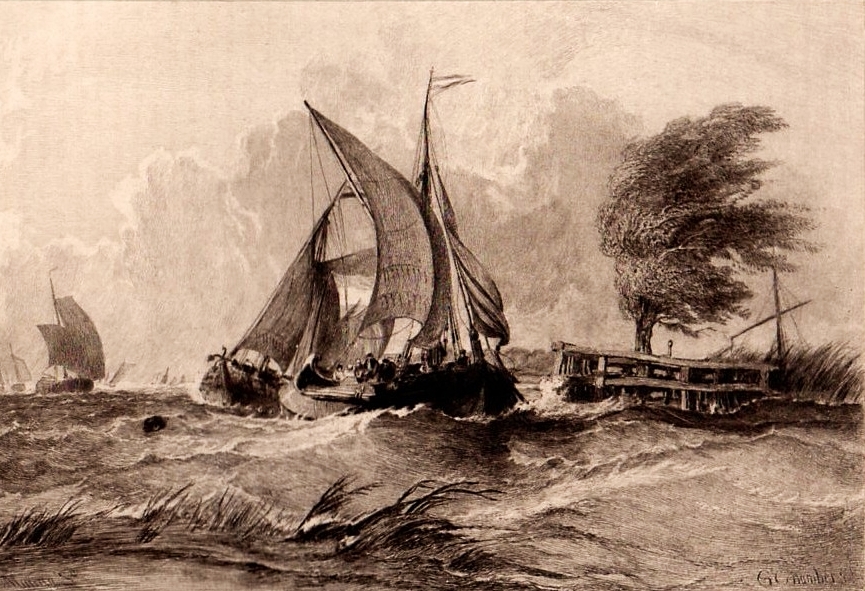 "March winds have a Herculean task on hand. They are trying to blow the moored ship of Winter, large as an ice-field, glowering as an ice-berg, cold and tryannous – trying to blow it loose of anchor and into the open sea." ~ William Quayle
I'm to greet March wind like an old friend, says William. He does. Loves the wind … the harder it blows, the better he likes it. He sees March wind as a hero, the "Rough Rider of spring". March chases winter away. I get his point. Really, I do. But.
The clouds are as windblown looking as my hair — stringy layers lain one over the other. Hats are no longer a staple in modern wardrobes. But, in the olden days, March was a time when men pulled their lids down tight and ladies held their's in place. Nowadays, when we ride during calving in April and May, I wear a visor rather than a hat. I can ratchet a visor down snug enough so that the wind has less chance of making me chase after it. We have March wind long into April and I don't mind telling you that I have a hard time being as delighted with the wind as Mr. Quayle. In fact, a stiff breeze can bring out the grump in me better than about any thing else.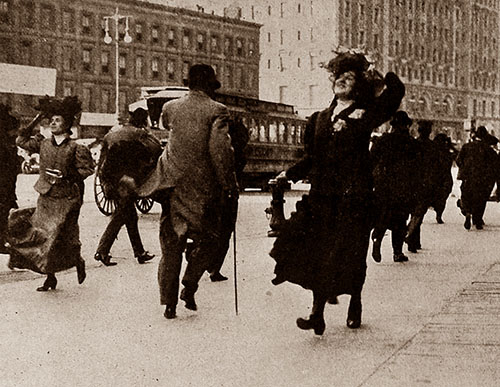 If the author of "God's Calendar", Mr. Quayle, liked going on his nature walks on windy days in March, I'm betting he didn't have much company. Wind is annoying. Ask any cat. Open the door on a windy day and you play hell shoving a cat out the door. They scrunch up like a furry accordian, blinking their eyes in shock and then practically turn themselves inside out to get back inside. Dont ask a dog, they're daft when it comes to wind. They'll happily run after any fool that calls them to go and play in the gale. You could ask a chicken though. They have the same embarassing problem as us girls do when wearing a dress in the wind. It'll blow your pinafore & petticoat clean over your ears. Damnable wind.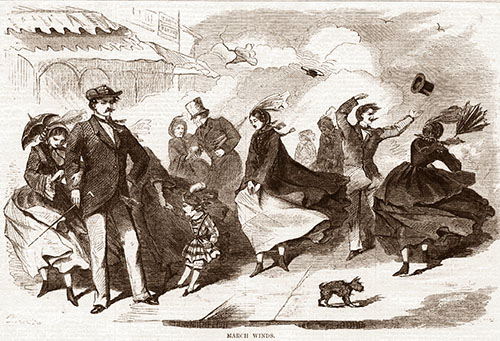 "It was one of those March days when the sun shines hot and the wind blows cold: when it is summer in the light, and winter in the shade." ~ Charles Dickens
There are so many things I'd like to do outside right now, but the cats and I stop at the door and think, "Mmmm, maybe not." Working outside in the wind loosens my grip on a normally steady temperament. Take all the garden work there is to do now. I can go out on a nice day and the little inconveniences don't fluster me. But, let the wind interfere and things fall apart. The other day, after reading from Mr. Quayle's book, I decided the wind was not going to deter me from doing some garden work. I was piddling with the fence when I dropped the hammer. While I was down there picking it up, the wind blew the gate shut on my head. Ouch! If that weren't enough, I backed up when I hit my head and tripped over the hoe handle that the wind had knocked down. Then, I dropped the hammer all over again. By now, I'm about to have that tantrum Donald Duck became famous for when he got tangled up in the Christmas lights. So, I said, "To heck with ya, it'll wait!" I won't say what else I muttered. But, it was not, "The wind is my friend, the wind is my friend."
I read somewhere that trees need the wind blowing their main branches to & fro to loosen and stimulate the flow of sap. Maybe they need it, but I bet they don't like it. There are few things I can think of except for kites that actually like the wind. When I was a kid, I didn't mind the wind. Flying kites was, as I recall, grand fun. Did you fly kites or do you now with your children? I admit, that is one way to smile on a windy day.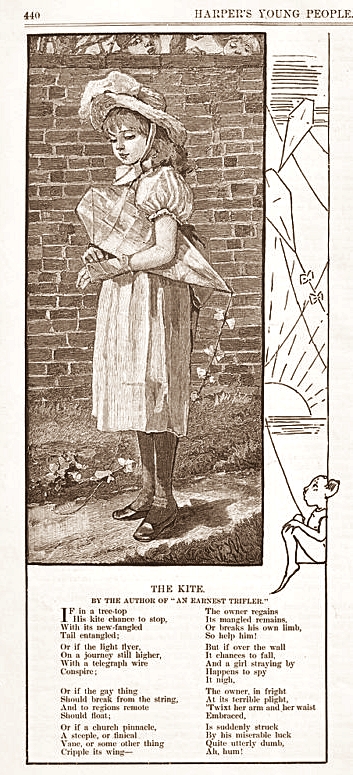 We entered wind season last week. It blew day and night … true to form, the wind being warmed by bright sunshine melted the last of the stubborn ice, even on the north side of the barn. Ok, I'll give it a thank you for that favor. We've seen the last of ice for 2012. Onward with springtime!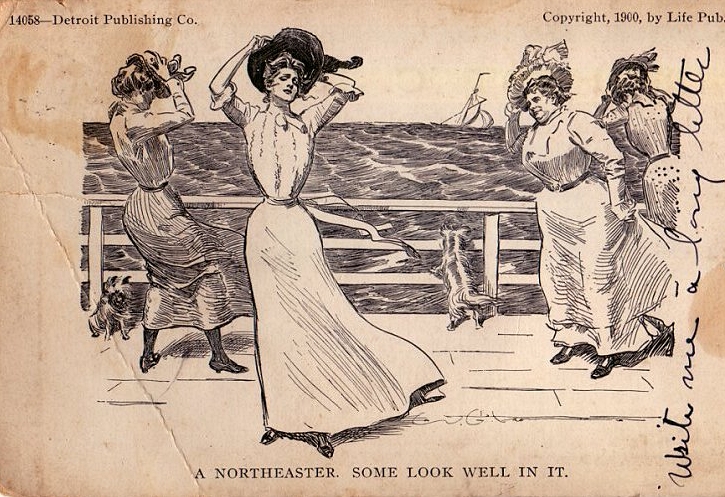 While the wind blows our new season into place, I've been keeping myself occupied with some indoor chores. As you know, our porch building process is well underway. Today, I'll paint the steps that my husband built out of old gym bleachers. I'm painting them white and then I'll sand them here & there, stain them with 'antique' glaze and finish them with polyurethane. Soon, I'll attack my old step-back cupboard and paint it blue. I tested my choice of paint on an old box yesterday. Love it. This is the vivid indigo blue that so many of the cupboards of the late 1800s wear. Staining and sanding will subdue the hue somewhat, but I love that brazen blue of old!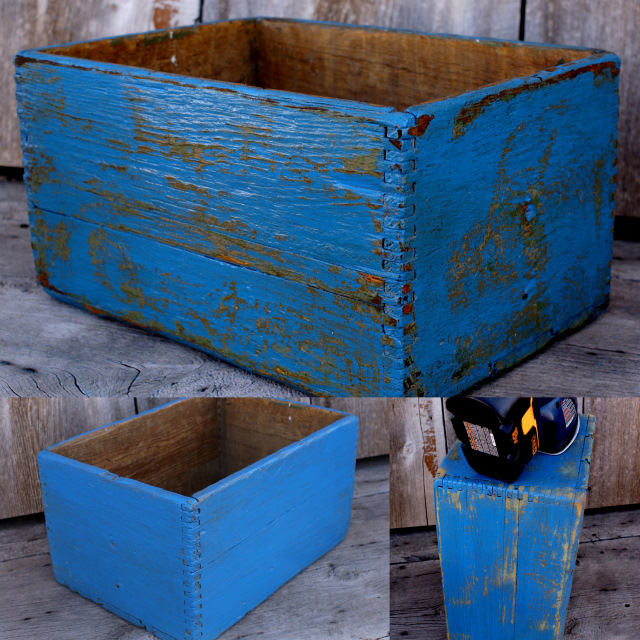 I also found a home for my antique postcard collection – an old billing shelf with slots.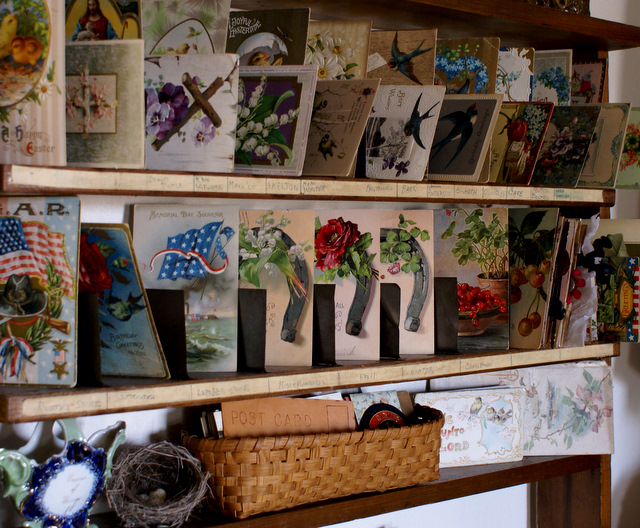 I'm eagerly waiting for these blue Hyacinths to bloom. Their intense fragrance so invigorates your sense of smell after a winter's worth of being denied the fresh scent of green things.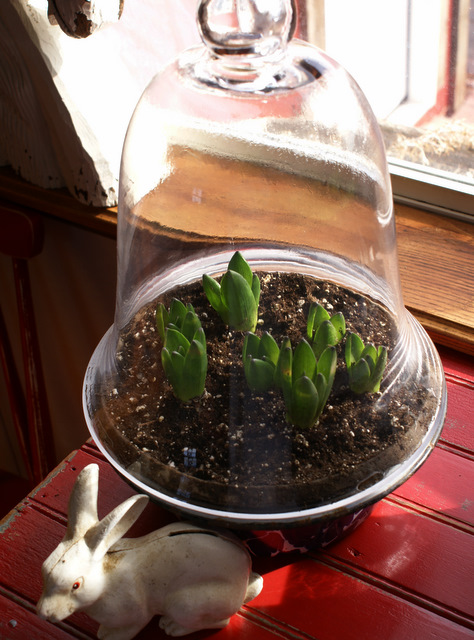 This too, I bought a brand new antique Singer Featherweight sewing machine awhile back. It is how I plan to smoke a peacepipe with an old nemesis: sewing machines. I don't like them. Well, come to think of it, I don't really like any appliances or gadgets that are much more complicated than a toaster. A hammer, a screwdriver and tweezers are the kind of tools I like. I don't know how to text on my cell phone and I don't want to know how. My desk phone is a rotary. I'm kind of a anti hi-tech Scrooge. It bothers me to see people addicted to gadgets and I don't want to go there. (I reminded myself of that last night when I was playing at Pinterest ;o). I do love my cordless palm-sander though! What a lot of work that saves me. But…back to my sewing machine. I learned machine sewing on my mother's Pfaff. I was later introduced to an old Featherweight when I worked at a quilt shop. I didn't fall in love with machine sewing via the Featherweight, but I found a machine that thinks like I do. I don't want a long list of choices that I'll never make use of. I just want what I need: basics. With that, I'm a happy camper. So, I'm going to commit myself to getting reacquainted with an old friend and save myself a lot of stitching mileage by sewing on a machine again (after a long time away from it). Here she is. Ain't she a darlin'?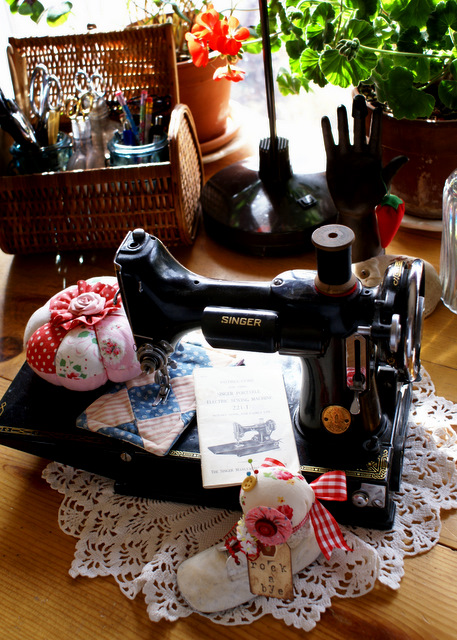 Well, the wind has let up. The house isn't creaking. I think I'll take down the last of the Christmas lights. I see my hens are busy scratching in the flower bed. I think it's time I enforce freedom restrictions to a few hours in the evenings lest they make the bed look like a war zone just when things are going to start coming up.
I hope you're enjoying the thought that springtime in your corner of the world is near. Have you worn out the seed catalogs? Have you decided what to do differently in your garden this year? Are you buying baby chicks? What is on the springtime horizon for the farmgirl in your shoes?
Shery … in windy Wyoming