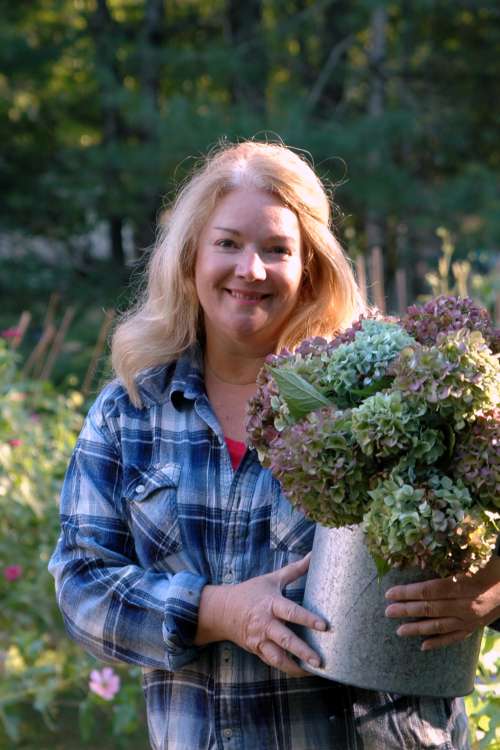 Dear Sisters,
Holy Hydrangeas! How have you been? The past few days have been beautiful here in New England along the shorelines. The skies are clear and there's a refreshing nip in the air just right for getting some farm chores done. Right now, I'm swimming in hydrangea blooms ripe for harvesting to be used in seasonal arrangements. Come on out to my virtual "plein air"  flower studio and let's get crafting. I've got a bucket of blooms with your name on it!
Are you able to grow hydrangea in your neck of the woods? I've loved them since my early gardening days as a desert farmgirl in Northern Nevada. Sadly, I couldn't get any variety I tried to grow there. Rocky, clay-packed soil, long dry spells, and roots that prefer a sandy footing, salt air and a cool ocean breeze just don't mix. But, then again, I didn't know about Fire and Ice Hydrangea. Had I known I may have tried them. The plant requirements say they are hardy in zones 3-8. Now that widens the possibilities doesn't it?
Any-who, I am able to enjoy this fine specimen in my border here ( along with several others ) and I'm crazy about it. It's great for cutting all season long, especially this time of year when the petals begin to fade from pale pink to a deep burgundy red. The only strange thing is that when it first blooms in the summertime, it attracts flies like nobody's business. Gotta look into why that is.
I  enjoy them plopped into a bucket or watering can " as is" or as feature flowers in a wild bouquet.
Hydrangea shrubs are the quintessential New England flower in the height of summer but their beauty goes deeper that a fleeting summer romance. They are pure magic in the fall too! Every petal a pallet of mellow blues and greens with shades of lavender and deep purple that look as if they've been dipped in earthy sepia tones the color of perfectly toasted marshmallows. As I strolled from shrub to shrub in the garden today, buckets in one hand, shears in the other, I got absolutely giddy looking at the different variations of color from bloom to bloom!
Cutting hydrangea blooms for drying and crafting is easy. The flower heads grow from stems that branch off from a larger main branch. To cut them simply look for where they're attached to the main branch and cut them there. No need to place them in water because they're already cured and ready to use. The best time to harvest hydrangea for drying is in late September/October when most of the summer color has faded out of the flower heads.
Wreathes are popular and easy to make with dried hydrangea blossoms. Frames come in all sorts of shapes and materials; Styrofoam, wire, natural grapevine and straw just to name a few and let's not forget chicken wire which you can make into just about any shape you want!
I picked up three different sizes at Jo Anne's Fabric and Craft Store to have on hand when inspiration hits. The photo below shows two different sizes in round wire.
And I thought this little square was adorable so I grabbed it too!
These frames are sturdy and the boxes give you plenty of options for attaching seasonal flora and fauna no matter what the season.
I was looking for a way to gussie up the hen-house this fall so I created a large wreath with some of my best hydrangea blossoms and some native  corn I purchased at the local farm stand.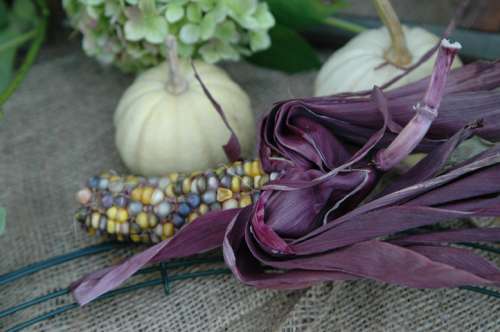 To get your creative juices going be sure to have all of your supplies within reach then you can begin to lay out your design on top of the wreath form before attaching anything.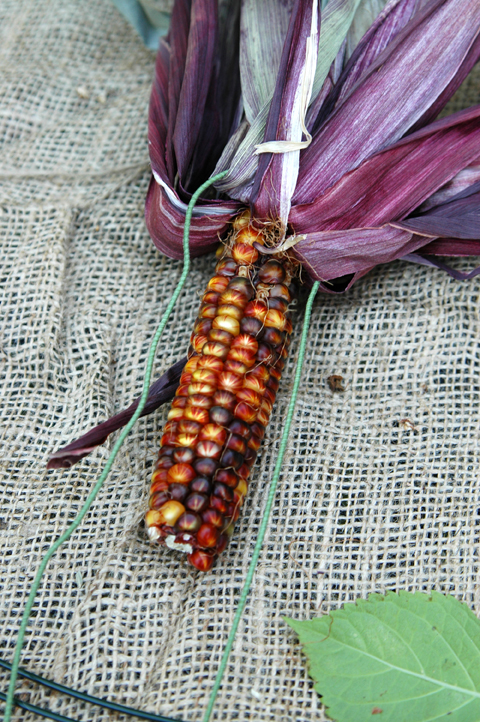 I used wrapped floral wire to attach the corn cobs. They're bulky and heavy little buggers. I slid the wire underneath the husk near the top of the cob then slipped it through the frame and twisted until it was secure using 4 of the corn cobs spaced evenly over the wreath frame.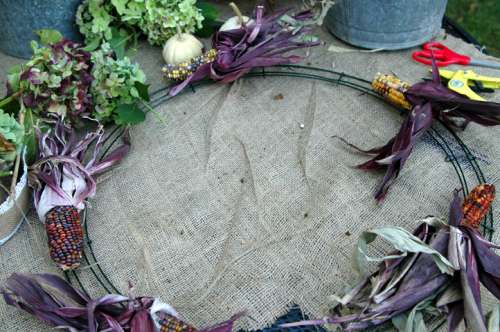 Once they were on solid I did something sort of sneaky. I hung the wreath on the hen-house with twine and simply tucked in the hydrangea stems willy-nilly until  I liked how it looked. After all, hydrangeas don't grow perfectly in the garden either.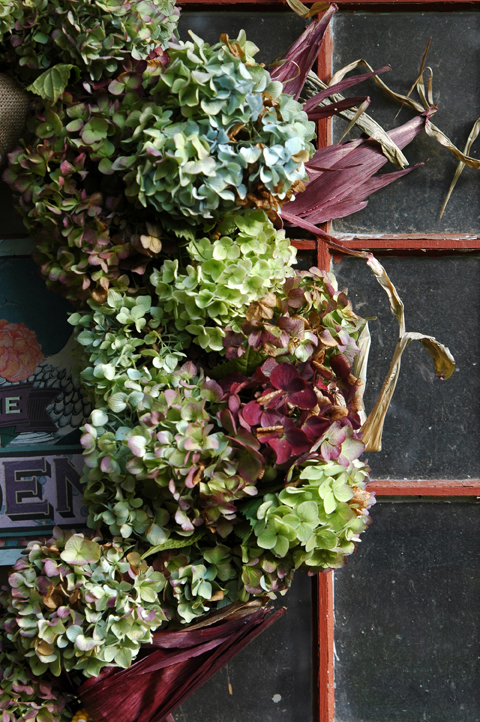 The texture of the purple husks add a rustic touch to the over all softness of the design. Since this wreath isn't for a client the fact that the hydrangea stems aren't attached is okay. It's not meant to last forever, but it's a beautiful reminder that when you design with the seasons you'll always have something to celebrate!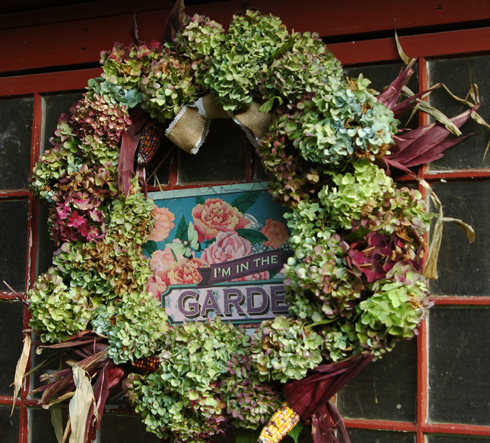 The artist behind that adorable tin sign tucked into the center of the wreath is GIRL GENIUS, Sarah Hudock of Chicken Art. She was featured in our Feb/Mar 2015 issue. Look for her add in the magazine! Her chickens have taken up a lot of new hobbies you'll be sure to fall in love with.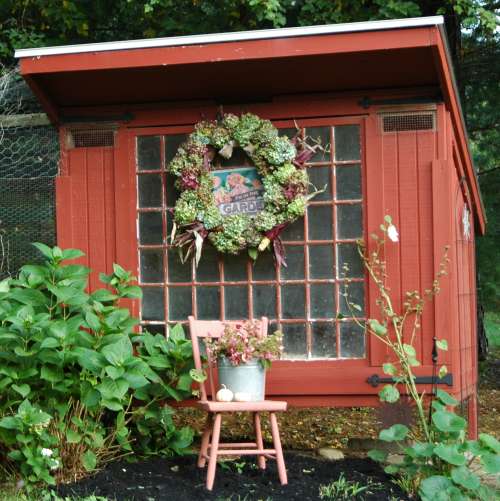 Ta Da! There she is all gussied up for fall, or at least until the next big wind blows through. By then it'll be time for a holiday wreath! Yikes! Maybe by then the resident farmgirl will have been by to clean that window!
As always, thank you so much for visiting me on the shorelines! I look forward to your notes and I'd love to hear how your harvest season is going. What are you crafting right now with seasonal goodies?
Until next time~ Happy Harvest Season!
BEACH BLESSINGS,
Deb # 1199