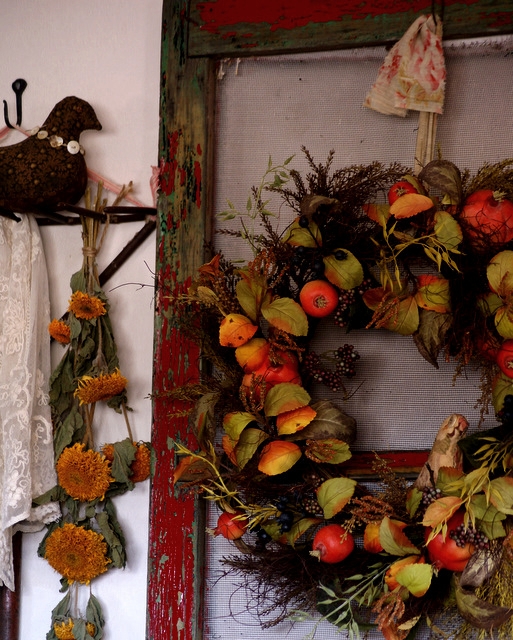 Fall color on the grassy 'high plains' is more subtle, but just as lovely as the tree'd up hill country nearby. On the ranch, we've been doing a lot of 'fall-work'. Socially, my farmgirl pals and I have been having a rollicking good time and savoring every autumn moment. Come on in and see for yourself …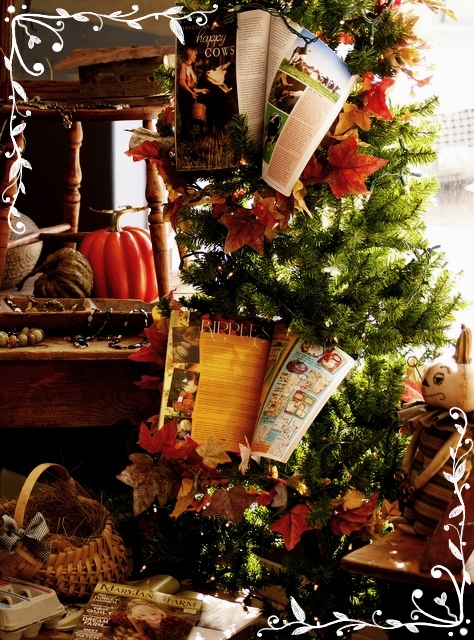 This past weekend, my creative farmgirl friends and I had our Fall Farmgirl Show in the front room of my folks old building on the main street in town. We had a nice variety of farmgirl fare for sale: Folkart, canned goods, freshly baked pumpkin bread, jewelry, gourmet paper art goodies, knitted hats for children, crocheted washclothes & scrubbies, birdhouses embellished with 'junktiques', fresh cheese, bath soap & salts …etc etc. The show was well attended and as usual, we had fun. Here are some photos …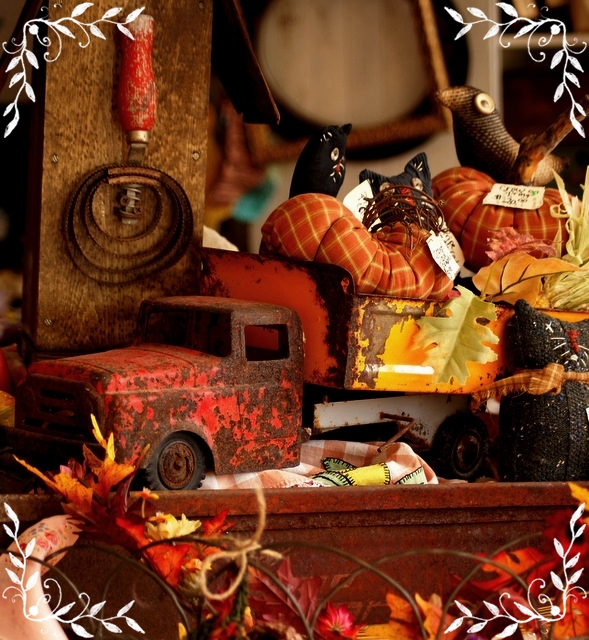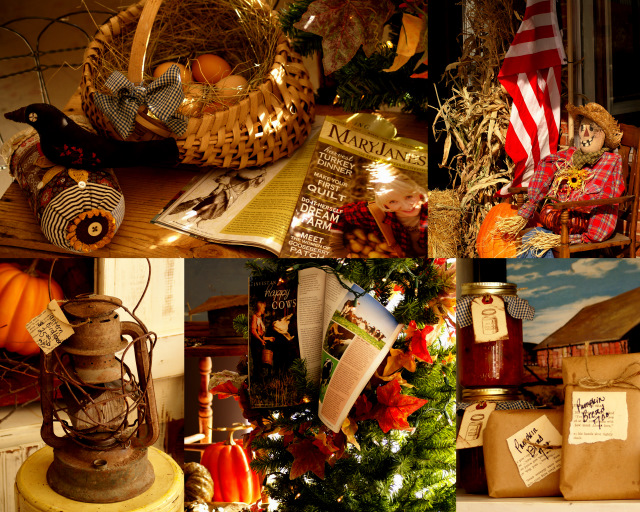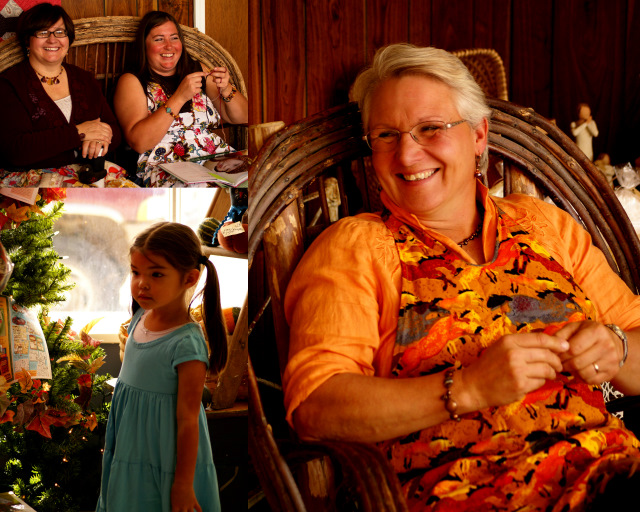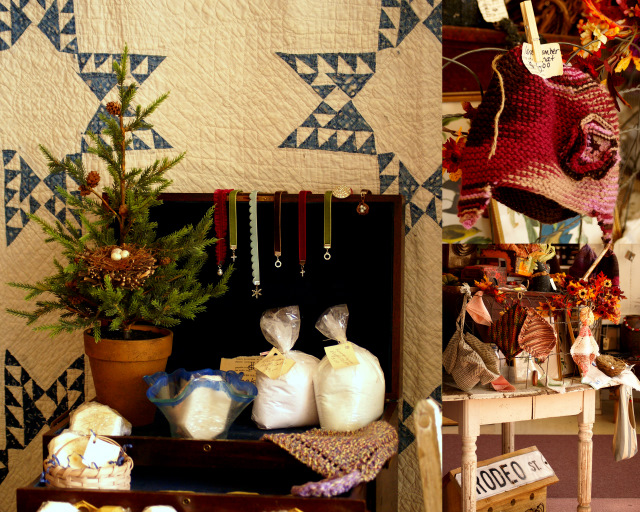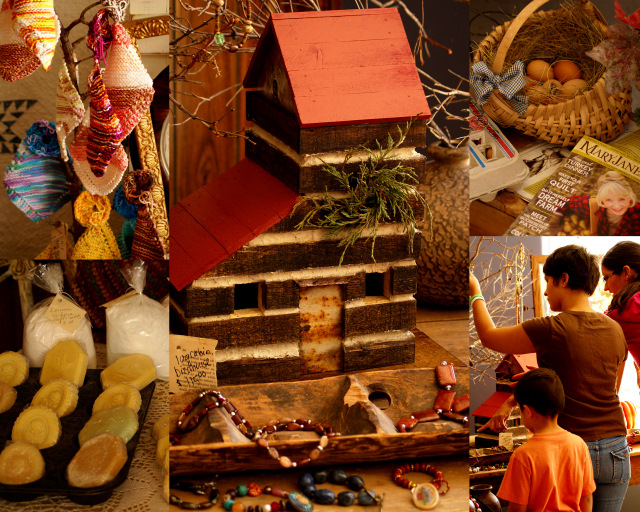 And what did I go home with from the show? Michele's cute little googley-eyed crow perched on a pumpkin … sitting on an old bedspring (below), a jar of Anita's pumpkin butter, a Michele-made 'junk-art' birdhouse, and a handful of Lisa's artsy handmade cards. The weather was nice enough to leave the front door of the shop open which let the breeze blow some leaves in. 'Tiz the season :o)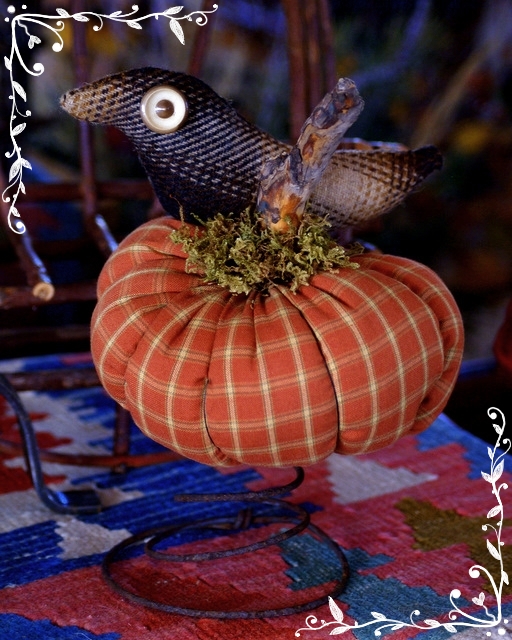 I've been cherishing every 'indian summer' day, for I know it will soon be gone. But, I'm trying not to see it as an ending. This is a season of optimism and hope. Well, at least Nature thinks so. Everything is going to seed and preparing for springtime. I prefer to look at it that way so that I can remain in denial about looking down the barrel of winter. I don't want to think about that yet. Let me enjoy the warm hues of frostbitten prairie grasses and eating fresh, wild rosehips while on my pasture walks with the dogs & cats. Speaking of rosehips, have you tried MaryJane's recipe for Rosehip Tea? It is in the Oct/Nov 2010 issue of MaryJanesFarm magazine – page 95. Very comforting and soooo good for you. I think I'll go out and pick a bunch & let them dry.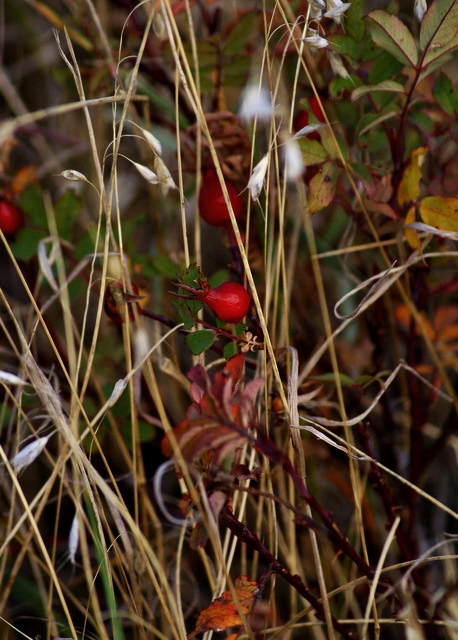 This is the land of grass, literally. We live on the eastern edge of the Thunder Basin National Grasslands. The variety of grasses that grow here is impressive. The kind of soil and the amount of water (or lack of it) determines what you'll find underfoot. Ranching is refered to as the "Grass Culture". Everything we do depends on grass. Ranchers don't mind the absence of trees because that leaves more space for grass. So, where we live is most definitely ranch country. Here is a view of our little corner of the world this past week …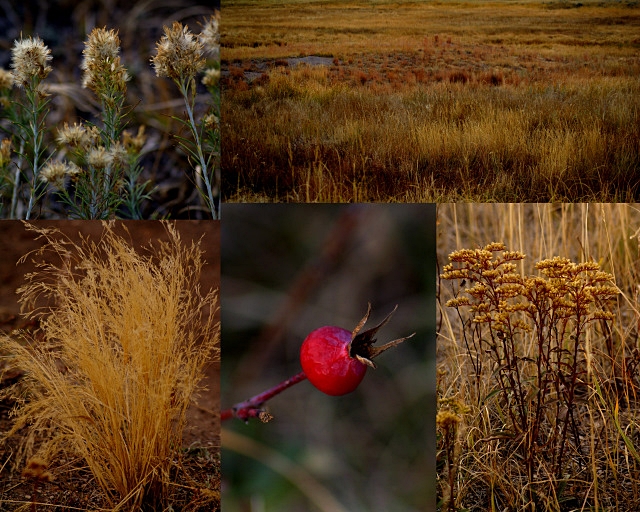 I don't hoof it all that far when I go on walk-about in the back pasture, but it feels like it simply because you can see for forever out here. On just a few acres, the abundance of life always amazes me – most obvious in the summer, of course, but even now there is much to see. The other day I found a snapping turtle's nest a hundred yards from the house. There was a hole in a bank of dirt and the scatterings of leathery eggshells. Oh, how I would love to have watched those ittybitty snappers make their way down to the creek.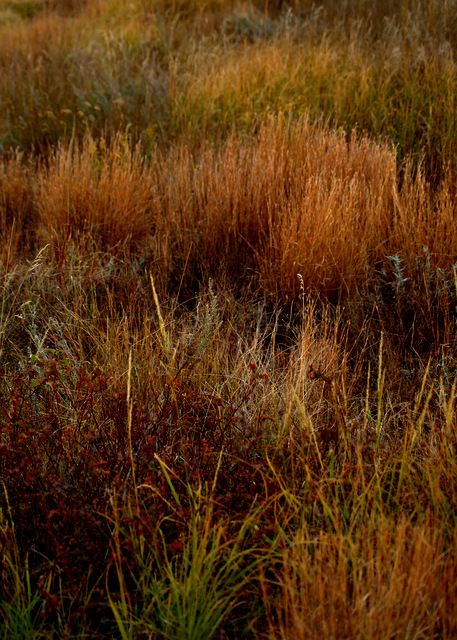 My walk-about posse …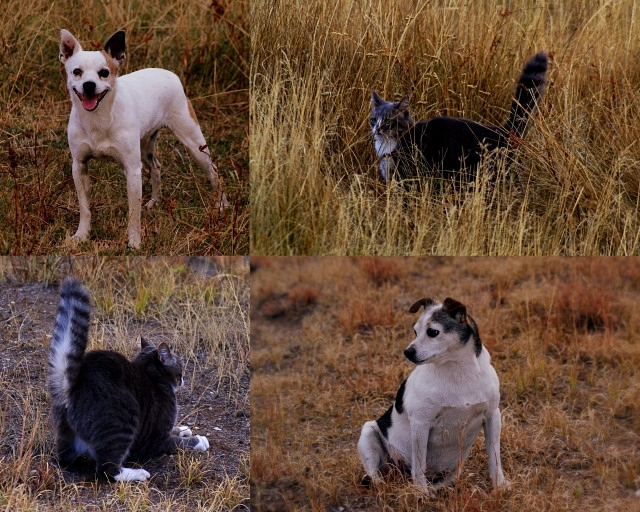 My Rat Terriers love to hunt for voles in the pasture. If this country's politicians posessed the enthusiastic tenacity of a terrier on a vermin hunt, they'd have this country back on track in about 20 minutes :o) Teddy Roosevelt had five Rat Terriers in the White House to keep it rodent free.
One of the needs on a farmgirl's farmstead is a real & true "verminator". Not just a pet, but a dog that earns it's keep. So, here is my top choice … Rat Terriers are an American breed developed in the 1800s as an all-around farm dog and hunting comrade. When the family farm was common in America, so was the Rat Terrier. The 19th century was the breed's golden age (also true of many other working class breeds). You'll see Rat Terriers in a variety of vintage litho prints of that time. They were and are the perfect 'farmstead' dog. Lovely pets, hard-working varmint hunters (in fact there is no better mouser in the universe). As mousers, cats aren't even in it when compared to 'Ratties'!! RTs are easy on other animals and unlike many other terrier breeds, they are very easy to train (and live with). They're active lords of play, and yet mellow …. and oh so very sweet. At a glance, they're similar in appearance to Jack Russells, but they are very different in temperament and in appearance once you take a good look at them – most notably in the head. In my humble opinion, RTs are the best choice for the family farm. In fact, they earned that title a long, long time ago and it is still true today.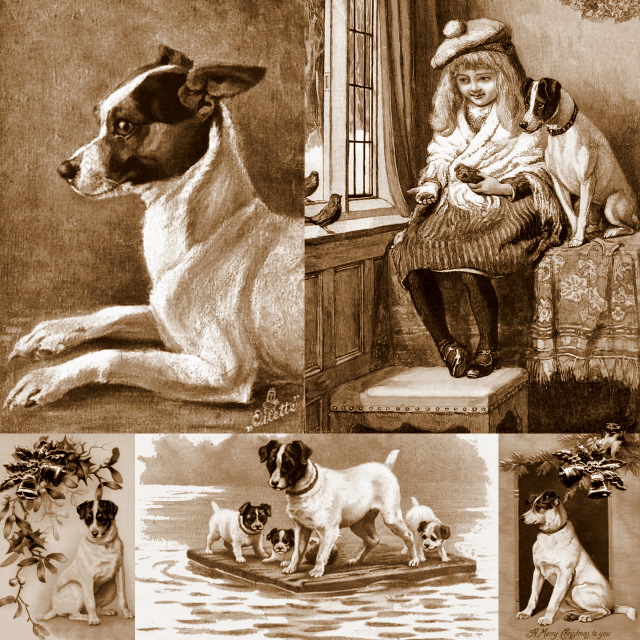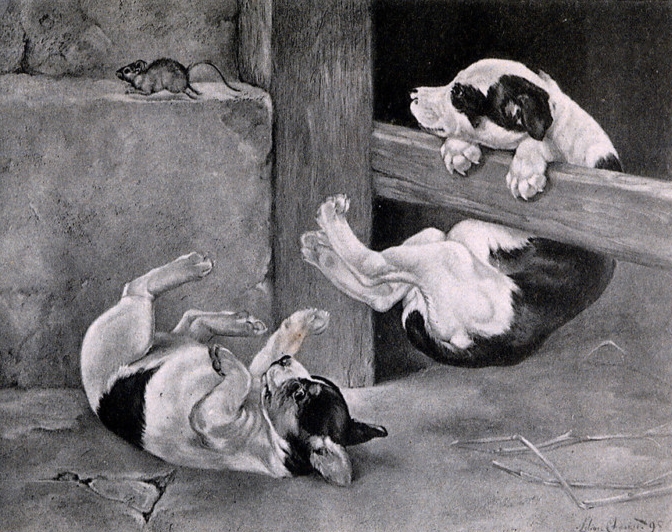 In the antique print above, toddling Rat Terrier puppies are hot in pursuit of a mouse in the barn. I saw the very same thing with mine and at the same age. I gave them a mouse that one of the cats was playing with and Oh My, my tiny puppies went ballistic, killing it in an instant!! Actually, I bought them to indirectly protect my poultry. RTs (like most terrier breeds) hate varmints with a vengeance. So, although my Rts have no particular affection for my hens, they protect them by patrolling our property, ever on the lookout for any four-legged invader. Ok, end of doggie sales pitch.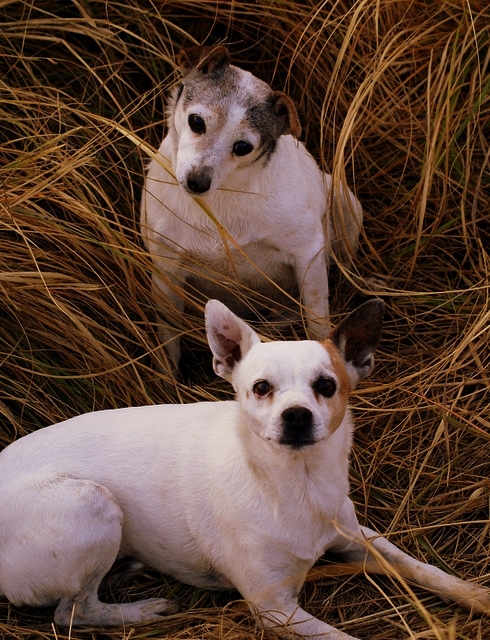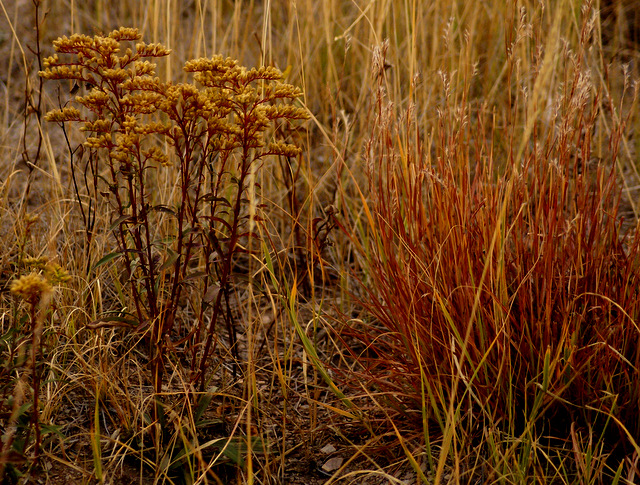 When I check the horses out in the pasture (count heads), "Ribbon" can be very difficult to see and it only worsens as her winter coat grows in – being the very same shade as tan grass. At the moment, her winter coat of fur is just now growing in which covers her with hundreds of dapples. She is my first palomino colored horse and when she was a baby, I noticed that late in the fall she becomes virtually invisible.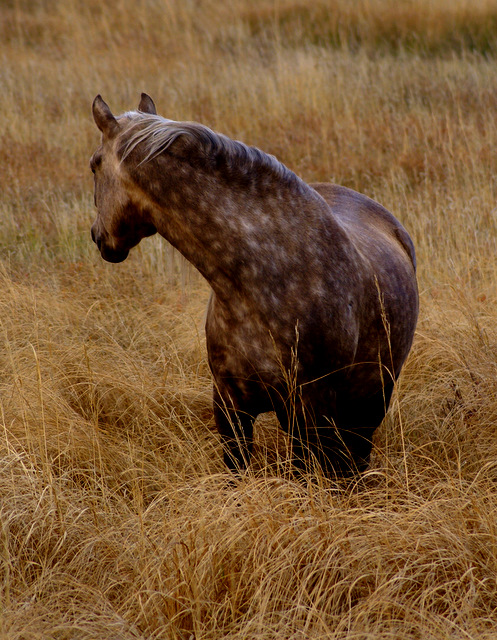 Below: She was a 4 month old foal 4 years ago. Oh, she was such a pretty little thing. Not braggin' … just sayin' :o)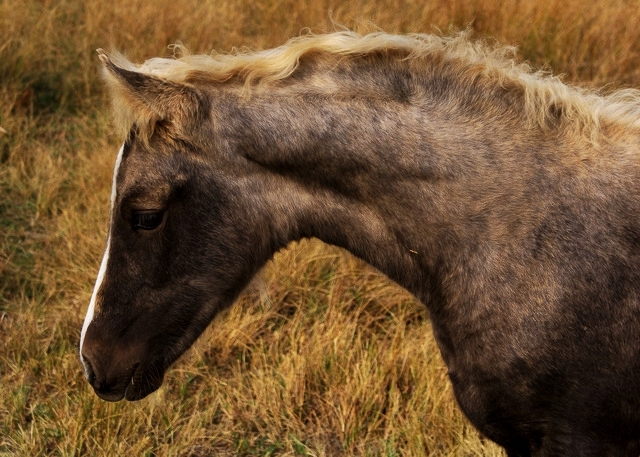 We normally get Fall rain showers which revives the grass. The horses and cattle while grazing of late, have buried their heads down deep in the old grass to feed on the fresh growth. This new grass really puts a nice 'bloomy' polish on our calves. It also helps the cows as they're near the end of their nursing assignment and could use some extra oomph in their diet.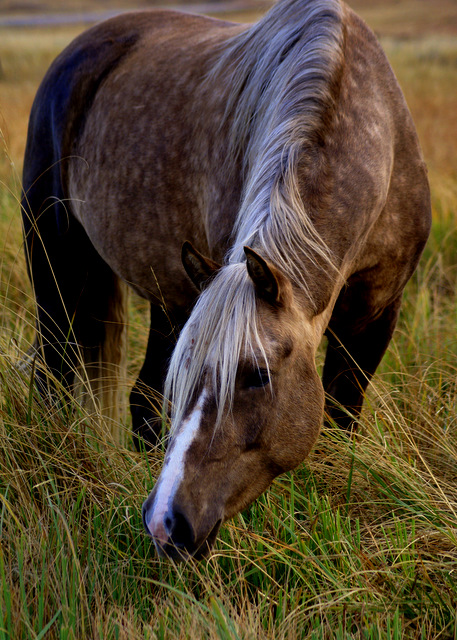 We help many friends and neighbors with their ranch fall-work. Here is what some of the high plains meadows look like this time of year … the meadows are scattered between pine and juniper covered hills & deep ravines.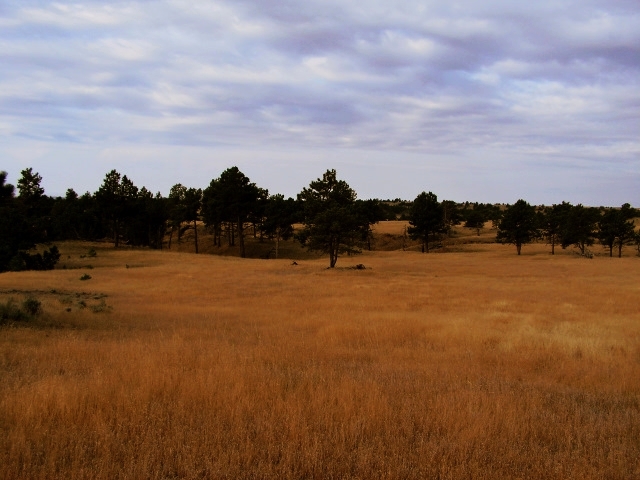 Last year, Anita and her husband, Jerry, threw a Fall party and it went over so well, they decided to make it an annual event. Last weekend many of our friends headed out to the ranch for the food and festivity. Anita really enjoys educating children in the area of farming and how to make your own everything. She's done a lot of demos at local history society fund-raisers – including taking her milk cow to teach milking lessons. Sadly, many children today have no idea where 'things come from'. Below are photos from the party.
Farmgirl Lisa's mom, Elsie, milked Anita's new Jersy milk cow, "Daisy". Lisa told me later that Elsie talked about it alllll the way home :o) She hadn't milked in over 55 years, but she was sure no stranger to it!! She's 100% farmgirl … going back to her childhood on a farm in South Dakota. Like many, their family farm was nearly self sustaining. By the time Elsie was in high school, she and her mother were milking 17 cows twice a day; she learned to milk at age six. Lisa remembers her grandfather with great affection … "the kindest man I've ever known." She also learned to drive horses next to him in the buckboard. In the photo below, Elsie is shown milking. Anita told me that she could outmilk both she and husband, Jerry. Farmgirl Michele milked for the first time that evening. Isn't Daisy the cutest thing? Anita says she's very sweet, well-mannered and never poos in the barn.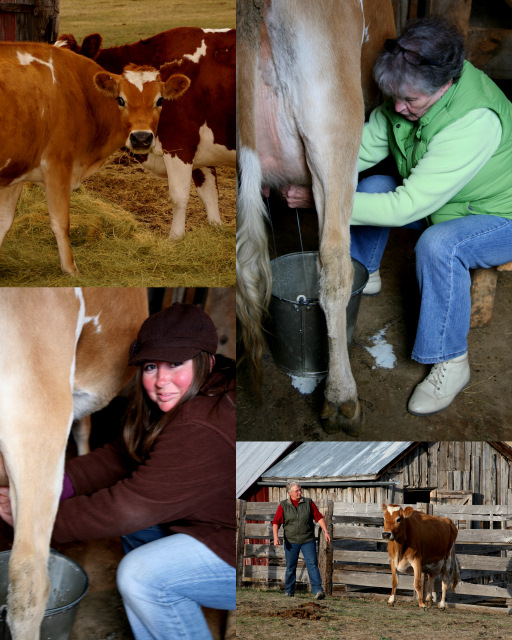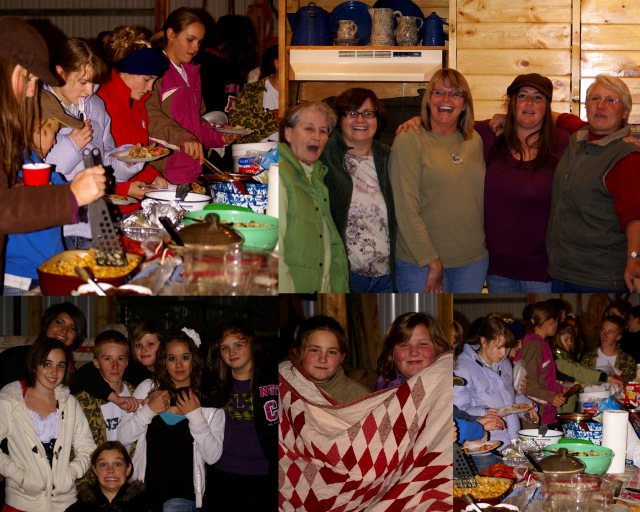 Above: party-goers and the potluck table. Below: apple-bobbers.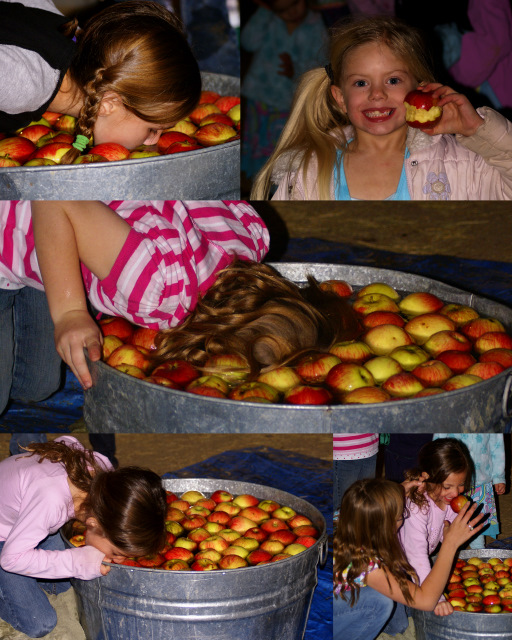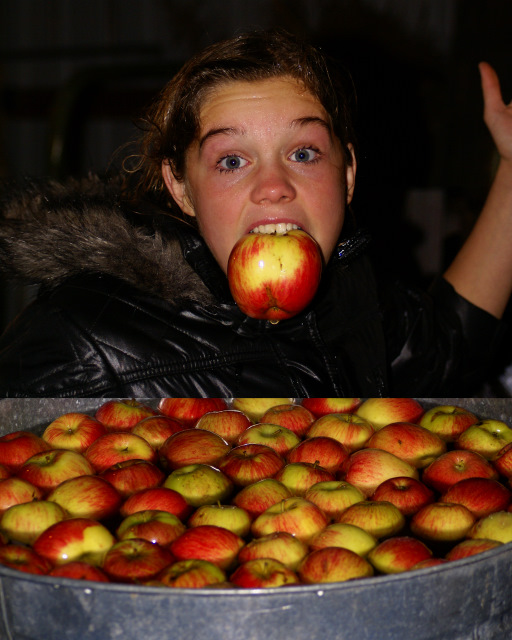 Below: One of Shepperson's Percheron horses had a sore foot and the hay-ride had to be cancelled, but he was happy to get attention from well-wishers: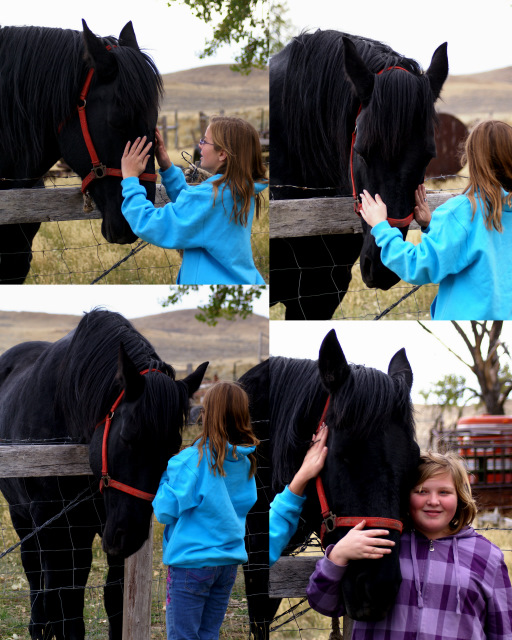 Below: L to R – Lisa, me, and Elsie.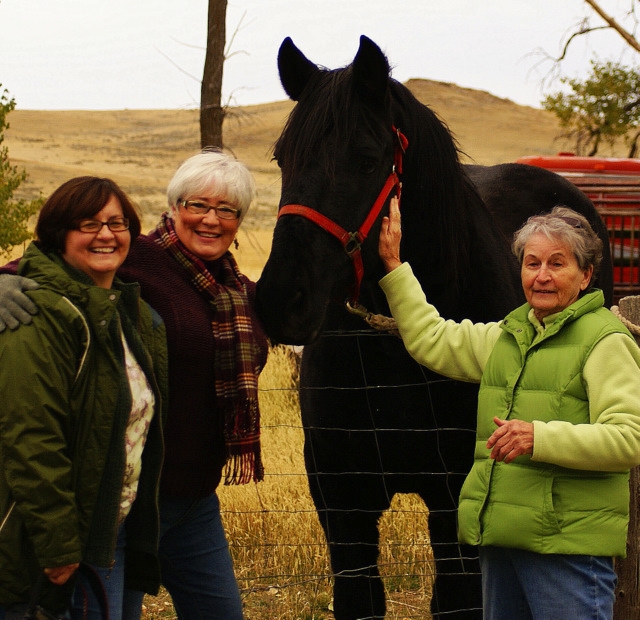 Now that gardening season is over, us nosey farmgirls wanted to have a look-see at the contents of Anita's 'cool room' pantry in their bermed home. This summer, she put up almost 600 jars of produce and meat! Here is a tiny sample: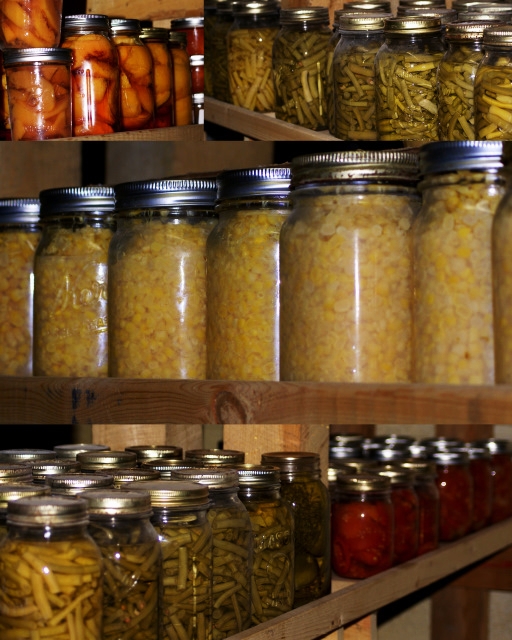 My contribution to the potluck supper was "Cowboy Caviar".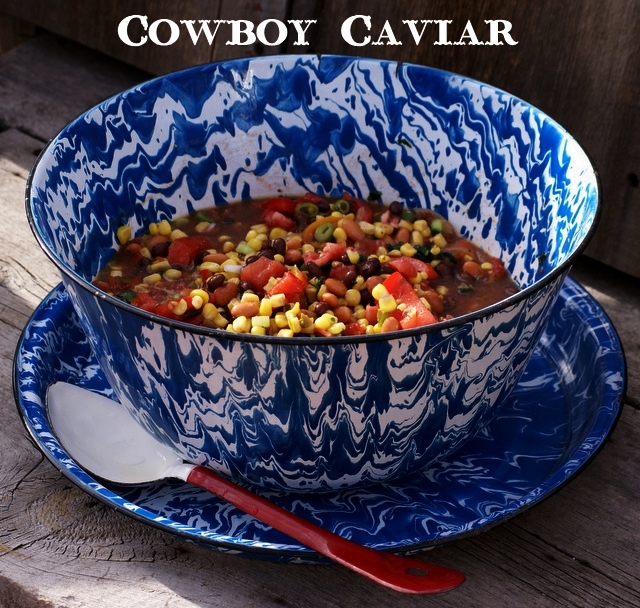 ~ Cowboy Caviar ~
1 can black beans, 1 can chile beans, 1 can diced tomatoes, 1 can corn.
1/2 onion – diced, 1 bell pepper – diced, 1/2 jalopeno pepper (minced).
1/2 tsp garlic salt, 1 C Italian dressing, 1 C fresh cilantro (chopped).
Combine ingredients and chill. Serve cold with corn chips.
Yesterday, I went with my farmgirl pal, Michele, to Rapid City to do some shopping. On the way home, we decided to stop and take in some of the fall color. There was a trailhead just off the road. The trees in that particular area are Pine, Oak and Aspen. A chilly breeze made the Aspen leaves flutter. We stayed only briefly, wanting to get home before nightfall. I hope you're savoring the flavors of fall too. ~ Shery